Inflation, Deflation, and Our Very Confident Bet in T-Bonds
Interest-Rates
/
US Interest Rates
Oct 14, 2014 - 12:28 PM GMT

I've been touting the ongoing bull market in T-Bonds as one of the best investment opportunities of our lifetime – a no-brainer, as far, as I can recommend. About the only way this bet can lose is if inflation returns with a vengeance. This has never been much of a worry for me, since, on the inspiration of C.V. Myers' prescient 1976 book, I've been writing about the threat of deflation for more than 20 years. As Myers noted, every penny of very debt must eventually be paid – if not by the borrower, then by the lender. So far, lenders have hung tough on their terms, and although a recklessly expansive monetary policy has cut mortgage debtors in particular some slack, there is no reason to think private lenders will let homeowners skip free when the second stage of the housing collapse that began in 2007 begins anew. Deflation-wise, this is where the rubber will meet the road, drawing irresistible power from the inevitable implosion of the quadrillion dollar Ponzi scheme popularly known as "derivatives."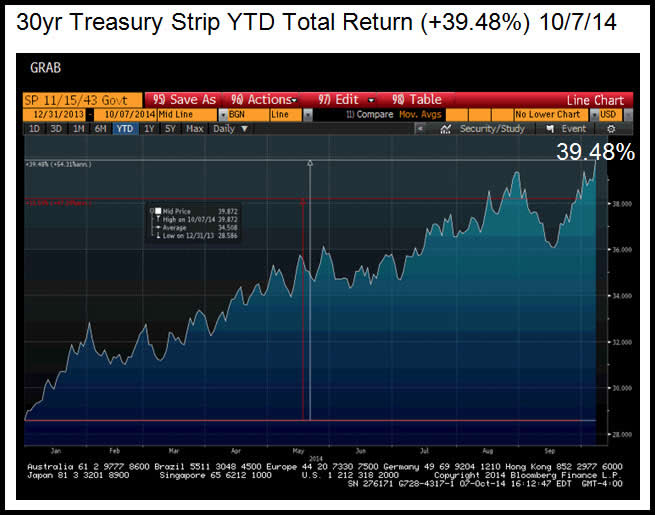 I'll concede that while hyperinflation seems at least possible somewhere down the road, the current state of the global economy could not make it much clearer that we are going to pass through a ruinously deflationary phase first. Even then, a hyperinflation would not be driven by wage pressures or rising prices, or even by a further increase in the money supply, but by the epiphany of the dollar's worthlessness. This is fundamentally true even now, as some have long recognized, but it does not seem to be on the minds of most investors. Far more urgent is their dawning realization that the central banks' main battle, especially in Europe at the moment, is against deflation rather than inflation. Under the circumstances, T-Bonds prices can be expected to keep rising, and yields to keep falling, if: 1) Europe continues to sink into recession-or-worse; and/or, 2) U.S. stocks have entered a bear market; and/or 3) the U.S. economy slides into recession-or-worse; and/or 4) some horrific geopolitical crisis – Ebola, even – causes capital to flee to the ostensible safety of U.S. Treasury paper. As readers must surely realize, all of these things could happen more or less simultaneously, making the T-Bond bet even more attractive.
Sentiment to Die for…
How attractive? Below are the recent observations of my good friend Doug Behnfield, whom I invariably introduce here as, hands-down, "the Smartest Financial Advisor/Guy I Know." Although bullish sentiment toward stocks is at very scary extremes, he notes, the opposite holds true for long-term investment grade bonds: "The financial press is overwhelmingly bearish on the bond market and the belief that interest rates have nowhere to go but up is practically universal," Doug wrote in a recent letter to clients. "The two things that have changed since the beginning of the year are that these extremes in sentiment have expanded significantly and long-term investment grade bonds have significantly outperformed stocks. In fact, large capitalization stocks as measured by the S&P500 were up 8.34% year to date (YTD) ending in September (Q3), and small capitalization stocks as measured by the Russell 2000 were down 4.41%. On the other hand, the UBS Universe of Closed-end Municipal Bond Funds was up 15.2% and 30 year AAA Municipal bonds were up 12.75%. 30 year Treasury Bonds were up 18% and 30 year 0% Coupon Treasury Strips were up 34% (also performance YTD ending in Q3). No sense being smug, considering how much worse bonds performed than stocks last year, but the contrary nature of sentiment seems to have started working at the beginning of this year and if that is the case, this trend could last for quite a while."
A Simple Strategy
Yes, Doug had a lousy year in 2013, when T-Bonds corrected severely. But the previous five years were stellar, and 2014 could conceivably be his best year yet. For our part, Rick's Picks has been recommending bullish option spreads in TLT, an ETF vehicle that correlates with price moment in long-term bonds. The spreads have been easy winners and are simple to do. To further reduce risk, we roll them forward each week, cumulatively harvesting time premium from the short side of the spread. If you'd like to learn more about this tactic, consider taking a free trial subscriptionthat would give you access to a chat room where you can talk with subscribers who have traded the spreads themselves. Our original strategy has turned out to have been too conservative, since TLT's rally has been steeper than we'd anticipated. The initial idea was that the bet would become increasingly lucrative as the global economy slipped into coma. Bearish as we've been on the economy, we didn't see its collapse happening quite yet. But evidence is accumulating that the process may already have begun. If so, now would be a good time to jump aggressively into Treasuries (and also to bet against junk bonds. The vehicle we are using for this sort trade is an ETF with the symbol JNK.) To access the 24/7 virtual room and all of Rick's trading "touts" and services, click here.
October 16, 2014 come as part of the package.
Rick Ackerman rickackerman.com
Learn options trading strategies from former market maker Rick Ackerman, who was once labeled by Barron's as an "intrepid trader" in a headline that alluded to his key role in solving a notorious pill-tampering case. He received a $200,000 reward when a conviction resulted, and the story was retold on TV's FBI: The Untold Story. But to the gang at CNBC, he's been a pariah for the last ten years - a shoot-from-the-hip kinda guy whose irreverent style got him banned from the show after an interview on Squawk Box was alleged to have gone awry.
Rick's professional background includes 12 years as a market maker on the floor of the Pacific Coast Exchange, three as an investigator with renowned San Francisco private eye Hal Lipset, seven as a reporter and newspaper editor, three as a columnist for the Sunday San Francisco Examiner, and two decades as a contributor to publications ranging from Barron's to The Antiquarian Bookman to Fleet Street Letter and Utne Reader. His detailed strategies for stocks, options, and indexes have appeared since the early 1990s in Black Box Forecasts, a newsletter he founded that originally was geared to professional option traders.
Rick Ackerman is the editor of Rick's Picks and a partner in Blue Fin Financial LLC, a trading firm.
Copyright © 2014 Rick Ackerman
Disclaimer: The above is a matter of opinion provided for general information purposes only and is not intended as investment advice. Information and analysis above are derived from sources and utilising methods believed to be reliable, but we cannot accept responsibility for any losses you may incur as a result of this analysis. Individuals should consult with their personal financial advisors.
© 2005-2019 http://www.MarketOracle.co.uk - The Market Oracle is a FREE Daily Financial Markets Analysis & Forecasting online publication.

Only logged in users are allowed to post comments.
Register/ Log in