Apex Silver Mining: Buy, Sell or Hold?
Commodities
/
Gold & Silver Stocks
Jun 02, 2008 - 01:53 AM GMT

Some of our readers are stockholders of Apex Silver Mines Limited and have written expressing their concern about this stocks performance. Firstly, we must point out that we are not financial advisors; we represent a small group of investors in the United Kingdom and also invest our own funds in the precious metals markets. However we will throw our humble opinion into the ring in an attempt to answer our reader's requests.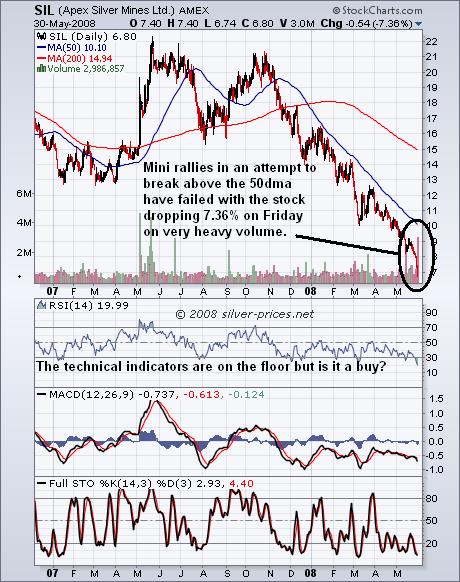 For disclosure purposes we do not own any shares in Apex Silver Mines Limited and have not owned it in the past.
So lets kick off with the chart above:
Once a twenty-dollar stock this stock closed at $6.80 on Friday so this is a sorry looking chart. As we can see mini-rallies in an attempt to break above the 50dma have failed with the stock dropping 7.36% on Friday on very heavy volume of 2.99 million shares traded compared to an average of 606,000. The technical indicators been floored so the stock is on its knees at the moment, not exactly inspiring is it?
Taking a quick look at the financials we can see that the company has a market capitalisation of $400.74 million, with 58.93 million shares outstanding with the current share price being $6.80. The financial results for the first quarter 2008 are summarised below:
- Total revenues of $136.9 million
- $67.9 million of revenues net of costs applicable to sales (excluding commodity derivatives, gain on foreign currency, asset retirement expense and depreciation, depletion and amortization)
- Concentrate sales containing 3.5 million ounces of payable silver, 24,600 tonnes of payable zinc and 12,300 tonnes of payable lead
- Production of concentrates containing 2.9 million ounces of payable silver, 29,300 tonnes of payable zinc and 10,000 tonnes of payable lead
- Average cash operating costs of negative $0.79 per ounce silver and $1.02 per pound zinc
- Loss from operations of $25.0 million, which includes a $76.5 million loss on commodity derivatives
- Net loss of $9.3 million, or $0.16 per share
We have to draw your attention to the loss on commodity derivatives of $76.5 million, that's a real body blow! It is equivalent to about one fifth of the value of the company, not very impressive.
We will take a quick look at the company's geographical areas of operation. Apex has as its flagship asset the San Cristobal silver-zinc-lead project, which contains approximately 450 million ounces of silver, eight billion pounds of zinc and three billion pounds of lead in proven, and probable reserves located in the Potosi district of southwestern Bolivia .
A super asset no doubt about it, but it is in Bolivia . Apex Silver CEO and President, Jeff Clevenger, has updated analysts on the Bolivian tax and political situation which could impact earnings potential, while the company insisted that there was no likelihood of operations being nationalized by the Morales government. As we see it the shadow of geopolitical uncertainty hangs over this project despite the positive efforts by the Apex management team to re-assure investors that all will be well. Should they not be nationalized then we would anticipate a hefty tax burden, which would impact the bottom line and returns to shareholders. However it would then be a known and quantifiable element of the investment process. The situation as it stands today is one of uncertainty and that is something that really gives investors the jitters.
When we put our hard earned cash into a silver producer we are looking for exposure to silver prices hopefully with a degree of leverage in terms of performance. Earlier this year silver took off like a bullet to top the twenty-dollar level with the quality silver stocks following in hot pursuit.
To demonstrate what we mean take a look at this chart comparing silver to Apex Silver mining Limited and a few other silver producers.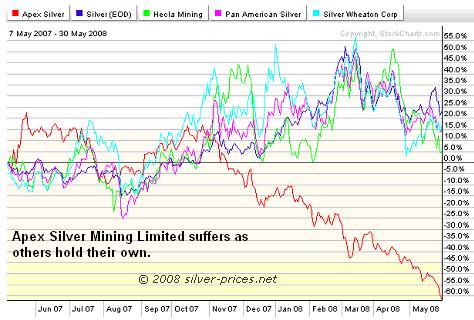 Apex didn't just respond to the rally in silver prices but the other companies did move higher with silver, whereas Apex is heading south. This is gut wrenching stuff for the stockholders.
In conclusion we would not buy this silver miner. If we were holders of this stock then we would hold only until the next piece of good news, which may lift this stock in a mini rally and then use the rally to sell and take the loss on the chin. Holding for the long term puts a lot of faith in Bolivian politicians doing the right thing, however, their actions are just about impossible to predict. Mining is fraught with risk but this is one we will try to avoid. Sorry we can't be more positive but there you have it.
For those investors who know the company well, please feel free to counter our opinion as this will add some balance to this debate and will serve to enlighten both our readership and us.
Apex Silver Mines Limited trades on the AMEX under the symbol of SIL.
Please stay tuned for our trading signals by subscribing to The Silver Prices Newsletter completely FREE of charge. Simply click here and enter your email address.
Have a good one.
By Bob Kirtley
These are fast changing times and its essential that you stay up to date with what is going on in the market . For our latest commentary and trading signals on gold, click here to subscribe to The FREE Gold Prices Newsletter and click here for The FREE Silver Prices Newsletter.
DISCLAIMER : Gold Prices makes no guarantee or warranty on the accuracy or completeness of the data provided on this site. Nothing contained herein is intended or shall be deemed to be investment advice, implied or otherwise. This website represents our views and nothing more than that. Always consult your registered advisor to assist you with your investments. We accept no liability for any loss arising from the use of the data contained on this website. We may or may not hold a position in these securities at any given time and reserve the right to buy and sell as we think fit.
© 2005-2019 http://www.MarketOracle.co.uk - The Market Oracle is a FREE Daily Financial Markets Analysis & Forecasting online publication.
Comments

30 Aug 08, 15:20
Silver deficits


Scottrade's news site SIL comment of" cash obligations will significantly exceed current cash streams in 2008 and 2009.

Since the're making millons,first time this year, it would be nice to know how large % wise these deficits are and what are they?

F. Ware



falk ware
30 Aug 08, 15:32
Apex silver


When a company ,sil, starts to make millions instead of losing millions, you'd think starting to pay off a debt with profits, and or sales, would rise a stock higher than the period of debt acquision with huge losses!




Only logged in users are allowed to post comments.
Register/ Log in