An Often Overlooked Predator: State Governments and Income Taxes
Politics
/
Taxes
Jan 30, 2015 - 03:02 PM GMT

Nick Giambruno writes: International Man is all about making the most of your personal freedom and financial opportunity around the world. To do this, by definition, you must minimize the amount of money any government takes from you.
Unlike every other country in the world, the US successfully taxes its nonresident citizens on their global income. This means Americans living abroad have to not only deal with the tax system in the foreign country in which they live, but also with the multiple layers of tax bureaucracy from the US. It's a uniquely American burden.
The layer that is often overlooked by US citizens abroad is state governments and state income taxes. Depending on which state claims you as its milking cow, the consequences could be substantial.
Some states are downright vicious and relentless when it comes to shaking down anyone with the smallest link to their territory. California, for example, has the highest state income tax at 13.3% and is notorious for being ultra-aggressive in its collection efforts.
State Income Taxes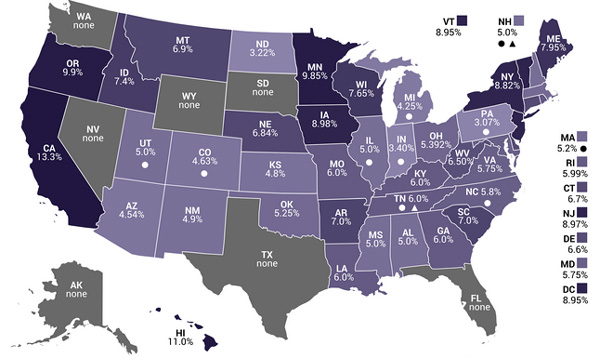 It would be a grave mistake to assume that just because you've moved abroad, you don't have any state income tax requirements. Proper planning must be made and precautions taken.
The main issue at hand here is intent.
Generally speaking, in order to be off the hook from state income taxes, you have to leave your state and become a genuine tax resident of another jurisdiction with no intention to return to your former state.
It's up to you to prove—to the state government's satisfaction—that you left and have no intention of returning. If you cannot do that, don't be surprised if your state government pursues you.
For example, suppose you're a resident of California and take on a project in Dubai as a temporary contractor. Since the project is only temporary, you clearly have an intent to return to California when it's over, which probably makes the income you earn in Dubai taxable by California.
The rules and regulations naturally vary by state. Some states don't even have an income tax and are no problem; others—like California—are an expensive nightmare.
Let's start with the most favorable states.
The Best States
Some states make going abroad and eliminating state income tax easy—because they don't have a state income tax in the first place.
If you're a resident of the following states, you will have no state income tax (and associated complex forms) to worry about when you move abroad:
Alaska
Washington
Nevada
Wyoming
South Dakota
Texas
Florida
The next-best states are Tennessee and New Hampshire, which only tax interest and dividends.
If you're a resident of one of these seven states, consider yourself lucky: you will have no state income tax burden to worry about when you leave.
The Worst States
The four states that make life most difficult for American expats are:
California
New Mexico
South Carolina
Virginia
If you moved from one of these four states, you'll likely still have a state income tax obligation—unless you've taken proactive measures.
In order to escape the tenacious grip of these states, you must sever all ties, which includes (but not limited to):
Renting—or better, selling—any real estate left behind
Changing your voter registration and driver's license to a new state
Ending all of your memberships and/or associations in the state
Closing all bank and other accounts in the state
Moving any children or dependents out of the state
Making sure you have no telephone, utility, or other bills in the state.
For many people, the most practical solution to ending their relationship with these four nasty states is to establish genuine residency in one of the seven friendlier states mentioned above before moving abroad. This generally means spending at least six months in one of the more favorable states and establishing ties like a driver's license, voter registration, community and professional memberships, financial accounts, and so forth in the new state.
For those who live in the 37 other states (not the seven favorable ones, New Hampshire, Tennessee, or the four worst states), you generally have to spend at least six months outside of the state to be considered a nonresident for tax purposes. The 37 other states are also generally not as picky as the four worst states when it comes to claiming residual ties to the state create a justification for tax residency—as long as you spend at least six months outside the state.
The Best Solution of All—America's Tax Free Zone
Getting rid of your state income tax obligations is great, but it also fails to address the federal income tax, which is really the big enchilada. And there are only three ways to get rid of it.
Death
Renounce your US citizenship
America's Tax Free Zone
There's an incredible solution to eliminating not only state income taxes but federal income taxes as well—one that doesn't require you to give up your US citizenship or even leave the US. It's like obtaining the tax benefits of renunciation without actually having to do so.
That solution has been dubbed "America's Tax-Free Zone."
If you can move from one state to another, you can just as easily move to America's Tax-Free Zone to obtain substantially more benefits.
I know it sounds too good to be true, but I assure you it's most certainly not. It's 100% real and legal.
Peter Schiff, a best-selling author, financial commentator, and business owner, has already moved one of his businesses to America's Tax-Free Zone and plans to move there personally sometime in the future.
But it's not just Peter Schiff: many regular people of average means—business owners, individual investors, and entrepreneurs—are legally eliminating most taxes thanks to America's Tax-Free Zone. And it's no surprise that their numbers are constantly growing.
This amazing opportunity is exactly why we've teamed up with Peter to create a free video that explains it all.
If you'd like to see what it's all about and how you can reclaim your freedom, you need to see this video by clicking here.
© 2005-2019 http://www.MarketOracle.co.uk - The Market Oracle is a FREE Daily Financial Markets Analysis & Forecasting online publication.

Only logged in users are allowed to post comments.
Register/ Log in