Indiana Jones and the Temple of Silver
Commodities
/
Gold & Silver Stocks
Jun 04, 2008 - 02:31 PM GMT


Sean Brodrick writes: In the mid-1500s, legend has it that Spanish explorers were traveling through the Guanajuato region of Mexico when they camped for the night by the side of a river. They piled stones in a circle and built a fire in the middle of the circle. During the course of the night, the heat of the roaring fire melted raw silver right out of the rock, leaving puddles of metal for the astonished explorers to discover in the morning.
The Spanish forgot their original mission and started looking around for the source of the silver-rich rock. They quickly found it, and that was the start of the silver town of La Luz.
Today, it's a lot harder to find silver deposits so rich that they melt in a campfire. But the Spanish mined only the visible silver — in fact, they tunneled right through rock that contained bonanza grades as they followed the veins they could see. In other words, they left A LOT of silver behind.
Mining methods have improved ... investment money and expertise is flowing in ... and silver is now flowing out of the same mines the Spanish used. I recently toured the area, and here's what I found ...
Indiana Jones and the Temple of Silver
I visited two of the same mines dug up by the Spanish — the Cebada and Bolanitos silver-gold mines in Mexico's Guanajuato state.
Near Bolanitos, I also went to an old ruin of a mine that is being explored for potential mining today. It had a certain "Indiana Jones" feel, like we were walking around abandoned temples.
The trip inside the Cebada Mine was an eye-opener ... or maybe I should say, a "head banger." These tunnels were first opened decades, even centuries ago, when people were smaller. In the tiny passages, I (BANG!) kept hitting (BANG!) my damned (BANG!) head on the ceiling! Thank heaven for hard hats.
Inside the mine, we could see the rock with silver still running through it. The company that owns it, Endeavour Silver, is rehabilitating the mine and should increase production substantially.
The other Endeavour mine I explored in the area — Bolanitos itself — is in much better shape and gearing up production.
A Simple Strategy With a Big Potential Payoff
Endeavour is executing on a simple but effective strategy: Pick up old mines on the cheap with existing mills that are in good shape or can be rehabilitated at a low cost. The Bolanitos mining property came with a 500-ton per day mill. It's in great shape, but only running at 100 tonnes per day now as Endeavour upgrades its mining operations. The mill should be running at 300 tonnes per day by the end of this year. Then it should hit its full 500-ton per day stride next year.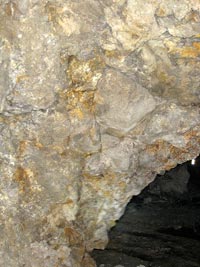 When Endeavour acquired Bolanitos/Guanajuato, it made the strategic decision to keep the staff on even as it shut down and repaired the shafts.
So, the costs at Bolanitos are running at $24 an ounce on a mill throughput of 100 tonnes per day. However, by the end of the year, processing at 300 tonnes per day, costs should drop to $11 an ounce. Eventually, the company plans to get costs down to $6 or $7 an ounce.
And the decision to keep the staff on should pay off in three ways: 1) community goodwill 2) speed of repairs and 3) the company won't have to train a whole bunch of new hires as operations pick up speed.
Three Properties and Plenty of Shiny Metal
Endeavour has three active silver mining and exploration projects scattered around Mexico. Along with the Bolanitos/Guanajuato Mines in Guanajuato State, it has the Parral Exploration project in Chihuahua State and its flagship Guanacevi Mines in Durango State, in the heart of the Sierra Madres.
I also visited Guancevi — it was my second visit to that project. The plant has expanded and improved, and at the Porvenir Mine and other properties in the area, it's drill, drill, drill as they expand the known resource. If you want to see some photos from that visit, you can find them on my blog .
Together, Endeavour's properties contain a total of 41.3 ounces in resources: 14.9 million ounces in proven and probable reserves, 14.3 million ounces in measured and indicated reserves, and 12.1 million ounces in inferred reserves.
The company also has some gold resources: Total proven, probable, measured, and indicated and inferred resources of 152,600 ounces.
Endeavour is already ramping up production. The company produced 2.14 million ounces in 2007, a 58% year-over-year increase and up 600% since 2004.
And it would not surprise me to see Endeavour greatly expand those reserves going forward. It has found new ore bodies — like the "3785" gold-silver mineralized zone at the company's Cebada Mine in Guanajuato — and has only scratched the surface of some of its properties.
In fact, company CEO Godfrey Walton says the company's priority this year is boosting the resources at each of its three active projects in Mexico. To do this, the company has five drill rigs working on a 38,000 meter drilling program.
Endeavour is investing $15 million over three years at Guancevi and Bolanitos to expand resources to 60 million ounces of silver. At the same time, it wants to boost production to five million ounces of silver per year.
That would push the company into a whole new league and its share price should rise accordingly.
Endeavour's Financial Results Put It on a Path to Profitability
The company had a pretty good first quarter. Sales jumped by 48% over the year-earlier period to $10.7 million.
Production rose by 3% to 505,000 ounces — not as much as I was hoping, but still, making progress.
Cash costs were $10.01 per ounce. That's a lot higher than a year earlier, but down from the fourth quarter. So Endeavour has probably turned the corner on costs.
However, costs could be a short-term problem for the current quarter because Endeavour has a high cash cost at its Guanajuato operations. As those operations ramp up, Endeavour's costs should drop dramatically.
Endeavour is not making money now. The company had an operating loss in the first quarter of $1.8 million. The good news is Bolanitos is following the same path that Guanacevi did — refitting an old mine and dramatically lowering costs as production picks up.
Endeavour used 2007 as a year to slow growth, reduce cash costs at Guanacevi, and expand on their exploration and consolidation. This raised operating expenses. But I expect those costs to go down quite a bit in the second half of this year.
Probably by the middle of next year, Endeavour will be giving us projections for a path to profitability. Plus, it has $21 million in working capital, which should be enough for its needs unless it makes a major purchase.
Bottom Line: There Are Risks and Rewards When Investing in Mexican Mines
I'm a fan of Endeavour Silver it's already in the Red-Hot Canadian Small-Caps portfolio. However, the entire Mexican junior mining sector is full of both risk and reward.
First, the risks:
I don't think the credit crisis in the markets is over. So, it may be hard (or at least harder) for these companies to raise capital for new projects, whether acquisitions or expansion of existing properties.
Also, I think rising fuel costs could be more of a factor than most juniors expect. In other words, we could see mining costs, which are increasing across the board, continue to rise more than previously expected.
Now, the potential rewards:
We should see consolidation in the junior mining sector, particularly in Mexico. Merger activity can drive the price of an acquired stock much higher, in a hurry.
In addition, I think silver is headed much higher this summer. It would not surprise me to see silver at $25 an ounce by the end of the year and then go even higher. That would mean great things for many miners.
Take Endeavour, for example: It made $10.7 million in sales when it had lower production and was selling its silver for a little over $13 an ounce. With silver now trading over $16, it's already in a much better position ... and its financials would get even better if silver gets over $20 ... $25 ... or $27!
Bottom line: When it comes to investing in smaller mining companies, you should tread carefully and take a longer-term approach. That's the very same strategy that the smart people running companies like Endeavour take.
You could also consider buying an exchange-traded fund that trades in precious metals, such as the iShares Silver Trust (SLV). It's a great way to ride the price of the metal itself.
Yours for trading profits,
Sean
This investment news is brought to you by Money and Markets . Money and Markets is a free daily investment newsletter from Martin D. Weiss and Weiss Research analysts offering the latest investing news and financial insights for the stock market, including tips and advice on investing in gold, energy and oil. Dr. Weiss is a leader in the fields of investing, interest rates, financial safety and economic forecasting. To view archives or subscribe, visit http://www.moneyandmarkets.com .
© 2005-2019 http://www.MarketOracle.co.uk - The Market Oracle is a FREE Daily Financial Markets Analysis & Forecasting online publication.

Only logged in users are allowed to post comments.
Register/ Log in