Stock Market Roller Coaster- Forecasting the Markets, Where Next?
Stock-Markets
/
Financial Markets
Jul 27, 2008 - 10:33 AM GMT


Financial markets witnessed another roller-coaster week as renewed concerns about the global economy and the health of the financial sector surfaced, resulting in a mixed week for world stock and bond markets, an improved US dollar and continued weakness in oil and commodities.
US stocks plummeted on Thursday after two days of gains as investors' recent optimism was dented by renewed doubts about financials stocks, manifesting in the sector dropping 6.8% – its largest one-day decline in more than eight years.
Source: Lisa Benson, Slate
In a rare Saturday session, the US Senate passed housing rescue legislation aimed at helping struggling homeowners avoid foreclosure and providing financial support to troubled mortgage giants Fannie Mae (FNM) and Freddie Mac (FRE), reported TheStreet.com . The bill, which cleared the House on Wednesday, now goes to President Bush.
Reuters highlighted that US banks' direct primary credit borrowing from the Federal Reserve rose to the highest level ever in the latest week, reflecting the growing need of the banking sector to rely on the central bank for cheap funding. On the day of July 23, banks' primary credit borrowings rose to $17.68 billion, the highest borrowing since September 12, 2001 when banks borrowed $45.5 billion in a single day.
No wonder John Paulson , who recorded what was thought to be the single biggest profit in the history of the hedge fund industry last year by betting on a financial collapse, is planning a new fund to provide capital to cash-strapped banks.
President George W. Bush, as reported in the Financial Times , also had his take (albeit unofficial) on matters: "There's no question about it. Wall Street got drunk … it got drunk and now it's got a hangover. The question is how long will it sober up and not try to do all these fancy financial instruments."
Given all the shenanigans, Richard Russell ( Dow Theory Letters ) thought there was too much complacency. "… I guess everybody thinks the Fed or the Treasury is going to bail the whole economy out. Why worry, if you're in trouble, call Mr. Bernanke, and he'll drop a bundle of Federal Reserve notes in your mail box. Be sure the box is big enough," said Russell a day after turning a youthful 84.
Now for a new feature of this report: A tag cloud of the text of all the articles I have read during the past week. This is a way of visualizing word frequencies at a glance. It is quite obvious that the key areas last week were "bank", "prices", "inflation", "oil" and "economy". As the saying goes: A picture paints a thousand words …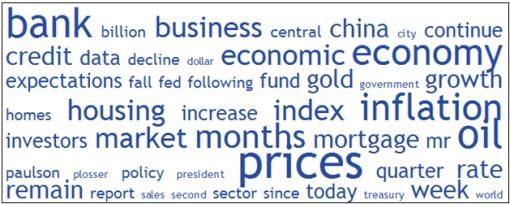 Key to mapping out the intermediate stock market cycle is whether the July 15 levels for the S&P 500 Index (1,215) and Dow Jones Industrial Index (10,963) will hold. Specifically, the extent to which bank shares can sustain their moves above recent lows will be a vital determinant as to how well stock markets in general can rally from these levels. Short-term movements aside, do not expect a quick convalescence period.
Before highlighting some thought-provoking news items and quotes from market commentators, let's briefly review the financial markets' movements on the basis of economic statistics and a performance round-up.
Economy
The Federal Reserve's Beige Book, released on Wednesday, noted slower growth since the last report issued on June 11. Weakness in consumer industries, housing and finance offset strength in IT and healthcare. Retail and wholesale price pressures were mounting, although there was little concern yet about wage inflation.
More specifically, the past week's economic reports in the US included the following notable releases:
• The Index of Leading Economic Indicators (LEI) fell by 0.1% in June, following a revised 0.2% drop in May. The quarterly average of LEI is down 2.0% from a year ago, the largest decline in the current business cycle. Historically, such large year-on-year declines of the quarterly average of the Index were associated with recessions.
• Weakness continues to characterize the housing market. Existing Home Sales declined by 2.6% month on month in June, according to the National Association of Realtors. Sales declined to 4.86 million annualized units. Inventories are rising and the months of inventory are about flat at 11. The median existing home price is declining, with a year-on-year drop of 6.2%, but not as severely as earlier this year.
• The Census Bureau reported a -0.6% month-on-month decrease in New Home Sales in June. However, the Bureau revised the monthly sales figures upward back to March, and thus June sales were stronger than expected at 530,000 annualized units. The median new home price declined slightly in June, as did months of inventory. Months on the market, however, are rising.
Furthermore, US foreclosure filings more than doubled in the second quarter compared to a year ago, representing an increase of 121% from a year earlier and 14% from the first quarter, according to RealtyTrac .
Summarizing the economic situation, David Rosenberg, North American economist of Merrill Lynch, said in a research report : "Though fiscal stimulus will provide a lingering boost to 3Q, we expect GDP to plummet 2.5% in 4Q and see a similar decline in 1Q. In all, we have shaved our 2009 GDP forecast to -0.5%, a full percentage point lower than where it was previously, while 2008 is broadly unchanged at 1.5%."
As far as interest rate policy is concerned, Asha Bangalore ( Northern Trust ) remarked: "It is … important to recognize that the Fed is not in a position to raise rates until there is financial market stability, the housing market crisis improves, and firms decide to expand their payrolls. Concerns about economic growth will prevail over inflation, for now. In other words, tough talk about inflation will continue but it cannot be translated into action in the near term."
Across the pond, the UK was faced with a relentless stream of negative economic news. The minutes of the Bank of England's (BoE) monetary policy committee meeting in June showed that the BoE was struggling to balance the downward price pressures of slowing economic growth against the upward price pressures of strong oil and food price growth.
A slew of weak data also came from the Eurozone, with the RBS/Markit composite PMI dropping from 49.3 in June to 47.8 in July, the lowest since November 2001 and clearly indicating a contracting economy. It appears unlikely that the European Central Bank (ECB) will hike rates any further in the second half of this year.
Elsewhere, Japan's trade surplus was nearly 90% lower than last year's surplus, and core inflation ballooned to a fresh decade high of 1.9% year on year in June.
WEEK'S ECONOMIC REPORTS
| | | | | | | | |
| --- | --- | --- | --- | --- | --- | --- | --- |
| Date | Time (ET) | Statistic | For | Actual | Briefing Forecast | Market Expects | Prior |
| Jul 21 | 10:00 AM | Leading Indicators | Jun | -0.1% | -0.3% | -0.1% | 0.1% |
| Jul 23 | 10:30 AM | Crude Inventories | 07/19 | - | NA | NA | NA |
| Jul 23 | 10:35 AM | Crude Inventories | 07/19 | -1558K | NA | NA | 2952K |
| Jul 23 | 2:00 PM | Fed's Beige Book | - | - | - | - | - |
| Jul 24 | 8:30 AM | Initial Claims | 07/19 | 406K | 372K | 380K | 372K |
| Jul 24 | 10:00 AM | Existing Home Sales | Jun | 4.86M | 4.97M | 4.95M | 4.99M |
| Jul 25 | 8:30 AM | Durable Orders | Jun | 0.8% | 0.0% | -0.3% | 0.1% |
| Jul 25 | 10:00 AM | Michigan Sentiment (revised) | Jul | 61.2 | NA | 56.4 | 56.6 |
| Jul 25 | 10:00 AM | New Home Sales | Jun | 530K | 507K | 505K | 533K |
S ource: Yahoo Finance , July 25, 2008.
Next week's economic highlights, courtesy of Northern Trust , include the following:
1. Real GDP (July 31): Real GDP is predicted to have advanced at an annual rate of 1.5% in the second quarter, supported by consumer spending. The fiscal stimulus package accounted for the strength in consumer spending, a one-off event. Real GDP grew by 0.6% in the fourth of 2007 and by 1.0% in the first quarter of 2008. The forecast range for growth in GDP in the second quarter is 1.4% to 3.0%. This report will contain revisions for the period 2005:Q1 to 2008:Q1. Consensus : 2.4%.
2. Employment Situation (August 1): Payroll employment in July is predicted to have declined by 75,000 after a loss of 62,000 jobs in June. The forecast range is -150,000 to -10,000. The unemployment rate is projected to have risen to 5.6% in July from 5.5% in June. Consensus : Payrolls: -72,000 versus -62,000 in June, unemployment rate: 5.6% versus 5.5% in June.
3. ISM Manufacturing Survey (August 1): The consensus for the manufacturing ISM composite index is 49.2 versus 50.2 in June.
4. Other reports : Consumer Confidence (July 29), Construction Spending, Auto Sales (August 1).
Markets
The performance chart obtained from the Wall Street Journal Online shows how different global markets performed during the past week.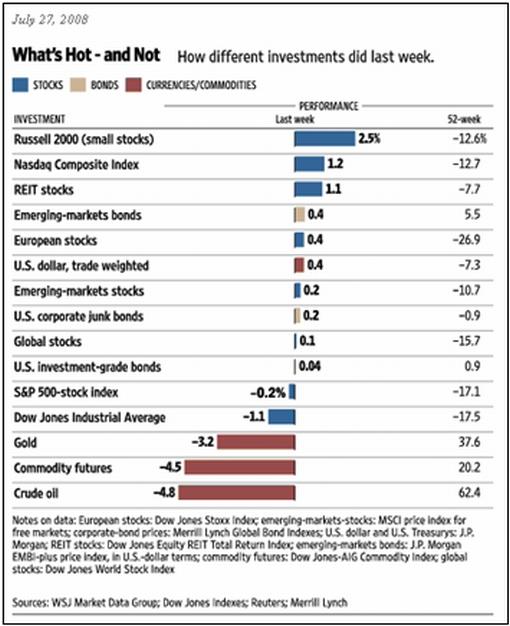 Source: Wall Street Journal Online , July 27, 2008.
Equities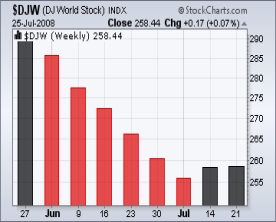 Global stock markets, in general, maintained their positive tone during the past week after the strong recovery of the previous week, with the Dow Jones World Index registering an increase of 0.9%.
The Japanese Nikkei 225 Average was the strongest performer among developed markets, rising by 4.2% – its biggest weekly gain for five months.
The real stars, however, were among the emerging markets, including Pakistan (+7.8%), Taiwan (+6.1%), South Korea (+5.8%), the Philippines (+5.2%), Indonesia (+4.8%) and India (+4.7%). On the other side of the scale, previous strong performers Russia (-8.6%) and Brazil (-4.7%) suffered as oil and commodities fell further.
The US stock markets were mixed, with smaller and technology stocks outperforming their larger counterparts, as shown by the major index movements: Dow Jones Industrial Index -1.1% (YTD -14.3%), S&P 500 Index -0.2% (YTD -14.3%), Nasdaq Composite Index +1.2% (YTD 12.9%) and Russell 2000 Index +2.5% (YTD -7.3%).
Market map, courtesy of Finviz.com, providing a quick overview of the performance of the various segments of the S&P 500 Index over the week.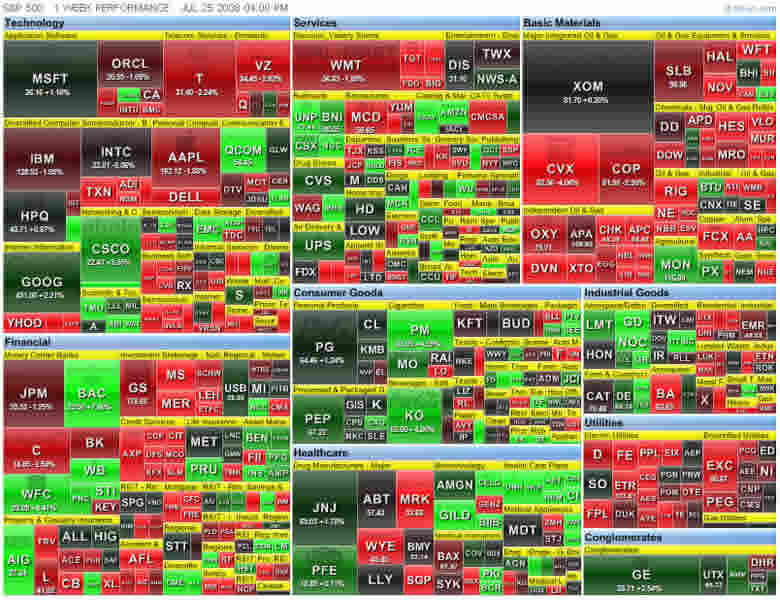 The managed healthcare group was the best performer for the week, rising by 13%. The Internet retail group was the second-best performer (+9%), led by Amazon.com (AMZN), its largest member, with better-than-expected earnings and guidance.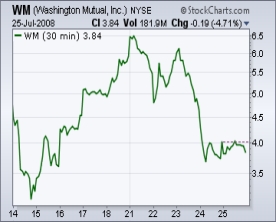 The thrifts and mortgage finance group was the worst-performing group, down by 14%. Washington Mutual (WM) was down 35% after it reported second-quarter losses in excess of expectations. Fannie Mae (FNM) and Freddie Mac (FRE), the two largest members of the group, were each down by more than 10%.
The consumer finance group was the second-worst performer, declining by 12%. The largest group member, American Express (AXP), reported second-quarter earnings below analysts' consensus estimate.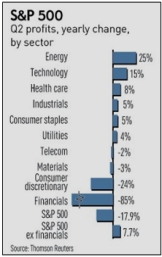 Halfway through the second-quarter earnings reporting season in the US, the numbers have generally been better than feared. Of the 248 S&P 500 companies that have reported results, 72.2% have registered positive surprises, 4.8% have been in line, and 23.0% have missed expectations, according to Bloomberg.
Data from Thomson Reuters show that S&P 500 earnings so far are down by 17.9% versus a year ago, but 7.7% higher when excluding financials.
Fixed-interest instruments
Government bonds experienced a mixed week, with yields declining in countries/regions with poor economic data (Eurozone, UK, Japan) and rising where the economic numbers exceeded expectations (US – consumer sentiment, durable goods orders and new home sales).
For example, the two-year US Treasury Note increased by 6 basis points during the week to close at 2.72%, whereas the UK two-year Gilt yield declined by 11 basis points to 5.05% and the German two-year Schatz yield dropped by 10 basis points to 4.44%.
US mortgage rates also increased, with the 15-year fixed rate rising by 7 basis points to 6.05% and the 5-year ARM 16 basis points higher at 6.04%.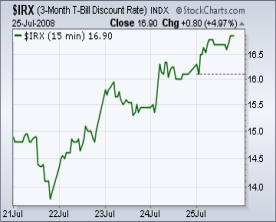 The three-month US Treasury Bill jumped by 35 basis points during the week to close at 1.69% as investors' risk appetite recovered.
Credit markets eased somewhat as shown by the slightly narrower spreads of both the CDX (North American, investment grade) Index and the Markit iTraxx Europe Crossover Index.
Currencies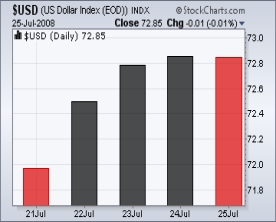 Currency traders' benign view of the US economic situation, together with lower oil and commodities prices, caused the US Dollar Index to rise by 0.9%.
Individually, the greenback gained against the euro (-0.9%), the British pound (-0.3%), the Swiss franc (-1.3%), the Japanese yen (-0.9%) and the Australian dollar (-1.6%).
Commodities
Oil prices declined further during the week under review, with West Texas Intermediate sinking by 4.8% to $123.26 by Friday's close. The crude price has declined by 16.3% since reaching a record high of $147.27 on July 11.
The correction in oil prices again weighed heavily on the entire commodities complex (especially precious metals), with traders reducing their commodities exposure on the back of mounting global growth concerns. The chart below shows the past week's negative performance of the various commodities.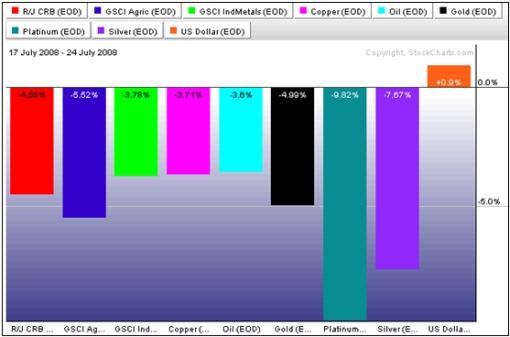 Now for a few news items and some words and charts from the investment wise that will hopefully assist in preserving our capital in these demanding times.
Source: Ken Catalino, Slate
Jon Stewart (The Daily Show): It's the stupid economy
Jon Stewart rightfully gets confused with the various utterances about the economic outlook, and in so doing brings laughter to an otherwise serious matter.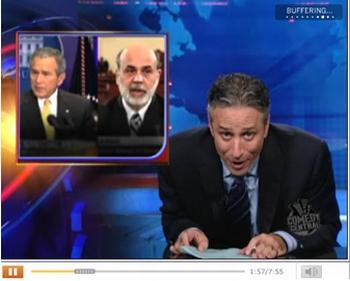 Source: Jon Stewart, The Daily Show , July 16, 2008.
Bloomberg: Faber says Fannie, Freddie should split up, not get aid
"Marc Faber talks about the future of Fannie Mae and Freddie Mac, the global economy, and the outlook for stocks and commodities."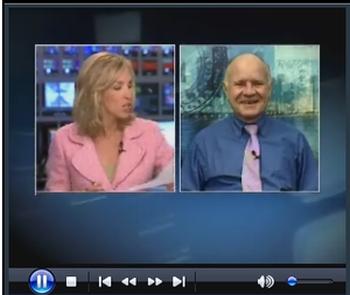 Source: Bloomberg , July 23, 2008.
David Fuller (Fullermoney): Predicting the markets
"Predicting is among the most hazardous of professions, as you know, because we can only guess. Nevertheless we need to focus on these challenging questions, so here are my guesses:
"US 30-Year Treasury Bond futures – I think Bill Gross' deficit forecast is probably right, and I also maintain that the US government will err on the side of inflation, as debtor nations invariably do. Therefore increased government borrowing is likely to face a buyers' strike at some point, turning US 30-year T-Bonds into one of the better shorts of the decade. Tactically, I will look to short the rallies as they lose momentum.
"The US Dollar Index – While the US government does not want a currency freefall, it can ill afford a strong dollar because it needs an export led recovery. Moreover, while the dollar remains the world's main reserve currency, the US is unlikely to kick its addictive habit of printing too many greenbacks. This will also lead to a buyers' strike, eventually forcing the US Dollar Index lower, with an even bigger decline occurring against the Chinese renminbi and the currencies of other high-growth economies. Tactically, I will look to short rallies as they lose momentum.
"Gold – In a fiat currency world, with the main reserve unit enfeebled, and resources inflation continuing when global GDP growth increases, people everywhere will continue to regard gold as real money for investment purposes. This will eventually support an extension of bullion's secular uptrend, once the current medium-term consolidation has been completed. Tactically, I will continue to buy following setbacks within the overall upward trend.
"Crude oil – Assuming and very much hoping that there will not be a military strike against Iran's nuclear installations, I maintain that oil has peaked for the medium term, defined as anything from a few months to two years and occasionally even longer. However as with gold and many other resources, there is a scarcity factor for oil resulting from increasing costs of production and finite supplies of light crude. Also, demand will rise following any significant correction in prices, not least because cheaper oil will boost GDP growth. Therefore crude oil will eventually resume its secular uptrend following what I suspect will be a lengthy correction. Tactically, I would consider longs in petroleum futures and also oil drillers and equipment stocks on evidence of renewed support building following a significant setback."
Source: David Fuller, Fullermoney , July 23, 2008.
Financial Times: Bob Parker, Credit Suisse – a softer landing?
"Credit conditions remain fraught as reflected in equity falls, but outright recession may be avoided in the US and UK, according to Bob Parker, vice chairman Credit Suisse Asset Management. He tells FT markets editor, Chris Brown-Humes, that fiscal stimulus and currency devaluation are positive factors, but a continuing high oil price could lead to recession."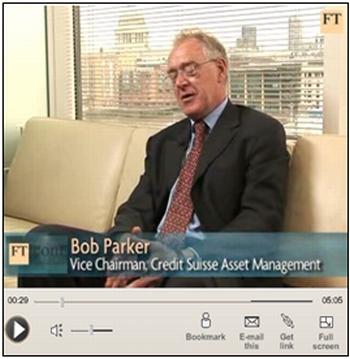 Source: Chris Brown-Humes, Financial Times , July 21, 2008.
David Rosenberg (Merrill Lynch): Adjusting to the new economic reality
"Just like consumers, who are insulating their windows and making fewer trips to the malls, we are adjusting our economic forecast to the new high-oil price reality not to mention the latest round of trauma in the mortgage markets.
"Though fiscal stimulus will provide a lingering boost to 3Q we expect GDP to plummet 2.5% in 4Q and see a similar decline in 1Q. In all, we have shaved our 2009 GDP forecast to -0.5% a full percentage point lower that where it was previously, while 2008 is broadly unchanged at 1.5%."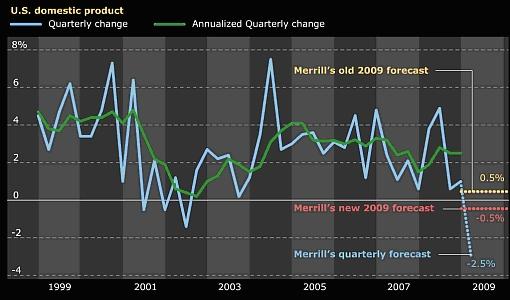 Click here for the full report.
Source: David Rosenberg, Merrill Lynch , July 18, 2008 and Mark Gilbert, Bloomberg , July 22, 2008.
Bill King (The King Report): Jamie Dimon – dire economic forecast
"Why did so many people ignore Jamie Dimon's dire economic and industry forecast when JP Morgan issued its earnings last week? Mr. Dimon: 'Our expectation is for the economic environment to continue to be weak – and to likely get weaker – and for the capital markets to remain under stress … We remain conscious that since substantial risks still remain on our balance sheet, these factors will likely affect our business for the remainder of the year or longer.'"
Source: Bill King, The King Report , July 23, 2008.
BCA Research: US FOMC – Bernanke against the hawks
"Some FOMC members continue to voice concerns about inflation, undermining the effectiveness of low rates and non-conventional policies aimed at aiding the hobbled financial system.
"Regional Fed President Stern was the latest hawk at the FOMC to voice his concern about inflation. This may be a valid concern AFTER the economy gains a head of steam, but deflation will continue to be the greater threat so long as the credit crisis and economic weakness persist. Private sector borrowing rates have failed to decline alongside the fed funds rate, and hawkish comments tend to put upward pressure on interest rate expectations, to the detriment of the economy (and the stock market).
"So far, Chairman Bernanke has been able to keep the hawks under control, and the Fed has maintained an accommodative policy stance. Bottom line: Inflation angst at the Fed risks prolonging the economic slowdown, and will make investors both wary of the Fed's commitment to 'open-ended' policy easing and worried that banking problems will persist."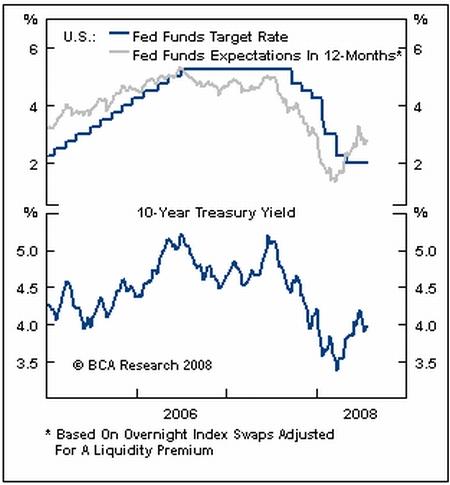 Source: BCA Research , July 22, 2008.
Bloomberg: Fed's Plosser says housing slump no bar to rate rise
"Federal Reserve Bank of Philadelphia Charles Plosser said higher mortgage costs and continued declines in house prices pose no bar to raising interest rates.
"Policy makers must increase borrowing costs before inflation expectations become 'unhinged', Plosser said in an interview with Bloomberg Television today at his bank's headquarters.
"The Philadelphia Fed chief joins Gary Stern, head of the central bank's Minneapolis branch, in judging that policy makers shouldn't wait for an end to the housing recession before acting. Plosser spoke after the central bank's Beige Book survey of regional business conditions showed all 12 districts reported 'elevated or increasing' price pressures.
"'The question becomes how long are we willing to allow the pressure from a fairly accommodative monetary policy stance' to last 'before it begins to feed broad-based inflation', Plosser said in a separate interview with Bloomberg News today.
"Plosser and Stern have said raising rates before the housing slump ends isn't out of the question, while Dallas Fed President Richard Fisher dissented from the Fed's June 25 decision to leave the benchmark rate at 2%. Asked whether three dissents at the next Federal Open Market Committee meeting would be a concern, Plosser said 'no'.
"'Dissents serve a purpose,' he said today. 'They help communicate the sense of the committee. They help communicate where the hard choices are, where the uncertainty lies.'
"'Interest rates are low, I don't think there is any debate about that,' Plosser said today. 'At some time these rates are likely to go up. Challenge is determining when.'
"Asked if the Fed can act even as home prices are still falling, Plosser said: 'I wouldn't rule that out.' On whether the rise in home-mortgage rates this year would stand in the way of increases by the Fed in the benchmark interest rate, Plosser said, 'I don't think so.'"
Click here to view the video clip.
Source: Anthony Massucci and Kathleen Hays, Bloomberg , July 23, 2008.
Bloomberg: Pimco's Paul McCulley – Plosser "wrong" on rate hikes
"Paul McCulley talks about US deflation and property values, and the outlook for Federal Reserve policy. McCulley said Philadelphia Fed President Charles Plosser was wrong in saying that the central bank should raise interest rates 'sooner rather than later' to keep inflation from accelerating."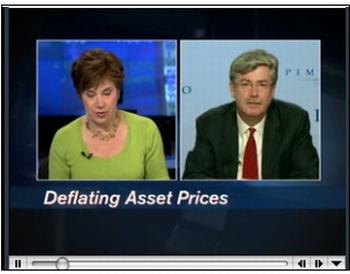 Source: Bloomberg , July 24, 2008.
Financial Times: Bush says Wall Street "got drunk"
"President George W. Bush said Wall Street had 'got drunk' and was experiencing a hangover at a recent closed-door fundraiser in Houston in which he also made light of the US housing crisis.
"In a video recording that emerged on Tuesday, Mr Bush questioned how long Wall Street banks would remain sober and 'not try to do all these fancy financial instruments'.
"The recording was obtained by an ABC outlet in Houston and filmed even after the president apparently asked for cameras to be turned off.
"When asked at a press conference last week whether the US banking system was 'in trouble', Mr Bush said: 'I think the system basically is sound. I truly do. And I understand there's a lot of nervousness … but the economy's growing.'
"In the video obtained by ABC, Mr Bush had a tougher view of Wall Street.
"'There's no question about it. Wall Street got drunk – that's one of the reasons I asked you to turn off the TV cameras – it got drunk and now it's got a hangover. The question is how long will it sober up and not try to do all these fancy financial instruments.'
"Mr Bush then shifts attention to the housing crisis, pointing out to a laughing audience that the cities of Houston and Dallas had not been hit by the downturn in the housing market.
"'And then we got a housing issue … not in Houston, and evidently not in Dallas, because Laura's over there trying to buy a house. I like Crawford [where Mr Bush owns a ranch] but unfortunately after eight years of sacrifice, I am apparently no longer the decision maker.'"
Source: Stephanie Kirchgaessner, Financial Times , July 23, 2008.
Bill Gross (Pimco): Dear President Obama
"Anyway, so you're gonna do the tax thing, Mr. President, and throw in some form of universal healthcare to boot, that your buddy Hillary will help spearhead. You hope you can get a lot of this passed despite a potentially long string of filibusters from a Senate that won't quite have sixty Democrats. In addition, you'll need to provide some immediate relief to homeowners in the form of FHA (Federal Housing Administration) subsidies and low mortgage rate loans that somehow have been studied and studied in Congress for the past six months yet still haven't been passed into law.
"By January, home prices will be down another 10% or so and our Japanese-style property deflation will be in full stride. Congress will have had its summer recess though and spent September and October on the campaign trail. They had to get re-elected you know, so those homeowners just had to wait.
"But you'll have your tax bill and your healthcare bill and your housing fix, and somehow it'll all be paid for by wealthy hedge fund managers, oil companies or, pray tell, a robust economy that's creating good jobs at home instead of exporting them abroad. Uh, I don't think so, Mr. President. That's where the 'yes we can' morphs into 'no we can't'.
"Not that you won't accomplish most of that – the robust economy and the good jobs notwithstanding. It's just that you won't be able to pay for it and it's better to admit it now as opposed to later. No David Stockman confessions in your administration. You're smarter than Ronald Reagan and too nice a guy to distort reality like King George. So let's start out by dropping all of that 'budget neutral' rhetoric and admit where we're headed. Your administration will produce this nation's first trillion dollar deficit!
"While the Republicans will blame you for years and label you 'Trillion Dollar Obama' in future campaigns, there is in fact not much that you or any other President can do. You've inherited an asset-based economy whose well has been pumped nearly dry with lower and lower interest rates and lender of last resort liquidity provisions that have managed to support Ponzi-style prosperity in recent years.
"Foreign lenders have cooperated by purchasing Treasuries at yields which when combined with dollar depreciation have resulted in negative returns on their money. Even if these charades continue (and they may not), their stimulative effects – their magical powers to transform a 110-pound weakling into a Charles Atlas/Arnold Schwarzenegger mensch of an economy – are gone.
"What you need now is fiscal spending and lots of it. No ordinary Starbucks will do, Mr. President, you need to step up for a six-pack of Red Bull."
Click here for the full report.
Source: Bill Gross, Pimco , July 2008.
Bloomberg: Paulson says GSE rescue needed to stabilize markets
"US Treasury Secretary Henry Paulson talks with Bloomberg's Kathleen Hays about the need for Congress to pass a bill to shore up confidence in Fannie Mae and Freddie Mac, the mortgage lenders' capital position, bank failures, and international perception of US markets."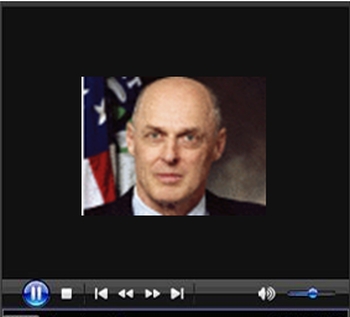 Source: Bloomberg , July 22, 2008.
Bloomberg: Pimco's Gross says Fannie, Freddie mortgages "excellent"
"Bill Gross talks with Bloomberg's Kathleen Hays about Treasury Secretary Henry Paulson's plan to rescue Fannie Mae and Freddie Mac, the outlook for US home prices, Federal Reserve monetary policy and the bond market."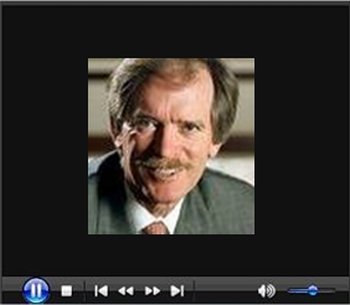 Click here for the full article.
Source: Bloomberg , July 21, 2008.
Financial Times: Blackrock's Larry Fink on the credit crunch
"Larry Fink, chairman and CEO of BlackRock, talks about the credit crunch and why the US government's interference in the markets has gone too far."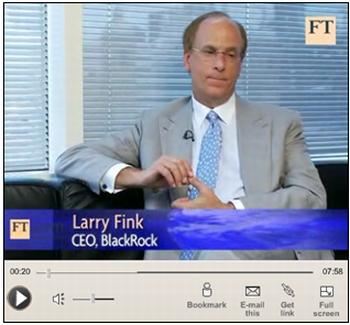 Source: Financial Times , July 23, 2008.
BCA Research: Fannie And Freddie debt is secure
"Agency debt should outperform Treasury securities in light of the recent strengthening of the government's implicit guarantee.
"CDS spreads for US Treasury debt jumped following Treasury Secretary Paulson's pledge to provide backstop capital for Fannie Mae and Freddie Mac (F&F). Meanwhile, debt issued by F&F has taken a big step closer to being backed by the US government. Thus, the cost of F&F credit protection is converging with the cost of credit protection on US Treasury securities, in much the same way that Bear Stearns spreads tightened to JP Morgan levels following that takeover.
"A heightened risk premium in Treasury-issued securities and the possible increase in supply created by the GSE bailout have contributed to the recent selloff in the Treasury market. Accelerating Treasury issuance has also emerged as an important factor placing downward pressure on swap spreads and Treasury issuance could increase if F&F in turn decide to draw down on the (increased) Treasury credit line. However, counterparty risk remains the most important factor driving swap spreads and all spreads remain at risk until concerns about financial systemic risk begin to ease."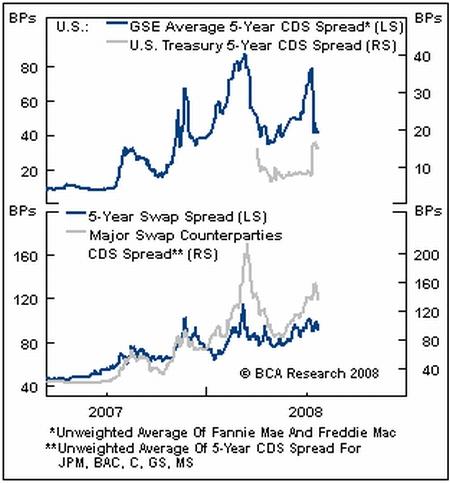 Source: BCA Research , July 24, 2008.
Did you enjoy this post? If so, click here to subscribe to updates to Investment Postcards from Cape Town by e-mail.
By Dr Prieur du Plessis
Dr Prieur du Plessis is an investment professional with 25 years' experience in investment research and portfolio management.
More than 1200 of his articles on investment-related topics have been published in various regular newspaper, journal and Internet columns (including his blog, Investment Postcards from Cape Town : www.investmentpostcards.com ). He has also published a book, Financial Basics: Investment.
Prieur is chairman and principal shareholder of South African-based Plexus Asset Management , which he founded in 1995. The group conducts investment management, investment consulting, private equity and real estate activities in South Africa and other African countries.
Plexus is the South African partner of John Mauldin , Dallas-based author of the popular Thoughts from the Frontline newsletter, and also has an exclusive licensing agreement with California-based Research Affiliates for managing and distributing its enhanced Fundamental Index™ methodology in the Pan-African area.
Prieur is 53 years old and live with his wife, television producer and presenter Isabel Verwey, and two children in Cape Town , South Africa . His leisure activities include long-distance running, traveling, reading and motor-cycling.
Copyright © 2008 by Prieur du Plessis - All rights reserved.
Disclaimer: The above is a matter of opinion and is not intended as investment advice. Information and analysis above are derived from sources and utilizing methods believed reliable, but we cannot accept responsibility for any trading losses you may incur as a result of this analysis. Do your own due diligence.
© 2005-2019 http://www.MarketOracle.co.uk - The Market Oracle is a FREE Daily Financial Markets Analysis & Forecasting online publication.

Only logged in users are allowed to post comments.
Register/ Log in