General Motors Massive Loss Signals US Already In Recession
Stock-Markets
/
Financial Markets
Aug 02, 2008 - 11:39 AM GMT


As GM goes…so goes the rest of the country. This axiom has been repeated as far back as I can remember. More recently, the use of that phrase has been scaled back to describe Michigan's situation , as Toyota Motors took the lead dog position in the U.S. auto industry.
Today, General Motors Corp., scrambling to adjust its operations and align production toward smaller cars, reported another massive loss as the auto-buying public's shift away from its profitable truck and SUV lines gathered momentum. The losses totaled $15.5 billion, more than $27.33 per share, compared to a share price of $10.69 at this writing. The math just doesn't look very good.
Unemployment gets a jolt.
The unemployment rate rose to 5.7 percent, and nonfarm payroll employment continued to trend down in July (-51,000), the Bureau of Labor Statistics of the U.S. Department of Labor reported today. In July, the number of persons who worked part time for economic reasons rose by 308,000 to 5.7 million and has risen by 1.4 million over the past 12 months. This category includes persons who indicated that they would like to work full time but were working part time because their hours had been cut back or they were unable to find full-time jobs.
Since December, 463,000 jobs have been lost, the strongest signal yet that the economy is in a recession. If you include the underemployed as well as newly unemployed, over 5% of our work force has seen its situation worsen in the last 12 months.
Seatbelts on?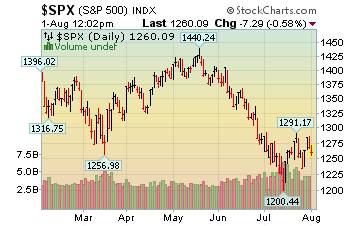 After all the talk about "the bottom is in" during the month of July we can see that the S&P 500 index hardly made any progress in its rally. In fact, its second rally attempt failed the first peak and has now reversed .
``The economy is slowly rolling over,'' said Charles Knott , who oversees $800 million as chief investment officer at Knott Capital Management in Exton , Pennsylvania . ``We're prepared for more on the downside and continue to be very cautious. If we have a sustained recession, GM and Ford are in a heck of a lot of trouble.''
Treasury Bonds don't appear to be a safe haven, yet.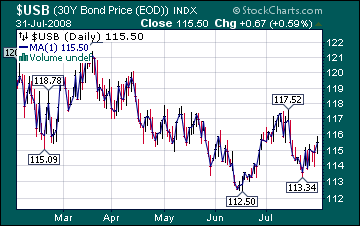 Treasury two-year notes headed for the biggest weekly gain since June after a government report showed the economy lost jobs for a seventh consecutive month and the unemployment rate rose to a four year high. Does the rally have legs? Not likely.
The new word in home financing is " covered bonds ." This is done by banks, that must guarantee or "cover" losses if a homeowner defaults on his mortgage. One more idea for the dustbin.
Gold may rally, but not to new highs.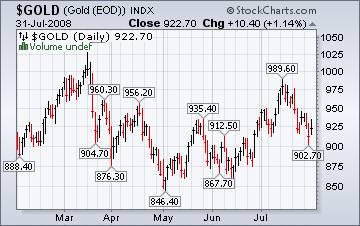 I have recently observed that gold has often been at counter-trend to the stock indices. This may not be a permanent relationship, but for now, it seems to be working.
"But overall uncertainty over the health of the economy may soon help gold prices turn the corner and move higher", some analysts said. That may only be true on a short-term basis.
In the Nikkei, bad news is punished while good news is ignored…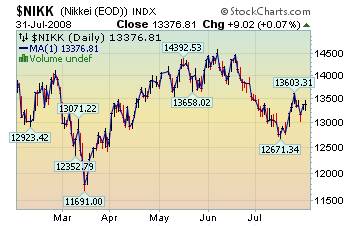 …typical behavior in a bear market, wouldn't you say? The Nikkei 225 Stock Average lost 282.22, or 2.1 percent, to 13,094.59 at the close of trading in Tokyo . The broader Topix index declined 30.69, or 2.4 percent, to 1,272.93. The Nikkei recorded a 1.8 percent drop for the week, while the Topix fell 2 percent. Both gauges slumped to the lowest level since July 18.
The Shanghai index is rolling over as manufacturing shrinks.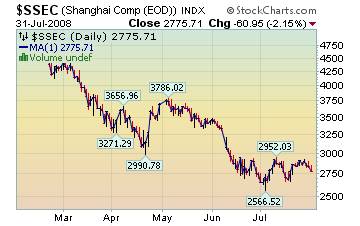 China's stocks fell for a fourth day, driving the benchmark index to its biggest weekly decline in seven weeks, after a gauge of manufacturing shrank for the first time since 2005.
``The CSRC is trying to stabilize the market ahead of its hosting of the Olympics this summer for reasons of face,'' Phang said. ``But these measures can only provide a short-term boost and it's fundamentals, such as higher oil prices and production costs, that will affect China 's stock market.''
The dollar may be building a base for a rally.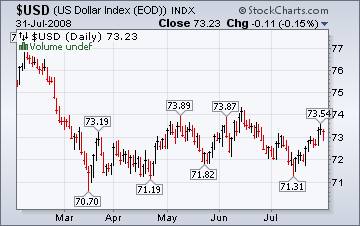 Analysts are still commenting, " that the dollar's fundamental woes are not limited to banking write-downs and high oil prices, but also a manifest-tation of weak macroeconomic data, at the top of which is continued deterioration in the job market."
Meanwhile, the technical outlook for the dollar becomes stronger. Could it be that these same analysts bashing the dollar don't see that economic conditions may be worse in Europe and worsening in Asia ?
No bottom in sight, yet.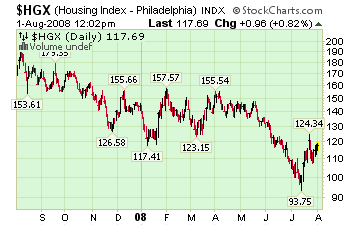 Once we understand that the housing market is going through a post-bubble correction , we can see that we shouldn't be looking for a bottom as much we should be looking for pricing stability. We also know that pricing stability cannot happen until the housing market has given up nearly all the gains of the housing boom era. At the moment (per Marketwatch) it appears that we've only turned back the clock to 2004, and have bit of a ways to go before anyone can make any credible claims of housing having reached a bottom.
Gasoline prices are slipping.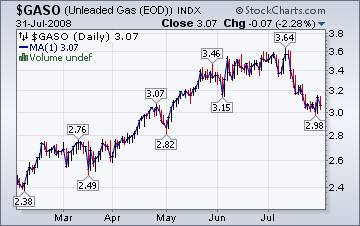 The Energy Information Administration's This Week In Petroleum tells us that; "The U.S. average retail price for regular gasoline continued to slip below its all-time high set July 7, weakening an additional 10.9 cents to 395.5 cents per gallon this week. This was the third consecutive week in which the U.S. average decreased and the first time in eight weeks that the average price fell below $4 a gallon."
Quite a turn in the price of natural gas, eh?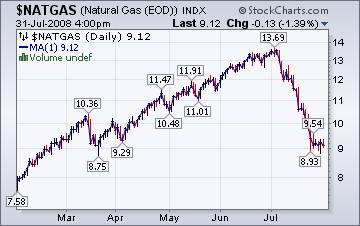 The Energy Information Agency's Natural Gas Weekly Update tells. " The summer heat across much of the country and lower production in the Gulf of Mexico had very little effect on price movements this week. Overall, prices in the Lower 48 States declined, with decreases ranging between $0.40 and $1.98 per MMBtu. The price decreases came amid an increase in space-cooling demand across most of the country and the temporary shutdown of the Independence Hub in the Gulf, which began late Tuesday and took about 900 million cubic feet (MMcf) per day of production off the market."
Is the truth impractical?
Michael Shedlock (Mish) comes back with an analysis of the financial world that bares the naked truth. We've been lied to and we better be aware of the consequences of believing everything we're told.
It's NEVER "practical" for the Fed, the SEC, Banks, CEOs in general, the FDIC, Congress, the Treasury Department, or the President to tell the truth. This is what it all boils down to: Somehow it's never "practical" to stop a drunken credit-financed orgy, yet when the party ends, it's never "practical" to discuss the consequences.
In this case, the credit orgy lasted so long, and there were so many players, that the most important truth right now that needs open, honest discussion is that the entire US Banking System Is Insolvent.
We're on the air every Friday.
Tim Wood of www.cyclesman.com , John Grant and I are back in our weekly session on the markets. This week we debate what the market is telling us, near-term. It should be fascinating. You will be able to access the interview by clicking here .
New IPTV program going strong.
This week's show on www.yorba.tv is packed with information about the direction of the markets. I'm on every Thursday at 4:00 pm EDT . You can find the archives of my latest programs by clicking here .
Please make an appointment to discuss our investment strategies by calling Claire or Tony at (517) 699-1554, ext 10 or 11. Or e-mail us at tpi@thepracticalinvestor.com .
Anthony M. Cherniawski,
President and CIO
http://www.thepracticalinvestor.com
As a State Registered Investment Advisor, The Practical Investor (TPI) manages private client investment portfolios using a proprietary investment strategy created by Chief Investment Officer Tony Cherniawski. Throughout 2000-01, when many investors felt the pain of double digit market losses, TPI successfully navigated the choppy investment waters, creating a profit for our private investment clients. With a focus on preserving assets and capitalizing on opportunities, TPI clients benefited greatly from the TPI strategies, allowing them to stay on track with their life goals
Disclaimer: The content in this article is written for educational and informational purposes only. There is no offer or recommendation to buy or sell any security and no information contained here should be interpreted or construed as investment advice. Do you own due diligence as the information in this article is the opinion of Anthony M. Cherniawski and subject to change without notice.
© 2005-2019 http://www.MarketOracle.co.uk - The Market Oracle is a FREE Daily Financial Markets Analysis & Forecasting online publication.
Comments
chris
27 Nov 08, 05:16
GM Bankruptcy is hazardous
GM Bankruptcy would shred labor contracts, lay off workers and end retiree health benefits. Wages might be slashed and according to an estimate about 315,000 jobs will be affected but it would be inhuman and and economic tragedy ... http://www.wheelsontrack.com

Stormy
28 Nov 08, 09:46
GM Bankruptcy is good medicine


Let them fall. The tragedy for the economy is how Americans have borrowed their way up to where they are now. Which is not their fault, but their government's fault. GM bankruptcy is just a consequence of the problem, not a problem in itself, it just has to happen.

Every day that goes by in which United States is bailing out companies with printed or borrowed money is one more day the disaster will last when it things come back to reality. The sooner the pain comes, the lesser it will be for you guys. When you want to stop consuming drugs it is a painful experience, but is a must do. It is worse to keep consuming drugs.

Consuming and borrowing is the drug for Americans, a nation that is no longer aware that you first need to produce in order to be able to consume. United States is broke and I truly hope the best for you guys because it's gonna be tough.

Take care




Only logged in users are allowed to post comments.
Register/ Log in