Death of Europe's Greenest City, Police State Sheffield Labour Council to Fell 50% of Street Trees
Local
/
Sheffield
Mar 11, 2018 - 07:29 AM GMT


For 5 years Labour controlled Sheffield city council has kept virtually all of the the Streets Ahead PFI contract with Spanish owned Amey secret from the people of Sheffield with only heavily redacted pages being released into the public domain that failed to answer key questions being raised. Where even towards the end of 2017 the council in the face of growing public opposition and protests on the streets that were increasingly met by force, the Council stuck to the mantra of having a target of felling 6000 trees, following which the contract would enter a maintenance stage.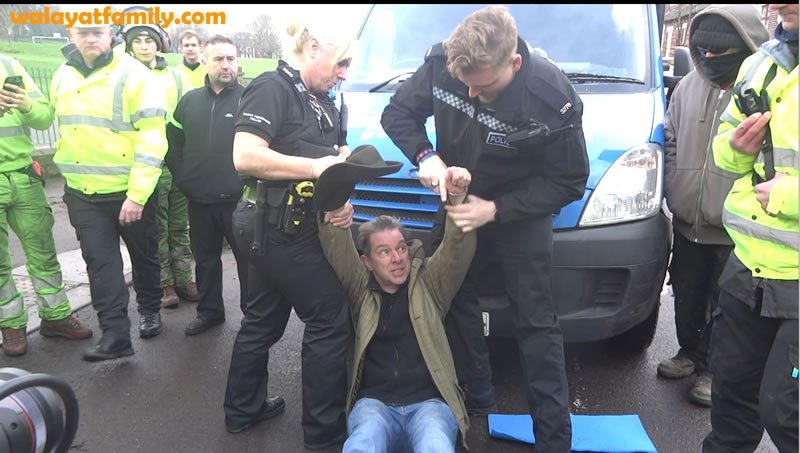 However, I nor many of the more veteran tree campaigners out there believed any of the propaganda emanating out of the Labour city council for several years, as given the pace of fellings taking place therefore I was pretty sure that the council would not stop asset stripping Sheffield streets of their valuable trees roughly valued at between £15.000 and £75,000 each (CAVAT method) depending on size and health as my following documentary from Mid 2017 illustrates.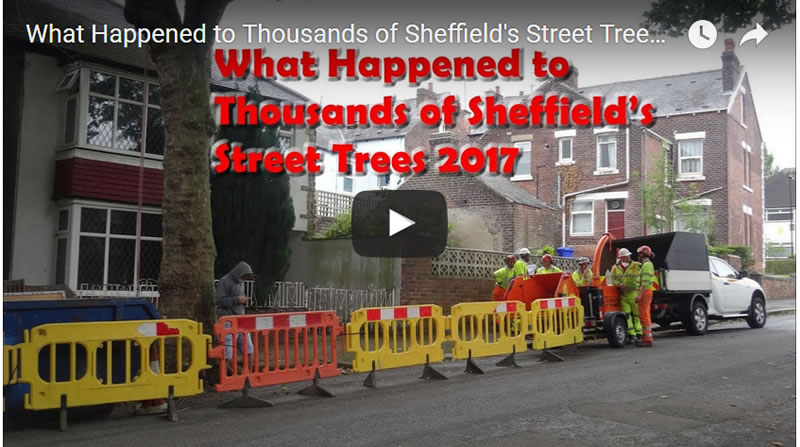 This whilst the establishment media, from local the Star to BBC's Look North amongst many others propagated SCC / Amey propaganda that had deliberately held secret the true magnitude of the amount of planned felling of street trees contained within the contract from the Sheffield people.
The Council has now been FORCED by the Information Commissioner to release some of the highly redacted contract pages into the public domain, something it should have done right from the the very start in the interests of transparency! And what stands out from the release of the documents is the fact that the contract stipulates that Amey would fell 17,500 street trees, which amounts to 50% of the initial number of just over 35,000 street trees.
"The service provider [Amey] shall replace highway trees in accordance with the annual tree management programme at a rate of not less than 200 per year so that 17,500 highway trees are replaced by the end of the term, such replacement to be in accordance with the Highway Tree Replacement Policy, unless authority [Sheffield Council] approval has been obtained for deviation from this policy."
What this means is that the Labour council had planned to strip Europe's greenest city of half of its street trees, having already felled near 6,000 street trees would mean Sheffield is set to lose another 11,500 street trees, and therefore killing the city in terms of being Europe's greenest city. The following video illustrates exactly what it means when Amey comes to a street and fells ALL of its tree's, turning a formerly majestic tree lined desirable suburban street into just another run down Labour voting council estate.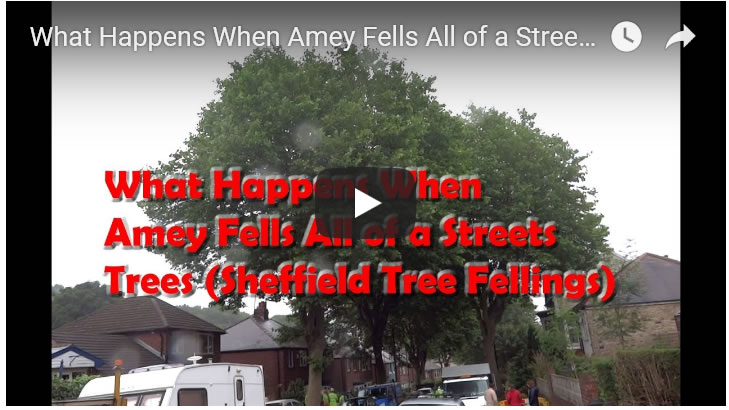 As for the impact of the felling to date, apart from the impact on the health of Sheffielders by the removable of 6 thousand of trees that had been soaking up vehicle pollution, one unintended consequence is being felt in Sheffield's housing market in the wake of leafy suburban streets being stripped of many of their street trees house prices have also been felled. Sheffield's tree lined leafy suburbs that the estate agents so welcoming advertise are increasingly becoming no more. Trees that have taken more than a 100 years to reach their adult splendour have been felled in there thousands leaving behind either voids or saplings that can fail to survive or are prone to vandalism, all in exchange for large trees with capital values of between £50k and £150k now permanently gone!
And as I a warned right at the start of 2017 (03 Jan 2017 - Sheffield Tree Felling's - Labour City Council Outsourcing Local Democracy to Amey)(and for much of 2016 across many youtube videos) that such ongoing capital destruction would have consequences not just for the streets that were being stripped bare by a council that has OUTSOURCED DEMOCRACY TO A MULTINATIONAL but that the rampant out of control tree felling's were DEVALUING THE WHOLE CITY! Where Amey in effect was felling Sheffield house prices, a forecast that is coming to pass as Sheffield house prices bucked the national bullish trend by falling by 3% during 2017.
Whilst the response to the protests against Sheffield's ruling political and corporate establishment has increased exponentially over the past few months from the deployment of a private militia, an army of bob the builders onto Sheffield streets assaulting protestors.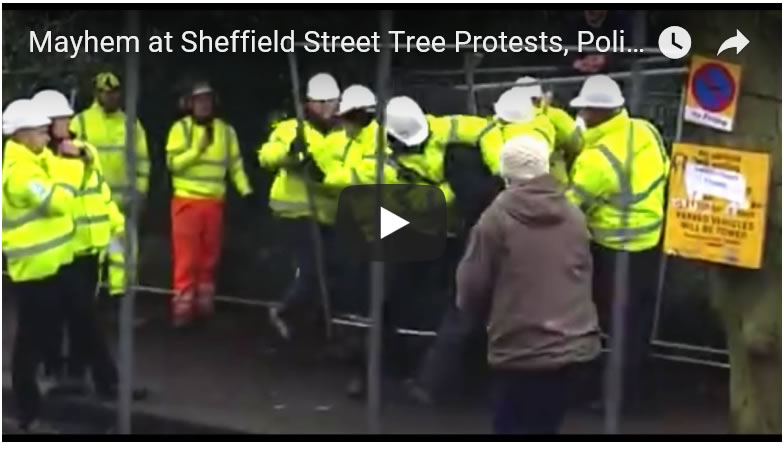 To the current state of the deployment of massive Police numbers of at least 35 officers per felling site, with snatch squads in operation grabbing protestors on their way home from street felling sites.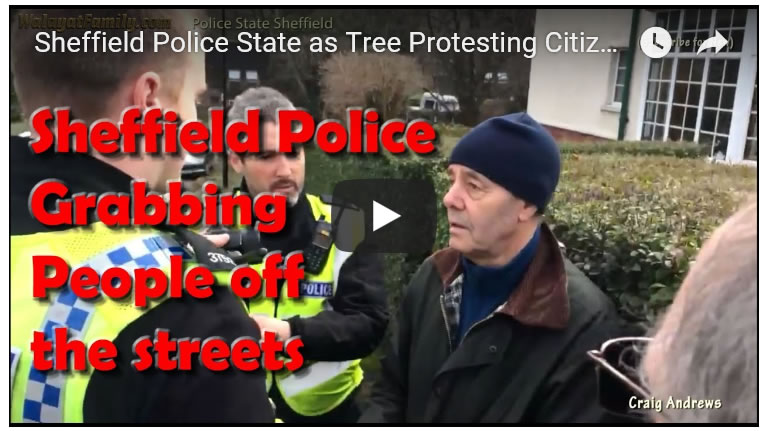 Video footage by N Walayat and C Andrews.
Again Abbeydale Park Rise saw numerous arrests, and at least one person injured as a consequence the deployment of such huge Police manpower against peacefully demonstrating residents.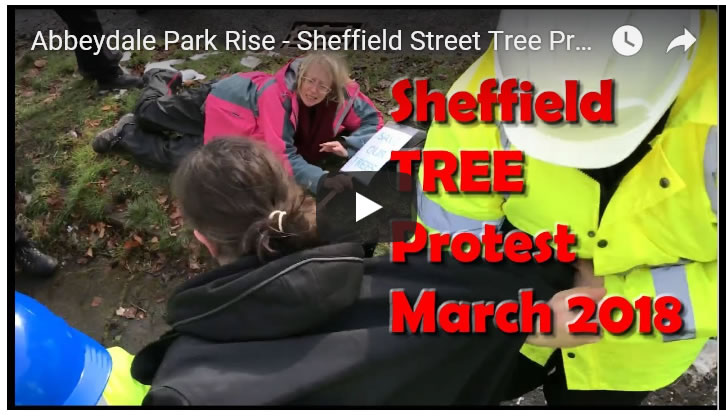 So this weeks police and security presence and protestor response represents a major escalation on what had gone before, resembling a revolution of sorts underway on Sheffield's streets in the countdown to the May 2018 Local elections when it will be seen if the ruling Labour regime pays a price at the ballot box for its increasingly unpopular actions on Sheffield's streets that now resemble what one would find in a totalitarian eastern european state.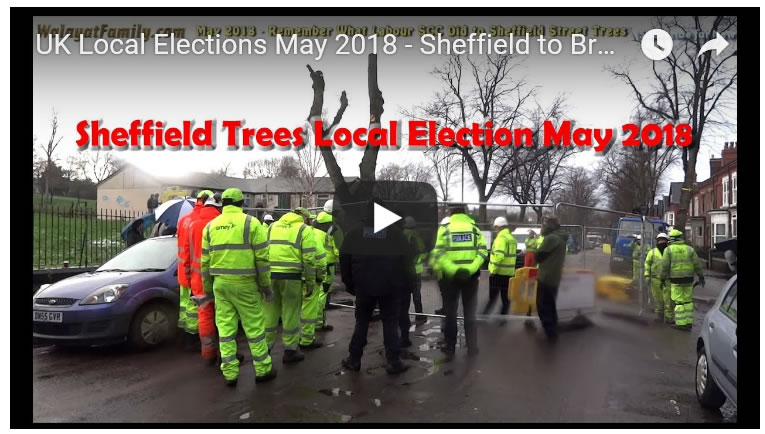 So as someone who frequents a felling site at least once per week, I have to now be prepared for the possibility of being arrested by Sheffield's Gestapo Police for nothing more than observing, documenting and holding those who abuse the protestors to account through publication of video evidence. As apparently standing peacefully at a tree protest is now a crime as the Labour council appears to have sold Sheffield to Amey, a Spanish multinational and then the establishment wonders why the people of Sheffield voted for BrExit! It's because of YOU LABOUR, You ARE Sheffield's TORIES!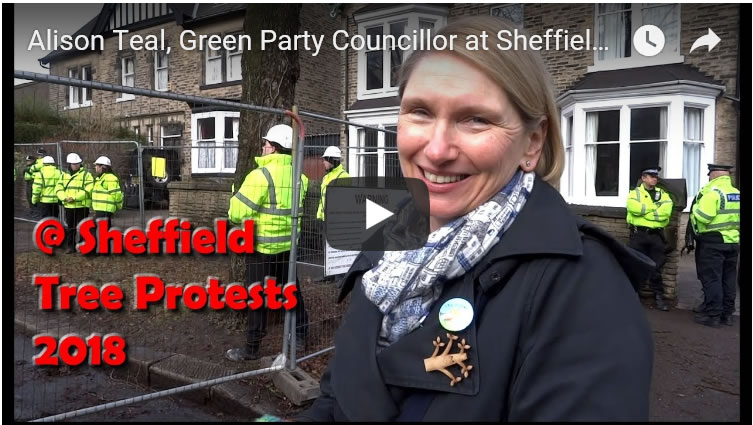 By Nadeem Walayat
Copyright © 2005-2018 Marketoracle.co.uk (Market Oracle Ltd). All rights reserved.
© 2005-2019 http://www.MarketOracle.co.uk - The Market Oracle is a FREE Daily Financial Markets Analysis & Forecasting online publication.

Only logged in users are allowed to post comments.
Register/ Log in