Sheffield Best Secondary Schools Trend Analysis 2018, GCSE Choices 2019
Local
/
Sheffield
Jan 25, 2019 - 07:55 AM GMT


It's that time of the year when Year 9 students will be trundling along with their parents to their schools GCSE Choices evenings, presentations of what subjects students could select for their GCSE studies in Year 10, and 11. Though in reality for most their won't be much of a choice as the choices forms appear to have been carefully designed to give the illusion of choice when in reality only a few will be offered real choice of subjects due to the fact that high demand courses such as Computer Science will tend to be heavily over subscribed and thus only a fraction of those who choose this will get what they want.
Anyway, here is our definitive answer to the question what are currently Sheffield's best secondary schools based on trend analysis which ranks the schools in terms of consistency of results, as results do tend to vary from year to year. The graph represents Sheffield's Top 18 secondary schools out of a total of 51 rated in terms of consistency in attaining high rankings in the school league tables from 2001 to 2018, for 5 A-C GCSE's from 2001 to 2016, since when available data has changed for most schools to measuring Attainment 8 Scores, so data has been normalised as a % of top scoring school so as to continue this trend series.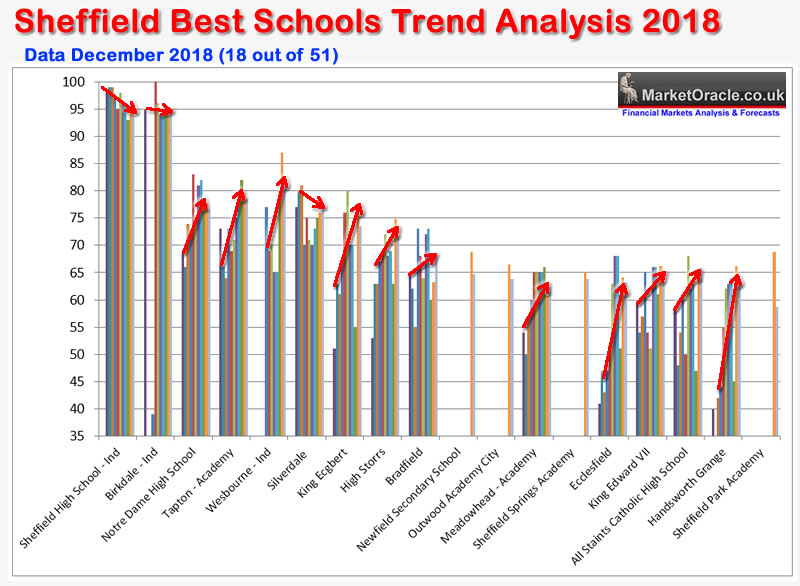 For comparison here is the previous years trend analysis: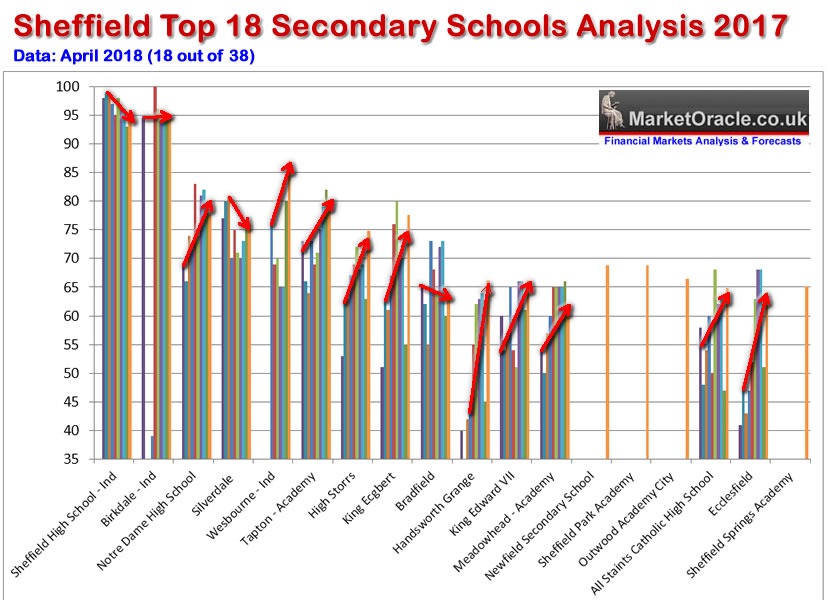 At the top of the list remain the two Independant Schools
1. Sheffield High School
2. Birkdale
Then some significant distance away are the following cluster of 4 schools that rank quite closely together performing at about 76% of Sheffield High School.
3. Notre Dame High School,
4. Tapton - Academy,
5. Westbourne - Ind,
6. Silverdale
In the next cluster are the following 3 schools that typical rank at 2/3rds the performance of Sheffield High School.
7. King Ecgbert
8. High Storrs
9. Bradfield
Most of the remaining schools lack an adequate track record:
10. Newfield Secondary School
11. Outwood Academy City
12. Meadowhead - Academy
13. Sheffield Springs Academy
14. Ecclesfield
15. King Edward VII
16. All Saints Catholic High School
17. Sheffield Park Academy
18. Handsworth Grange
The most notable movements for 2018 were Tapton and Westboune pulling ahead of Silverdale, and Handsworth slipping from 10th to 17th due to better results from other schools.
Whilst it will take many years for Sheffield's new secondary schools completed during 2018 such as Mercia and Astrea to have a track record to make it into the tables. Where probably the best indicator for potential is the location which therefore favours Mercia over Astrea in terms of future prospects.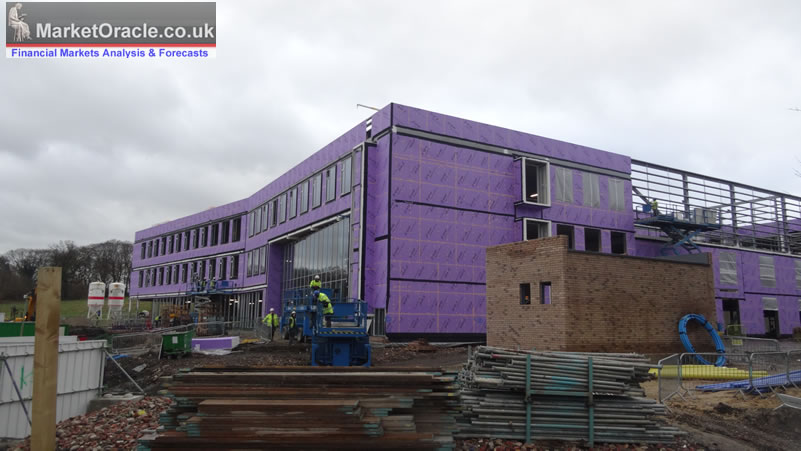 Future Forecasts
For catchment area demand analysis see the following video that forecasts what to expect to happen in future years as existing schools are expanded: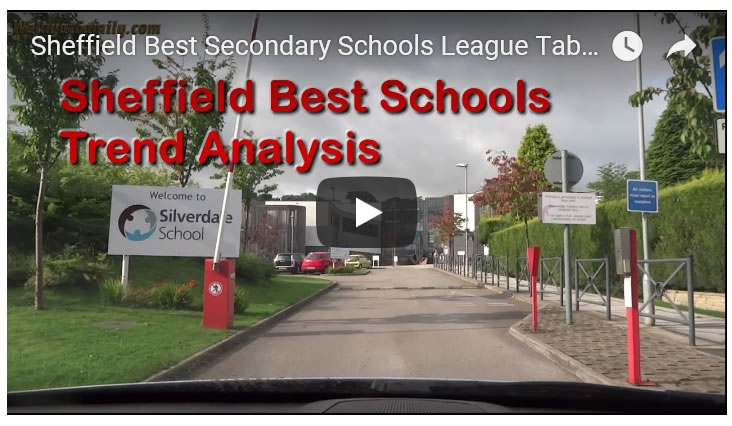 GCSE Choices
Whilst some GCSE's are compulsory such as ENGLISH and MATHS and supposedly SCIENCE. However most of the rest are of not much value when it comes to the progression of your child's education.
SCIENCE
SCIENCE is a choice between Triple and Combined Science. The difference being Combined science sort of makes the Science subjects easier to pass by combining Physics, Maths and Biology into 1 GCSE, to complicate matters further there is a DUAL AWARD for Combined Science, so basically the student would receive two grades for Combined Science. This is set against the traditional science GCSE's of Physics, Maths and Biology
I strongly advice students to select Triple GCSE rather than Combined, which is, far less valuable, Especially if you are considering doing a Science A level later.
MATHS
Despite maths being compulsory, students tend to be taught in sets, where those expected to achieve 5 or better will be entered into GCSE Maths Higher, whilst the rest into GCSE Maths Foundation. The difference is that Foundation is capped at a 5. Whilst Higher covers the whole range of 1 to 9.
The selection for which exam a student will be entered into is usually made at the end of Year 10, so it is imperative for students to focus on working towards improving their maths to at least level 5, else that will be the maximum grade you will be able to achieve! Furthermore many Universities require a minimum GCSE Maths grade of 5 or 6.
As for the best from the myriad of 'choices' on offer -
Computer Science
Business Studies
Though as I said right at the beginning, in reality there isn't really much of a choice, as the choices forms have been such designed so as to give the illusion of choice, which most students will soon realise when they find out they cannot do the subjects they were dreaming of doing, instead have to stick with the likes of languages they don't want to learn or History and Geography. Or worse denied Triple science and lumbered with Combined science!
Nadeem Walayat
Copyright © 2005-2019 Marketoracle.co.uk (Market Oracle Ltd). All rights reserved.
© 2005-2019 http://www.MarketOracle.co.uk - The Market Oracle is a FREE Daily Financial Markets Analysis & Forecasting online publication.

Only logged in users are allowed to post comments.
Register/ Log in