Senate Rejects Automakers Bailout, Stock Market Implications
Stock-Markets
/
Financial Markets
Dec 13, 2008 - 08:02 AM GMT


The bailout plan for GM and closely held Chrysler LLC was rejected last night after talks failed over Republican senators' demands that union workers accept a cut in wages next year. GM and Chrysler said they may run out of cash for their operations as sales head toward their lowest in 17 years.


'GM Chief Executive Officer Rick Wagoner told Congress last week and has said repeatedly that the Detroit-based automaker is trying to avoid bankruptcy at all costs. Lead director George Fisher said last week that GM considered and rejected the option and it was "way down the list" of alternatives. Chrysler has said it will run out of money early next year. It ended the third quarter with $6.1 billion in cash and needs at least $3 billion on hand to operate, Chief Executive Officer Robert Nardelli told Congress on Nov. 18.
John Bogle , who created the $80.6 billion Vanguard 500 Index Fund in 1976, said the White House will probably intervene to save General Motors Corp. from bankruptcy after the Senate rejected a rescue yesterday. "The president is probably going to come to their rescue, because the Congress has really punted the ball over to the White House," Bogle, 79, said in an interview with Bloomberg Television from Valley Forge, Pennsylvania. "That will give them temporary stop-gap aid. I do not think General Motors is going to go out of business."
The Bush administration will consider its options to save the nation's automobile industry, including tapping the $700 billion in funds under the Troubled Asset Relief Program, White House spokeswoman Dana Perino said Friday. "A precipitous collapse of this industry would have a severe impact on our economy, and it would be irresponsible to further weaken and destabilize our economy at this time," she said.
Perino also said the government wouldn't offer a blank check. "While the federal government may need to step in to prevent an immediate failure, the auto companies, their labor unions, and all other stakeholders must be prepared to make the meaningful concessions necessary to become viable," she said. Why haven't they thought of it earlier?
How many times can you say…Déjà vu all over again?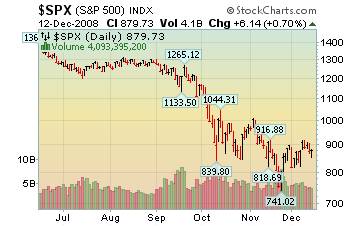 U.S. stocks , the dollar and oil fell after the Senate's rejection of a bailout for American automakers threatened to deepen the worldwide recession. "This is a very stressful, tense time for the market and for everyone else," said Alan Gayle , senior investment strategist at Ridgeworth Capital Management, which oversees $70 billion in Richmond, Virginia. "The tentacles of the auto industry throughout the economy are fairly extensive."
Low bond rates are not helping corporate debtors.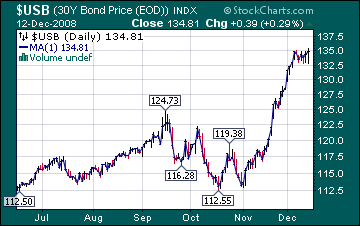 -- The lowest yields on Treasuries are providing no solace to U.S. companies paying the highest borrowing costs on record. While rates on everything from four-week Treasury bills to 30-year bonds fall to all-time lows, companies are paying an average 10.8 percent on their debt, up from 6.53 percent in January, according to Merrill Lynch & Co.'s U.S. Corporate & High Yield Master Index. The premium investors demand for lending to companies instead of the government rose to 8.85 percentage points yesterday, compared with 2.96 percentage points at the start of the year, the index shows.
Gold's rally may be over.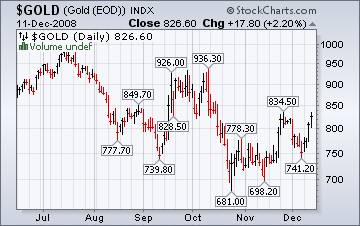 – Gold and other metals fell Friday, as the Treasury Department said that it would lend funds to the Big 3 auto-makers until Congress has time to consider a long-term rescue package next year.
The announcement came after a rescue plan for the automakers collapsed in the Senate last night, heightening fears of a deepening recession.
Rally over. What's next?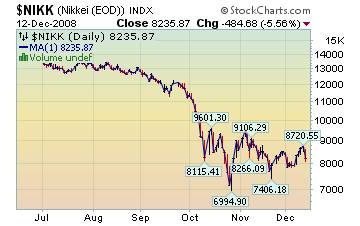 -- Japanese stocks plunged, retreating for the first time this week, after the U.S. Senate failed to agree on an auto-industry bailout and the yen surged to a 13-year high, stoking concern the global recession will worsen. "Investors have been betrayed again by U.S. politicians," said Yasuhiro Miyata , a senior portfolio manager at DIAM Co. in Tokyo, which manages the equivalent of $109 billion. "Even with the knowledge that we are in the midst of a crisis, they were unable to come to an agreement, and investors have decided to abandon ship."
Concerns about the economic slowdown in China.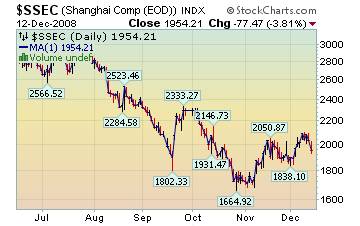 -- China's stocks fell the most in three weeks as retail sales grew at the slowest pace in nine months and a government official said growth in the world's fourth-largest economy will cool further. It looks like the market has had a very bad reading of the recent economic data," said Wang Peng , a fund manager at First Trust Fund Management Co. in Shanghai, which oversees the equivalent of $2.1 billion. "The concern about the economic slowdown remains."
The dollar collapses...but will it recover?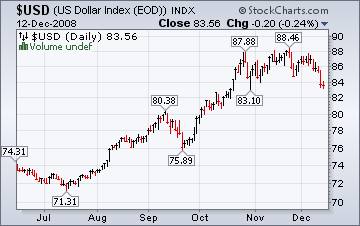 The dollar plunged to its lowest in 13-1/2 years against the yen on Friday, as the U.S. Senate's failure to agree on a bail-out for troubled U.S. automakers sharply diminished risk appetite and stoked demand for the low-yielding Japanese currency.
U.S. data on Thursday showing falls in producer prices and retail sales for November hardly made a dent on the dollar, suggesting that the currency market has priced in much of the weakness in the world's largest economy.
"Pick a pay" mortgages are backfiring.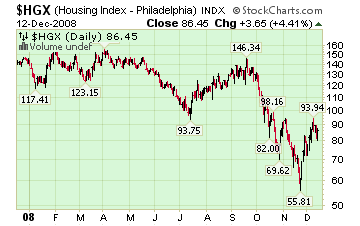 "Pay option" adjustable-rate mortgages gave borrowers a choice of payments each month. They also carried a feature that came as a nasty surprise to some borrowers, called "negative amortization." If the homeowner opted to pay less than the full monthly amount, the difference was tacked onto the principal. When the loan automatically "recasted" in five or 10 years, the owner is locked into a new, much higher, set monthly payment.
Expect gasoline consumption in 2009 to be much lower.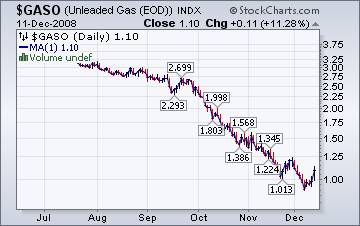 The Energy Information Administration reports that, "Motor gasoline consumption in 2008 is projected to decline 320,000 barrels per day (bbl/d), or 3.4 percent, from 2007 according to the Short-Term Energy Outlook , released yesterday by the Energy Information Administration (EIA)." This is being brought about by high gasoline prices and a weak economy. You may assume that consumption may fall even more than projected.
Natural gas prices decreased for the week in the lower 48 states.
The Energy Information Agency's Natural Gas Weekly Update reports, " Unseasonably warm temperatures for part of this report week in the Northeast and Southeast, along with an expected decrease in industrial demand in the Lower 48 States, resulted in lower natural gas spot prices again this week. Furthermore, the drop in the crude oil prices to $43.10 per barrel lessened upward price pressure on natural gas spot prices. Price patterns in the natural gas markets seemed to follow the crude oil market this report week."
Charlie Rose interviews Nassim Taleb.
I found this interview quite fascinating, since Nassim Taleb has been able to articulate my own views so well. Mr Taleb tells us very clearly that, when wealth is concentrated among very large institutions, they make much larger mistakes. His thesis is now being played out in the global markets, where there seem to be too many institutions that are "too big to fail." And their failures will be enormous. An excellent interview.
We're on the air every Friday.
Tim Wood, John Grant and I are back in our weekly session on the markets. The market has been a real roller coaster ride this week. You will be able to access the interview by clicking here .
New IPTV program going strong.
This week's show on www.yorba.tv is packed with information about the direction of the markets. I'm on every Tuesday at 4:00 pm EDT . You can find the archives of my latest programs by clicking here .
Please make an appointment to discuss our investment strategies by calling Claire or Tony at (517) 699-1554, ext 10 or 11. Or e-mail us at tpi@thepracticalinvestor.com .
Anthony M. Cherniawski,
President and CIO
http://www.thepracticalinvestor.com
As a State Registered Investment Advisor, The Practical Investor (TPI) manages private client investment portfolios using a proprietary investment strategy created by Chief Investment Officer Tony Cherniawski. Throughout 2000-01, when many investors felt the pain of double digit market losses, TPI successfully navigated the choppy investment waters, creating a profit for our private investment clients. With a focus on preserving assets and capitalizing on opportunities, TPI clients benefited greatly from the TPI strategies, allowing them to stay on track with their life goals
Disclaimer: The content in this article is written for educational and informational purposes only. There is no offer or recommendation to buy or sell any security and no information contained here should be interpreted or construed as investment advice. Do you own due diligence as the information in this article is the opinion of Anthony M. Cherniawski and subject to change without notice.
© 2005-2019 http://www.MarketOracle.co.uk - The Market Oracle is a FREE Daily Financial Markets Analysis & Forecasting online publication.

Only logged in users are allowed to post comments.
Register/ Log in