Stock Market Clean Breakout Higher
Stock-Markets
/
US Stock Markets
Jan 05, 2009 - 07:15 AM GMT


No denying it when it takes place. Breakout and run which is what we saw today. The Market said good bye to 915/8857 and 1607 on the Sp, Dow and Nas respectively. Those 50 day exponential moving averages which were the major road blocks to higher levels were bulled over. The bears can make a good case that there was no volume and when it does come back in on Monday we'll head right back down. that may be the case but there's a few things going on here that argues against it.


The pattern set ups just about everywhere you look are quite good. The Sp weekly has made a Macd cross from very low levels and the daily charts across the board look great. Yes, we are overbought on the near term charts and this suggests some type of selling soon but selling that should now be contained and used for more buying. Never a guarantee but there are enough signs out there to make one feel good about that analysis. It seems as if the market slaughter of 2008 is going to take a breather for a while at least in early 2009. Monday and early next week on any selling due to overbought will tell that tale.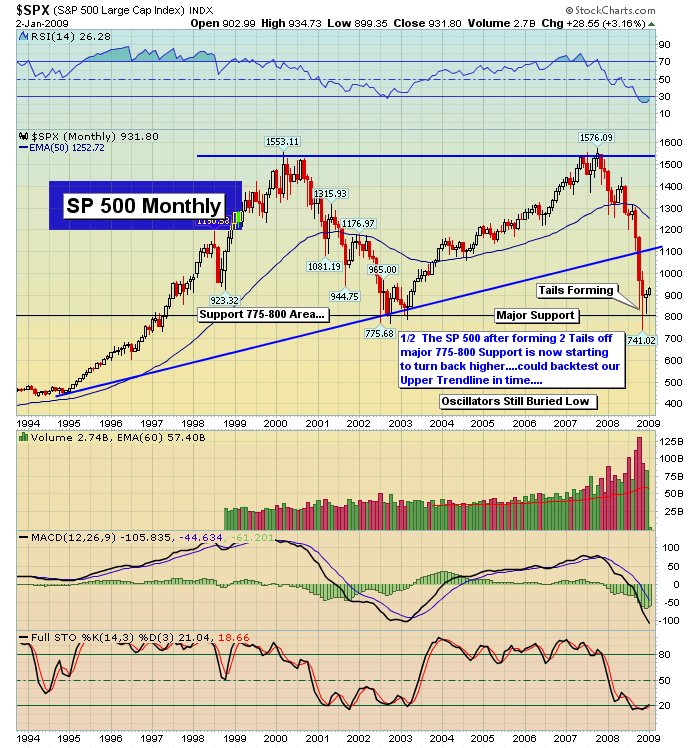 We started out flat for the day and when the ism came out showing a weak economy the market held its ground instead of tanking out. From there the move towards the 50 day ema's was on. it wasn't all at once. It was a slow gradual climb and once reached we churned a bit but could not fall much either. This was a sign that the bulls are about to get thing going although you never know for sure. The move did occur and the best news for the bulls was the fact that once made, it didn't stall but kept on going instead. Classic breakout action less the volume so we need to watch that early next week.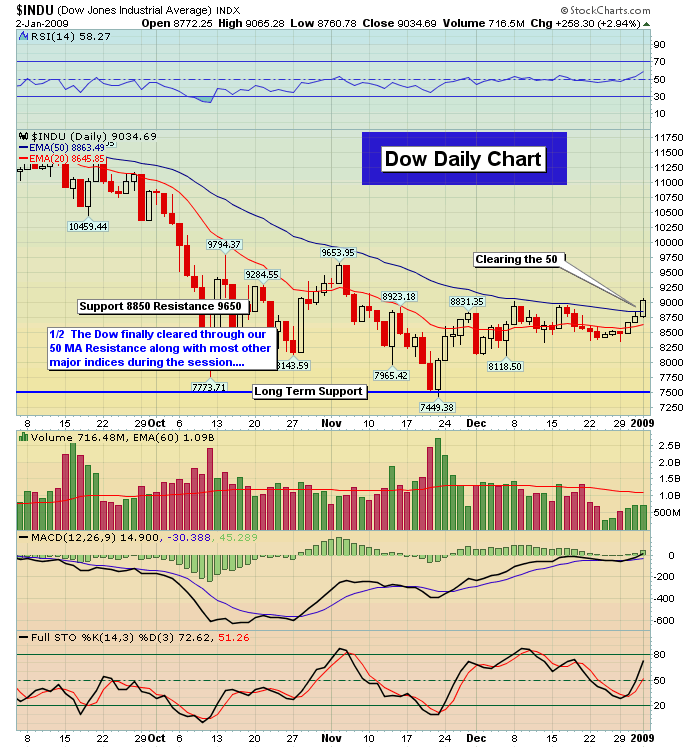 We had been showing you some set ups recently, including Market Vectors Agribusiness ETF (AMEX: MOO) and Dick's Sporting Goods (NYSE: DKS), which pointed out how things were setting up and why we felt it was best to not be shorting the markets. When things get very compressed, especially on those weekly and monthly charts, you don't want to keep on stepping on the throats of the bulls. They'll surprise you. Things can get over done in the short term and those longerterm charts along with the look of the daily charts kept us from shorting even though that was the sexy way to play. It just didn't make sense.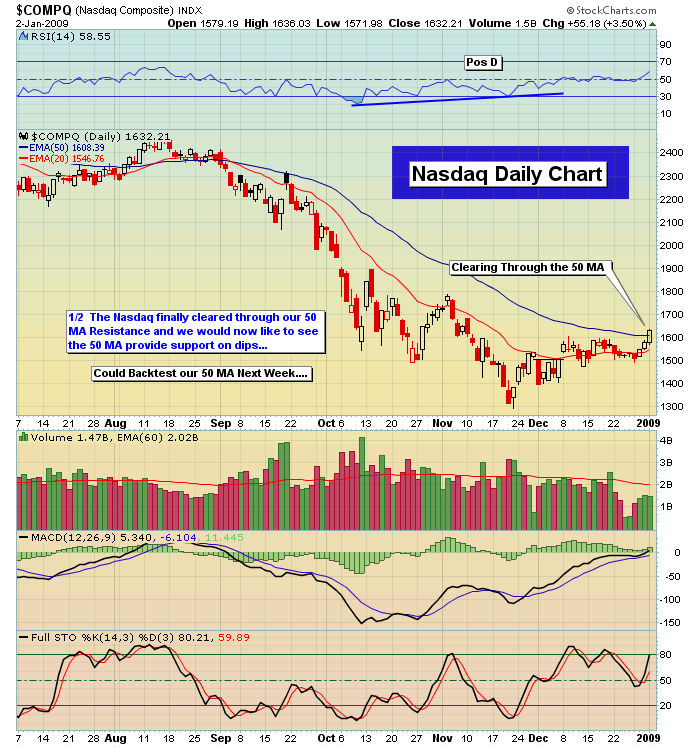 This by no means says that the bear market is over although it may be. We can never know the answers to that question until we see how the oscillators set up once we get some deeper upside over time. Never try to write the long term picture in your mind so that you don't leave yourself open to any and all possibilities. All people should look at the market each and every day with an open mind. The door is now open to roughly SP 1000/1010 but we must remain on guard early next week when the volume comes back in and make sure that all selling is contained. If it all works out we can get more aggressive on the long side.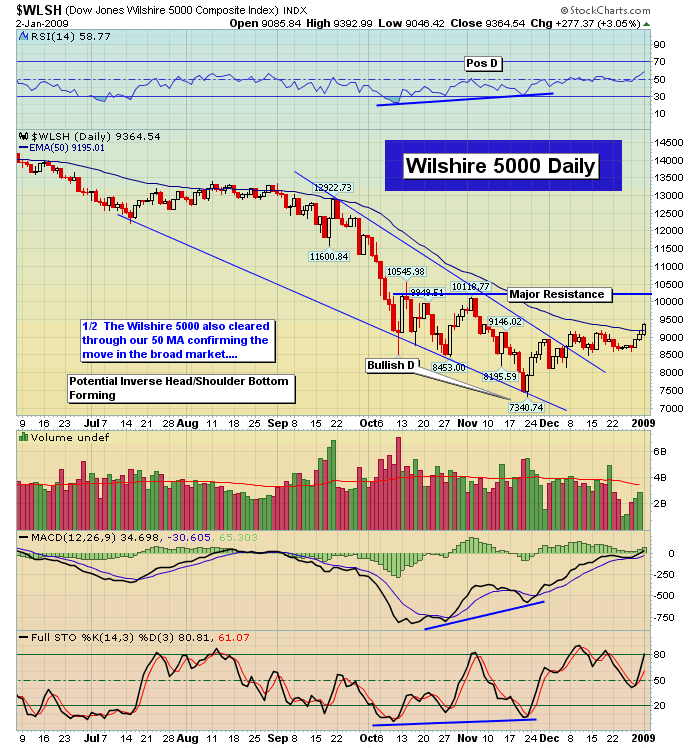 The one thing that can keep a market moving up is disbelief. The emails I'm receiving are overall of the bearish nature. Folks really seem anxious to short this 50 day ema test as if it's a given that every one will fail. Whenever a market tests a major moving average for the first time above or underneath it'll usually fail.
There have been multiple tests here so a move through shouldn't be so unexpected. Yes things stink out there but yes, the market has been annihilated and some type of rally should be expected. It has been forever it seems since we took over these 50's and a move higher to around 1000 Sp would be a natural place for the sellers to kick things back in. We'll deal with that but the bears really shouldn't be caught that off guard here if we do indeed continue to hold these 50 day ema's.I believe there's a very good chance we will.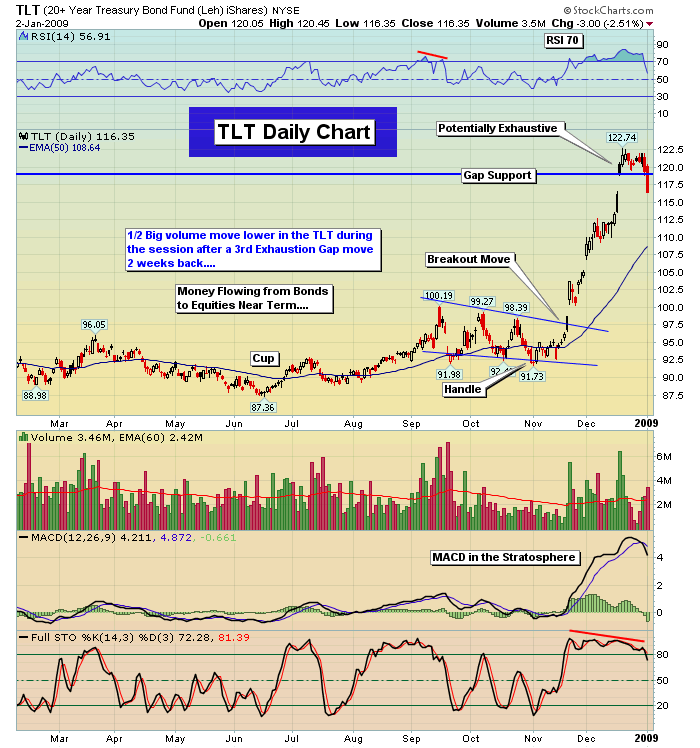 Again, this doesn't mean the bear is over. We do have the Tlt finally rolling over here and that also bodes well for equities. It's rolling from incredibly overbought levels on every oscillator thus a more sustained overall stock market rally seems to be in the cards. Nothing overly aggressive yet folks. let's make sure volume, when it comes back next week, doesn't blast us right back down. Some selling will have to take place soon from short term overbought but those daily's are nowhere near overbought yet so it's all good for now. The charts will tell the tale tonight. Study them and enjoy. peace Jack
By Jack Steiman
Jack Steiman is author of SwingTradeOnline.com ( www.swingtradeonline.com ). Former columnist for TheStreet.com, Jack is renowned for calling major shifts in the market, including the market bottom in mid-2002 and the market top in October 2007.
Sign up for a Free 30-Day Trial to SwingTradeOnline.com!
© 2008 SwingTradeOnline.com
Mr. Steiman's commentaries and index analysis represent his own opinions and should not be relied upon for purposes of effecting securities transactions or other investing strategies, nor should they be construed as an offer or solicitation of an offer to sell or buy any security. You should not interpret Mr. Steiman's opinions as constituting investment advice. Trades mentioned on the site are hypothetical, not actual, positions.
© 2005-2019 http://www.MarketOracle.co.uk - The Market Oracle is a FREE Daily Financial Markets Analysis & Forecasting online publication.
Comments
Steve Place
07 Jan 09, 19:09
TLT May Hold


TLT just came into some pretty strong support. This might be a decent place to put a swing trade on as it offers a nice risk/reward profile. I made a video featuring this play here; http://investingwithoptions.com/2009/01/brand-new-iwo-video/




Only logged in users are allowed to post comments.
Register/ Log in