Why Dow Jones 13,000 Is Insignificant
Stock-Markets
/
US Stock Markets
Apr 24, 2007 - 09:52 AM GMT

Tony Sagami writes : The Wall Street crowd is treating the Dow's march to 13,000 like a New Year's Eve countdown. And I'm sure they'll break out lots of bubbly when it happens. But although 13,000 is a nice, round number, it's just 4.3% higher than where the Dow started 2007.
A 4.3% gain in the Dow is nothing to sneeze at. However, over the same timeframe, investors could have gotten double or triple that return from other markets around the globe.
In fact, I can think of three Asian exchange-traded funds that have already jumped by double-digits this year (through April 21) — the iShares Singapore (+10.4%), the iShares Malaysia (+19%), and the iShares Australia (+10.4%).
And remember, those are unmanaged exchange-traded funds! In my opinion, you could have done even better by cherry-picking the best individual stocks.
For example, my Asia Stock Alert subscribers just sold Taiwan-based Siliconware Precision Industries last week and banked a gain of 107% (before commissions) in just nine months!
I know I've been singing this "go east young man" song for a long time. But I don't see any reason to change my tune. Heck, even the first-quarter earnings reports coming out of major U.S. companies prove my point …
Caterpillar's Sales and Earnings Surge Because of Strong Overseas Business
Caterpillar reported its first-quarter results last week, and they were pretty impressive. The heavy machinery manufacturer posted a per-share profit of $1.23 from $10.02 billion in sales. That was way, way above Wall Street's expectations of $1.09 per share and $8.94 billion in sales.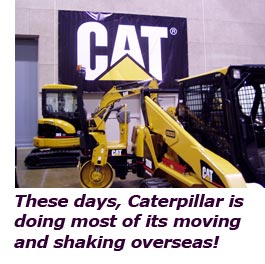 More importantly, Caterpillar significantly raised its 2007 forecast, upping its full-year per-share earnings estimate to a range of $5.30 to $5.80. It also said it would record sales between $42 billion and $44 billion, well above the $39.7 billion consensus estimate.
But get this: Caterpillar's first-quarter sales in North America actually dropped 9%. The company blamed the weakness on "major headwinds in North America related to housing."
In other words, the company's butt-kicking sales and profits did not come from the U.S. Jim Owens, the company's CEO cited "solid 2007 economic and industry growth in most of the world outside North America" as one of the main reasons for the company's current success.
I've told you all about the massive construction going on in Asia … Larry recently told you about Dubai's gangbuster growth … and Martin has been talking about booms in places such as Brazil. Sure enough, you can see this in a region-by-region breakdown of Caterpillar's sales:
Latin America: 15% increase
Asia: 22% increase
Europe, Africa, and the Middle East: 36% increase
Bottom line: Caterpillar's strongest growth is happening everywhere BUT the U.S. And this is not just a heavy machinery story, or something unique to one U.S. company!
Look at all the other services, supplies, and end-users that are part of this global construction story. Think about all the concrete, copper, steel, aluminum, and lumber that goes into these buildings. Consider the coal, natural gas, and oil that it takes to power the heat, light, and air conditioning for these buildings once they're completed.
Powerful Global Economic Growth Is Fueling These Massive Construction Projects
There's no doubt about it — Caterpillar is selling a lot of backhoes and loaders because of rapid economic growth around the world.
China, for example, is on a massive economic roll. Last week, the country said its gross domestic product rose by a blistering 11.1% in the first quarter of this year, sharply exceeding forecasts.
When I dug a little deeper, I was blown away by every number I looked at! Retail sales were up 15% … industrial production gained 18% … and exports jumped an eye-popping 28%!
China is growing so rapidly that it should soon overtake Germany as the third-largest economy in the world. No wonder the Shanghai Composite index has jumped nearly 200% in the past 16 months!
Yeah, you read that right: 200%! I'm sure you can see why a 4.3% gain in the Dow won't make me do cartwheels.
Another thing — I think China's best days are still ahead of it! I say that because the country's money supply expanded at an annualized rate of 16.7% in the last 12 months. All that liquidity and cash is going to find its way into real estate, factories, expansion, growth, and the Chinese stock market.
It's not just China, either. I could tell you similar stories about almost any country in the Pacific Rim. That's why the United Nations just upped its 2007 growth forecast for the Asia-Pacific region to 7.4%, calling the area a "locomotive for worldwide growth."
Listen, I'm not telling anyone to abandon the U.S. stock market. But I am suggesting that you could turbo-charge your portfolio by adding a little international spice. After all, seeing the numbers coming out of other parts of the world makes the Dow's race to 13,000 seem pretty darn insignificant.
Best wishes,
By Tony Sagami
This investment news is brought to you by Money and Markets . Money and Markets is a free daily investment newsletter from Martin D. Weiss and Weiss Research analysts offering the latest investing news and financial insights for the stock market, including tips and advice on investing in gold, energy and oil. Dr. Weiss is a leader in the fields of investing, interest rates, financial safety and economic forecasting. To view archives or subscribe, visit http://www.moneyandmarkets.com .
© 2005-2019 http://www.MarketOracle.co.uk - The Market Oracle is a FREE Daily Financial Markets Analysis & Forecasting online publication.

Only logged in users are allowed to post comments.
Register/ Log in