Money Printing Ensures Australian and Canadian Currencies Set to Rise
Currencies
/
Forex Trading
Apr 07, 2009 - 10:29 AM GMT


Listen, can you hear it?
Yes, it is the sound of printing presses going 24/7 around the world.
Can there be any doubt where we are heading with all of these 'dollars' being printed?
Inflation or hyperinflation is within sight but it will probably take a few more years to get there.
And then what? You better 'hope' you are correctly positioned to benefit from this investment scenario. There are several ways this may play out, but we believe it will ultimately be a game with the global currencies in a race for the bottom.
Two currencies which are surely destined to rise in value in the coming years in this environment (at least relative to other currencies) are the Canadian Dollar and the Australian Dollar, both currencies of countries with substantial natural resources.
Seems like only yesterday when the Canadian dollar was below 65 then went parabolic to 110 in May 2008 and now looks to have found a bottom in the 77 – 78 range and is current around 80. A quick look at the performance of the Australian dollar shows a high in July 2008, hitting a low of around 60 and currently looking short term overbought at the 72 level.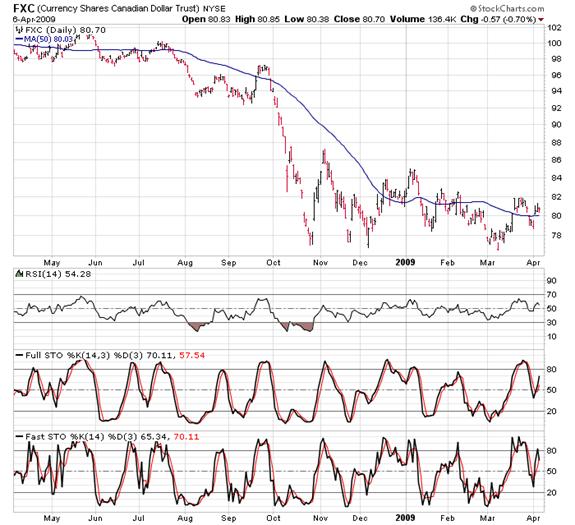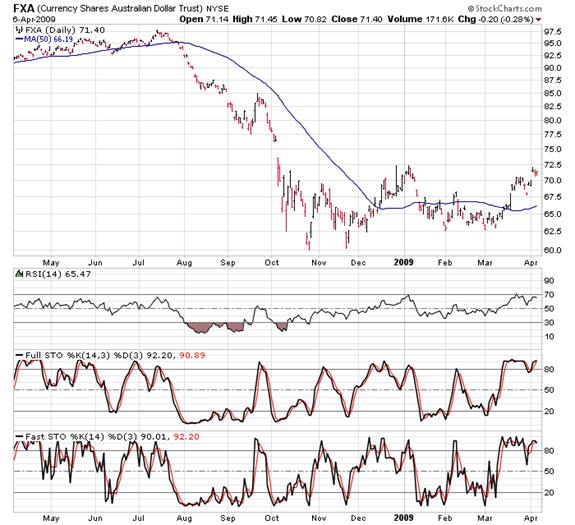 In the case of Canadian junior mining shares owned by U.S. investors this means that due to currency pricing alone you have lost about 30% in the value of your investments from the currency peak in May 2008. And you thought you were not playing the currency markets? Guess again.
There is a positive spin to this story because we believe both the Canadian dollar and Australian dollar will be big performers in the coming months and years due to the strong resource base of each of these countries.
Not only with investors recoup the loss in current draw downs in their investment portfolios but they will recoup their investments faster as the natural resource sector/commodity sector catches fire again and the Canadian and Australian dollars rise strongly.
Particularly for U.S. investors, we suggest a substantial position in gold/silver bullion, selected junior mining shares and perhaps, long-term warrants on some of your favorite mining companies to weather this financial storm and benefit there from.
For those readers interested in learning more about warrants we encourage you to visit our website .
Dudley Pierce Baker
Guadalajara/Ajijic, México
Email: info@preciousmetalswarrants.com
Website: PreciousMetalsWarrants
Dudley Baker is the owner/editor of Precious Metals Warrants, a market data service which provides you with the details on all mining & energy companies with warrants trading on the U. S. and Canadian Exchanges. As new warrants are listed for trading we alert you via an e-mail blast. You are provided with links to the companies' websites, links to quotes and charts, tips for placing orders and much, much more. We do not make any specific recommendations in our service. We do the work for you and provide you with the knowledge, trading tips and the confidence in placing your orders.
Disclaimer/Disclosure Statement:PreciousMetalsWarrants.com is not an investment advisor and any reference to specific securities does not constitute a recommendation thereof. The opinions expressed herein are the express personal opinions of Dudley Baker. Neither the information, nor the opinions expressed should be construed as a solicitation to buy any securities mentioned in this Service. Examples given are only intended to make investors aware of the potential rewards of investing in Warrants. Investors are recommended to obtain the advice of a qualified investment advisor before entering into any transactions involving stocks or Warrants.
© 2005-2019 http://www.MarketOracle.co.uk - The Market Oracle is a FREE Daily Financial Markets Analysis & Forecasting online publication.

Only logged in users are allowed to post comments.
Register/ Log in