Category: Financial Crash
The analysis published under this category are as follows.

Monday, September 24, 2007

Martin Weiss writes: We are on the verge of some of the greatest market convulsions of a lifetime.
And we're already seeing the first symptoms: Oil surging to all-time highs … gold making a beeline for $800 per ounce … long-term bonds suffering their worst one-day decline since 2003 … and behind it all, the US dollar getting slammed day after day, now within just an inch of its lowest level in history.
That's why we just held our Emergency Video Summit. And that's why we created this 14-page gala issue of Money and Markets …
Read full article...

Read full article...
---

Tuesday, September 18, 2007

By now, you've probably seen the photos of the angry customers queued up outside of Northern Rock Bank waiting to withdraw their money. This is the first big run on a British bank in over a century. It's lost an eighth of its deposits in three days. The pictures are headline news in the U.K. but have been stuck on the back pages of U.S. newspapers. The reason for this is obvious. The same Force 5 economic-hurricane that just touched ground in Great Britain is headed for America and gaining strength on the way.
On Monday night, desperately trying to stave off a wider panic, the British government issued an emergency pledge to Northern Rock savers that their money was safe. The government is trying to find a buyer for Northern Rock.
Read full article...

Read full article...
---

Tuesday, September 18, 2007

Here Comes A Whale - My friends have at GaveKal have been whale watching for some time. But not for Blue whales or in an ocean. There theory is that Central banks keep throwing dynamite (in terms of liquidity) into the ocean during credit problems, watching little fish die and don't stop until a whale floats to the surface, thereby giving a signal that the credit crisis is close to being over. They think they have spotted that whale.
This week in a very interesting and decidedly different Outside the Box, Charles Gave writes about the current liquidity crisis and the problems surfacing in England. Remember, it was problems in Asia and then Russia that created the problems in 1998. We should all pay attention to what is going on. Are there more whales getting ready to float to the top?
Read full article...

Read full article...
---

Monday, September 17, 2007

In This Issue – 5 Fingers
FIRE SALES!
The Silence is Deafening, Getting Ready to Lie With Numbers, Again!
Are the Stock Markets Just Off Their Highs or Just Off Their Lows?
Pigs in the Investment Python
Crude Realities
FIRE SALES!
Little reported in this week's news was the Fire Sale Hovnanian Homebuilders conducted over the weekend. Offering 30% discounts on their new homes as they headed for the sidelines before their peers do. It is an act of yelling "FIRE IN A THEATRE". Please understand that prices are set at the margin, in other words, the value of your holdings are determined by the last price at which they were transacted. In this example with Hovnanian it works out this way: Homes were sold at 30% discount to reduce inventories and to satisfy creditors that were getting nervous and demanding payment.
Read full article...

Read full article...
---

Saturday, September 15, 2007

Whilst the run on the Northern Rock Bank continues during weekend openings, the same brokers and the mainstream financial press that were recommending buy and hold on the stock throughout the year are still dishing out advice on what savers and investors should now do, again with a bullish tinge. With every other paragraph containing words such as bid target, despite the fact that there's an ongoing run on the bank and liquidity has dried up in the market place so exactly where the financing will come from is anyone's guess. Additionally it will take many years for the public to gain confidence in the brand name 'Northern Rock', after watching endless news reports of savers lining up at high street branches throughout the UK to withdraw their funds in sheer panic.
Read full article...

Read full article...
---

Saturday, September 15, 2007

In this issue:
The Black Swan
Mediocristan versus Extremistan
When "Because" Isn't Enough
Gliding Into Disorder
"A similar effect is taking place in economic life. I spoke about globalization in Chapter 3; it is here, but it is not all for the good: it creates interlocking fragility, while reducing volatility and giving the appearance of stability. In other words it creates devastating Black Swans. We have never lived before under the threat of a global collapse. Financial institutions have been merging into a smaller number of very large banks. Almost all banks are now interrelated. So the financial ecology is swelling into gigantic, incestuous, bureaucratic banks (often Gaussianized [bell curve] in their risk measurement)-when one falls, they all fall.

Read full article...

Read full article...
---

Friday, September 14, 2007

"...The queues outside British bank Northern Bank have nothing to do with subprime US home loans. But they have everything to do with today's US banking model..."
ON WEDNESDAY THIS WEEK the UK mortgage bank Northern Rock ran a banner advertisement across the bottom of The Daily Telegraph 's front page. It promised 6.30% interest on cash deposits, more than 250 basis points above the average rate-of-return offered on time deposits by UK banks in August.
Read full article...

Read full article...
---

Friday, September 14, 2007
SPOT GOLD PRICES slipped against the US Dollar early Friday, bouncing off Thursday's low at $704.50 but testing the week's highs for British investors as long queues formed outside branches of Northern Rock, the UK 's fifth largest mortgage lender.
Despite having just 0.24% of its assets exposed to the subprime US housing market, Northern Rock's stock plunged by one quarter at the London Stock Exchange in early trade after it said the Bank of England is stepping in to support it with a short-term loan as "lender of last resort."
Read full article...

Read full article...
---

Friday, September 14, 2007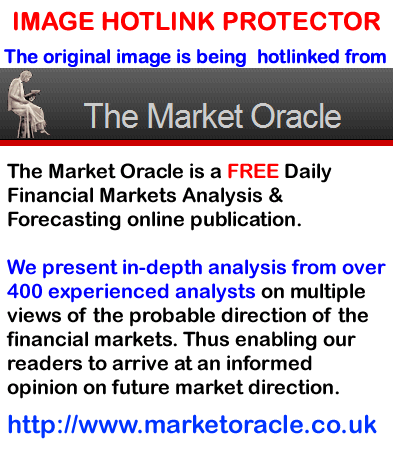 Northern Rocks Share price crashed by 30% today as the mortgage bank sought emergency funds from the Bank of England due to the credit freeze in the interbank money market which Northern Rock heavily relies upon. Panic gripped savers forming long lines outside Northern Rock Branches throughout the UK to withdraw funds. Investors dumping the stock on the market open where even unsubstantiated rumors of takeovers and white knights failed to halt the crash in the banks share price.
Read full article...

Read full article...
---

Monday, September 10, 2007

In This Issue – 3 Fingers
Financial Meltdown, aka Systemic Heart attack !
Con Game
Bold Predictions: Destination 1200 S&P 500, 600 Russell 2000, Dow 10800
Series Introduction – Click Here
This is a tough edition of Tedbits to chronicle. I have watched markets since 1981 and read the tealeaves during that period. We are in for a storm that is rarely seen, it is why the "Fingers of Instability" series came back to the fore from last spring. It is hard to choose what to write about at this time as the actions from various markets are screaming for attention that you should know. Gold broke out this week signaling at least a 200 dollar move from current levels, but the implication of the breakout is a financial market "ARM"ageddon, securitized asset hell and a federal reserve that is behind the curve in what's unfolding and choosing precisely the wrong moment to try and extinguish the Greenspan put. Billions of dollars are vaporizing as you read this.
Read full article...

Read full article...
---

Friday, September 07, 2007

Bernanke's Plums - "... The problem with plums is that they rot, decreasing in value with age. This means you must sell them, not wait, if there is a glut. That is the new status of the US Dollar..."
MARKET BUBBLES don't really pop. They hiss a bit, reflate a bit, and then hiss a bit more.
Read full article...

Read full article...
---

Tuesday, September 04, 2007

In This Issue – 2 Fingers of Instability
Reversion To The Mean
Amen Corner
Many in the economic and financial commentary business are calling what's unfolding the big one, the event that brings down the worlds booming economy and a systemic failure of the financial system. While I believe this is a serious blow up and will create lots of opportunities both "Long and short" in many markets I truly believe this is a financial problem only. It is a repricing of risk and a correction of many ill advised investments but not the end of the world. There is TOO MUCH MONEY out there to cushion the downside. The financials sectors and banks are going to get it good and hard, as they should as they tried to reach too far into the cookie jar.
Read full article...

Read full article...
---

Sunday, September 02, 2007
Sebastian Leburn writes: I'm the portfolio manager of the Weiss Bear Strategy, and I think it's time we talk about the risks of U.S. stock market declines.
Most people think the risk is greatest when corporate profits are sinking or unemployment is rising. However, some of the sharpest and most prolonged stock market declines in history began in the best of times.
Read full article...

Read full article...
---

Thursday, August 30, 2007

Martin Weiss writes: This is the fourth crash alert that I have sent you in recent weeks.
If you failed to act on my first , second and third alerts, it's water under the bridge. Just take advantage of market rallies like today's and focus on the protective steps you can take right now …
Step #1.
Buy Hedges to Protect Your Portfolio From Potentially Devastating Losses
Read full article...

Read full article...
---

Thursday, August 30, 2007
I began the Aug. 6, 2007, issue of Commodities Trends by stating, "In the financial markets, all we know for sure is that nothing's for sure. The way I see it, financially speaking the stock market does not appear to be the place to be right now. Stocks could certainly go lower; possibly a lot lower."
In the last issue, I advocated steering clear of most stocks, investment real estate and any bond below investment grade. I also recommended buying the Japanese yen. I hope this advice helped you.
Read full article...

Read full article...
---

Tuesday, August 28, 2007

In This Issue – Four Fingers Financial Markets Instability
Banks Out On a Limb
No Escape, aka "Roach Motels"
Juggling Acts
Return of the Resolution Trusts
As we move into September we must keep in mind that historically it is the worst month of the year for the stock markets. Years ending in 7 are particularly nasty as outlined in the July 15 th edition of the "Crack up boom" series. With the events this year, it would argue for more turmoil. As outlined in the previous edition of 'Fingers of Instability', we are waiting for the cockroaches to emerge into the headlines and in this missive we will put a few "fingers" on them. The turmoil unfolding in the financial sectors of banks and prime brokers has a lot further to run before it will be safe to play on the long side. On the short side however, opportunities would appear to abound.
Read full article...

Read full article...
---

Tuesday, August 28, 2007
"...Only a lack of imagination can have allowed professional investors to suddenly think of the US Dollar as today's quality refuge..."
ONCE EVERYONE gets back from vacation and starts to focus on what's really going on, we may be in for a torrid few months in the financial markets.
I believe the current lull in gold prices could offer a good opportunity to defend yourself before the real trouble begins.
Read full article...

Read full article...
---

Tuesday, August 28, 2007
No one can predict how deep the decline in Western economies that is underway will go, because there is so little transparent information. Within the U.S., the government is hiding the severity of the crisis in order to prevent a collapse of consumer confidence.
Realize that the problem does not lie on the side of production. Global industry has the capacity to produce a huge quantity of goods and services. There is even a glut in some sectors, such as automobiles, textiles, IT, and other consumer products.
Read full article...

Read full article...
---

Tuesday, August 28, 2007
As explained
Tuesday
, the Fed was not about to give into the mob (in terms of official policy) just yet in consideration of the Presidential Cycle and dollar ($), with the end result being the market thought they were demonstrating the economy is stronger than people think, which turned into a credibility boost as stocks continued to squeeze higher. This of course is really just a bluff on the Fed's part, as the
credit cycle
is turning down, meaning the economy (all Western economies) is in a great deal of trouble moving forward. Here, as you know, stocks are rising not because they are discounting better times ahead, as price managers would have you believe. No, they are rising because of historically high
short positions
set against
ample liquidity conditions
sufficient to spark consecutive short squeezes higher, which is why the stock market never corrects fully.
Read full article...

Read full article...
---

Tuesday, August 28, 2007
Martin Weiss writes: The other shoe is about to drop on this mortgage catastrophe — and before it does, I need to get you some urgent help — fast .
So this morning, my team and I have just recorded an Emergency Audio Update .
Read full article...

Read full article...
---