Stocks & Commodity Markets Analysis - Houston , We Have LIFT OFF!
Stock-Markets
/
US Stock Markets
May 20, 2007 - 07:37 PM GMT

Can you believe we're just a day's rally away from the 2000 high? I'm sure plenty of investors out there would rather forget about that time, as they were probably buying only to sell out during the severe decline going into the 2002 lows. Now they're wondering if they should be back in. Well, there's thirty-plus points to go and lots of mistakes can be buried in Elliott land as if they never existed.
Some say that controlling emotions is an important part of trading. I say it could be the most important part. The two most destructive emotions for trading are Fear and Greed. I'm sure both have been wreaking havoc lately and are about to kick in on an even more massive scale.
Bears are now fearful as there simply are no pullbacks lately, let alone an outright crash. Cautious bulls have been on the sidelines waiting for an entrance and are now getting ready to greedily jump on the train before it leaves the station. I have a word for emotional trades like these… capitulation!
Emotional trading, like say selling in 2002, can permanently disfigure your portfolio, but once you control emotion and learn to listen to what the market is saying instead of getting your advice from a TV program, broker, or a friend, your trading will be a beautiful thing. This is why the TTC community has become like a security blanket to many of our members. Unlike most other groups, they know I don't tolerate any wrong counts or misguided, one-sided talk that's biased by market positions. We login every day to make money and help our fellow members in the forums as well as the live chatroom. If someone's idea of where the markets are headed is very different from the group's, they can ask questions and refine their reasoning.
Of course, by keeping such a strict quality control stance, I've lost a bit of the sentiment feel I used to get from my members. Now, their sentiment is usually correct, instead of a reliable contrary indicator! A few outside calls revealed that outside traders continue to remain bearish, but many of the long term bears are now outright scared! I hear comments like "this isn't going to stop anytime soon" or "what if we go into a parabolic move from here?"
But the time to manage that risk was long ago! Readers know they've continually heard me insist on looking for confirmation, and that's exactly why I get so many people thanking me for keeping them from shorting a bull market. Confirmation is a simple strategy that any bears who've been losing money obviously don't use. If they did, they wouldn't be losing money.
Imagine, for example, that you work at the Empire state building in NYC. Its 4:00 and you just finished work. You go to the elevator on the 9 th floor that you work on and an up elevator comes first. You're in a hurry because your kid is in a play tonight so your choice is either to wait for a down elevator or to get on this one and go up first. Now if the building had only 12 or 15 or even 30 floors, maybe it wouldn't matter. But since the Empire state building has many more floors, why would you get on that up elevator?
And yet, that's exactly what everyone who takes a stab at a short in the present market is doing every day. If the S&P's are going parabolic, why would you short it instead of waiting for it to stop, reverse, and head back down? Better yet, why not ride it up when you have a nice setup? Greed is the answer. They want to be able to say they caught the top.
Trading groups around the world are tempted to grab that golden ring, to be able to put that top tick prize on their mantle, as if there was such a thing. That's the only possible explanation for their constant posts explaining why the S&P must stop at some particular number or at some particular date since it's a perfect distance from the last swing or related to some event from the 1800's. The market isn't random but it's not that easy either. The sad part is that most of these bears think the market will go down 500 points or more. Now, if that were really the case, what would be wrong with getting only 480 of those points and not losing a penny?
Going forward, I do feel that I know an area that the market should "recognize" both in the very short term and somewhere before the start of the summer.
Once there, it will need to confirm that it recognizes it, and reverse from it. Otherwise, just like the elevator, I won't be going up 50 floors to get to my car in the basement garage.
The other ingredient needed at a turn is the correct sentiment, and believe me, realtime sentiment is working even though traditional readings aren't. I continue to try and wait for the traditional ones to line up, and until at least some do, this market could have more to go. If I don't find comfortable long setups I'll just wait for that elevator to return to my floor. And there's a good chance the person that took the elevator up first won't be on it anymore because the margin clerk got them first.
I had made this chart below a while back to have members remember why they made the decisions they did at previous important turns. There is no way a trader that has been trading from the 2002 lows won't remember these turns and how wrong it was to believe what was being painted for them at the time by the media or the majority of the market newsletters. The "crash" bias that was forced onto many good traders around these turns took them out of the game. TTC is on a mission to change this psychology. You can read and probably relate to an email that was sent to me by a member and included as a testimonial at the end of this update.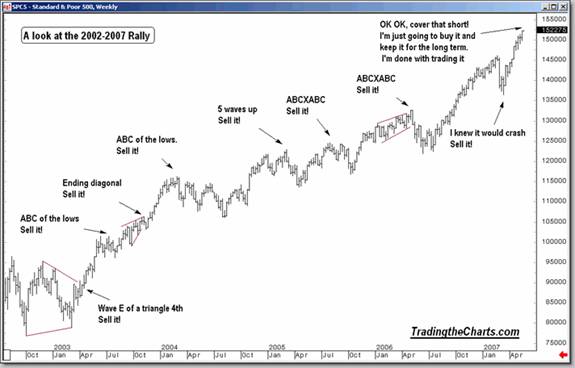 One of my biggest challenges this year was the March low. Membership swelled the week I started expressing in these updates that I thought the market was putting in a low instead of a high. Apparently the new kid on the block wasn't thinking what everyone else was, so many came to find out why. Looking back, I'm glad I had the guts and the emotional control to pull off yet another fine market turn in March for myself and the members. Actually, making the call was easier than getting all those new members to understand what was happening, but it was well worth it for all parties involved. Those who joined in that period quickly saw that something different was going at TTC. They sat back, learned, and have been trading BOTH sides of the market ever since.
Each of the turns in the chart were associated with the idea of the "crash of a lifetime" being just around the corner. Now, sentiment has shifted a bit, as it should, since we're in breakout mode. The arrival of this high is associated with the feeling that we're now going to explode up from these levels. I don't take that stance on this move. To me it's easier to see us finally arriving to where the markets were always headed.
Which is not an easy position for someone that's continued to bet against this market and gotten it wrong. And that is why the sentiment is now shifting. Those that tried so hard, are about to "throw in the towel", just like many die hard bulls did in 2002. The question is when. A saying that I continued to say since opening the website is "this market won't turn until every last bear is out of the market." We might be close.
How did we trade it last week?
Well, once again, not going short was easy as we had no confirmation of any top. Our friend Mike's chart that gets posted Sundays was truly amazing. Readers will remember me having his chart on an update a few weeks ago and I just had to show this week's again since it perfectly forecast that blastoff on Friday. When Mike gets hot he goes on in streaks and here he's definitely on as talented traders continue to trip over themselves. Thanks Mike, you, as well as many others, add to the TTC toolbox.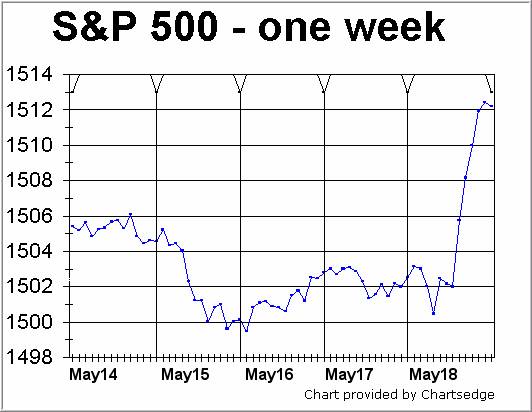 The early part of the week unfolded in a fairly tight range and I slowed down my posting and went up a notch in my time frames. The last thing you want to do here is get caught off guard with a large move as you focus on intraday scalping. Not burning tickets and waiting for a larger move was the theme for most of the week.
Realizing that Friday morning's globex session was ready to rock, I posted targets for the day at 1524- 1528 in the S&P futures, with a line in the sand for the launch of a blowoff at 1528. The S&P futures reached and traded within my area for most of the day, closing at the exact 1528 level.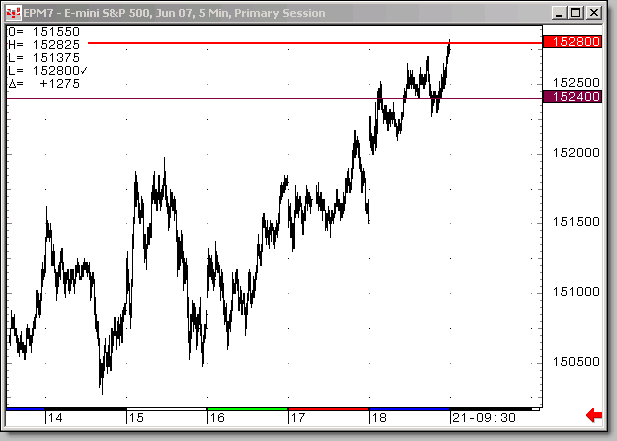 Shown below is price reaching an Andrews pitchfork as the RSI also hits its down trendline resistance within a Major market. Saturday, when I do a big picture review, plenty of charts like the one below are posted and then continually updated during the week as needed. These charts are like the daily newspaper delivery for our members, except the relevant page is always already opened to read. Depending on the time frame and risk tolerance of the individual traders, they can plan their trades around the effective technical analysis in these charts.
If you haven't made some handsome profits this year, its time to really think about what you're doing wrong. If you've watched from the sidelines as the markets screamed higher or if shorted a rally from the 2002 lows only to watch the S&P recover all but 30 points of the initial decline – it's time to try something new! If this is you, it's about time to understand why you trade a certain side of the market and learn how to find the real money. Join now, become part of TTC, and begin to "earn and learn". Now is a perfect time to join because the fee will be increased before the summer (read below for more details).
If you are a registered member and need your username info, email me at Dominick@tradingthecharts.com
Testimonial
"Since joining TTC I have learned to overcome my previous bias, which was embedded in my psyche by the perma bears. Years of losing have suddenly turned around because of Dom and the other top posters, such as Fibbo, Bob Carver, Teaparty, Bezzer and all. Hope I don't offend anyone by leaving their name out. You know who you are and the huge contribution you make to this team.
Despite personal circumstances and an old "sell any rally" mentality, this site has had a life changing effect on me. The technical aspects offered here are beyond compare, the commentaries are professional and encouraging.
Probably though, the most important change has been in my psychological view of the markets. Do not under estimate the effect this forum has in this regard. Yes, technically superb, but what is also happening is that people learn to think for themselves and realize that the market is just not a sell. There are three positions available to hold at any one time; you can be either long, short or flat.
The point I want to make is about the psychology of trading. If you take note of what is being taught here, it is just not technical but also psychological. This psychological side does not get hammered home to you, but it is something that comes to you discreetly, with the technical options given with each trade set-up.
You are being taught without knowing it, and it is a very important tool to have to be successful.
We have probably all been guilty of trading for the sake of trading in the past, just wanting to be in the market and thinking we are right, it's the market that must be wrong. Not so! This is what this site is teaching you--psychology--, and is equally important, if not more important than the technical aspect.
Without the right psychological approach there cannot be the technical expertise that is required to perform successfully on a permanent basis.
Hats off to Dom and all at the forum for their excellent work.
I for one am a convert for the long haul and will offer my support to this forum in whatever way I can best contribute.
I wish Dominick all the success he richly deserves for his great leadership and hope he achieves with the site whatever his goals may be." JVJ
Europe
Our target for Fridays high was 7640 in the Dax futures. They closed at 7642!
I also found an excellent target right above us. Join and trade along with many fine Dax traders.
Gold
As the news was pounding the table on liquidity and the strength of global markets, the TTC Metals forum was getting skeptical and downright pessimistic about the chances of another parabolic run in metals this year. The chart below is an example of the work that's coming out of the Metals forum. Don't forget to read Joe's Precious Points for a closer look at what's in store for the gold and silver next week and beyond.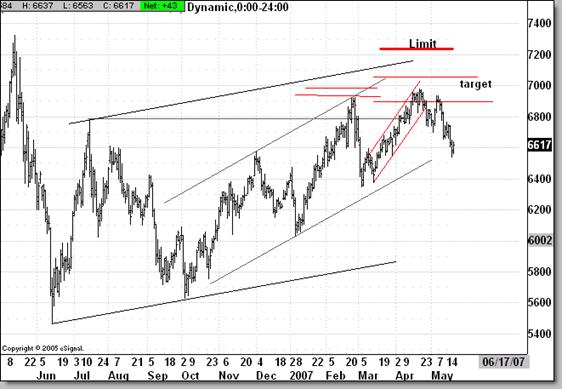 *To Current and Prospective Members:
TTC will be increasing it monthly subscription fee sometime before this summer. The increase has become inevitable due to our ongoing expansion of the Website, computer and software upgrades, and the addition of services such as trend cycle charts. Current members and anyone that joins before the increase takes effect will not be subject to the new price, and will continue paying the current $50 subscription fee on a month-to-month basis. So, if you have been thinking of joining, this might be a great time.
Thank you for your attention to these changes. If there are any questions, please direct your email to admin@tradingthecharts.com .
Have a profitable and safe week trading, and remember:
"Unbiased Elliott Wave works!"
By Dominick
For real-time analysis, become a member for only $50
If you've enjoyed this article, signup for Market Updates , our monthly newsletter, and, for more immediate analysis and market reaction, view my work and the charts exchanged between our seasoned traders in TradingtheCharts forum . Continued success has inspired expansion of the "open access to non subscribers" forums, and our Market Advisory members and I have agreed to post our work in these forums periodically. Explore services from Wall Street's best, including Jim Curry, Tim Ords, Glen Neely, Richard Rhodes, Andre Gratian, Bob Carver, Eric Hadik, Chartsedge, Elliott today, Stock Barometer, Harry Boxer, Mike Paulenoff and others. Try them all, subscribe to the ones that suit your style, and accelerate your trading profits! These forums are on the top of the homepage at Trading the Charts. Market analysts are always welcome to contribute to the Forum or newsletter. Email me @ Dominick@tradingthecharts.com if you have any interest.
This update is provided as general information and is not an investment recommendation. TTC accepts no liability whatsoever for any losses resulting from action taken based on the contents of its charts, commentaries, or price data. Securities and commodities markets involve inherent risk and not all positions are suitable for each individual. Check with your licensed financial advisor or broker prior to taking any action.
© 2005-2019 http://www.MarketOracle.co.uk - The Market Oracle is a FREE Daily Financial Markets Analysis & Forecasting online publication.

Only logged in users are allowed to post comments.
Register/ Log in