Gold Is... All things to All Men
Commodities
/
Gold & Silver 2009
May 27, 2009 - 06:17 PM GMT


"I am made all things to all men, that I might by all means save some..." - 1 Corinthians, 9:22
FOR AN INERT LUMP, sitting there at No.79 in the periodic table, gold sure is a busy metal these days.
Gold Bullion is "the most positive defining instrument of the global appetite for risk and reward," reckons Barry Sergeant at MineWeb in Jo'burg, South Africa. Indeed, it "thrives on economic uncertainty," according to his colleague Lawrence Williams. Yet for Steven Barrow at Standard Bank here in London, gold offers "the best indicator of liquidity", with the recent recovery in gold prices implying that "liquidity has been better restored."
They can't all be right. Not at the same time, at least. But Barrow and MineWeb might both be wrong. Because for Nouriel Roubini, writing in the New York Times, "Gold is still a barbaric relic whose value rises only when inflation is high." Whereas for Michael Lewis, global head of commodities research at Deutsche Bank, "Gold is probably the most richly priced commodity in the world at the moment: in real terms, it's trading at around 65% above its long-run historical average."
Again, that can't all prove true. Not with inflation in the cost of living averaging a five-decade low since 2001, back when gold cost less than one-third today's price and finally turned higher from a two-decade bear market. And not with the Gold Price now standing 95% above its 20th century average, in fact, when measured against US consumer prices.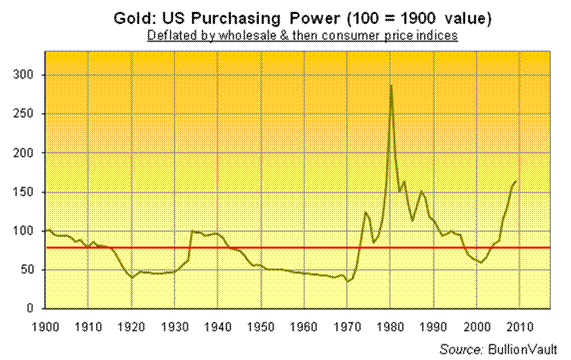 Perhaps such measures are beside the point. Or perhaps gold is horribly over-priced on an historical basis. Or perhaps again, the US standard of living is now remarkably cheap, an anomaly even, in the long-run scheme of things.
Perhaps we should ask the Chinese what they make of it all. After all, they've been helping to keep a lid on US consumer prices for the last decade or so, extending credit where the trade gap couldn't be settled up front.
"The price of gold is still an important index for central banks to evaluate inflation," reckons Zhou Xiaochuan – then as now, governor of the People's Bank of China – speaking at the 2004 London Bullion Market Association's Annual Precious Metals Conference in Shanghai.
In which case, against the Yuan just as much as the Dollar, Governor Zhou is no doubt paying attention.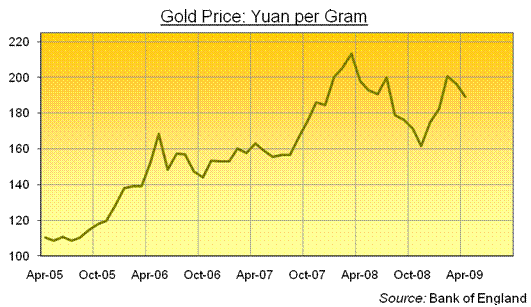 Earlier this year – and just before the State Administration of Foreign Exchange department (SAFE) said it had bought and transferred some 454 tonnes of Gold Bullion to the People's Bank – Zhou mused on the role gold had previously played in the world's monetary system.
"The outbreak of the current crisis and its spillover in the world have confronted us with a long-existing but still unanswered question," he noted in a speech this March. "What kind of international reserve currency do we need to secure global financial stability and facilitate world economic growth...?"
Noting the previous arrangements, variously tested and abandoned during the 19th and early 20th centuries – including the Silver Standard, the Gold Standard, the Gold Exchange Standard and the Bretton Woods system – Zhou's recollection echoed a further passage of that 2004 speech, and also echoed Western central-bank statements on gold's critical offering of Security, Liquidity & Diversification.
"All central banks still hold considerable amount of gold as government reserves," the PBoC chief exampled. "Gold reserves, foreign exchange reserves and quota at the International Monetary Fund form a nation's international reserves that can be used to weather risks."
But what's more, "The establishment and development of Chinese gold market symbolizes a preliminary completion of a financial market system consisting of the money market, securities market, insurance market and the foreign exchange market."
In other words, gold represents a key plank of China's monetary development, both as a reserve asset and also as the first step in becoming a fully functioning financial center.
Gold means quite something to China's policy-makers, in short – new roles to pile upon the work gold already does, acting as pretty much all things to all men. Difference is, China's bureaucrats have the money, not to mention the world's strongest Gold Mine Output, to act on their view of what gold is and what it can do for its owners.
By Adrian Ash
BullionVault.com
Gold price chart, no delay | Free Report: 5 Myths of the Gold Market
City correspondent for The Daily Reckoning in London and a regular contributor to MoneyWeek magazine, Adrian Ash is the editor of Gold News and head of research at www.BullionVault.com , giving you direct access to investment gold, vaulted in Zurich , on $3 spreads and 0.8% dealing fees.
(c) BullionVault 2009
Please Note: This article is to inform your thinking, not lead it. Only you can decide the best place for your money, and any decision you make will put your money at risk. Information or data included here may have already been overtaken by events – and must be verified elsewhere – should you choose to act on it.
© 2005-2019 http://www.MarketOracle.co.uk - The Market Oracle is a FREE Daily Financial Markets Analysis & Forecasting online publication.

Only logged in users are allowed to post comments.
Register/ Log in