An Avalanche Of Cash Is Set To Slide Triggering a Flood of Liquidity
Stock-Markets
/
Liquidity Bubble
Jun 02, 2009 - 03:27 PM GMT


Last month we read a book by Mark Buchanan entitled "Ubiquity—Why Catastrophes Happen." It was mentioned by financial commentator James Grant in one of his investment reports. The book does not deal directly with financial markets—just physical systems—and attempts to identify the similarities present when unexpected events surprised observers, whether they were earthquakes, landslides, forest fires, tidal waves, political events, or financial events. In each case a small shock triggered an unexpectedly large response out of all proportion to what was expected.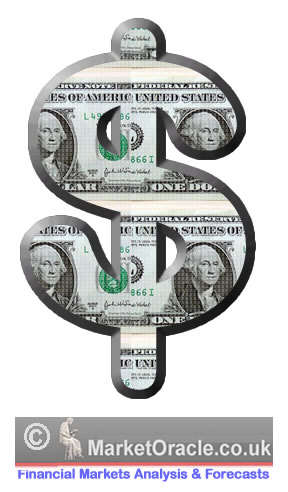 For example Buchanan discusses experiments with pyramids of sand and the attempt of researchers to predict how high they can be built before collapsing. Experiments find it is very hard to predict when the next grain will cause the entire pile to collapse in a landslide even when using high-powered computers and complex models to forecast the pile's structural stability.
The book came to mind when we saw an article in the Toronto Globe & Mail last week entitled "An Avalanche of Cash is set to Slide" - which notes that the level of cash equivalents in investor accounts is at record levels and could be set to re-enter the equity markets. Additionally, a recent report from Fidelity Investments points out that when cash levels are high it may signal a potential market bottom, even if the ongoing economic news remains extremely dire.
We had a discussion last month with a Dallas-based Fidelity Investments representative who has been involved in their 'Private Access' group (minimum account is $1 million). He described the 'average' account as having around $4-5 million of assets most of which was now held in cash equivalents – all 'frozen' in low-yielding or non-yielding instruments. Safety has been the main objective in this economic crisis.
Many of these accounts are owned by individuals who own small businesses, individuals who by nature know how to evaluate risk and are not afraid to make investment decisions. He noted that once this 'glacier' of assets, frozen in cash equivalents, started to thaw we may see a flood of liquidity unlike anything ever seen before—and a real spike in value of certain asset classes.
Of course, history does not always repeat. But our small and micro-cap portfolio performance recently is telling us that some of the liquidity injected into the economy is making it into the micro-cap sector, the most inefficient and volatile sector of the market. All of which is a good sign for us. And a good sign for the more efficient larger cap sector.
We are guessing that the grain that causes the cash to landslide into the market is getting close at hand, even with the ongoing grim economic news and projections. And we are guessing the landslide of cash will move into 'real' assets like energy, agriculture, and companies that own such assets, versus more intangible type financial assets that have been so popular until recently. All of which should bode well for investors longer term.
By Joseph Dancy,
Adjunct Professor: Oil & Gas Law, SMU School of Law
Advisor, LSGI Market Letter
Email: jdancy@REMOVEsmu.edu
Copyright © 2009 Joseph Dancy - All Rights Reserved
Joseph R. Dancy, is manager of the LSGI Technology Venture Fund LP, a private mutual fund for SEC accredited investors formed to focus on the most inefficient part of the equity market. The goal of the LSGI Fund is to utilize applied financial theory to substantially outperform all the major market indexes over time.
He is a Trustee on the Michigan Tech Foundation, and is on the Finance Committee which oversees the management of that institutions endowment funds. He is also employed as an Adjunct Professor of Law by Southern Methodist University School of Law in Dallas, Texas, teaching Oil & Gas Law, Oil & Gas Environmental Law, and Environmental Law, and coaches ice hockey in the Junior Dallas Stars organization.
He has a B.S. in Metallurgical Engineering from Michigan Technological University, a MBA from the University of Michigan, and a J.D. from Oklahoma City University School of Law. Oklahoma City University named him and his wife as Distinguished Alumni.
© 2005-2019 http://www.MarketOracle.co.uk - The Market Oracle is a FREE Daily Financial Markets Analysis & Forecasting online publication.

Only logged in users are allowed to post comments.
Register/ Log in