Summer Sun Shines on Rising UK House Prices in June
Housing-Market
/
UK Housing
Jun 30, 2009 - 01:55 AM GMT

House prices rose by 0.9% in June
Three month rate of change turns positive for first time since December 2007
Low supply supporting prices for now, but a sustained recovery still faces risks
| Headlines | June 2009 | May 2009 |
| --- | --- | --- |
| Monthly index * Q1 '93 = 100 | 307.6 | 304.9 |
| Monthly change* | 0.9% | 1.3% |
| Annual change | -9.3% | -11.3% |
| Average price | £156,442 | £154,016 |
* seasonally adjusted
Commenting on the figures Martin Gahbauer, Nationwide's Chief Economist, said:
"The price of a typical house rose by a seasonally adjusted 0.9% in June, building upon the improving trend seen over the last several months. At £156,442, the average house price across the UK was still 9.3% lower than a year ago, but this marks the first time since July 2008 that the year-on-year fall has been in single digits. The three month on three month rate of change – a smoother indicator of the short-term price trend – turned positive for the first time since December 2007 to stand at 0.9%, up from -0.4% in May. If the pattern of price movements seen in the first half of the year is repeated over the second half, then prices could show only a small single digit fall for 2009 as a whole. This would represent a stark shift from trends seen at the turn of the year, when most indicators were pointing to a repeat of the large declines seen in 2008."
Prices have stabilised despite very low house purchase activity
"House prices have now risen in three of the last four months, suggesting that the improvement that began to show up in March represents more than just statistical noise. What is unusual about the recent trend reversal, however, is that it has taken place against a background of transactions activity that is still very low by historical standards. Although it has risen from the all-time record low reached in November 2008, the industry-wide number of mortgages approved for house purchases is still 55% below its long-run average and 33% below the trough reached in the 1990s downturn. Normally, such a low level of house purchases would be associated with falling house prices. Alongside the low level of mortgage approvals, however, there continues to be a relentless drop in the stock of property available for sale, as potential sellers and builders have responded to depressed demand conditions by reducing the supply of property coming onto the market. As a result, prices have been able to stabilise even in the face of very low demand.
Price recovery still faces significant risks
"While it is encouraging to see that prices are no longer seeing steep falls, there are still many obstacles in the way of a genuine and sustainable price recovery. To begin with, abnormally low supply levels are unlikely to last forever, as the recent price increases should make previously hesitant sellers feel more confident about marketing their properties. Additional supply is also likely to come from homeowners who see their financial position impacted by higher unemployment and lower incomes. With the stock of property available for sale likely to eventually increase, house purchase demand will need to rise more convincingly from current levels to prevent a possible relapse in price levels.
"At first sight, there is quite a lot of room for demand to rise further, given that the current level of transactions is still well below the historical average. However, there are good reasons to be cautious about expecting a swift recovery to pre-crisis norms. Firstly, although estate agents have been reporting a steady rise in the number of buyer registrations for some time now, this increase in the enquiry pipeline has not yet led to large increases in transaction volumes, because credit criteria remain significantly more restrictive than in the years leading up to the downturn. Rising unemployment and associated job insecurity are also limiting the extent to which enquiries can translate into actual transactions.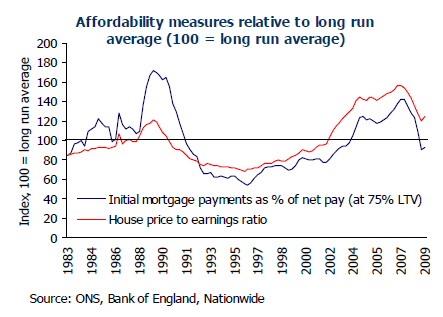 "Another factor that is vital to demand levels is housing affordability. Following the house price and interest rate declines of the last two years, initial mortgage affordability as a percentage of take-home pay is now slightly below its longrun average, suggesting that housing valuations have returned to a more normal level. Initial affordability, however, does not take into account the fact that interest rates may rise over the lifetime of a mortgage. With interest rates currently at unusually low levels, initial affordability may therefore be painting a somewhat misleading picture of the true position.
This is highlighted by the fact that the simple house price to earnings ratio – which does not depend on the current level of mortgage rates – is still some way above its long-run average. The recovery in housing demand could therefore easily stall if and when interest rates begin to rise again. Although base rate is unlikely to increase in the near future, the money market swap rates that determine fixed rate mortgage pricing have already begun to increase in anticipation of an economic recovery and in response to record levels of government bond issuance.
"On balance, the stabilisation of house prices is a welcome surprise that did not seem likely at the beginning of the year. However, there are still considerable headwinds facing the demand side and until we see a more robust recovery in house purchase activity, it is too early to be confident about a full-scale recovery of prices."
Fionnuala Earley
Chief Economist
Tel: 01793 656370
fionnuala.earley@nationwide.co.uk
Roy Beale
Media Relations Officer
Tel: 01793 655689
roy.beale@nationwide.co.uk
Notes: Indices and average prices are produced using Nationwide's updated mix adjusted House Price Methodology which was introduced with effect from the first quarter of 1995. Price indices are seasonally adjusted using the US Bureau of the Census X12 method. Currently the calculations are based on a monthly data series starting from January 1991. Figures are recalculated each month which may result in revisions to historical data. The Nationwide Monthly House Price Index is prepared from information which we believe is collated with care, but no representation is made as to its accuracy or completeness. We reserve the right to vary our methodology and to edit or discontinue the whole or any part of the Index at any time, for regulatory or other reasons. Persons seeking to place reliance on the Index for their own or third party commercial purposes do so entirely at their own risk. All changes are nominal and do not allow for inflation. More information on the house price index methodology along with time series data and archives of housing research can be found at www.nationwide.co.uk/hpi
© 2005-2019 http://www.MarketOracle.co.uk - The Market Oracle is a FREE Daily Financial Markets Analysis & Forecasting online publication.

Only logged in users are allowed to post comments.
Register/ Log in