UK Swine Flu Pandemic NHS Online Service to Bypass Inept GP Surgeries
Local
/
Global Pandemic
Jul 22, 2009 - 10:57 PM GMT


The British government will tomorrow implement new measures to ensure that those that need the anti-viral's such as Tami-flu are more likely to receive treatment than would have otherwise transpired under the existing procedures of contacting ones local GP surgeries. In total so far 29 people have died from swine flu, though many had underlying health issues. The mainstream press recently ran with scare mongering headlines of as many as 65,000 deaths which is set against a normal seasonal flu toll of between 6000-10000 deaths. Another significant factor is that swine flu tends to hit the young more than the elderly, so children are at much greater risk than with the usual seasonal variant.
The National Flu Service goes live tomorrow offering a phone and internet service enabling people in England to obtain anti-flu drugs without having to go through the their GP's, which had already prompted GP's to start canceling normal surgery activities on the back of administering flu medicines.
The Labour government should be applauded for its fast action, despite the protestations from opposition parties and as is always the case, the GP's who are generally dismissive of anything that takes them out of the loop, despite the fact that in many cases GP practices have shown theme selves to be lacking when it comes to effective administration of flu vaccines during normal seasonal flu outbreaks let alone this new swine flu pandemic. Already patients are complaining that the existing NHS help line just refers patients to their local GP's which tend to have tight times for calling into, and after having called their GP the usual response is that "you can not come in here with flu" with further time wasting delays until the patient is eventually instructed that someone can come and pick up the tami-flu on their behalf. That's if the person manages to go through the rigmarole whilst being half conscious as a consequence of having swine flu.
The whole point of taking tami-flu is that its window of maximum effectiveness is for it to be taken within 48 hours of symptoms appearing, which is outside of the current GP services competency level hence the urgent need for a more effective and quicker method of deploying the stock pile of tami-flu to those ill with swine flu, which hopefully the new NHS services will succeed in.
Pandemic Good Money Maker for GP's?
My analysis over the past few years has demonstrated that GP's by any measure are over paid, whilst at the same time cutting back on hours worked, and now presented with a new opportunity to milk the NHS our of many more millions accumulatively in the process of vaccinating patients later this year, this despite the fact that GP's have enjoyed outrageous pay deals under the inept Labour regime, which in part contributed to the recent MP expenses scandal as the graph below illustrates.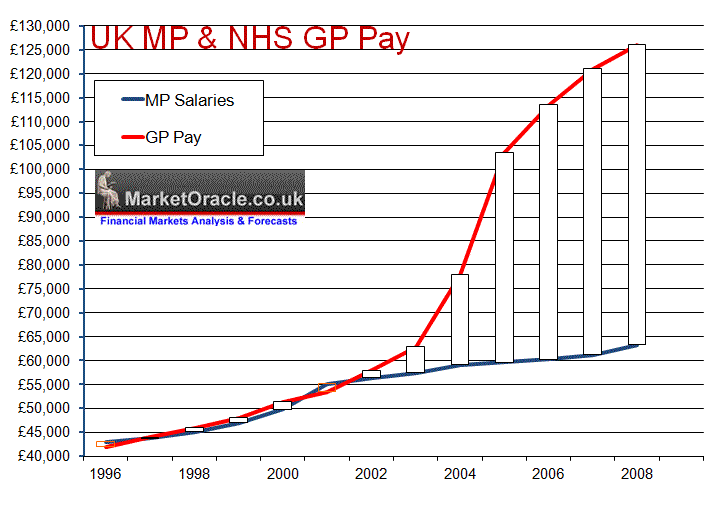 The Post Code lottery National Healthcare Service
The NHS post code lottery that exists in Britain today primarily between affluent and deprived areas of the country was set to ensure a large cull of those that live in the deprived areas of the country of as many as 65,000 people due to the fact that health and GP services in the poorer areas are more akin those in those in the third world than the first world as the greater the deprivation observed the greater the tendency to under fund health services in those areas as found in the analysis by the Analysis by the Health Service Journal revealed that "of the budgets allocated to GP's to pay for drugs and hospital care for their patients show that the wealthiest tenth of the population are, on average, more than 2 per cent overfunded while the poorest tenth are 2 per cent underfunded.
NHS Alliance chief executive Mike Sobanja said money was "in the wrong place".
"Being underfunded means the GP's won't be able to respond to the individual health needs of their population. It means someone else has more resources than they are entitled to.
David Pink, chief executive of new patient representative body National Voices, said the trend was very worrying. "We can't have an NHS funding system that favours areas of the healthy and wealthy at the expense of areas of deprivation and chronic illness."
This analysis is inline with the Market Oracle's own research over the past 3 years as seen in the most recent on-going Market Oracle opinion poll of Patients experience of GP services across the city of Sheffield: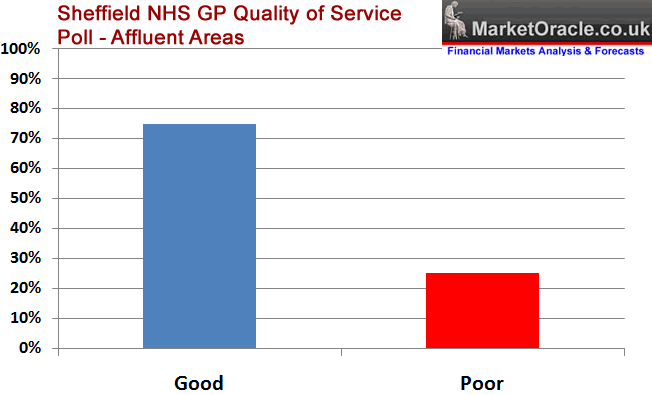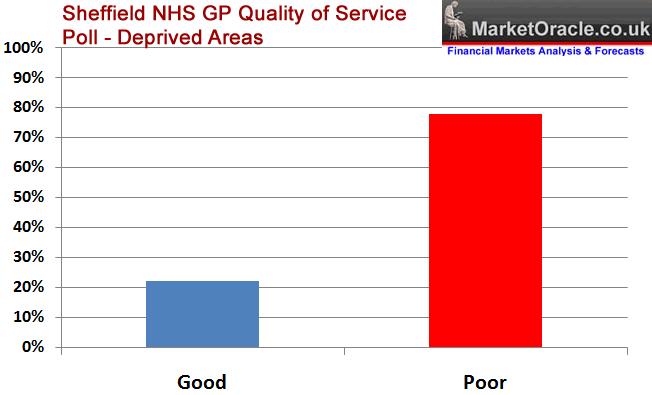 The wide gap in the quality of healthcare is not just a case of polled patient experience but being borne out in the huge gap in life expectancy in the city between affluent wards and deprived wards as voiced by the Lib Dem Leader and Sheffield MP Nick Clegg :
"It is an outrage that social mobility has slowed, not increased, under the Blair-Brown years. It is an outrage that in Sheffield, where I'm an MP, life expectancy in the poorest wards is a full 14 years below the life expectancy of those living in the wealthiest wards. Your life chances are now set by the circumstances of your birth as never before."
The difference in the quality of health care is not so surprising given that those that reside in affluent areas tend to be from the higher educated professional middle classes that would not stand for incompetent healthcare services and hence put pressure on the local PCT's to channel funds into these areas. Whilst those in deprived wards have a greater tendency to suffer in silence in the face of under resourced and a barely competent health service.
Further analysis of official data from the Office of the Deputy Prime Minister backs this up for Sheffield as the below table illustrates, that deprived wards (red) come bottom in terms of health care provision.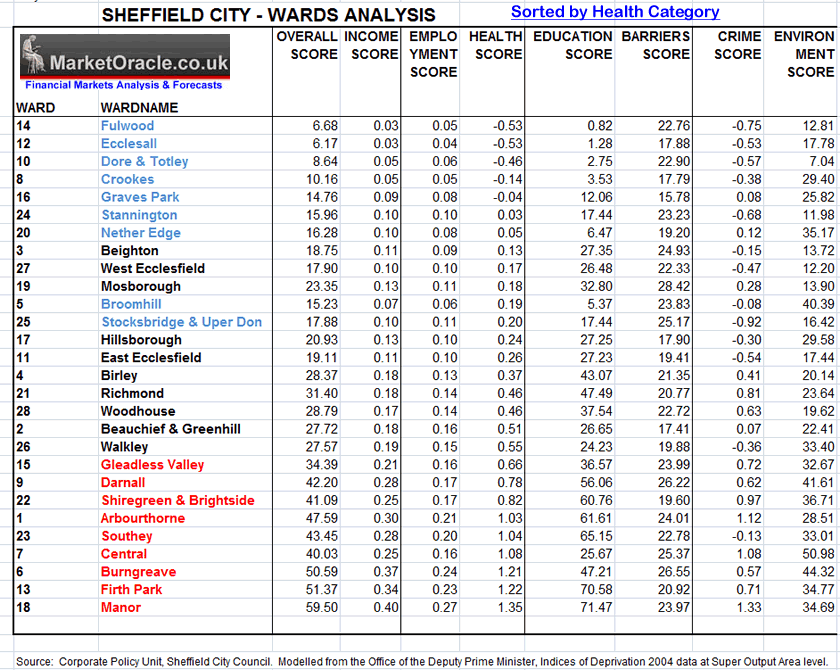 The Labour government recognising the disparity in GP services in many areas of the country during 2008 embarked upon a programme of introducing poly clinics or super surgeries in the face of much resistance from GP's which included the British Medical Association (BMA) delivering a petition of more than 1 million signatures to Downing Street against the implementation of 150 'Super Surgeries'.
The then Health Minister, Ben Bradshaw lashed out at the scare tactics accusing the BMA of "misleading and mendacious" behaviour in getting patients to sign up to the petition.
"I am not surprised the BMA has collected so many signatures, given the misleading and mendacious nature of its campaign.
"If I were to run a campaign making false claims that something terrible was about to happen, a lot of people would sign my petition too.
"We have received widespread anecdotal evidence of patients feeling pressurised to sign the petition as well as practices telling their patients blatant inaccuracies about local plans." he said.
Sheffield's own super surgery situated in the city central opened in April this year, which aims to 'hopefully' bridge some of the ever widening gap between affluent wards and deprived wards of the city. Even today the representative of GP's, the BMA criticises the implementation of Poly Clinics, this despite another report released today that shows that small GP practices generate six times as many disciplinary actions as against larger practices.
By Nadeem Walayat
http://www.marketoracle.co.uk
Copyright © 2005-09 Marketoracle.co.uk (Market Oracle Ltd). All rights reserved.
Nadeem Walayat has over 20 years experience of trading derivatives, portfolio management and analysing the financial markets, including one of few who both anticipated and Beat the 1987 Crash. Nadeem's forward looking analysis specialises on the housing market and interest rates. Nadeem is the Editor of The Market Oracle, a FREE Daily Financial Markets Analysis & Forecasting online publication. We present in-depth analysis from over 250 experienced analysts on a range of views of the probable direction of the financial markets. Thus enabling our readers to arrive at an informed opinion on future market direction. http://www.marketoracle.co.uk
Disclaimer: The above is a matter of opinion provided for general information purposes only and is not intended as investment advice. Information and analysis above are derived from sources and utilising methods believed to be reliable, but we cannot accept responsibility for any trading losses you may incur as a result of this analysis. Individuals should consult with their personal financial advisors before engaging in any trading activities.
© 2005-2019 http://www.MarketOracle.co.uk - The Market Oracle is a FREE Daily Financial Markets Analysis & Forecasting online publication.
Comments
skinnysprinter
25 Jul 09, 22:36
tami flu


I wouldn't use the helpline or bother my GP. Only vulnerable people with underlying health problems and the very young need extra help.

As for taking Tamiflu. Nooooooo thanks. Test it on someone else, I'm busy




25 Jul 09, 22:37
Swine flu


In the waiting room at my doctor's surgery, there appears a list of at least fifty complaints that we the patients should not bother our doctor with. I doubt if I went to see my him, if I can first get past the human shield of the receptions that is, with a suspect swine flu that he'd be too concerned about my wellbeing; he'd have one eye on his budget and the other on the clock.

Like terrorist threats, swine flu is used by our government to scare us shitless so that they can have more control on our lives.



Robin
25 Jul 09, 22:43
helpline


The swine flu helpline is probably like all other 'helplines' - absolutely useless.

"Helplines', especially under New Labour - are designed primarily as a marketing exercise, and in themselves have no real value.

Helplines will be charged at premium rates (good old 0870 numbers), will be staffed by teenagers in between jobs or newly arrived immigrants desperate for work. They will receive next to no training, will know nothing about viral infections, will read from a script and be paid the minimum allowable. In other words, a typical New Labour con trick. All promise and no delivery. Fine me £100 if I'm wrong - but I won't be.

As far as Tamiflu goes - don't panic and don't bother. The pharmaceutical companies are intent on making billions (with the help of New Labour) flogging something that works OK but is no great shakes.

Face it - 2 in 3 people won't get swine flu. Of those that do, most will either not notice it or will recover very quickly. In terms of anti-viral remedies, you'd be just as well off - if not better off - using Elderberry extract or eating grapefruit. Both proven to be very potent anti-virals.



sailor
25 Jul 09, 22:43
website


For all its flaws (subject to abuse etc.) the website may be the most economical way to dish out the stuff when demand is high. As to Goodwill sticking his oar in,its hard to tell if he brays like an ass or quacks like a duck. Isn't Relenza the version for pregnant ladies?



Andrew
16 Aug 09, 18:18
GP advice


I found my local young GP in Bayswater did not take my swine flu seriously and it has been going on for three plus weeks. I feel the NHS will be near collapse come the Winter.




Only logged in users are allowed to post comments.
Register/ Log in