Stocks Bear Market NOT Over, Stocks WILL Crash this Fall!
Stock-Markets
/
Stocks Bear Market
Aug 05, 2009 - 01:47 AM GMT


Yesterday we detailed the different between this current economic contraction, and your usual run of the mill plain vanilla recessions. We also went over the MASSIVE consumer credit contraction that needs to occur before American households have finished de-leveraging.
Today, we're detailing why stocks will Crash this coming fall. As you know the media is rife with folks calling the end of the recession and the beginning of a new bull market. It's clear to me that this is a load of nonsense. Today I'll show you why.
Because a lot of the alleged "analysis" that is backing up the bulls' claims of a new bull market comes from technical analysis and charts, I'm presenting the below chart from David Rosenberg of Gluskin Shef. It charts today's bear market over that of 1929-1932.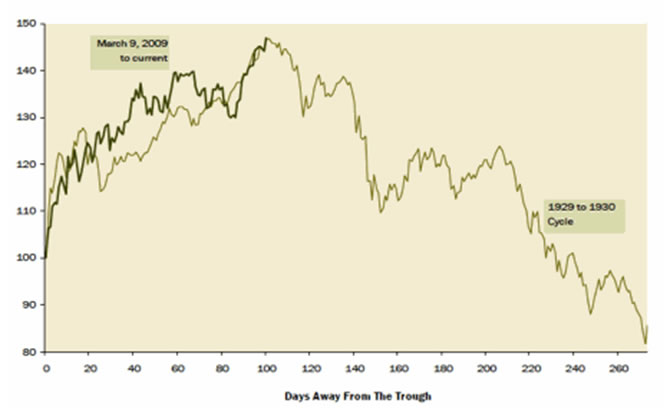 As you can see, today's bear market is mirroring that of the '30s almost to perfection. Indeed, the correlation between the two charts is an incredible 0.8, meaning it's 4/5ths perfect. In finance, you're lucky if you get a correlation above 0.6. (gold and the dollar are only 0.28 inversely correlated). A 0.8 correlation is virtually unheard of. But that's exactly how closely today's market is mirroring that of the '30s.
I can't take full credit for this insight. Ron Coby, an investment manager at Coby Lamson in Oregon first started pointing out the similarities between this market and that of 1929 back in February '09. No one wanted to listen to him then.
They're listening now.
Coby notes that from October 29, 1929 until November 13, 1929, the stock market collapsed 48% (the 2008 Crash was 52%). Then from November 1929 to April 1930 the market staged a 155-day rally of 50%. Today's rally (starting in March '09) has lasted 150 days and the market is up an average of 50% (average of Nasdaq, DJIA, and S&P 500).
Unfortunately for the bulls today, the 1929 market then rolled over and collapsed another 70%. "Bottom callers" INCLUDING legends like Jesse Livermore, Benjamin Graham and others bought ALL THE WAY DOWN, losing entire fortunes.
Ok, so the charts for today and 1929 are identical, what about the earnings? After all, profits are ultimately what drive the stock market: you buy based on expected future earnings of the companies.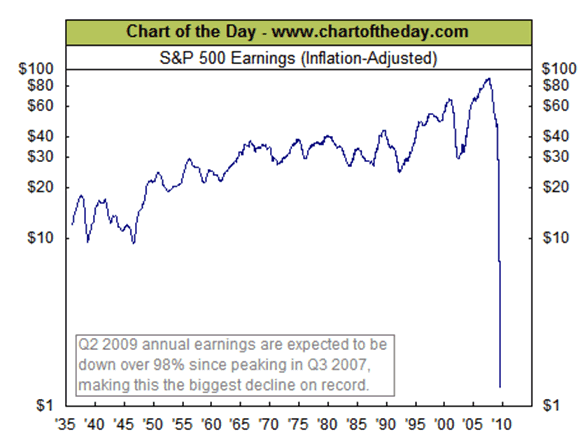 Earnings today are even lower than they were in the '30s during the Great Depression. They've fallen 98% from their peak in 2007. Adjusted for inflation, stocks have NEVER been this unprofitable in the last 80 years.
The US was already in a recession in 2008. And 2Q09 profits are actually down 31% even from THAT. Indeed, based on ACTUAL posted earnings, the S&P 500 is trading at a P/E of 700 today. Even if you go by operating earnings the multiple is still 24: hardly cheap.
Looking over this, I can't see where any claims of a "bull market" are coming from. The people who are saying today is a new bull market probably went long Tech Stocks in 2001, Housing in 2006, and Financials in 2008.
In light of the rampant bullishness, the parabolic rally in the S&P 500, the horrific earnings, and the similarity between today's rally and that of 1929, I believe the likelihood of another Crash (like 2008) is quite high. In fact, I would not be surprised to see stocks collapse within the next eight weeks.
I've put together a FREE Special Report detailing THREE investments that will explode when stocks start to collapse. I call it Financial Crisis "Round Two" Survival Kit. These investments will not only protect your portfolio from the coming carnage, they'll also show you enormous profits: they returned 12%, 42%, and 153% last time stocks collapsed in 2008.
Swing by www.gainspainscapital.com/gold.html to pick up your FREE copy!!
Good Investing!
Graham Summers
Graham Summers: Graham is Senior Market Strategist at OmniSans Research. He is co-editor of Gain, Pains, and Capital, OmniSans Research's FREE daily e-letter covering the equity, commodity, currency, and real estate markets.
Graham also writes Private Wealth Advisory, a monthly investment advisory focusing on the most lucrative investment opportunities the financial markets have to offer. Graham understands the big picture from both a macro-economic and capital in/outflow perspective. He translates his understanding into finding trends and undervalued investment opportunities months before the markets catch on: the Private Wealth Advisory portfolio has outperformed the S&P 500 three of the last five years, including a 7% return in 2008 vs. a 37% loss for the S&P 500.
Previously, Graham worked as a Senior Financial Analyst covering global markets for several investment firms in the Mid-Atlantic region. He's lived and performed research in Europe, Asia, the Middle East, and the United States.
© 2009 Copyright Graham Summers - All Rights Reserved
Disclaimer: The above is a matter of opinion provided for general information purposes only and is not intended as investment advice. Information and analysis above are derived from sources and utilising methods believed to be reliable, but we cannot accept responsibility for any losses you may incur as a result of this analysis. Individuals should consult with their personal financial advisors.
© 2005-2019 http://www.MarketOracle.co.uk - The Market Oracle is a FREE Daily Financial Markets Analysis & Forecasting online publication.
Comments
TraderJoe
05 Aug 09, 14:54
Stocks crash


I am making a note and will remind you in October, good luck!



Dave Nolan
05 Aug 09, 19:44
This chart is not up-to-date!


The chart that's shown at the beginning of this article only extends about 100 days from the March 9 bottom. Yet, as the article notes, we are now about 150 days out, and the US markets are all up even more than they were at day 100, while the 1929-1930 chart collapsed during the most recent 50 days. So while the parallels were strong for a while, the market has behaved very differently in the last couple of months.



toyotawhizguy
05 Aug 09, 22:45
Reply to "Stocks Crash"


TraderJoe,

Take a look at the DJIA from Fall 1929 thru 1932.

Crash, sucker's rally, crash, sucker's rally, crash...

Same old, same old. The only thing that will be different this time is the timing.



PaymentsExpert
06 Aug 09, 17:46
Agree with ToyotaWhizGuy


Toyota,

I agree with you 100%. I think there is a chance that we may see this rally extend out until early next year. The rally could end as early as tomorrow though... really hard to know exactly when.

My thoughts are early next year because most economist (even the bearish Roubini) felt that we would likely be out of this by end of 2009. When that deadline comes and goes and reports aren't getting better but rather worse, then that's when it really hits the fan and we begin the descent to the real bottom of this cycle.



getknk
08 Mar 10, 05:17
Seems the prediction went wrong?


seems the economy is still sticking up. its more than 300days from the date of prediction

I'm still bearish.. but seems the above co-relation is changing..



Raj kumar
07 Nov 10, 06:44
Crash is coming


I agree with you and I think that correction may begin from Monday (08-11-2010) onwards !




07 Nov 10, 10:24
crash


The will keep calling for the crash as the mkt goes to new highs.



Alex
07 Nov 10, 15:26
Is a Crash is Imminent?


I was reading this article always interested to hear any contrarian point of view particularly given the recent bullish run and then I got to the last few lines in the article:

"I've put together a FREE Special Report detailing THREE investments that will explode when stocks start to collapse"

and thought............would it not be more profitable to be out shorting the market than selling "exploding" stock recommendations?

Apparently not......the bull is still on




Only logged in users are allowed to post comments.
Register/ Log in