The Conditions for Global Gold Confiscation, Part4
Commodities
/
Gold & Silver 2009
Sep 05, 2009 - 01:08 AM GMT


As the fourth part of this series we now look at this question: "What circumstances will the world monetary system be in, in the event of the Confiscation of Gold by Central Banks?"
Then...
The circumstances that led to the confiscation of gold in 1933 were dire. Firstly, the time was Post-Depression and the States had a huge need for the expansion of the money supply. Secondly, the dark clouds of war had started to gather, as Hitler took power. So the money supply had to be expanded, yet be capable of holding its value, when the global scene would have lead to simple un-backed paper money not being accepted. Gold however, was even accepted between enemies, as it would be today. What pushed government to take gold away from its citizens? It was seen as a time of national need. It was the need to reinforce the basic credibility of paper money! This was sufficient justification to government necessitating the imposition of patriotic duty on its citizens with regard to gold. Where patriotism was not as strong as the personal need to preserve one's wealth, a threatened term in prison fortified those individual's patriotism.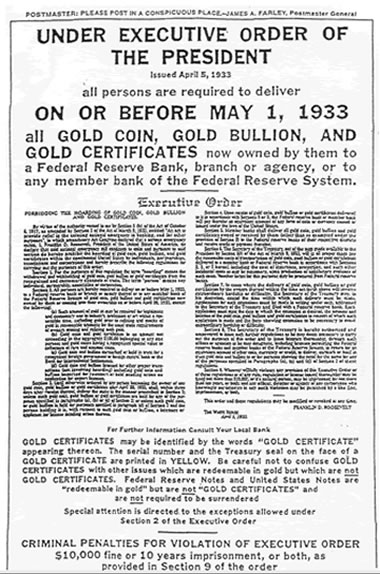 And now!
And have no doubt that the same would be true today, were gold confiscation to take place.
Today, most of individual wealth is held in Corporations, Funds, banking institutions and other legal entities and not by the individuals themselves as was the case in 1933. Today, corporations and Funds would be threatened in the same way as they were then and with potential imprisonment for the Officers of those legal entities. Few of these Officers would be prepared to go to prison on client's behalf! Experience in other parts of the world shows us that these Officers would hand over the gold in their charge, immediately, if such a law were passed, with little to no regard for the beneficial owner.
Let's stress that point; when it comes to money, a nation's interests sit heavily above those of its citizens. Holding gold is therefore a privilege, not a right, in the eyes of government.
For U.S. Citizens:
Today we live in a global market where U.S. citizens are able to move their funds overseas without restraint. In 1933 only the wealthiest of individuals could even contemplate moving funds out of the States. Now they can invest in any Stock Exchange or other Financial Market in the world, without being held back by the U.S. Government. The concept of restraining U.S. citizen's foreign investments has not been on the page until now. Recently President Obama indicated that U.S. Corporations operating overseas would have to pay U.S. Tax on their overseas income. The days of reinvesting profits in Capital Expenditure before suffering U.S. Tax [payable on repatriated profits only] appear to be numbered. President Obama made it clear that his Administration sees a need for the U.S. to benefit directly from overseas investments annually. He further feels that U.S. citizens overall should benefit from these profits and not just the corporation and those it employs overseas.
No doubt, the concept of
U.S. Tax on overseas corporation profits will take a firmer hold irrespective of the benefits of keeping profits as capital for development overseas. President Obama is certainly of the opinion that U.S. owned overseas assets should directly benefit U.S. citizens at home, first!
This lays the ground for Capital / Exchange Controls if the $ declines precipitously, or the U.S. financial empire worldwide, declines, as it seems set to do so.
At worst, the U.S. will see what the U.K. saw, the splitting of the $ into two types, one for Trade transactions and the other for Capital movements [at a discount to the Trade $]. In the U.K. it was titled the "Dollar Premium". Such a situation would see the U.S. $ in retreat in terms of other currencies too. The role of gold in adding to the credibility of the $ internationally at that point would be crucial. As the U.S. dollars returned home from $ surplus holders [such as China] there would be a dire need for local credibility to the currency to be enhanced. This could precipitate gold confiscation, again.
As it is, even U.S. citizens living overseas have to declare to the U.S. Tax Authorities their worldwide income. Even where the individual U.S. citizens held all their assets overseas, we would expect the Administration of that day to attempt to coerce the repatriation of their gold home to the States. If these individuals had assets at home, these could be seized if they failed to comply with the repatriation and confiscation of their gold. Where U.S. based citizens held assets abroad they too could face home confiscation of assets if they did not repatriate their gold.
As it is, through the I.R.S., foreign held assets are already
reported by U.S. citizen's world wide. Hence, the reporting and control mechanisms to attack non-governmental ownership of gold are fundamentally in place and can be extended without too much difficulty, to control all who wish to remain U.S. citizens. What price Patriotism?
That is why the gold Exchange Traded Fund, The Ultimate Gold Fund has been designed to accommodate U.S. gold owners, holding their gold in Switzerland, to ensure that their gold cannot be confiscated! More to come next week – "For citizens of other countries" – "Does the U.S. have rights in other countries, over their citizen's wealth?"
Gold Forecaster regularly covers all fundamental and Technical aspects of the gold price in the weekly newsletter. To subscribe, please visit www.GoldForecaster.com

By Julian D. W. Phillips
Gold-Authentic Money
Copyright 2009 Authentic Money. All Rights Reserved.
Julian Phillips - was receiving his qualifications to join the London Stock Exchange. He was already deeply immersed in the currency turmoil engulfing world in 1970 and the Institutional Gold Markets, and writing for magazines such as "Accountancy" and the "International Currency Review" He still writes for the ICR.
What is Gold-Authentic Money all about ? Our business is GOLD! Whether it be trends, charts, reports or other factors that have bearing on the price of gold, our aim is to enable you to understand and profit from the Gold Market.
Disclaimer - This document is not and should not be construed as an offer to sell or the solicitation of an offer to purchase or subscribe for any investment. Gold-Authentic Money / Julian D. W. Phillips, have based this document on information obtained from sources it believes to be reliable but which it has not independently verified; Gold-Authentic Money / Julian D. W. Phillips make no guarantee, representation or warranty and accepts no responsibility or liability as to its accuracy or completeness. Expressions of opinion are those of Gold-Authentic Money / Julian D. W. Phillips only and are subject to change without notice.
© 2005-2019 http://www.MarketOracle.co.uk - The Market Oracle is a FREE Daily Financial Markets Analysis & Forecasting online publication.

Only logged in users are allowed to post comments.
Register/ Log in