Gold and Silver Strong in All Currencies
Commodities
/
Gold & Silver 2009
Sep 23, 2009 - 11:24 AM GMT


Gold, silver and gold shares are jumping up. Gold hit a record high this month and all three are in 'break out' mode. The time of truth is at hand and it won't take much more strength to confirm that a stronger phase of the eight year old bull market has begun.
GOLD IS MONEY
We have often talked about gold's role in the monetary system. For many years it was tossed aside as a barbaric relic and the thinking was that it was old fashioned. Nixon reinforced this in the 1970s when he closed the gold window by taking the U. S. dollar off the gold standard. An energetic economy then became most important.
But in spite of the generally strong U.S. economy and the growing global economies since the 1970s, the dollar has been weakening. Gold has been moving up quietly this decade and your average person or investor is still essentially unaware of its strength, but that will likely soon change.
GOLD: Strong in all currencies…
In today's world it's important that gold rise in all currencies. Why? Very simply, it will reconfirm that gold's strength is powerful and real. We think this is ready to happen.
Looking at Chart 1 (left side), you can see that the gold price has tested the $1000 level twice since March 2008 when it first reached a record high. If gold now stays above $1004, it will clearly be breaking into record high territory and it'll confirm a stronger phase of the ongoing bull market. You can bet this will attract attention and eventually mainstream investors will jump on board, driving the price much higher.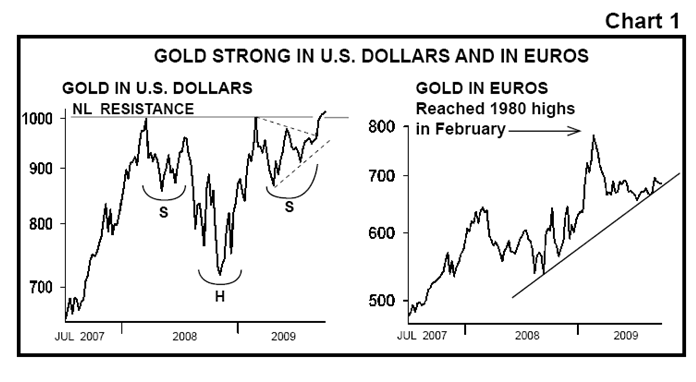 Interestingly, gold has also formed a head and shoulders technical pattern (see S, H, S). The rule of thumb is, if the NL resistance is broken on the upside, which it was when gold hit a record high, the price could rise the same distance as the size of this formation. In other words, gold could then continue up to near the $1400 level.
We'll soon see what happens but most interesting is that gold is strong in euro terms as well (see Chart 1, right side). Note that it reached a new bull market high last February when it closed at its 1980 highs. The main point is, if gold can now reach a new record high in both dollars and euros it would be extremely bullish because it would be reaching a record high in the two most widely used currencies in the world.

… AND READY TO FLEX ITS MUSCLES
For now, what we call a "C" rise is ready to go. C rises are recurring, and they're the best intermediate rises in a bull market when gold reaches new highs (see top of Chart 2). This is why the current C rise is so important, because it's the first C rise since the financial meltdown last year.
The gold price is the central bankers' only real discipline. The Federal Reserve has created more credit and injected the most money into the system this year than any other time in its 95 year history, in order to save the economy from a deflationary collapse. But the Fed's actions, together with Obama's spending and the massive stimulus from central banks around the world nearly guarantees that the end result will be inflation.
The economy is recovering at a heavy price. And this month's gold rise suggests that inflation will eventually prevail. This will be especially true if gold breaks clearly out to new record highs. It will be saying that the government is actively creating inflation. This is also why the current C rise is so important.
Chart 2 shows that gold has the power and the room to rise strongly into record high territory. The leading indicator (B) is poised to complete a strong C rise and the gold price (A) shows that once a record high is sustained, gold could indeed jump up to the $1200 level as its first target. The long-term indicator (C) is also in a special situation that usually precedes a strong rise.
Once gold embarks on a stronger phase of the bull market, it's not inconceivable that gold could eventually reach the $2,000 to even the $5000 level before the mega rise is over, looking out to the years ahead.
GOLD: Better than stocks, currencies & bonds
The stock market and the currencies have been good investments, but it's important to know that gold is the best investment. It's stronger than the currencies as you saw, and it's stronger than the stock and bond markets. Chart 3 shows this clearly. Note that when comparing these markets, gold has been steadily stronger than the Dow Jones Industrials, and the U.S. bond market since 2001. Both ratios have been moving up since rising above the mega trend, the 80 month moving average, in 2003. This means that gold is solidly stronger than these other markets and its gains have been greater.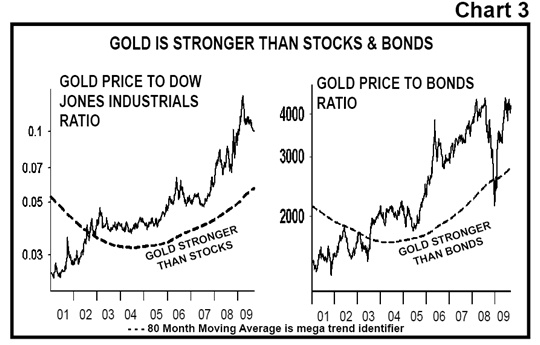 We are invested in the different market sectors because the trends are up and we'll stay diversified as long as the trends stay up, but keep in mind that the strongest markets are in the gold and metals sectors. Most important, it's not too late to buy.
By Mary Anne & Pamela Aden
Mary Anne & Pamela Aden are well known analysts and editors of The Aden Forecast, a market newsletter providing specific forecasts and recommendations on gold, stocks, interest rates and the other major markets. For more information, go to www.adenforecast.com
© 2005-2019 http://www.MarketOracle.co.uk - The Market Oracle is a FREE Daily Financial Markets Analysis & Forecasting online publication.

Only logged in users are allowed to post comments.
Register/ Log in