Gold Miners Mega Profits
Commodities
/
Gold & Silver Stocks
Oct 19, 2009 - 06:12 AM GMT


Mega profits are achievable via investment in Australian gold shares and we recently proved this via an educational piece (end August) that discussed a method of valuing companies. Within six weeks the stock made a high at 260% of the original price for a clear gain of 160%.
I have received massive email feedback from this educational release and cannot answer everybody so may I say thanks to all who have done well and told me so. I have to focus on these articles and continue to research the next big winner for my Gold Members so please forgive the lack of email responses.
The file I refer to above is still in our Members area but not accessible in the free area of GoldOz any more. We are looking to repeat this feat soon and this article covers some important concepts in successful investing in this high potential sector.
Gold is consolidating above $1,030 very nicely in USD terms. The weekly RSI is still under 70 and the daily RSI is around 65. Weekly MACD is trending up also and I like the look of this. Confirmation is also coming from the gold shares at this time as the XGD trades in reverse to the XAO most days.
Here is a 5 year chart of gold in AUD terms. The miners are profitable at this level and the excitement is still high for the Australian gold stocks because investors see upside.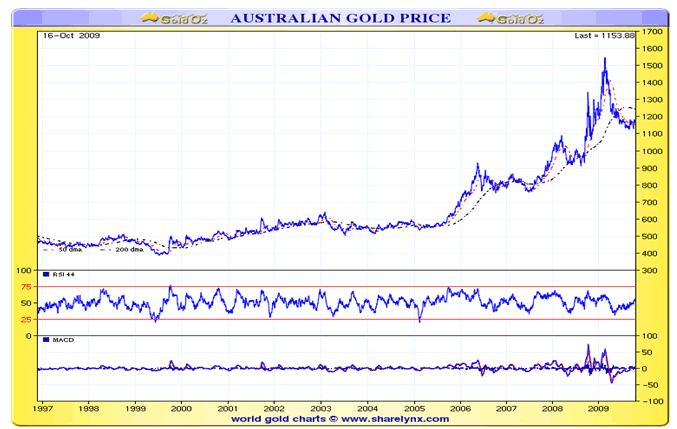 How much upside? Here is a chart of the Emerging Producers showing the trend and potential upside based on previous highs. The October / November lows of 2008 were an anomaly – an aberration unlikely to be repeated according to our analysis.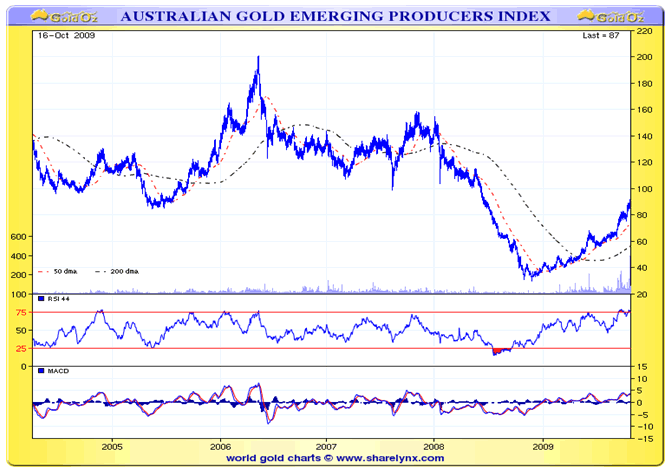 The Producers look just as good – note: this index excludes NCM and LGL.
How Do You Play to Win?
Investors require portfolio growth strategies and education on gold share investment so that they become powerful in these markets. Only solid fundamental and technical knowledge can enable investors fully understand the opportunities and use practiced techniques to maximize their own profits.
It matters little which sector you are investing in or which investment class – the fact is you need to get your own knowledge up to speed if you want to do well. Real estate, derivatives, bonds, stocks, antiques, art, stamps or currencies – they all logically require a depth of understanding and research to gather sufficient understanding so that participants can reap the rewards they seek.
This may not be as hard as you might think and it is fun once you are on top of the game. Investors can prosper and protect themselves from the danger of the current and future economic climate.
Successful Investing
I understand that investors are busy and have limited time so they feel restricted when it comes to learning about all the important aspects of an investment class. You finish work attend to your domestic obligations and then you want some time for yourself. Think of it this way – your investing knowledge and activities are part of your "you" time because it can enable you to retire early or buy more leisure time once you are proficient. Do you want to be investment qualified or TV qualified?
Believe me investing is about knowledge and discipline and only strong trading systems will give you the power over your own emotions so that you gain discipline. Fear and greed tangle investors up but so does a lack of knowledge and know-how.
The most important factor to understand is; what information is important in terms of value and (even more important) – what is going to drive the share price up and create a profit for you. It is the difference between measurements of mere data compared to an understanding of the real price drivers that really counts.
Once you understand the price drivers and get the timing right your profits will explode upwards so you have to work this aspect out – it is the secret to highly profitable trading and investing.
Another way to explain what I saying about measurement and know-how is to analyze a car. Hopefully I can convey the essential difference between measurement and practical knowledge. Look at a family sedan for example – it has 4 doors, a motor that has so many cylinders, consumption of x liters per 100 kilometers etc. There are lots of facts and information that can be measured so that you can compare relative value between one car and another in scientific terms and this does have a purpose – it is useful. It is part but only part of the car purchase equation and only part of a successful investment equation too.
Unfortunately however there are other missing factors here which cannot be measured. Do you like the car and how much do other people like the car? People buy based on choices that seem illogical at times because they simply like what they see or hear. There may be no resale value because the car is unpopular and at times this is irrational also but the market says so and therefore it is so.
No point having the most economical car of all if the motor wears out after 80,000 kilometers and costs $5,000 to replace. The trucking industry used to run small engines in the big rigs aiming to be more economical however they later moved to very powerful engines. The reason was that it saved time on each load as the trucks did not need to slow down going up hills and also the motors lasted so much longer, less down time – more economical overall. Yet the science initially pointed to greater economy using smaller engines.
Then we come to the main point – can you drive? Nice to have the right car but if you have no license or cannot drive it will sit there and do nothing. If you can drive but poorly you may just run that beautiful perfectly measured car off the road wiping it out and your good-self along with it. How many times have you heard of an investor choosing the right stock at the wrong time and then selling it at a loss just before it goes back up?
I cannot stress enough how important it is to learn to drive your share portfolio. This is where another level of understanding about trading is essential. You may say "but I am an investor not a trader" to which I would argue you still need the know-how to aid you when you are buying, holding and selling. There are fundamental and technical aspects to trading that I have not seen covered anywhere yet they make the difference to my portfolio's performance.
There is much to understand about company fundamentals not covered by raw data alone. Basic geology is not covered by ounces in the ground it is only a raw statistic. This may best be understood by talking to an expert because the jargon is complex and difficult to understand. It was this type of knowledge that assisted my to write the educational report mentioned at the beginning of this article. It was compiled using know-how about the business also - and the timing was formulated using chart technicals and an understanding of company activity + balance sheet analysis.
Share price behavior is a study worth your attention and so is depth analysis. This was also used to time the release of the report for maximum confirmation of my educational analysis. When all factors align you get share price explosion and portfolio price explosion and this is what it is all about.
GoldOz still has a no pressure bonus time special on our Gold Membership. It is running until the end of November because we want to get the early bird investors on the right track early in this rally. The details are at the GoldOz Store if you have interest – we will teach you how to drive J At this stage we see this rally running until February and perhaps May before we get any serious correction. We have a careful eye on the market of course – only the market is right and the best we can do is to follow it with care.
Good trading / investing.
Regards,
Neil Charnock
GoldOz is currently developing a Member area and has added further resources for free access. We have stepped up our research and stand by to assist investors from all walks of life. We sell an updating PDF service on ASX gold stocks from only $AUD35 for 3 months – the feedback is grateful and enthusiastic because we are highlighting companies that have growth potential and offering professional coverage of the sector. GoldOz web site is a growing dynamic resource for investors interested in PGE, silver and gold companies listed in Australia , brokers, bullion dealers and other services.
Neil Charnock is not a registered investment advisor. He is a private investor who, in addition to his essay publication offerings, has now assembled a highly experienced panel to assist in the presentation of various research information services. The opinions and statements made in the above publication are the result of extensive research and are believed to be accurate and from reliable sources. The contents are his current opinion only, further more conditions may cause these opinions to change without notice. The insights herein published are made solely for international and educational purposes. The contents in this publication are not to be construed as solicitation or recommendation to be used for formulation of investment decisions in any type of market whatsoever. WARNING share market investment or speculation is a high risk activity. Investors enter such activity at their own risk and must conduct their own due diligence to research and verify all aspects of any investment decision, if necessary seeking competent professional assistance.
© 2005-2019 http://www.MarketOracle.co.uk - The Market Oracle is a FREE Daily Financial Markets Analysis & Forecasting online publication.

Only logged in users are allowed to post comments.
Register/ Log in