Gold Stocks vs. Oil Stocks
Commodities
/
Gold & Silver Stocks
Jul 07, 2007 - 01:16 PM GMT

Oil Stocks are likely to outperform Gold Stocks over the next 6-months which should provide further support to the stock market.
A question I get asked a lot is where should I be investing my money?
"I'm a believer in the Commodity Super-cycle and in Peak Oil but gosh, just tell me what (and when) I should be buying!"
Article originally submitted to subscribers on 4th July 2007 …
For us the question really boils down to allocating between Precious Metals, Energy and Industrial Metals. In this article I want to explore the Gold Stock vs. Oil Stock relationship to see how we should position ourselves for the remainder of the year and what (if any) inferences we can make on the general market.
Under normal financial conditions i.e. where liquidity and carry trades don't dominate, Oil stocks tend to benefit from strong economic growth and Gold Stocks tend to benefit from a weak economy. That is, Central banks pursue inflationary monetary policy in response to weak economic conditions which is positive for Gold. Therefore, an analysis of Gold Stocks vs. Oil Stocks should give us an indication as to whether economic growth is strong or weak.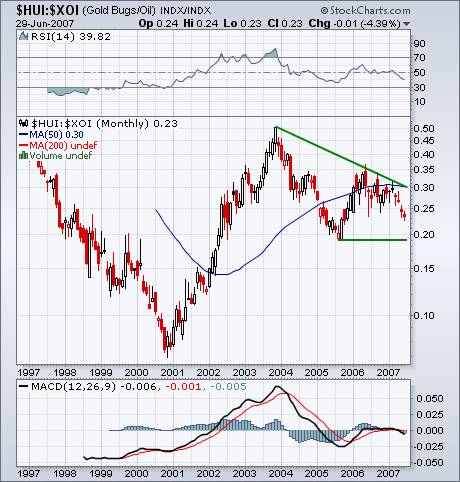 Chart 1 - Gold Stocks vs. Oil Stocks still consolidating
From late-2000 to 2003 Gold Stocks dominated Oil Stocks. This was the last serious Bear market - the Nasdaq crashed over 80% and the Fed slashed interest rates to 1% in order to stimulate the economy.
As monetary stimulus took hold in 2004 the BRIC ( Brazil , Russia , India , China ) theme began to emerge, Oil Stocks (and the Stock market in general) began a 2-year rally into late-2005 (the chart fell).
This was followed by some minor corrective action (to mid-2006 – upper green line) and since then Oil Stocks have onbalance outperformed Gold Stocks.
From a purely technical point of view, chart 1 indicates that Oil Stocks should continue to outperform Gold Stocks for the remainder of the year until the ratio reaches support at 0.20.
As noted in a previous article called Good Oil Stocks bad Oil , oil stocks are not directly correlated to the price of Crude but tend to follow along with the general trend of the market. We suspect this has to do with the fact that Oil companies are large components of the S&P500 and hence beneficiaries of the ton of money flowing into index trades.
We also noted in the above article that periods of out performance by Crude vs. Oil Stocks are generally associated with a weakening stock market. Following on that analysis, we note that the Amex Oil Stock Index has just formed a double top pattern against Crude.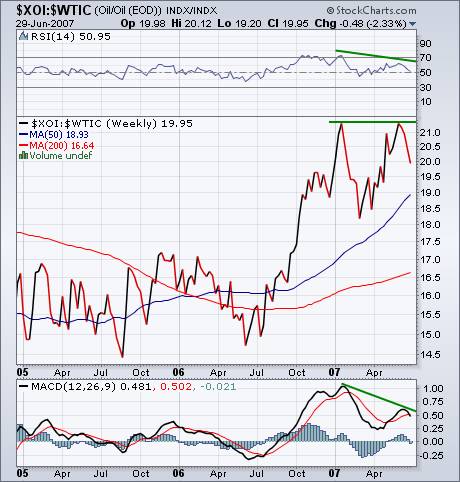 Chart 2 - Oil Stocks have formed a double top against Crude Oil
So what does this mean?
It means that Oil Stocks (and by inference the stock market in general) will remain soggy through the summer (Gold and Gold Stocks should bounce back from oversold positions). However, based on the fact that Oil Stocks will outperform Gold stocks over the next 6-9 months (chart 1), it is unlikely we will see a significant correction in stocks this year.
Make no mistake, Gold stocks are in a long-term secular bull market and MUST have a weighting in your portfolio. However, and as impossible as it may seem, the growth theme looks like it has further to go.
Here is further evidence that Gold Stocks will under perform against Oil Stocks: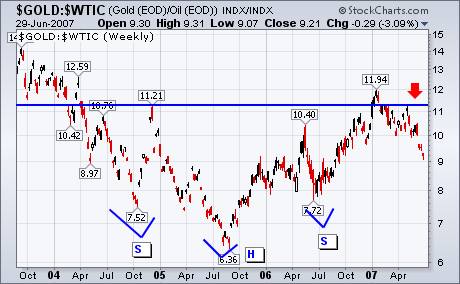 Chart 3 - Gold price pulling back from H&S neckline vs. Crude Oil
Whilst the correlation between Crude Oil and Oil Stocks can be a little iffy, the correlation between Gold Stocks and Gold Bullion is more dependable.
We have been watching the above Head and Shoulders formation for a while to see whether Gold would break out against Oil. What happens all too often with H&S patterns is that the breakout fails to materialize and the price backs away from the neckline in a hurry!
That's exactly what happened here and the implication is that Crude will outperform Gold Bullion for the foreseeable future and by correlation; Gold Stocks which are highly correlated with the Gold Price will lag.
Crude Oil has recently completed a breakout above a 9-month Head & Shoulders formation forecasting $80 Oil ( price of oil breaks out ). And whilst Oil Stocks look extended, the above analysis indicates there is more upside in store (chart 1). Therefore higher Oil prices should be supportive of higher Oil Stock prices which should in turn should cause them to outperform gold stocks.
For now we favour energy stocks over Gold stocks and we are looking to put new money to work in the stocks of Oil and Natural Gas Producers and Drillers who are basically printing money with energy prices at these levels.
More commentary and stock picks follow for subscribers…
Please visit my website for a free trial to my newsletter. Click here: http://blog.goldandoilstocks.com
By Greg Silberman CFA, CA(SA)
Profession: Portfolio Manager and Research Analyst
Company: Ritterband Investment Management LLC
e-Mail: greg@goldandoilstocks.com
Website: blog.goldandoilstocks.com
I am an investor and newsletter writer specializing in Junior Mining and Energy Stocks.
This article is intended solely for information purposes. The opinions are those of the author only. Please conduct further research and consult your financial advisor before making any investment/trading decision. No responsibility can be accepted for losses that may result as a consequence of trading on the basis of this analysis.
© 2005-2019 http://www.MarketOracle.co.uk - The Market Oracle is a FREE Daily Financial Markets Analysis & Forecasting online publication.

Only logged in users are allowed to post comments.
Register/ Log in