Gold Long-term Elliott Wave Pattern
Commodities
/
Gold & Silver 2009
Nov 22, 2009 - 09:36 PM GMT


SUNDAY SERMON - SIGMUND FREUD (1865-1939) "He was a medical doctor who specialized in neurology.

Freud considered personality to be like an iceberg; most of personality exists below our level of awareness, just as the massive part of an iceberg is beneath the surface of the water.
Freud believed that most of the important personality processes occur below the level of conscious awareness. In examining people's conscious thoughts about their behaviors, we can see some reflections of the ego and the superego. Whereas the ego and superego are partly conscious and partly unconscious, the primitive id is the unconscious, the totally submerged part of the iceberg.
How does the ego resolve the conflict among its demands for reality, the wishes of the id, and constraints of the superego?
Through defense mechanisms, the psychoanalytic term for unconscious methods the ego uses to distort reality, thereby protecting it from anxiety. In Freud's view, the conflicting demands of the personality structures produce anxiety. For example, when the ego blocks the pleasurable pursuits of the id, inner anxiety is felt. The anxiety alerts the ego to resolve the conflict by means of defense mechanisms.
Repression is the most powerful and pervasive defense mechanism, according to Freud; it works to push unacceptable id impulses out of awareness and back into the unconscious mind. Repression is the foundation from which all other defense mechanisms work; the goal of every defense mechanism is to repress, or push threatening impulses out of awareness."
www.essortment.com › People & Culture
UNIQUE PERSONALITY AND CHARACTERISTICS
By W. D. GANN
"The farther back you have a record of a stock or commodity and the more you study it, the more you will understand its actions and know when it is making tops and bottoms. You should become thoroughly acquainted with the stocks and commodities you trade, and by studying them, you will learn their individual moves which are peculiar to themselves."
-------------------------------------
"Repression is the foundation from which all other defense mechanisms work; the goal of every defense mechanism is to repress, or push threatening impulses out of awareness." Sigmund Freud
-------------------------------------
Is the truth about Gold's innate repetitive personality being repressed by gold bugs? It does appear that a wave four expanded flat correction is inherent in gold's personality.
Click here
V
I Saw the Light expanded flat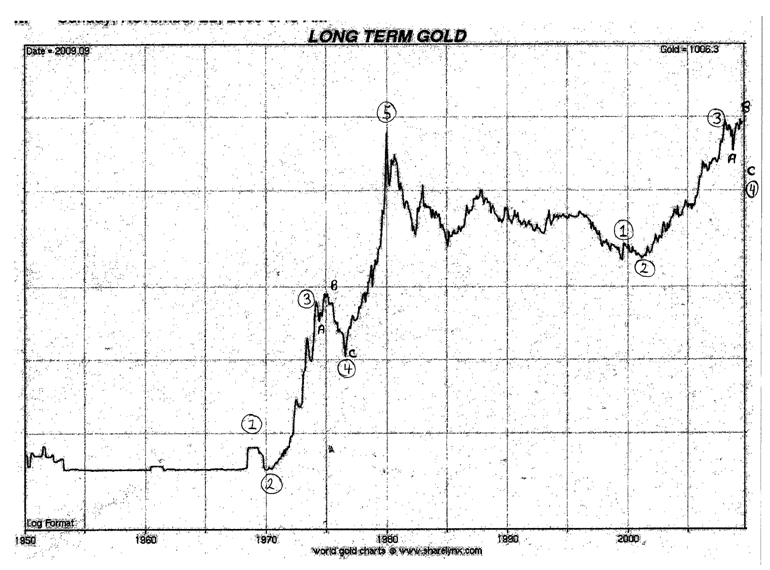 Gold coins and bars should be considered an insurance policy. I do not believe that they should be sold regardless of a decline in their price. The percentage increase in the precious metal shares is a multiple of the rise in the price of gold. The percentage decrease in the precious metal shares is a multiple of the decline in the price of gold. The shares are obviously more volatile than the metal. There is more hope for riches placed in the shares than there is in the metal. That hope gets dashed easily on the way down. Speculators in gold and silver have their hopes for riches dashed on the way down but gold has a hard core of holders that refuse to have their holdings dislodged by fluctuations. Holding the metal gold as insurance is the way to proceed until the financial and economic mess that we are living with is resolved or at least mitigated.
Subscriptions to the Rosen Market Timing Letter with the Delta Turning Points for gold, silver, stock indices, dollar index, crude oil and many other items are available at: www.wilder-concepts.com/rosenletter.aspx
By Ron Rosen
M I G H T Y I N S P I R I T
Ronald L. Rosen served in the U.S.Navy, with two combat tours Korean War. He later graduated from New York University and became a Registered Representative, stock and commodity broker with Carl M. Loeb, Rhodes & Co. and then Carter, Berlind and Weill. He retired to become private investor and is a director of the Delta Society International
Disclaimer: The contents of this letter represent the opinions of Ronald L. Rosen and Alistair Gilbert Nothing contained herein is intended as investment advice or recommendations for specific investment decisions, and you should not rely on it as such. Ronald L. Rosen and Alistair Gilbert are not registered investment advisors. Information and analysis above are derived from sources and using methods believed to be reliable, but Ronald L. Rosen and Alistair Gilbert cannot accept responsibility for any trading losses you may incur as a result of your reliance on this analysis and will not be held liable for the consequence of reliance upon any opinion or statement contained herein or any omission. Individuals should consult with their broker and personal financial advisors before engaging in any trading activities. Do your own due diligence regarding personal investment decisions.
© 2005-2019 http://www.MarketOracle.co.uk - The Market Oracle is a FREE Daily Financial Markets Analysis & Forecasting online publication.
Comments
Atif
25 Nov 09, 12:04
Gold Bottom


you may be right let see..but my work tells me that bulls party canbe over in a day or two nov 26-27..becuse there is no force pushing the price due to maturation of contract on 23 nov

one more important thing about people attitude

great people think alike and fools seldom differ



truthhurtsss
25 Nov 09, 16:48
Sell the heck out of gold!


Since you see such a big drop down to the $700 in an expanded flat, you should short the heck out of the gold market at this point. I would if I held your view, otherwise I would'nt be a trader nor investor, jut a broken clock.....



Ziegler Hans Dieter
26 Nov 09, 01:48
time frame and wave count in gold


It seems to me the whole wave structure of the very beginning

in July 1999 up to now is an total five wave count.

Time befor price. We have seen an 124 month count from the

beginng in July/August 1999 till Nov. 2009. That´s enough

and very confortable. 89 month and 34 month are all together

123 month. A very great time window has reached. From the

beginning in 1932 we have also seen an about 77 years old

megatrend. 76 years plus 1 is 77 years and 76 years is 55 years plus 21 years. All together an fibo cluster.

So, in my opinion we have no A,B,C reaction from march 2008

that is unfold up to now. Furtermore we are at the end of the end of supercycle III.

All the best to you and your team from munich germany!

Hans Dieter Ziegler

great wave




Only logged in users are allowed to post comments.
Register/ Log in