Did the Fed Monetize by Stealth?
Interest-Rates
/
US Debt
Dec 22, 2009 - 09:12 AM GMT


This is a chart of the Fed's balance sheet that I lifted from an article by Tim
Iacono: http://www.marketoracle.co.uk/Article15004.html.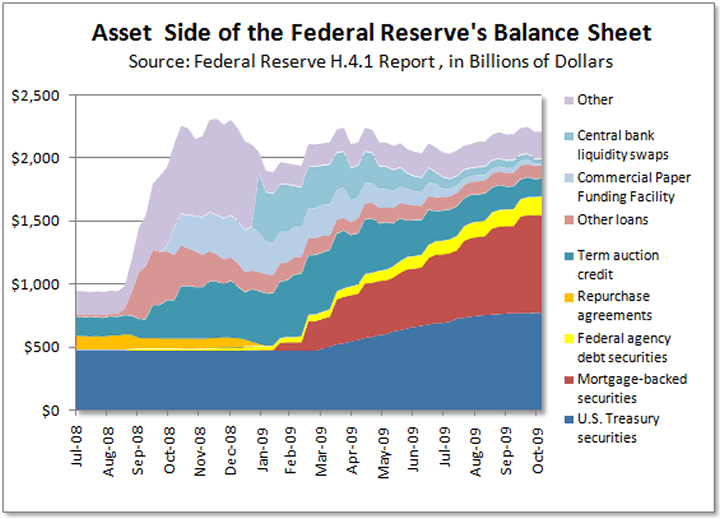 I don't know if he does those charts himself but they are a work of art!
Like some sort of marvellous abstract expressionism, reminds me a bit of Rothko with hard lines. See how the colours are balanced so the ones at the back look like they are behind, that part is reminiscent of Paul Klee, a masterpiece!
Mm…now I wonder- what does that big red blob signify?
Uh huh…that's Mortgaged Backed Securities!
Now let me get this straight, those are things that the Fed has either purchased or took over as collateral in return for shovelling cash out of the discount window to banks like Goldman Sachs who, since they are now a "regulated" bank (if that's not a contradiction in terms), are now eligible to feed at that tough.
And of course the Fed is posting those "assets" with the Federal Reserve Agent (a government employee) before it prints money to help those nice chaps at Goldman make bonus this year and go round creating bubbles, so ordinary Americans can pay more for gasoline.
Imagine how cocky they would be these days if they couldn't take money out the discount window at 0% to "play" with.
This is how that went down:
Ben says to the Federal Reserve Agent, "Here you go Joe, see that's almost a trillion dollars of MBS I'm posting with you, so I'm going to print that amount cash and feed it out the discount window, and don't you worry your pretty little head about a thing, we are not monetizing, it's all above board!"
But Joe who wasn't born yesterday says…"Mm – so how do I know those assets are worth a trillion dollars?"
Ben hands over a stack of paper, "Here you go Joe, this is proof of what the banks paid for that stuff. See certified receipts for one trillion dollars of MBS purchased in 2006 and 2007, and look, they even have the original AAA stamps from Moody's on them".
But Joe is not having any of that, he says, "But how about that new-fangled "mark-to-market" thing, how much is that stuff worth if you value it that way?"
Ben says, "Oh dear me Joe, you need to get out more, no-one uses that any more, it's all "mark-to-myth" these days, didn't you hear?
"But Joe if you want to go mark-to-market, no sweat, the market is very healthy, and lucky for you we are big in that market so we know all the prices. In fact we are about the only people buying that stuff at the moment, and we have 2,200 PhD economists working for us, so we sure know what we are doing".
Joe is still not convinced, he asks, "But I thought Henry Paulson was going to buy up all those with his TARP program?"
Ben keeps his cool, "Well sure that was the idea, but Goldman Sachs needed cash so that's where it all went, and anyway none of those guys at the Treasury could figure out how to value that stuff".
Joe asks, "So how do you value it?"
Ben had the answer off-pat, "Oh that's easy – we just value them at face, it's very simple".
But Joe is still nagging away, "What about if that hippie Ron Paul get's his way and someone does an audit, won't the auditors ask questions. Like err…perhaps they will insist on an independent third-party valuation, and they might come back and say that trillion or so is only worth $200 billion or so, in which case effectively you will have monetized the balance, and you promised Congress you wouldn't do that?"
Ben starts to lose it, "Now look here Joe, remember your kid is doing an internship at Goldman, and there is a seat waiting for you there too, do you want people to start thinking you are a lose cannon?"
Joe squirms, "Err…I guess not".

"So sign the darn form you jerk before I lose my sunny demeanour, remember, the future of America and the Free World depends on this, in fact it depends on YOU".
"You don't say – the future of America?"
"You bet it does, didn't you hear, "what's good for Goldman Sachs is good for America", so sign the darn form!!!"
"Well if you put it like that, if the future of America and the whole Free-World is at stake, then I guess that's OK".
"There you go Joe; I knew you would do the right thing".
"Yes Sir, you can count on me Sir!"
Ben gives him a pat of the back "that's my man, I knew you would come through…for America"
"For America…and Freedom!"
By Andrew Butter
Twenty years doing market analysis and valuations for investors in the Middle East, USA, and Europe; currently writing a book about BubbleOmics. Andrew Butter is managing partner of ABMC, an investment advisory firm, based in Dubai ( hbutter@eim.ae ), that he setup in 1999, and is has been involved advising on large scale real estate investments, mainly in Dubai.
© 2009 Copyright Andrew Butter- All Rights Reserved
Disclaimer: The above is a matter of opinion provided for general information purposes only and is not intended as investment advice. Information and analysis above are derived from sources and utilising methods believed to be reliable, but we cannot accept responsibility for any losses you may incur as a result of this analysis. Individuals should consult with their personal financial advisors.
© 2005-2019 http://www.MarketOracle.co.uk - The Market Oracle is a FREE Daily Financial Markets Analysis & Forecasting online publication.

Only logged in users are allowed to post comments.
Register/ Log in