US Dollar Warning - This is going to dramatically affect you ...
Currencies
/
US Dollar
Jul 26, 2007 - 10:33 AM GMT

Larry Edelson writes: By every measure under the sun, the dollar is getting creamed, just like I told you it would.
It recently hit a 25-year low against the British pound … a record low against the euro … a 12-year low against the Thai baht … and a seven-year low against a third-world currency, the Philippine peso.
In terms of overall international purchasing power, the dollar is now at its weakest level in decades.
Warning: This is going to dramatically affect you!
It means your money now buys less food and energy than it has in decades.
It means inflation — which is already running near 10% based on most people's experiences — is going to rise even higher.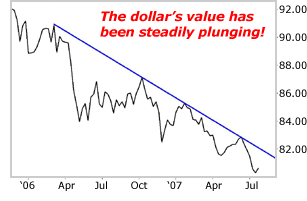 And it will impact every investment under the sun.
Some, like hard assets, will continue to shine. Some that have been getting creamed will turn around and ride the inflationary wave higher. Some that are rising now will suddenly collapse, catching unsuspecting investors off guard.
My Research Tells Me the Dollar Can Plunge at Least Another 20% in Value
This won't happen overnight. In fact, there are bound to be rallies in the dollar. For example, we saw the greenback bounce a bit yesterday after it plunged on Tuesday. But over the next two or three years, I expect the dollar to lose at least another 20% in value … perhaps as much as 40%.
For investors who fail to prepare, it will be a disaster. For those who do, it will be a bonanza. Here are some things you absolutely need to understand …
A. The U.S. Federal Government is broke. It's at least $9 trillion in debt. And once you count all the contingent liabilities of the U.S. government — such as Social Security, Medicare, government pensions, etc. — the debt soars to more than $55 trillion .
There is no way Washington can ever pay those debts, or even a fraction of them, without substantially weakening the medium of exchange underlying those debts — the greenback.
Every politician in Washington knows this. So when you hear them saying the Chinese yuan is undervalued (or any other currency for that matter), what they're really saying is that the U.S. dollar is overvalued!
B. The U.S. private sector is also broke. Corporate debt is at record high levels. Consumer debt is too. Homeowners are wallowing in debt, with subprime and adjustable rate mortgages eating them alive.
These debts wouldn't be so bad if U.S. citizens had adequate personal savings. Unfortunately, the U.S. has one of the lowest personal savings rates on the planet.
C. The already weak dollar will give rise to nasty trade wars, worsening the problems, and making the dollar even weaker. The trade wars have already begun, as Congress starts sinking its teeth into China, trying to make it the scapegoat for the U.S. economy's problems.
Just look at it like this: There is no way the U.S. economy can compete with the newly industrialized economies of Asia or Latin America. Take the auto industry, for example. How is a U.S. auto company going to compete with an Asian auto company when a U.S auto worker gets paid 10 times as much?
Trade tariffs and political jousting can't close that gap. Something will have to give. Either wages in Asia will have to rise many times over, or wages and benefits here in the U.S. will have to plunge to a fraction of what they are now. I think you'll probably see a bit of both happen.
D. At some point in the future, an extraordinarily weak U.S. dollar will become a BOON to the U.S. Once the dollar gets weak enough, assets in the U.S. will be at fire sale prices for international investors.
Imagine that you're a citizen of the European Union. And over the next couple of years your euros appreciate another 20% against the dollar, on top of the near-30% gain you've already seen. With the ability to buy 50% more in the U.S. than you could a few years ago, you'll probably want to swoop in and buy up some juicy U.S. assets.
The same can be said for Asian investors. As their currencies appreciate against the greenback, dollar-denominated assets will become very enticing indeed.
No one can say when foreign investors will flood back into the U.S. to buy businesses, stocks, or real estate. But it will happen at some point. In the meantime, you can expect more of what I've been telling you about all along …
Natural Resources Will Soar Higher And U.S. Markets Will Underperform
Just as the dollar recently plunged to record lows, the price of oil zoomed to near-record highs and gold soared more than $18 to $690 an ounce. Many other natural resources also saw their prices jump sharply.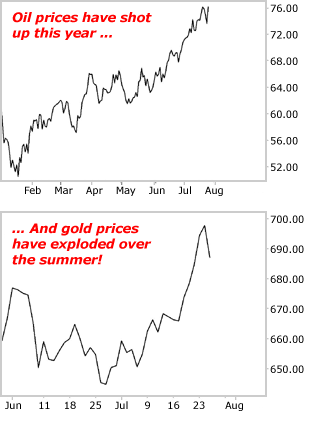 Save a minor pullback here and there, this uptrend in natural resources will continue. Because these assets are priced in dollars, the weakening greenback virtually guarantees that their prices must go up to adjust.
Plus, there's still all that underlying demand emanating from Asia, where nearly half the world's population is suddenly leapfrogging into modernized economies.
That international growth is also why I've been telling you for over a year that foreign stock markets have much more profit potential than those in the U.S.
As you know, I've been ratcheting up my warnings on U.S. stocks, telling you that the downside for most of them vastly outweighs the upside.
Last Friday, the Dow Jones Industrials fell more than 140 points even as Asian markets soared higher. Then, two days ago, the Dow plunged another 226 points. In my view, this is just a glimpse of what lies ahead.
That's why, with the exception of the natural resource stocks I recommend in Real Wealth Report , I strongly suggest you clear out of U.S. shares.
Stay safe,
By Larry Edelson
This investment news is brought to you by Money and Markets . Money and Markets is a free daily investment newsletter from Martin D. Weiss and Weiss Research analysts offering the latest investing news and financial insights for the stock market, including tips and advice on investing in gold, energy and oil. Dr. Weiss is a leader in the fields of investing, interest rates, financial safety and economic forecasting. To view archives or subscribe, visit http://www.moneyandmarkets.com .
© 2005-2019 http://www.MarketOracle.co.uk - The Market Oracle is a FREE Daily Financial Markets Analysis & Forecasting online publication.
Comments
R.Venkataramani
06 Aug 07, 23:22
US Dollar


Dear Sir,

YOur article excellent and thought provoking. Keep it up.

Regards and best wishes,

R.Venkataramani




Only logged in users are allowed to post comments.
Register/ Log in