While Fed Dilly Dallies, China and Other Central Bankers Taking the Lead
Politics
/
Central Banks
Jan 15, 2010 - 11:25 AM GMT


I talked in last week's column about how our Federal Reserve won't raise interest rates until the cows come home. But you can't say the same thing about many central banks overseas …
The men and women in charge there aren't sitting idly by while new bubbles inflate. They're not whistling past the graveyard while asset prices balloon ever higher. They're actually starting to normalize policy — and since those moves have investment implications for you, you need to be aware of them.
China Taking the Lead … Again
The U.S. economy USED to lead the world. But that isn't the case these days. We're no longer the engine of the global economy. We're more like the caboose. Countries like China and Brazil are now at the head of the pack.
Take bank lending …
Our banks are acting like deer in the headlights, unwilling or unable to make loans. But Chinese bank lending is on a tear. A whopping 100 billion yuan — or almost $15 billion — is being doled out daily. Banks there made a record 9.21 trillion yuan ($1.3 trillion) in loans during the first 11 months of 2009.
Or how about the "real" economy?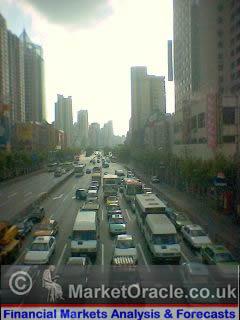 China's auto industry is booming.
We're seeing an anemic recovery. But in China, vehicle sales soared 46 percent to 13.6 million last year. China just surpassed Germany to become the world's largest export nation, with $1.2 trillion in foreign sales. And Chinese GDP is on track to surge 10.5 percent year-over-year in the fourth quarter.
Naturally, monetary policy is following a similar pattern. Countries like China are leading, and we're following! Even as the Fed keeps swearing off interest rate hikes, the People's Bank of China (PBOC) started to take baby steps toward tighter policy over the past several days.
At an auction of benchmark Chinese 1-year bills this week, the yield was allowed to rise 8 basis points to 1.84 percent. That followed a recent three-month bill auction that also featured a slight rise in yields.
At the same time, China just announced that banks will need to set aside a higher level of reserves starting January 18. The reserve ratio will rise to 16 percent from 15.5 percent, a mild step to tighten credit that observers weren't expecting to see until April, if not later. The PBOC hasn't done anything like this since June 2008.
Bottom line: China hasn't raised its official benchmark interest rate yet. It remains at around 5.3 percent. But the PBOC is clearly headed in that direction.
But China is NOT Alone!
China is far from alone, however. Several other central banks around Asia are also on the move, or will be soon. The Bank of Korea is expected to start raising its benchmark rate from 2 percent in the next couple of months. So is the Reserve Bank of India, which currently has a record low reverse repurchase rate of 3.25 percent.

Vietnam's central bank just boosted its country's official rate.
Meanwhile, the State Bank of Vietnam already took action. It jacked up that country's official rate to 8 percent from 7 percent. And the Reserve Bank of Australia has raised its overnight cash rate three times to 3.75 percent.
Rate hikes aren't confined to Asia, either. The Norges Bank in Norway has raised its benchmark rate twice to 1.75 percent, with another hike likely right around the corner. And the Bank of Israel has raised its benchmark rate three times, most recently in late December, to 1.25 percent.
So what does this dynamic mean to you? A couple of things …
First, the dollar should continue to weaken against the currencies of countries whose central banks are tightening. That's because international capital tends to flow where it's treated best — in other words, where it earns the most yield.
Second, the U.S. yield curve should continue to steepen as our Fed falls further behind the global economic rebound. Inflation concerns should also continue to percolate.
We just saw the spread between 2-year Treasury Note yields and 30-year Treasury Bond yields widen to 379 points. That's the highest in almost three decades of record-keeping. And the 10-year TIPS spread I've highlighted on multiple occasions blew out to yet another 18-month high of 246 basis points earlier this week.
My portfolio prescriptions in this environment: Continue to avoid long-term U.S. Treasuries. Consider bagging some profits on your long-term corporate, junk, and municipal bonds. And consider allocating some of your money to foreign, short-term debt. The value of those securities should rise as the U.S. dollar weakens.
Until next time,
Mike
Weiss and Weiss Research analysts offering the latest investing news and financial insights for the stock market, including tips and advice on investing in gold, energy and oil. Dr. Weiss is a leader in the fields of investing, interest rates, financial safety and economic forecasting. To view archives or subscribe, visit http://www.moneyandmarkets.com
© 2005-2019 http://www.MarketOracle.co.uk - The Market Oracle is a FREE Daily Financial Markets Analysis & Forecasting online publication.

Only logged in users are allowed to post comments.
Register/ Log in