Gold Stock Bugs Screaming Buy Have Lost Money Over the Past Four Years
Commodities
/
Gold & Silver Stocks
Jan 31, 2010 - 02:37 AM GMT


The gold community for a number of years has been screaming, "Buy, buy, and buy now before it's too late!" Advertisements to "Buy gold….." are all over television seven days a week, fifty-two weeks a year. Gold bugs claim that the gold shares will far outperform the metal. Well, if you want to know what distribution over an almost four year period looks like study this chart of the HUI. It will take you less than a moment to recognize the fact that if you owned the shares in the HUI for the past four years you now have a loss. Unfortunately this loss takes place at a moment in time when the HUI has once again made an important top and is prepared to move down with a vengeance.
HUI MONTHLY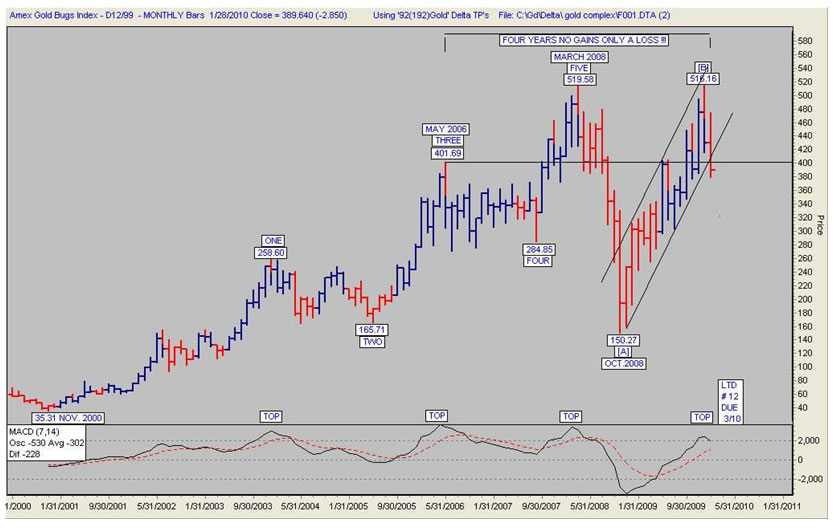 The monthly chart of the HUI is posted again to show that for quite some time the proper shout was not "BUY, BUY GOLD," it was "BYE, BYE GOLD."
HUI MONTHLY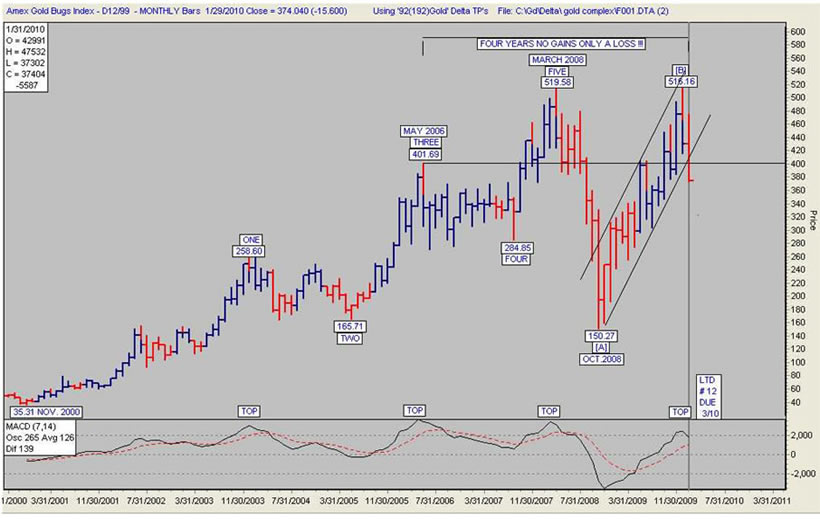 Gold, not to be out done by its cousin, the HUI, is also telling us that it too may be declining to such an extent that its price will represent a four year loss to all believers in its invincibility as a winner. However, all is not lost. Remember, we have an appointment to go deep sea diving. Your captain has invited all subscribers to join him in an underwater exploration most likely starting sometime between (…for subscribers only). A huge treasure of discarded valuable gold and gold shares will be found at the bottom. We will celebrate at the bottom in approximately (…for subscribers only).

GOLD MONTHLY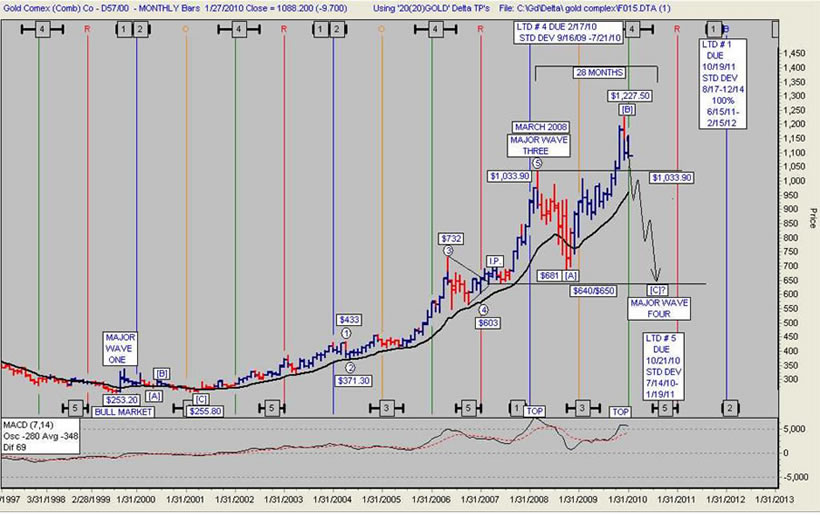 For almost ten years the stories surrounding the potential rise in silver were so glowing that they made the brightness of the sun look dim. It was written that not to the sun but into "outer space" the price of silver will rise. Silver is poised to decline to a low below the low of $8.40. Once the bottom is here between the months of (…for subscribers only) a spectacular rise will finally begin.
SILVER MONTHLY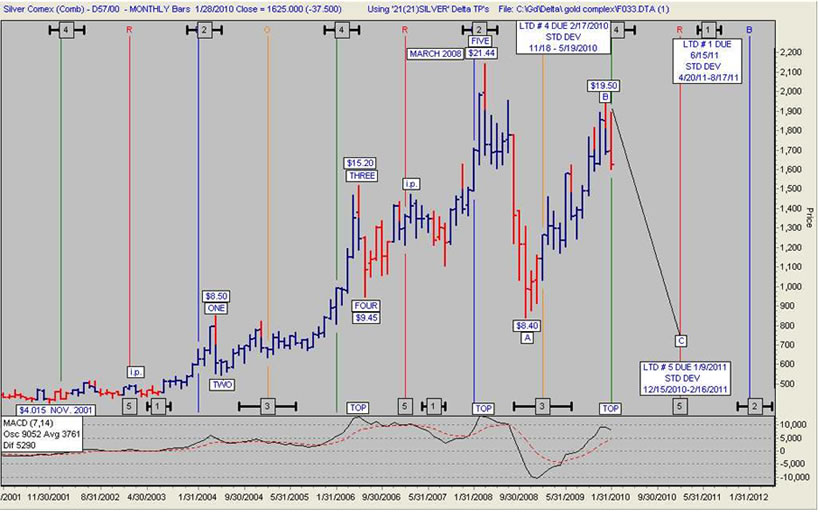 Gold coins and bars should be considered an insurance policy. I do not believe that they should be sold regardless of a decline in their price. The percentage increase in the precious metal shares is a multiple of the rise in the price of gold. The percentage decrease in the precious metal shares is a multiple of the decline in the price of gold. The shares are obviously more volatile than the metal. There is more hope for riches placed in the shares than there is in the metal. That hope gets dashed easily on the way down. Speculators in gold and silver have their hopes for riches dashed on the way down but gold has a hard core of holders that refuse to have their holdings dislodged by fluctuations. Holding the metal gold as insurance is the way to proceed until the financial and economic mess that we are living with is resolved or at least mitigated.
Subscriptions to the Rosen Market Timing Letter with the Delta Turning Points for gold, silver, stock indices, dollar index, crude oil and many other items are available at: www.wilder-concepts.com/rosenletter.aspx
By Ron Rosen
M I G H T Y I N S P I R I T
Ronald L. Rosen served in the U.S.Navy, with two combat tours Korean War. He later graduated from New York University and became a Registered Representative, stock and commodity broker with Carl M. Loeb, Rhodes & Co. and then Carter, Berlind and Weill. He retired to become private investor and is a director of the Delta Society International
Disclaimer: The contents of this letter represent the opinions of Ronald L. Rosen and Alistair Gilbert Nothing contained herein is intended as investment advice or recommendations for specific investment decisions, and you should not rely on it as such. Ronald L. Rosen and Alistair Gilbert are not registered investment advisors. Information and analysis above are derived from sources and using methods believed to be reliable, but Ronald L. Rosen and Alistair Gilbert cannot accept responsibility for any trading losses you may incur as a result of your reliance on this analysis and will not be held liable for the consequence of reliance upon any opinion or statement contained herein or any omission. Individuals should consult with their broker and personal financial advisors before engaging in any trading activities. Do your own due diligence regarding personal investment decisions.
© 2005-2019 http://www.MarketOracle.co.uk - The Market Oracle is a FREE Daily Financial Markets Analysis & Forecasting online publication.
Comments
joesixpack
31 Jan 10, 04:15
not true


Not sure what you are talking about. I actually made +50% last year by buying gold stocks since 2007.

I think the main reason for that was that I did not belive gold bears and Paper Roaches and T-bonds Worms who screamed sell gold and buy bonds and dollars that are printed +250% a year.

I was just comparing base money supply in USA (look at Fed) and it was clear where the dollar goes and where gold goes.

No wonder gold jumped 50% despite heavy bashing, manipulations, massive naked short selling of the gold futures and of the gold companies stocks, leasing and so on by hired crooks. It is still off balance and have huge way up.

Considering rumors about tungsten fake bars in Frot Knox, gold have huge potential. And dollar - is just one more forgotten paper scam in 5 years from now.




Only logged in users are allowed to post comments.
Register/ Log in