The Wii, WHY, WOO of Trading Gold Stock Warrants
Commodities
/
Gold & Silver Stocks
Feb 11, 2010 - 07:02 AM GMT


Not to worry, this is not a marketing pitch to encourage you to buy warrants. Investors must make numerous decisions before even considering the purchase of warrants as well as call options or LEAPS.
The first decision is your belief in where the gold market and thus the junior mining sector in heading in the next 12 to 24 months. You may use charts or technical analysis or some readers may prefer to defer to the views of the market gurus to which they subscribe. Regardless, you must have an opinion and it will be your money on the line.
The second decision is how you will invest in this market. Will you buy gold or silver bullion, mutual funds, ETF's or perhaps allocate your monies among a basket of junior mining shares? Again, it is your money and your choice based on many factors including your level of knowledge and investment expertise, the amount of time you have available to 'follow' the markets and your individual level of risk tolerance.
If you want to purchase individual mining companies then your third decision will be deciding which companies to buy. Some of you will no doubt perform your own research and due diligence while others will defer to the recommendations of the newsletters and analysts to which they subscribe. Just remember that it is your money and you should also research the company even if it is widely recommended.
Now you have a list of companies which you want to purchase and this is where your fourth decision comes into play. The question now is does the companies you want to purchase have any other investment vehicles which you could purchase which might be more attractive and offer more leverage than just purchasing the common shares?
Depending upon the companies you have selected:
Some companies may have convertible debentures, giving you an income along with an equity participation
Some companies may have long term warrants trading giving you potentially greater leverage and return on your investment with lives of 2 to 9 years.
Some companies may have call options or LEAPS available. Both call options and LEAPS will also give you potentially greater leverage. Reviewing the calls and LEAPS will demand you consider the expiration dates and exercise price of all choices. You must be comfortable that you will have the time necessary to accomplish your investment objective which was our first decision above.
Now that we have you thinking, now let's see what the charts look like as of Wednesday,
10 February.
We would like to focus first on the $CDNX:$GOLD charts. The CDNX reflects the Venture Exchange and this is where we see the next great opportunity for investors. Please read our brief comments on the charts but we see both the daily and weekly charts holding up very well.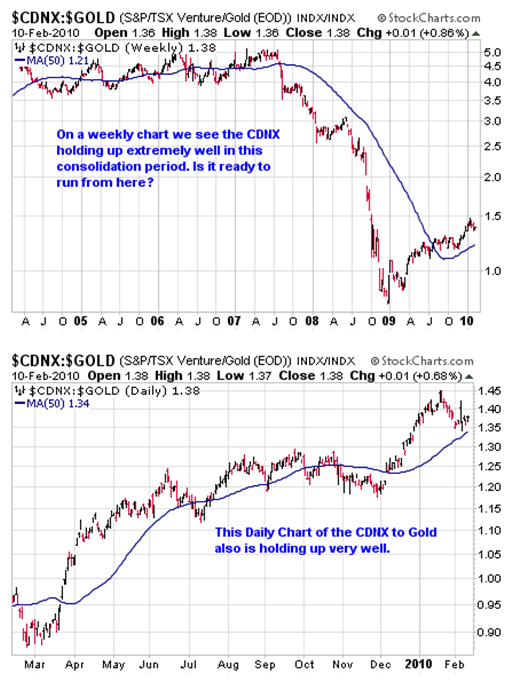 The next two charts are on gold. The daily chart of gold which has swung widely within the last week. We traded as low as 1042 on Friday the 5th and closed on the 10th at 1071. We will then take a look at the weekly chart which barely reflects this down move as we bounced back up so strongly and quickly into the close on Friday.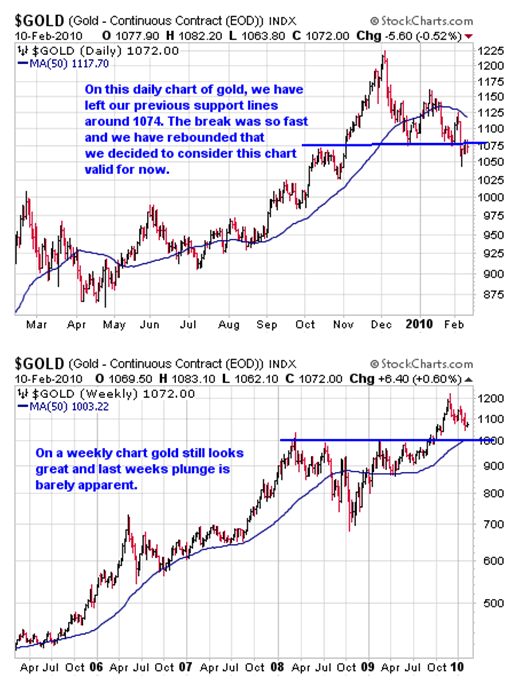 Our view is that the gold market has hit its lows and while we could possibly retest, we see the markets heading higher very soon. As well, the CDNX as representative of the Venture Exchange is looking good.
We suggest readers do their homework quickly as these markets are probably heading higher very soon.
For those readers unfamiliar with our services:
PreciousMetalsWarrants.com provides an online database for all warrants trading on the natural resource companies in the United States and Canada.
InsidersInsights.com tracks the buying and selling of corporate insiders with a focus on the junior mining and natural resource sectors. Buy and Sell Alerts are issued as deemed relevant based upon our analysis.
We encourage all readers to sign up for our free weekly email.
Dudley Pierce Baker
Guadalajara/Ajijic, Mexico
Email: support@preciousmetalswarrants.com
Website: PreciousMetalsWarrants
Website: InsidersInsights
Dudley Pierce Baker is the owner and editor of Precious Metals Warrants and Insiders Insights. Articles are written by Dudley Baker along with contributing editors, Arnold Bock of Mendoza, Argentina and Lorimer Wilson of Toronto, Canada. PreciousMetalsWarrants provides an online subscription database for all warrants trading on junior mining and natural resource companies in the United States and Canada and a free weekly newsletter. InsidersInsights alerts subscribers when corporate insiders of a limited number of junior mining and natural resource companies are buying and selling.
Disclaimer/Disclosure Statement:PreciousMetalsWarrants.com is not an investment advisor and any reference to specific securities does not constitute a recommendation thereof. The opinions expressed herein are the express personal opinions of Dudley Baker. Neither the information, nor the opinions expressed should be construed as a solicitation to buy any securities mentioned in this Service. Examples given are only intended to make investors aware of the potential rewards of investing in Warrants. Investors are recommended to obtain the advice of a qualified investment advisor before entering into any transactions involving stocks or Warrants.
© 2005-2019 http://www.MarketOracle.co.uk - The Market Oracle is a FREE Daily Financial Markets Analysis & Forecasting online publication.

Only logged in users are allowed to post comments.
Register/ Log in