Stock Market Update: So Much for a Vacation!
Stock-Markets
/
US Stock Markets
Aug 05, 2007 - 08:57 AM GMT

Well, Dom's going for a second take at his first vacation since starting TTC, so this is Joe filling in again. Dom's attempt at getting some time off ended when he returned early to prepare members and guide them through what turned out to be an important and profitable week. While he should have been on the beach, one of hardest working man in the business was instead at his desk pounding the table and getting members to buy the bottoms and sell the tops… again and again.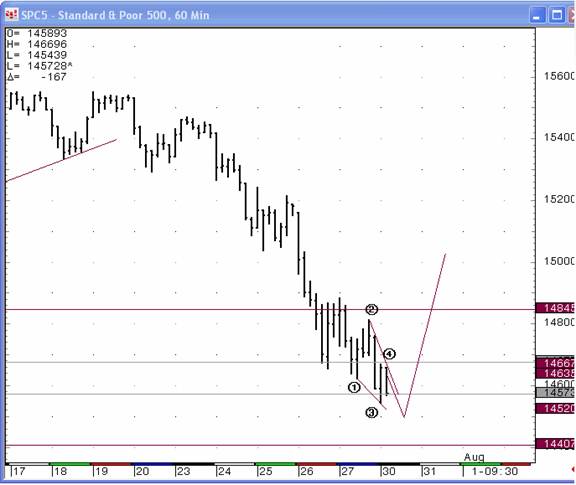 Not only did this first chart spark the idea to buy Monday's down opening for a quick trade, it also featured a target that was soon to be tested. Dom told us last week he'd be buying even if this is a bear market because there would be some tradable snapbacks. And buy he did! The target shown in the above chart hit on Wednesday, less than half a point from Dom's line at 1440.
Now, some people may have a moral issue against paying for market analysis, and I suppose that's fine if they're consistently buying bottoms and trading both sides of the market profitably all on their own. But is that really you? Or did you capitulate and puke into Wednesday's selloff? Maybe you bought one of the rallies just as Dom was shouting TMAR (take the money and run) in chat, only to watch the market reverse and money drain out of your account. If you haven't figured it out yet, this is no time for swing trading or riding momentum, it's the promised land for scalpers, the trader's paradise Dom's been telling you would come – and it's time to make lots of money.
Most members have no problem making back the monthly fee in a single trade, let alone a whole month of trading. But if that's not enough to convince you to join, let me recap the rest of how TTC traded the week and then hint about what Dom's seeing for next week and basically what you'll miss if you don't get into the site.
As you've already seen from the charts above, Dom started off the week exactly as he promised: larger counts took a backseat to smaller patterns and specific price targets. Traders without this roadmap had to feel like they were taking a huge risk if they thought about buying Monday's lower opening. Not surprisingly, the ending diagonal played out perfectly and TTC was holding the bottom of the move down from the final hour on Friday. We then focused not on wave counts, or whether a top or bottom was in, but rather on specific target levels that we traded back and forth for the next several days.
When the move up from Monday's low hit Dom's 1481 ES target, we started focusing on the next target and got the move to 88/90 that became the signal to TMAR. Tuesday morning's gap opened at about 1495. Getting any members out of there longs, Dom waited to buy in again at, you guessed it, 1481, which just happened to be the low of the day. As price rallied back up to 88 Dom warned this would be a likely place for selling, which is exactly what happened.
And, as you probably know, this is where the most exciting part of the week really got started. In the overnight session between Tuesday and Wednesday, the S&P futures were trading down 15 points right into his target level. Dom was up all night in the chatroom getting anyone who was there with him to go long. When the cash markets opened flat to modestly higher, he and several others were already sitting on some tidy profits and decided to take them off the table. At that point Dom would have loved to call it a day and, if he couldn't have the beach, at least take a nap, but the market started to look like it was rolling over and he knew he was going to have to stick it out for the sake of the traders depending on him.
To Dom, it was obvious that the regular session was going to retest the Globex lows, which he and anyone listening to him bought for a second time, but it's probably fair to say that the majority of traders passed on this opportunity to get long at fantastic fire sale prices. Of course, they were working without the benefit of the following chart, which Dom posted early Wednesday afternoon. The top target was a minimum move and the lower box a target that members were made aware of weeks ago.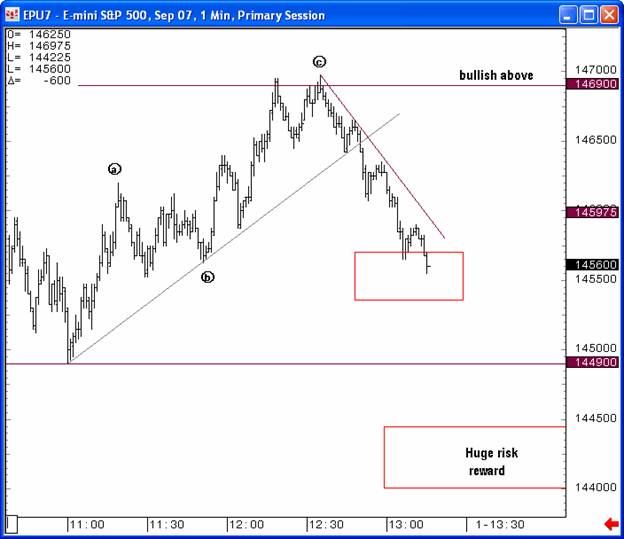 Less than twenty-four hours later, the chart looked like this: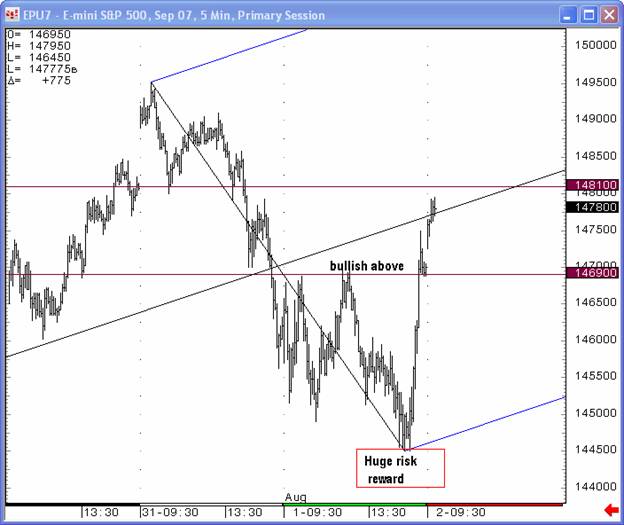 Now, you've probably heard the rumors about the fat-fingered trade that sparked the late Wednesday rally, which of course are totally unconfirmed and not even remotely convincing … particularly when you have a perfectly reasonable explanation for why the sagging market was bought the way it was. The chart says it all, a huge risk reward trade of an extremely oversold market led to plenty of quick short covering. Even the more bearish members at TTC have realized that abandoning their bias and making the smart trades is the only real way to consistently make money a market that will prove you wrong if you stick around in a position long enough.
Thursday turned out to be a choppy, but really flat, time-wasting day, which was good because by then Dom really did need a break. He didn't leave his members with nothing, of course, and the fact that his price levels were crucial pivots for the intraday reversals reinforced why traders have flocked to his site over the past 18 months. He left instructions that 1481 was still a huge target to reach, and reverse from on any weakness. Thursday's high was 1483 and we closed on Friday at 1443. Don't lose site that Friday's brutal selloff was right into the box from the above chart. Not only does he have the best, most consistent analysis, which he combines with smart capital-protecting and profit-making trade techniques, he's also the most dedicated analyst out there. And why not, he's really out there trading his numbers, living this market. Whether you do or not is entirely to you, but why not join the growing community of unbiased traders laughing all the way to the bank? As has been said, join now, or wish you did later.
Thursday trading appeared to be a continuation pattern, suggesting further upside after completing a second wave consolidation early Friday. Though it seemed at first that the market would be able to avoid another summer Friday selloff, the move began to look shaky, and early clues to get out of longs were the approaching RSI test and the inability to retake 1481. Failure in both of these respects was a clear short signal and, as it happened, the S&P's took out the previous lows as weak bulls capitulated in heated selling at the end of the day.
Despite the new lows, Dom continues to intentionally ignore the question of whether the official top is in on this market and, as long as it keeps handing out six, ten, and twelve point moves every few hours, what does it matter anyway? At best, that discussion is merely a distraction at this point. Weeks or months from now maybe we can look back and know for sure, but what you're really going to remember is how well you traded this period of historic volatility and how much money you made or lost. What are you going to remember?
From here, Dom acknowledges that the bears must see Thursday's high as an abc for wave 2, making Friday's selling a wave 3, but this is a low probability setup. Dom's working count has this leg ending soon, but also critical levels where this count has to be abandoned. Remember, price levels are the key to trading here, not unconfirmed counts.
Still, Dom sees this nasty fight between the bulls and bears having to resolve itself in a big way eventually and knows that a huge relief rally doesn't necessarily win it for the bulls. It's this lack of bias that allows him to get into the important bottoms, to buy the 1440s, and to sell the tops just when every other speculator and momentum trader is piling in. Ultimately, discipline like Dom's is probably the hardest thing for most players to learn and, after his charts and targets, is probably the most value resource for the average trader out there on the web.
Dom's isn't the only vacation getting ruined this summer. I'm sure there're plenty of Wall Street big shots who had to change their plans to keep up with what's turned out to be one of the most active summer trading seasons in recent memory. After taking some time off, you better believe when next week gets started Dom's going to be at TTC serving it up for members. The only question is, will you?
Members
Finally, be sure to check out our weekly "road maps" as that's where the real big picture shapes up, where we compile charts of any market that talks to us, ranging from a look at the last few weeks to huge timeframes all the way back to the 1900's. This update is a nice read, but it can't compare to these road maps.
Click here to take the express train TTC's "Weekly Road Maps!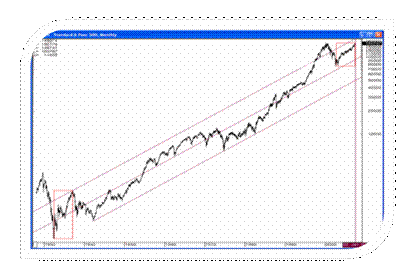 Non-members
If you would like to take a peek at not only those charts, but stay the whole week with a full refund if we don't suit your needs, join and cancel within a week for a full refund! Join now and after staying a week within all the forums and live chat room it's simply not what you need, email me and ask for a full refund. You won't find an offer like that anywhere else.
Have a profitable and safe week trading, and remember:

"Unbiased Elliott Wave works!"
By Dominick
For real-time analysis, become a member for only $50
If you've enjoyed this article, signup for Market Updates , our monthly newsletter, and, for more immediate analysis and market reaction, view my work and the charts exchanged between our seasoned traders in TradingtheCharts forum . Continued success has inspired expansion of the "open access to non subscribers" forums, and our Market Advisory members and I have agreed to post our work in these forums periodically. Explore services from Wall Street's best, including Jim Curry, Tim Ords, Glen Neely, Richard Rhodes, Andre Gratian, Bob Carver, Eric Hadik, Chartsedge, Elliott today, Stock Barometer, Harry Boxer, Mike Paulenoff and others. Try them all, subscribe to the ones that suit your style, and accelerate your trading profits! These forums are on the top of the homepage at Trading the Charts. Market analysts are always welcome to contribute to the Forum or newsletter. Email me @ Dominick@tradingthecharts.com if you have any interest.
This update is provided as general information and is not an investment recommendation. TTC accepts no liability whatsoever for any losses resulting from action taken based on the contents of its charts, commentaries, or price data. Securities and commodities markets involve inherent risk and not all positions are suitable for each individual. Check with your licensed financial advisor or broker prior to taking any action.
© 2005-2019 http://www.MarketOracle.co.uk - The Market Oracle is a FREE Daily Financial Markets Analysis & Forecasting online publication.

Only logged in users are allowed to post comments.
Register/ Log in