Chinese IPOs Soaring in the U.S.!
Stock-Markets
/
Chinese Stock Market
Aug 14, 2007 - 01:16 PM GMT

Tony Sagami writes: If you're worried that last week's sell off could continue, or even accelerate, you're not alone. Fortunately, there are plenty of things you can do about it.
I've already instructed my Asia Stock Alert subscribers to take profits on eight stocks, so they should be sitting on a pretty tall pile of defensive cash right now.
Better yet, many of their Asian holdings have been plowing higher despite what is happening to the U.S. stock market. Even during the Dow's painful 387-point one-day drop last week, half of the Asia Stock Alert portfolio positions posted gains.
That shows you how diversification can help protect your portfolio!
And you don't have to go that far to get diversification these days. In a moment, I'm going to tell you about a few new Chinese IPOs that went absolutely gangbusters last week … right here in the United States.
First, I want to tell you why some of these Asian investments have been powering higher.
I'd love to take 100% of the credit for being such a brilliant stock picker, but I need to give much of the credit to the fact that Asian markets have simply been red hot. Heck, the Shanghai Composite index hit a new all-time high last Thursday.
That's What Happens When an Economy Keeps Expanding More than 10% a Year!
Economic growth is still accelerating in China. According to the most recent gross domestic product report, the country swelled at an 11.9% annualized pace.
I don't think this kind of wealth-building growth is going to slow down any time soon, either.
One reason: Over the weekend, China's government said it posted a trade surplus of $24.36 billion in July. That's the second largest monthly number in history (only behind June's record $26.9 billion).
Can you imagine making $24.3 billion in just one month? Now imagine making that kind of money month in and month out!
China is swimming in cash:
Chinese M2, which measures all deposits held by financial institutions and securities brokerages as well as cash in circulation, skyrocketed to 38.39 trillion yuan (US$5.07 trillion) at the end of July, an 18.5% increase from a year earlier.
The biggest mistake most investors make is treating a trade surplus number as if it's just some random accounting entry. Nothing could be farther from the truth. Those very real dollars find their way into very real people's pockets …
They help factory owners buy more machines and hire more people …
They allow workers to buy homes and cell phones …
And they give investors more money to plow into the stock market. See for yourself: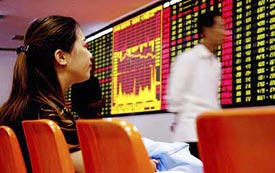 Chinese investors opened more than a million new brokerage accounts … just last week!
China's mutual funds more than tripled their net assets in the first half of 2007 to 1.8 trillion yuan (US$245 billion).
China added 29 more mutual funds.
Total household deposits at banks hit 16.9 trillion yuan (US$2.2 trillion) at the end of June, even while fund assets where rising.
Chinese investors opened 1.05 million new accounts last week!
In other words, U.S. investors may be worried about the U.S. stock market, but Chinese investors continue to believe in their country's future.
Want to share in their enthusiasm? More great news …
More U.S.-Listed Asian Investments Are Becoming Available (And Soaring!)
Last week, two Chinese companies went public on the New York Stock Exchange.
The first is Wuxi Pharma Tech (NYSE: WX), a company that provides research and development services to nine of the top 10 pharmaceutical firms in the world. The other company, E-House (NYSE: EJ), is the largest real estate broker in China with branches in 29 cities.
Although they operate in totally different industries, these companies have two things in common: Both are based in Shanghai and both saw their shares soar more than 30% on the first day of U.S. trading. You can bet that I'll be knocking on their doors during my next China trip!
This isn't the last chance you'll have to add some Chinese spice to your portfolio, either. According to Mike Oxley, Vice Chairman of the Nasdaq, Chinese firms will become the largest group of new IPOs on the exchange by the end of next year.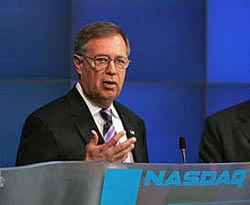 Mike Oxley, Vice Chairman of the Nasdaq, says Chinese firms will become the exchange's largest group of new IPOs by the end of next year.
Even now, there are 47 Chinese companies on the Nasdaq and roughly 50 on the NYSE. That means investing in China is as easy as buying General Electric, Wal-Mart, or Microsoft.
Heck, Chinese companies are listing all over the place these days. For example, China Boqi Environment Solution Technology became the first mainland China company to list on the Tokyo Stock Exchange.
China Boqi designs, builds and installs environmental equipment used to reduce sulfur emissions for coal-fired power plants. As concerns about global warming grow, environment-related issues are becoming increasingly popular among investors. Maybe that's why the stock got off to a flying start on its first day of trading.
There are only 25 foreign companies listed on the Tokyo Stock Exchange … so you're probably one of very few investors to know about these types of hidden gems!
So if you're worried about U.S. stocks right now, remember, nobody is forcing you to keep your money stuck in them. In my book, one of the very best defenses against a bear market is taking your money where corporate profits and economic growth is the strongest. Right now, that place is Asia.
Best wishes,
By Tony Sagami
This investment news is brought to you by Money and Markets . Money and Markets is a free daily investment newsletter from Martin D. Weiss and Weiss Research analysts offering the latest investing news and financial insights for the stock market, including tips and advice on investing in gold, energy and oil. Dr. Weiss is a leader in the fields of investing, interest rates, financial safety and economic forecasting. To view archives or subscribe, visit http://www.moneyandmarkets.com .
© 2005-2019 http://www.MarketOracle.co.uk - The Market Oracle is a FREE Daily Financial Markets Analysis & Forecasting online publication.

Only logged in users are allowed to post comments.
Register/ Log in