The #1 Rule for Making Money Is to Buy Whatever Chinese Are Buying
Stock-Markets
/
Investing 2010
Apr 28, 2010 - 08:48 AM GMT


I've said it hundreds, perhaps thousands, of times in this column, and in speeches and interviews that I've given over the last decade: "The #1 rule for making money over the next decade is to get long whatever the Chinese are buying."
What are the Chinese buying? The list is long, but simple and logical.
THE BASICS: Their first priorities are no different than what our parents wanted for us when they were starting out — a roof over their family's head, healthy food on the table, and a brighter future for their children.
First quarter sales at Carrefour, the world's second largest retailer after Wal-Mart and one of the top grocery chain in China, were led by a 7.9% increase at its China stores.
It is no accident that the price of soybeans has been soaring. Soybeans hit a new 3-month high last week and the reason was huge purchases by China. The U.S. Department of Agriculture reported that China bought 232,000 metric tons of soybeans last Tuesday and another 174,000 metric tons on Wednesday.
THE EXTRAS: Once they meet those basic needs, they moved on to useful extras that make life comfortable, like cars and TVs.
South Korean Kia Motors reported that its profits quadrupled in the first quarter of 2010 thanks to a 69% increase in sales to 474,625 vehicles. Guess where sales jumped the most? In China, where sales soared by 152%.
BMW said its business is so good in China that it is upwardly revising its 2010 sales goals by 20,000 more BMW and Rolls Royces to 120,000 cars. BMW has been very successful in China not only because it sells a fantastic vehicle, but also because it adapted those cars to Chinese tastes. For example, once BMW realized that most 5 and 7 series vehicles were driven by chauffeurs, it moved the front seats forward to create more legroom for the owners in the back.
Mercedes Benz said that Q1 sales increased by 105% to 24,000 cars in China. Mercedes Benz expects business to get even better. "We aim to sell more than 100,000 passenger vehicles in China this year," said VP Joachim Schmidt.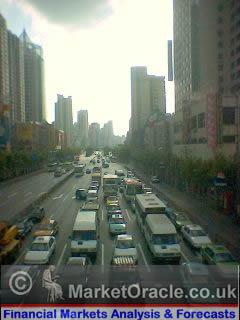 Auto sales are booming in China.
THE LUXURIES: And once the Chinese achieve middle-class prosperity, they start to enjoy luxuries. Especially the western-style luxuries they've seen on MTV and Lifestyles of the Rich and Famous.
Last week, Starbucks CEO Howard Schultz said that China is Starbucks' "runway for growth" going forward.
Coach, the maker of overpriced handbags that women seem to covet so much, said business is so good that it is doubling its dividend and buying back up to $1 BILLION of its shares by June of 2012. The company's first mainland China store, in Shanghai, opens this week and expects about $250 million in annual sales during fiscal 2012.
Tiffany has 220 stores around the globe and gets more than 35% of its sales from the Asia Pacific region. It recently opened six new stores during 2009 in Hangzhou, Shenzhen, Hong Kong, Melbourne, Busan, and Seoul.
I haven't seen anything that points to things slowing down and neither does the Chinese government. Last week, the Chinese Ministry of Commerce projected that retail sales will climb by 16% in 2010, a slight increase over the 15.5% of 2009.
If you cover those three stages of needs, you'll be perfectly positioned to profit from the economic miracle going on in China and one of the easiest ways to cover all of them is with the Global X China Consumer ETF (CHIQ).
CHIQ is a fairly new ETF just launched in December so it doesn't have a long track record, but it does hit all the cylinders of the Chinese consumer market: Retailing 28.6%, Food 21.9%, Consumer Services 20.5%, Autos 12.0%, and Health Care 7.9%.
The top holdings include Dongfeng Motor Group, Tsingtao Brewery, Air China, Li Ning (athletic apparel), Wumart Stores, and China Foods.
I do, however, think you can do much, much better by targeting the most lucrative parts of the Chinese consumer food chain. None has more opportunity than the electronic doo-dad market, such as cell phones, music players, and video games.
Chinese consumers can't get enough of high-tech gadgets and other electronics.
Look at the numbers that Apple just reported to see what I mean. Apple pulled in $13.5 billion of sales, a 49% increase from the same period a year ago, in the first quarter of this year. Apple sold 2.94 million Macs computers, 8.75 million iPhones, and 10.89 million iPods.
Guess where business is booming the most? Sales in the three Chinas — mainland China, Hong Kong, and Taiwan — have TRIPLED in the last six months to $1.3 billion.
Look, Apple started iPhones in China in October of 2009. From October until the end of the year, Apple sold about 100,000 iPhones. Since then sales haven taken off like a rocket. Apple is now selling an average of 10,000 iPhones a day in China.
Apple is making plans to grow as fast as it can in China. It plans to open 25 new Apple stores by the end of 2011.
"We will open two stores in Shanghai this summer, and would target having about 25 stores open in China by the end of calendar 2011. We're very excited about China, not only for retail, but for Apple," said Apple CFO Peter Oppenheimer.
Apple shareholders are excited, too. Apple hit a new 52-week high on those strong results and likely has more room to run because of its strong China business.
Now, I'm not suggesting you rush out and buy Apple. As always, timing is everything. But more important, you need to remember the #1 rule for making money mentioned above.
Figure out what the Chinese are buying and get in front of that tidal wave of booming demand, especially when it comes to technology and electronics.
Best wishes,
Tony
This investment news is brought to you by Uncommon Wisdom. Uncommon Wisdom is a free daily investment newsletter from Weiss Research analysts offering the latest investing news and financial insights for the stock market, precious metals, natural resources, Asian and South American markets. From time to time, the authors of Uncommon Wisdom also cover other topics they feel can contribute to making you healthy, wealthy and wise. To view archives or subscribe, visit http://www.uncommonwisdomdaily.com.
© 2005-2019 http://www.MarketOracle.co.uk - The Market Oracle is a FREE Daily Financial Markets Analysis & Forecasting online publication.

Only logged in users are allowed to post comments.
Register/ Log in