Gold Prices Update 30 April 2010
Commodities
/
Gold and Silver 2010
Apr 30, 2010 - 01:57 AM GMT


No doubt about it we live in very interesting times as the speed of change does appear to be accelerating right before our very eyes. The European credit based party is coming apart at the seams as Spain gets the thumbs down from the S&P.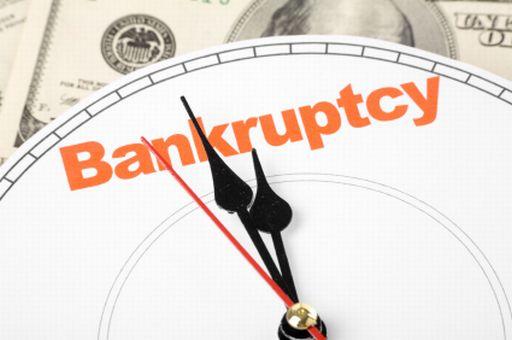 Courtesy of www.thepoliticalclass.com

The Sydney Morning Herald had this to say:

SPAIN became the third European country in two days to have its bonds downgraded by credit ratings agency Standard & Poor's, as contagion from Greece's debt crisis spread through the euro region.

The risk premium investors demand to hold Spanish bonds surged to the highest in more than a year and the price of insuring Spanish bonds against default reached a record as concerns about Greece's ability to pay its debt spilled over into Spanish and Portuguese markets.

S&P's move on Spain follows downgrades of Portugal and Greece on Tuesday. Greece became the first euro region country rated less than investment grade since the start of the euro.

The growing fear is that the troubles in those two countries - which together compose just 5 per cent of European economic activity - could be a mere sideshow if Spain has difficulty repaying its debt.

We draw your attention to the words a 'mere sideshow' which tells us to head for the bunker or at least to wear a hard hat. The spot light is in the hands of the rating agencies at the moment as the investment community sucks air through its tightly clenched teeth and braces itself for the next bad news hammer to come thundering down. After Spain there is the possibility that Italy could be the one in the firing line and the UK is not looking too clever. Talking of the UK why would any political party want to win the general election in the UK, a poison chalice if ever we saw one. It would appear that the attraction of power is more magnetic than the dangers to ones reputation of taking on such a daunting challenge. Its akin to wanting to be a sea captain on the Titanic, never mind the ship, its the captains cap that counts.

Over in the oil patch WTI crude is trading at $85.32/barrel, the spillage in the Gulf of Mexico now appears to be much larger then first anticipated. Having spent twenty odd years working in the oil space I start to twitch a little when the solution involves burning the oil, lets hope the powers that be can get a grip on this problem and soon.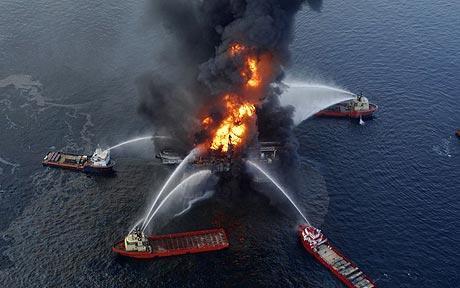 The latest snippet on this disaster comes from Reuters:

The leak, after a rig leased by BP exploded last week, is spewing five times more oil than previously estimated and heightened fears of severe damage to fisheries, wildlife refuges and tourism in Louisiana, Mississippi, Alabama and Florida.

The U.S. military began mobilizing for a major effort to try to prevent environmental damage to Gulf coast states, notably Louisiana, which is still recovering from the ravages of Hurricane Katrina in 2005.

Louisiana Governor Bobby Jindal warned the slick "threatens the state's natural resources," declared a state of disaster and asked the U.S. Defense Department for funds to deploy up to 6,000 National Guard troops to help clean up.

Janet Neopolitano, head of the Department of Homeland Security, declared it "a spill of national significance," meaning that federal resources from other regions could be used to try to fight it.

The other major player in the global economy is of course the US Dollar, which having jumped on the back of the plight of the Euro is now easing back a tad to trade at 82.04, down from its high of 82.60 yesterday. However, as the rain clouds gather in the euro zone, the dollar, along with gold and silver will be seen as places of safety and a place to run to. Even though the euro story will run and run, sooner or later the spot light will will land on the dollar, which is not a pretty sight. Eventually, the penny will drop and gold prices will push relentlessly higher, a position that we have held since starting this site.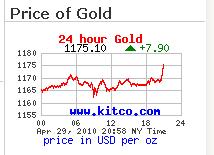 A quick look at the above chart captures gold prices on the rise after the close of trading in New York, which hopefully can follow through to the European Stock Exchanges and hit the New York Stock Exchange in a bullish mood.

Finally some good news, over on our sister site, www.silver-prices.net, we have just closed out one our options trades placed on Silver Wheaton with a profit of 106% made in just over two months.

Keep smiling you're a precious metals bug!

Got a comment then please add it to this article, all opinions are welcome and appreciated.
Our premium options trading service, SK Options Trading, has closed the last 7 trades, with an average gain of 51.17% in an average of 37 days per trade, why not drop by and take a peak.
For those interested in getting a bit more bang for your buck and adding a touch more excitement to your portfolio, then check out our Options Trading Service please click here.
Got a comment then please add it to this article, all opinions are welcome and appreciated.
To stay updated on our market commentary, which gold stocks we are buying and why, please subscribe to The Gold Prices Newsletter, completely FREE of charge. Simply click here and enter your email address.
DISCLAIMER : Gold Prices makes no guarantee or warranty on the accuracy or completeness of the data provided on this site. Nothing contained herein is intended or shall be deemed to be investment advice, implied or otherwise. This website represents our views and nothing more than that. Always consult your registered advisor to assist you with your investments. We accept no liability for any loss arising from the use of the data contained on this website. We may or may not hold a position in these securities at any given time and reserve the right to buy and sell as we think fit.
© 2005-2019 http://www.MarketOracle.co.uk - The Market Oracle is a FREE Daily Financial Markets Analysis & Forecasting online publication.

Only logged in users are allowed to post comments.
Register/ Log in