Silver Investing Lessons from the Name of God
Commodities
/
Gold and Silver 2010
Apr 30, 2010 - 08:44 AM GMT


I just got back from Mexico, where I saw a group of silver-zinc-lead mines with enormous potential. It's no surprise to find silver in Mexico — in fact, the silver district I visited produced its first silver for Spanish conquistadores. And the Spaniard with his boot firmly on the neck of the local Indians was none other than Hernán Cortés de Monroy y Pizarro, better known to us gringos as Hernando Cortez.
Cortez was one of the original bad-asses of Mexico, driven by a burning hunger for precious metals. He was in turns minor nobility, a Spanish colonial officer, womanizer, rebel, hero, and stone-cold killer. But he was also the guy who sailed to Veracruz, scuttled his ships to eliminate any idea of retreat, then went on to lead 600 men on a wildly successful march, battling ten thousand enemy warriors, to conquer the heart of the Aztec empire.
16th Century bad-ass Hernando Cortez.
All that gold and silver turned the Spanish into a bunch of raving paranoids, and when the conquistadores weren't ravaging the countryside, they were busy burying their rapiers in each other's backs. Cortez rebelled against his superiors more than once, and the upshot is the conqueror of the Aztecs found himself turned from hero to heel, and ignominiously shoved off into exile.
During one of those periods of exile, Cortez stomped off to conquer the silver district I visited this weekend. And that leads me to my next point — this silver district has been producing since 1527 — just six years after Cortez conquered the Aztecs. That's when a note in a ledger in a smelter in Taxco noted 27 mules arrived with loads on their back averaging 14.3 pounds of silver per ton of ore. That is RICH, rich, silver.
I got to visit a piece of that history on my trip, when one of the miners working in the district today took me to see the Nombre de Dios ("Name of God") silver mill. It dates from 1528. Here's what is left of it today …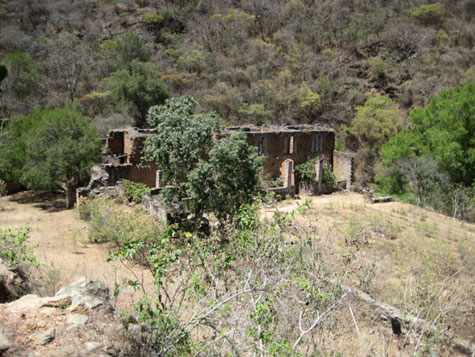 This old silver mill was powered by slave muscle and water from a local river.
During nearly 400 years of use, the mill was destroyed and rebuilt at least four times. We know that because during our visit we counted four different types of stone construction, everything from big heavy stones to adobe.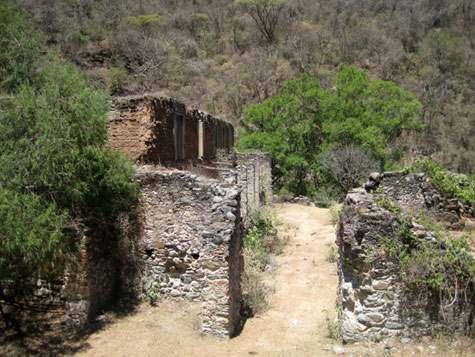 The old mill was obviously rebuilt at least four times, using different construction methods. Note the adobe on top and large stones on the bottom.
And the conquistadores even used stone pieces they stole from the Aztecs, according to my guide. This bowl I'm sitting in probably should be in a museum somewhere …
But the millers used it for some part of the refining process. Now, it sits abandoned in a field. And it's just one of the Aztec stone pieces there. Archeologists have never come near this mill, as best as any of the locals know. That's part of why I call it a secret part of Mexico.
A Piece of History AND An Ecological Disaster
500 years ago, refining silver wasn't a job for wimps. The mill was built next to a river, and used the water power to move a series of huge stone wheels which ground the silver ore into fine powder. The powder was then sent through a solution of mercury — a heavy metal which combines with the silver and precipitates out. The resulting slurry was then set on fire, and the mercury burned off, leaving the silver behind.
Meanwhile, the men at the mine sat around breathing in mercury. Their lifespans must have been shortened drastically. The owners of the mill probably didn't care — that's what slaves were for! Later, after the slaves were freed, desperate peasants probably lined up for the same jobs.
You'll notice that field behind me is divided into even rows. Some farmer planted corn amongst the ruins of the mill … in ground that is saturated with mercury. The miner who showed me the mill said he begged the farmer not to eat that corn.
"Either he wised up, or he ate the corn," my guide told me. "Either way, the farmer didn't plant corn the next year."
The water in the river may not have been enough, because water was also brought in by what appears to be an aqueduct. In fact, there are the remains of old aqueducts running throughout the silver district.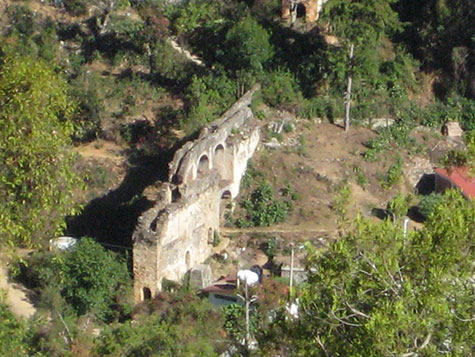 Ruins of aqueducts dot this region.
Or maybe the river dried up when the aqueduct was built — the river was just a trickle by the time I got to it. Over 400 to 500 years, even rivers can change.
The mine was used continuously for about 400 years. But the Mexican Revolution in 1910 put an end to that. Brutalized to the point of violence, the peasants revolted and chased many rich people — and their money — out of Mexico.
While Silver Slept …
And while large-scale mining continued in parts of Mexico, there were wide swaths of the country where mining slept through the 20th Century. There were simply no good roads and no development money. Places like the silver district I visited. Most of the mining there was small-scale, owner-operator type stuff. Enterprising types dug out rich rock while reporting no taxes, then melted into the night when the easy-to-mine, high-grade rock — rock with at least 1 kilogram of silver per ton — was gone.
Sure, 500 years of mining means a lot of the really rich veins have been mined. But you know what? There's still a lot of rich veins left. Mining techniques have improved. Ore that was out of reach is now very accessible.
And the geologists at the company I visited told me they'd be happy with the ore that the previous miners deemed too low-grade centuries ago — ore sometimes containing 500 grams of silver per ton, or more! That was low-grade by the standards of the 1500s — and high-grade by today's standards.
And with silver prices look poised to go higher, making that silver all the more valuable, miners are once again sniffing around in this metal-rich valley.
3 Lessons from the Name of God
The Nombre de Dios Mill can teach us a few things, even today …
Lesson #1: The pendulum of history keeps swinging. Nothing is permanent. This mill was in business for 400 years — but a revolution finally shut it down. Now, the economic damage done by the revolution is fading fast. Mexico is eager to do business with foreigners, and there are long-neglected properties just waiting to be rediscovered.
Lesson #2: The best place to look for silver now is where a lot of it has been found in the past. Mining techniques and recovery methods have improved to the point that rocks the miners of yesteryear would have walked over have now become very economical deposits. There are about 1,800 old, abandoned mines in this silver district. That sounds like a lot, but it's just 3 mines a year over 500 years. And a lot of them look very good today.
Lesson #3: You have to treat the land and the people with respect. The days of miners coming in and stepping all over the locals are over. Nobody wants bad blood to reach the boiling point. That's why today's miners have to work with the local communities. The payoffs can be just as big, and everyone is happy.
So where is this silver district, and what is this company? Well, I'll admit I've been coy about that. I needed time to get my Red-Hot Global Small-Caps subscribers in a position — this is a junior miner and its stock can get pushed around.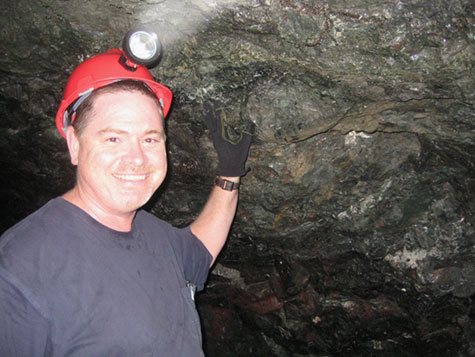 I got up close and personal with a rich vein of ore.
The good news is I'll reveal the name of the company in my video on Tuesday, when I interview the Vice President of Exploration for this up-and-coming miner. And I'll probably give you more details about my trip next Friday, including my trips down into the working mines that are already helping this company — one of Mexico's best-kept secrets — turn a profit.
Until then,
Yours for trading profits,
Sean
P.S. If you can't wait for next Friday — if you want a much more detailed story NOW, as well as recommendations on when to get in and when to get out, and a smart team of people watching this and other portfolio positions, consider joining Red-Hot Global Small-Caps. I have a bunch of new recommendations in Red-Hot Global Small-Caps, and silver is on the launch pad. Don't miss your ride on this potential profit rocket — join Red-Hot Global Small-Caps today!
This investment news is brought to you by Uncommon Wisdom. Uncommon Wisdom is a free daily investment newsletter from Weiss Research analysts offering the latest investing news and financial insights for the stock market, precious metals, natural resources, Asian and South American markets. From time to time, the authors of Uncommon Wisdom also cover other topics they feel can contribute to making you healthy, wealthy and wise. To view archives or subscribe, visit http://www.uncommonwisdomdaily.com.
© 2005-2019 http://www.MarketOracle.co.uk - The Market Oracle is a FREE Daily Financial Markets Analysis & Forecasting online publication.

Only logged in users are allowed to post comments.
Register/ Log in