Stock Market Indices Reverse Sharply to Close Lower
Stock-Markets
/
Stock Markets 2010
Jun 15, 2010 - 05:05 AM GMT


The stock market indices started the week with a bang and a nice gap up, ran hard in the morning and reached the session high at about 11:00 am right at key overhead resistance on the S&P 500 near the 1105 area. The Nasdaq 100 at that point reached near 1880, getting up to 1877, but they were unable to make any further advances.
Initially, the pullback came in the general orderly manner, but when no rally materialized in the early afternoon they then rolled over in a 5-wave decline, closing near the session lows going away, filling the opening gaps and falling into negative territory.
Net on the day, the Dow was down 20.18 at 10,190.89, the S&P 500 down 1.97 at 1089.63, and the Nasdaq 100 down 1.67 at 1845.48. Those were way below the earlier levels. The NDX, for example, was 31 points higher earlier in the day, the SPX 16 points higher, and the Dow 140 points higher, so definitely a big give-up late in the session.
The technicals still maintained a positive edge, but just slightly so. Advance/declines on the New York Stock Exchange were about 19 to 12 positive, but on Nasdaq they were about 15 to 11 1/2 positive. Up/down volume was about 6 to 5 positive on New York and almost dead-even flat on Nasdaq. Total volume on New York was light at under 1.1 billion, and Nasdaq traded 1.8 billion.

Our Charts of the Day:
On the long side, ArcSight, Inc. (ARST), which was a big favorite of ours, having run from the 4 range up to just under 30, finally triple-topped early in the first quarter. It came down in a nice bear trend. In fact, it was being considered for the Boxer Shorts list. But it gapped up big time on Friday and followed up with another 45 cents today. The best part about today is that it didn't back off and held its 50-day moving average. If it gets a move over the 24.70-25.00 zone, I think this stock could make it up towards a retest of those highs. That's my trading target, up around 29-plus.
Aruba Networks, Inc. (ARUN) came out on Friday and popped out across a head-and-shoulder type pattern, a consolidation that was under way after a long run. The stock has gone from 1.85 in late 2009 to up the near 15 range. Today it had a significant breakout with a volume increase and the stock was up 34 cents. We'll see if we get a follow-through. There's some resistance around the 15-15 1/2 range, but my target is 18-18 1/2.
On the short side, MicroStrategy Inc. (MSTR), after a big move up over the last couple years that took it from the low 30s to over 100, topped out, broke down, rallied back on 3 or 4 occasions, but has not been able to get through the 78-78 1/4 zone, which is resistance. If it breaks to the downside, I can see this stock moving into the low 60s and then the mid-50s.
NCI, Inc. (NCIT), which broke hard in early May, and it's done very little except go sideways and form a bear coil or flag of sorts. If this stock breaks down from here, I would not be shocked to see it move to test October's low down around 18.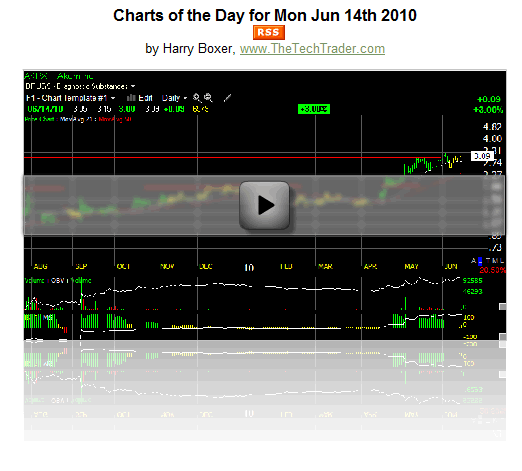 Reviewing our Watchboard:
TheTechTrader.com board, as a result, was mixed but mostly higher, even though most stocks on our board were fractionally higher and off their session highs. The leader by far was InfoLogix, Inc. (IFLG), which we traded earlier in the day at around 4.25, and which ran up to 7.28, closing at 6.90 up 3.29, a gain of 91% today.
Other point-plus gainers included American International Group, Inc. (AIG), which jumped from 35.22 to 38.55, closing at 37.09 up 2.01, and Cree Inc. (CREE) up 1.97 at 66.25.
Fractional gainers of note were Ariba (ARBA) up 42 cents at 50.99, and China Agritech Inc. (CAGC) up 71 cents at 12.77, reaching as high as 13.34 earlier in the session. We exited it from our model portfolio at 13.25 for a 25% trade.
L&L Energy, Inc. (LLEN) jumped to 10.20 on news of an acquisition and being included in the Russell 3000, but profit-taking whittled its gains to 34 cents at 9.63. More than 1 million shares traded, the biggest volume in more than 6 weeks.
Portfolio position Westport Innovations Inc. (WPRT) was up 94 cents to 18.99.
On the downside Google Inc. (GOOG) lost 5.31 at 483.19, 11 points off its high. Goldman Sachs (GS) was down 2.20 at 133.44, and Transocean Ltd. (RIG) down 2.07 at 44.78.
The ETFs were narrowly mixed today.
Stepping back and reviewing the chart patterns, the indices were up sharply in the morning, reversed late morning, and then had a 5-wave decline. The indices not only filled the gaps but closed at the session lows and near the 3-day rising trend lines, where there's key support.
We'll see if there's any downside follow-through or whether the bulls can stem the tide and bring them back up to test and take out the highs.
Good Trading!
Harry
For more of Harry Boxer, sign up for a FREE 15-Day Trial to his Real-Time Technical Trading Diary. Or sign up for a Free 30-Day Trial to his Top Charts of the Week service.
(c) 2010 AdviceTrade, Inc. All rights reserved. Distributed only by written permission of AdviceTrade and The Technical Trader at info@advicetrade.com . In using any portion of Harry Boxer's content, you agree to the terms and conditions governing the use of the service as described in our disclaimer at http://www.thetechtrader.com
Mr. Boxer's commentaries and index analysis represent his own opinions and should not be relied upon for purposes of effecting securities transactions or other investing strategies, nor should they be construed as an offer or solicitation of an offer to sell or buy any security. You should not interpret Mr. Boxer's opinions as constituting investment advice. Trades mentioned on the site are hypothetical, not actual, positions.
© 2005-2019 http://www.MarketOracle.co.uk - The Market Oracle is a FREE Daily Financial Markets Analysis & Forecasting online publication.

Only logged in users are allowed to post comments.
Register/ Log in