Stock Indices Close Flat After Late Pullback
Stock-Markets
/
Stock Markets 2010
Jun 17, 2010 - 02:31 AM GMT


The stock market indices ended near the flat line, but were up most of the day before a late pullback brought them back near the flat line. They actually went negative for a bit with a half hour to go, but snapped back into the close.
The day started out with a move down. They indices held support, then bounced, retested, and when that was successful they moved sharply higher. By late morning near lunch hour they were at the morning highs, backed off and went to new highs for the session and the entire rally, reaching near key resistance above 1910 on the Nasdaq 100 and 1119-20 on the S&P 500. At that point they pulled back with some energy in the sharpest pullback of the session, but stemmed the tide not far from initial support, and then bounced in the last half hour as I mentioned.
Net on the day, the Dow was up just 4.69 at 10,409.46, the S&P 500 was off 0.62 at 1114.61, and the Nasdaq 100 up 7.83 at 1905.31.
Advance/declines were negative today by 3 to 2 on both the New York Stock Exchange and on Nasdaq. Up/down volume was 7 to 4 negative on New York and about 9 to 8 negative on Nasdaq. Total volume on New York was a bit over 1.1 billion, and Nasdaq traded over 1.8 billion.

Our Charts of the Day:
DexCom, Inc. (DXCM), a new stock we're following, is a California-based medical instruments and supply company, which was in a rising channel until the beginning of this year when it went into a sideways basing period or channel for awhile. Today popped 1.09, or 10.3%, on the heaviest volume since January when it peaked at the 9.70 range. Perhaps we're going to see some additional upside. My target on it is 14 but there's lateral price resistance.
FSI International Inc. (FSII), which has been on our Fab 40 list for awhile, had gone into a coil-type pattern in Jan, Feb and early March, broke out, but then backed off in May when most stocks did, popped with a big breakaway gap at the end of May, ran up to resistance and backed off towards the gap, held it, and is coming on again. Today, it was up 25 cents, or 6 1/2%. It's challenging the key lateral price resistance, which if taken out could lead to a resurrection of the trend and a move that eventually takes it up to 6 1/2 and then 8 1/2. Those are our two shorter and intermediate trading targets.
L & L Energy, Inc. (LLEN), one of my current favorites, has decisively broken out across the declining topsline and moving averages. Those moving averages are turning around and crossing over. This stock has been edging higher each day. There is a overhead resistance around 10.40, the 50-day moving average, and then 10.65, the lateral price resistance from the snapback high in mid-May. Beyond that our targets are 12 1/2 and then 14.
Uroplasty Inc. (UPI), one of our other current portfolio positions, popped 60 cents today, closing at the high today and breaking out of a 6-week coil on volume of 800,000 shares. That's the heaviest volume all year and as far back as Sept-Oct of last year. I'm looking for this to extend and I have a target up at 9.00, which is another 50% move from right here.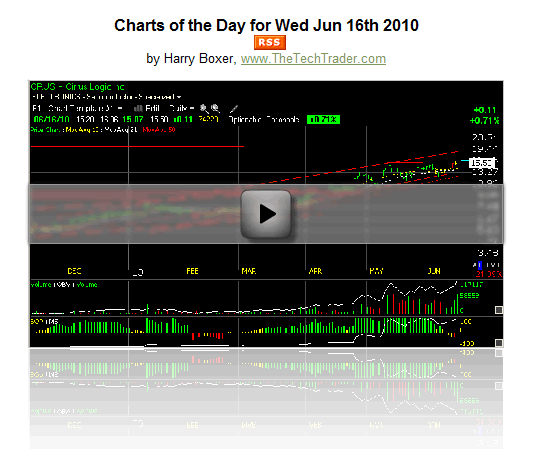 Reviewing our Watchboard:
TheTechTrader.com board, as a result of some of the gyrations and narrow trading, was narrowly mixed for the most part, but there were some outstanding issues today. Apple Inc. (AAPL) was stellar and closed near the session highs, up 7.56 at 267.25. Google Inc. (GOOG) jumped another 3.28, back over 500, to 501.27.
Other stocks of note, portfolio position OmniVision Technologies Inc. (OVTI) was up 99 cents at 21.63 to a new 2 1/2 year high, and portfolio position Uroplasty Inc. (UPI), discussed above. Netlist Inc. (NLST), which we added back into our model portfolio today, was up 15 cents at 2.89.
Other than that, most stocks were just fractionally changed up or down.
The only point-plus losers on our board were Transocean Ltd. (RIG), down 1.49 to 47.02, and Dendreon Corp. (DNDN), down 1.02 to 39.57.
Large fractional losers of note were Delcath Systems Inc. (DCTH), down 69 cents to 9.05, and InfoLogix, Inc. (IFLG), which got hammered for 91 cents down to 5.19 after being above 8.60 yesterday.
Other than that, most stocks were off just small fractions and pretty much held their own today. So, we'll see if the indices, after backing off of key, formidable overhead resistance, can come on again and take that out and extend the rally, or whether we need to pull back more and do some testing of lower levels before they're able to do anything additional on the upside.
Good trading!
Harry
For more of Harry Boxer, sign up for a FREE 15-Day Trial to his Real-Time Technical Trading Diary. Or sign up for a Free 30-Day Trial to his Top Charts of the Week service.
(c) 2010 AdviceTrade, Inc. All rights reserved. Distributed only by written permission of AdviceTrade and The Technical Trader at info@advicetrade.com . In using any portion of Harry Boxer's content, you agree to the terms and conditions governing the use of the service as described in our disclaimer at http://www.thetechtrader.com
Mr. Boxer's commentaries and index analysis represent his own opinions and should not be relied upon for purposes of effecting securities transactions or other investing strategies, nor should they be construed as an offer or solicitation of an offer to sell or buy any security. You should not interpret Mr. Boxer's opinions as constituting investment advice. Trades mentioned on the site are hypothetical, not actual, positions.
© 2005-2019 http://www.MarketOracle.co.uk - The Market Oracle is a FREE Daily Financial Markets Analysis & Forecasting online publication.

Only logged in users are allowed to post comments.
Register/ Log in