Stock Market Through the Roof or Smashed into a Thousand Pieces?
Stock-Markets
/
Stock Markets 2010
Aug 05, 2010 - 09:46 AM GMT


GRANDPA JOE: But this roof is made of glass. It'll shatter into a thousand pieces. We'll be cut to ribbons!
WILLY WONKA: Probably.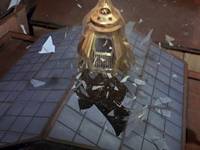 Is today going to be the day? After pressing against our breakout levels all week, today do we should finally have the gas to get over the top or will our 5% levels keep acting like a solid barrier? We had an afternoon rally yesterday and the Dow rose 44 points for the day - right near our 10,700 line. The Nasdaq made our mark at 2,300 in a mini-stick into the close but the Russell continues while the S&P is over it's 50% line (discussed yesterday) at 1,121 but not over our 5% rule 1,155 so we're still not impressed there and the NYSE also needs a pretty big move to get to our 7,350 target. We've been flirting with a breakout all week but what's it going to take to punch it through?.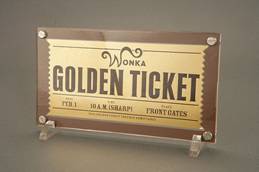 Willy Wonka had the physics right, there had to be enough power to get through that overhead resistance or it was going to be a very painful test of the top (like the one we had in April). Since our last dip, we've come back for another try but the volume has been substantially lower than it was in April, leading us to believe it is only TradeBots, and not Oompa Loompas, who are buying this market. Can TradeBots alone give us enough "thrust" to break through this time? It shouldn't be THAT hard, in April we had highs of Dow 11,258 (5.6% higher than 10,680), S&P 1,219 (7.5% higher), Nas 2,535 (9.2%), NYSE 7,743 (7.2%) and Russell 745 (11.1%) so it's not like we're asking for a low with our little breakouts, are we?

SOX were 404, now 348 (13.8%), Transports were 2,279, now 2,254 (1%) and have been our leader so we're watching them closely but what an odd discrepancy with the SOX, who have generally been reporting good earnings. Internationally, the Hang Seng is off 10.2% (from 24,000), 15.5% on the Shanghai (3,026), 16.8% on the Nikkei (11,408) but the BSE is UP 0.07% - leading all global markets at 18,172! Right behind India is Germany's DAX, who just crossed positive this morning at 6,368 vs April's high of 6,341. The FTSE is more in line with other indices, down 7.3% from 5,833 and the CAC is also down 7.1% from 4,086. As I mentioned yesterday, the Dollar is down 10% (but bouncing) since June but is actually flat to the end of April while Copper is up 7.6% (yet still below the early April high of $3.68), gold is 2.1% above April's close (and we shorted it) but well off the June madness at $1,265 and oil went wild yesterday (another short - see post, Member Chat) and finished the day right on our $82.50 mark, but still 5.3% below April's ridiculous close. Mixed signals to say the least!.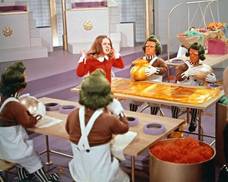 Today we have Jobless claims and tomorrow we get the Non-Farm Payroll Report. Less than 450,000 jobs lost and more than 100.000 net jobs gained can give us the push we need to break up and out. India and the DAX are through the roof and breaking the bounds of market gravity and the Nikkei, the World's lagging index, made the biggest gain today (up 1.7%) but STILL 47% off the Feb 2007 high of 18,215. The Shanghai lost 0.67% today and is up 90% from the 2008 lows, not a bad run for 20 months! At 326, the DJSH is still 50% off the highs and getting over these 50% levels will give a lot of credence to our theory that the markets want to return to about 1/3 off the highs globally.

8:30 Update: Oops, 479,000 people lost their jobs last week, that's about 5% worse than expected and it looks like we were right to remain cautious into yesterday's as the futures don't like it one bit. As I keep pointing out to our Members, the smart move is to play cautious (short-term bearish) at the inflection points as we are prone to sudden breakdowns and, IF we get through the resistance, we still have quite a long way to go so we're better off protecting our gains and missing a 1% breakout, then risking our gains and getting burned on a 2.5% pullback.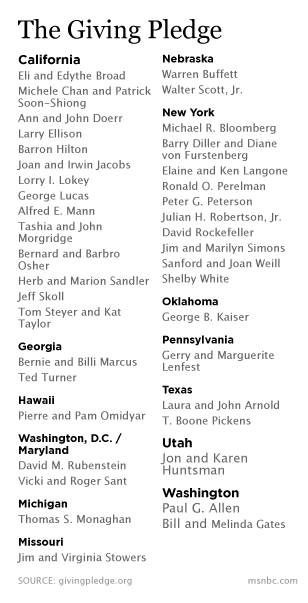 2.5% is about what we can be looking at tomorrow if Non-Farm Payrolls miss all the way back to 10,450 on the Dow and 1,095 on the S&P it will take good numbers to give us the boost we need to get over the top but that in itself tells a tale as it's a top we've been over before and the fact that we're having trouble here has to make us wonder about what it's going to take to get us back to THERE. QE2 is one possibility and mega-Kudos to Bill and Melinda Gates and Warren Buffett for rounding up $90Bn from 48 of our nation's Billionaires, who have promised to donate AT LEAST 51% of their wealth to Charity.

"We contacted between 70 and 80 people to get the 40. A few were unavailable. We don't give up on them. Every saint has a past, every sinner has a future. We'll keep on working," Buffett said.

Mayor Bloomberg, who made the bulk of his estimated $17.5 billion fortune from financial news and information services company Bloomberg L.P., said it didn't make sense to leave everything to his children and have them go through life as members of "the lucky sperm club." "You don't want to leave them so much money that it ruins their lives," Bloomberg said. "You want kids who can look back and say, 'Yeah my family helped me but I did something on my own.'" Added Steyer: "We need to support each other. I look at this as replanting your garden so that future generations will have a full bounty of crops."

So a big thank you to 1% of the top 0.01% for not being, as Dickens so aptly puts it: "Squeezing, wrenching, grasping, scraping, clutching, covetous, old sinners!"

The other 2,962 of the top 0.01% of our countrymen, on the other hand, will be fighting tooth and nail to keep 100% of their money piles when they die and, of course, not paying 3% more of their income in taxes, which is looking very likely as the Bush tax cuts expire this year. They are also fighting to stop spending their tax money healing the sick (what are they, saints?) in a State by State knock-down, drag out fight against "Obamacare" as Missouri just passed a bill, sponsored by Senator Cunningham (R, of course) to invalidate mandatory coverage - without which the whole plan falls apart.

The referendum, known as Proposition C, was seen as a first look at efforts by conservatives to gather and rally their forces over the issue. Practically speaking, it remains entirely uncertain what effect the vote will have. The insurance requirement of the federal health care law does not come into effect until 2014. By then, experts say, the courts are likely to weigh in on the provision.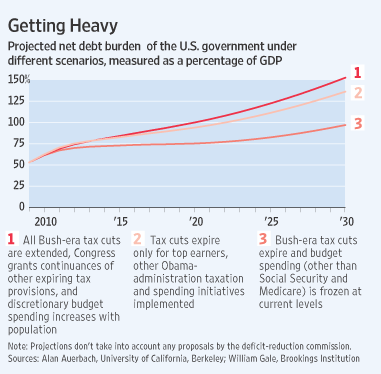 Fighting for the bottom 99% of the people is our man Timmy, yesterday saying that keeping current tax levels even on a short-term basis "would hurt economic recovery by undermining confidence that we are prepared to make a commitment today to bring down our future deficits." The government needs the revenue it would get from allowing tax rates for the wealthy to rise, he said.

Lawmakers are expected to address the issue of the expiring tax cuts, enacted during the George W. Bush administration, as soon as September. Most Democrats and the Obama administration favor extending them for the middle class, defined as families earning less than $250,000, but letting them end for higher-income earners. Extending the current Bush tax cuts for 10 more year will sink us an additional $4Tn in debt and that's not even addressing Corporations, who are paying less than 12% of their income in taxes on average under the current structure. As I often point out, if corporation paid a 10% VAT - individuals wouldn't have to pay taxes at all.

And what is all of the fuss really about with the dreaded EXPIRATION of Bush's tax cuts (that helped propel our nation from $6Tn in debt when he took office to $11.5Tn when he left)? 3% of the money you earn OVER $235,450 under Obama's plan but that is offset by a 3% DECREASE of the income you earn between $212,600 and $235,450 so you pay NOT ONE PENNY MORE in taxes on the money a married couple earns under $250,000 per year. The people earning over $250,000 a year, will pay 3% more taxes so $3,750 out of the next $125,000 they earn, leaving them with "just" $121,250 for all that hard work (less regular "Bush approved" taxes, of course). And what does depriving people of $3,750 of their earnings between $250,000 and $375,000 do for our economy? It reduces our budget deficit by $650Bn a year - the money the government needs to fix the roads and educate the children and fight terrorism, etc….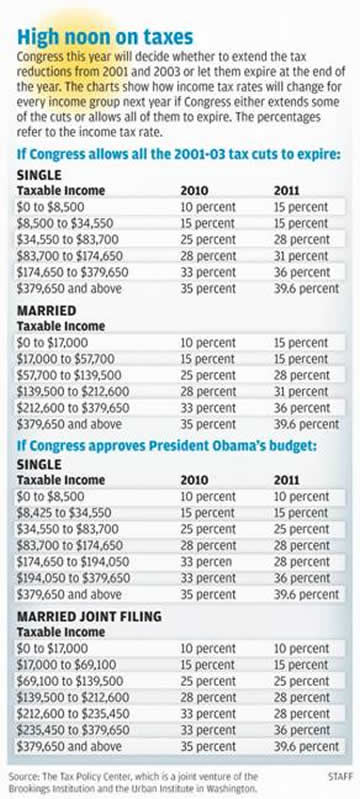 By Phil
Philip R. Davis is a founder of Phil's Stock World (www.philstockworld.com), a stock and options trading site that teaches the art of options trading to newcomers and devises advanced strategies for expert traders. Mr. Davis is a serial entrepreneur, having founded software company Accu-Title, a real estate title insurance software solution, and is also the President of the Delphi Consulting Corp., an M&A consulting firm that helps large and small companies obtain funding and close deals. He was also the founder of Accu-Search, a property data corporation that was sold to DataTrace in 2004 and Personality Plus, a precursor to eHarmony.com. Phil was a former editor of a UMass/Amherst humor magazine and it shows in his writing -- which is filled with colorful commentary along with very specific ideas on stock option purchases (Phil rarely holds actual stocks). Visit: Phil's Stock World (www.philstockworld.com)
© 2010 Copyright PhilStockWorld - All Rights Reserved Disclaimer: The above is a matter of opinion provided for general information purposes only and is not intended as investment advice. Information and analysis above are derived from sources and utilising methods believed to be reliable, but we cannot accept responsibility for any losses you may incur as a result of this analysis. Individuals should consult with their personal financial advisors.
© 2005-2019 http://www.MarketOracle.co.uk - The Market Oracle is a FREE Daily Financial Markets Analysis & Forecasting online publication.

Only logged in users are allowed to post comments.
Register/ Log in