US Dollar Collapse Imminent - What's Under Your Mattress?
Currencies
/
US Dollar
Sep 18, 2007 - 11:32 AM GMT

I'm not trying to get personal here, I don't' care about your magazines, or other objects you may keep under your mattress. But we ask, how frequently do you here someone say, 'I'm going to put some dollars under my mattress for a 'rainy day'? Well, readers, we have some 'rainy days' coming and the question will not only be:
1. Do you have something under your mattress?
but, more importantly
2. What do you have under your mattress?
For our readers from Europe, Canada , Australia , and New Zealand you are the lucky ones for we assume what is under your mattress is your local currency which has been doing great relative to the U.S. Dollar.
The issue will be of utmost important to U.S. investors because putting U.S. Dollars under your mattress will surely have a disastrous effect. With the U.S. Dollar on the verge of a total collapse investors will awaken one day to discover their 'nest egg' has disappeared.
Everyday I am amazed by the comments of some of my American friends. These are very intelligent guys and have for the most part quite a lot of money (U.S. Dollars) invested in the financial markets. They do not have a clue as to what I do in life nor do they have a clue as to what is happening in the financial world with the U.S. Dollar, the subprime mortgage issues, the Yen carrytrade and the potential meltdown of our financial system within the coming days, weeks and months. If these savvy guys 'don't get it' then I have to conclude that most Americans 'don't get it'.
The greatest impact in the near future will probably be felt the hardest by the U.S. investors with a declining U.S. Dollar and a declining stock market and they just don't get it. They think the problem is over, after all the stock market as measured by the Dow Jones Industrial Average is only about 5% off of its all-time high. What problems, what crisis, why worry, the FED is here to bail us out.
Speaking about the FED, have you been following all of the news about Alan Greenspan over the last 48 hours or so? He is now talking to everyone in English that we can understand not all of the double talk for which he was the master for so many years. Why has he chosen to speak out now just hours before the FED will announce their decision on interest rates in the United States ? Of course, he is promoting his new book, but is there another reason? Perhaps, Greenspan is speaking out now in an attempt (we stress attempt) to distance himself from the coming meltdown in the financial markets. Does he know what's coming? Does he fear another sharp 1987 style collapse in the U.S. markets? We will know the answers within the next few weeks.
As we said above, it would appear to us that the greatest impact will be born by the clueless U.S. investors. But for those U.S. investors willing to make some sound investment decisions you can still save your financial future but you need to get out of the U.S. Dollar.
The easiest way to accomplish this objective is to invest in markets outside of the U.S. Our investment preference is buying the common shares and long term warrants of companies within the commodity and natural resource sector. These securities are mostly on Canadian companies which means our investment dollars are now in Canadian Dollars (a great place to be) and not in U.S. Dollars (a terrible place to be).
The U.S. Dollar, barring some political intervention or a stupid decision by the administration to bomb Iran which may give the dollar a brief rally, will fall off of the cliff very soon.
By investing in the shares of the shares and long term warrants of mining companies we are positioning ourselves to not only gain as the share prices increase but also to benefit from the continuing increase in the Canadian dollar.
Everyone loves to look at a few charts so; we present you with charts as of the close on Monday 17 September just hours before the FED announcement on interest rates in the U.S. on the Gold, the Canadian Dollar and the U.S. Dollar. We would be the first to agree that on a short term basis we are over-extended to the upside in gold and the Canadian dollar but the long term trend is definitely higher.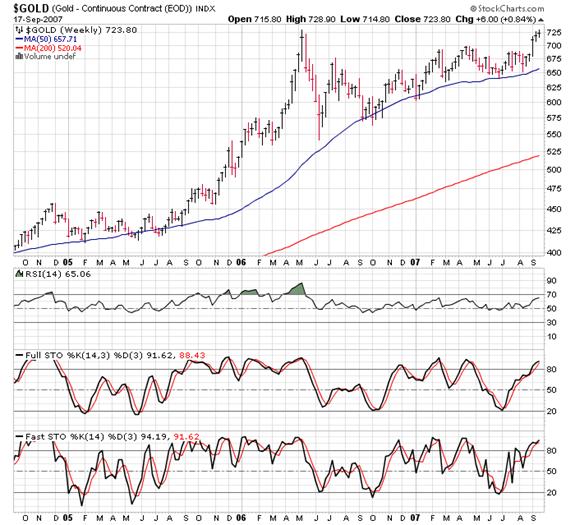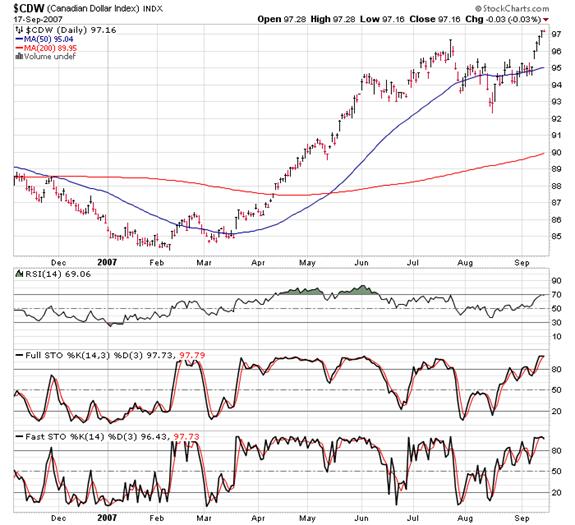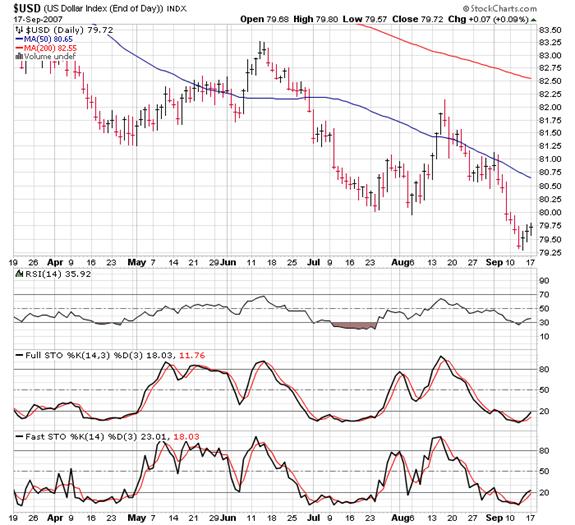 We now have gold breaking out to the upside and looking better everyday as well as the gold indices, XAU and HUI.
As our peers in the business say, 'gold is money' and some are now saying that 'silver is money'.
We agree, but how much can you get under your mattress?
For those readers desiring more information on warrants you may wish to visit www.PreciousMetalsWarrants.com where you will find much more information and education on warrants in our new Learning Center . You may also signup for our free weekly email, The Warrant Report .
Dudley Pierce Baker
Guadalajara/Ajijic, México
Email: info@preciousmetalswarrants.com
Website: PreciousMetalsWarrants
Dudley Baker is the owner/editor of Precious Metals Warrants, a market data service which provides you with the details on all mining & energy companies with warrants trading on the U. S. and Canadian Exchanges. As new warrants are listed for trading we alert you via an e-mail blast. You are provided with links to the companies' websites, links to quotes and charts, tips for placing orders and much, much more. We do not make any specific recommendations in our service. We do the work for you and provide you with the knowledge, trading tips and the confidence in placing your orders.
Disclaimer/Disclosure Statement:PreciousMetalsWarrants.com is not an investment advisor and any reference to specific securities does not constitute a recommendation thereof. The opinions expressed herein are the express personal opinions of Dudley Baker. Neither the information, nor the opinions expressed should be construed as a solicitation to buy any securities mentioned in this Service. Examples given are only intended to make investors aware of the potential rewards of investing in Warrants. Investors are recommended to obtain the advice of a qualified investment advisor before entering into any transactions involving stocks or Warrants.
© 2005-2019 http://www.MarketOracle.co.uk - The Market Oracle is a FREE Daily Financial Markets Analysis & Forecasting online publication.
Comments
gary springer
12 Oct 07, 11:37
commodities prices


There is a big difference in a dollar decline and a dollar collapse.

If the dollar crashes, the us economy will crash with it.

US consumption of commodities comprises about half of the world slupply.

With demand falling that hard, commodity prices will not hold up.

If you think the dollar will tank, then long term bonds in euro's are the bet you want to make.




Only logged in users are allowed to post comments.
Register/ Log in