Stock Market Losing Session Closes Near Key Support
Stock-Markets
/
Stock Markets 2010
Aug 24, 2010 - 04:57 AM GMT


The stock market indices ended mixed on the day today after a mid-day and afternoon rally brought them back from early losses. The S&P 500 and Nasdaq 100 opened lower, tried to bounce in the morning, but then gave it up. They hit new lows for the entire decline on the SPX down around 1063.90. At that point the NDX held near yesterday's lows around 1811, and without getting any further downside follow-through, the indices began a snapback. When the morning rally highs were taken out they extended that rally, but backed and filled in the last hour. They backed off, particularly in the last few minutes, to remain negative in the blue chips, but the NDX managed to stay positive today.
Net on the day, the Dow was down 57.59 at 10,213.62, about 66 points off its low. The S&P 500 was down 3.94 at 1071.69, closing about 8 points off its low. The Nasdaq 100 was up 2.75 at 1825.75.
Advance/declines were negative by about 3 to 2 negative on the New York Stock Exchange and by only 31 issues (13 to 12) on Nasdaq,. Up/down volume, however, was negative on New York by about 2 1/2 to 1 negative with a total volume of 1.1 billion. Nasdaq traded about 1.85 billion and had a 5 to 4 positive ratio on up/down volume today.
Charts of the Day:
China Agritech Inc. (CAGC) is in a good posture, with a nice base, breakout, pullback, and another pullback that's in a tightly rising channel. Today it was up 21 cents in a really bad market. A good sign. Volume and technicals are rising. Expect a test around the 20 1/2 range, my next trading target.
Craft Brewers Alliance, Inc. (HOOK) had a price-volume surge in May that triggered a move from around 2.75 to 6.70, which it reached today. More importantly, it's moved up nicely, consolidated nicely, and expanded with volume and technicals. It was up 57 cents, or 9.5% today. My next trading target is in the 8.00-8.10 range. I expect that to be reached shortly, market permitting.
Isilon Systems, Inc. (ISLN) had a big day today, gapping up at the opening, jumping 2.13, or 12%, on 3 1/2 million shares. That's the biggest volume we've seen all year. The key breakout of its trading range should lead to a quick move towards the 20 1/2 area. That may be as early as tomorrow, but should we get out above the top of the channel, I think this could accelerate and look for a move up to the 24 -25 zone, my next trading target.
Warner Chilcott plc (WCRX), a drug manufacturer, made a new all-time high today, or right at it. There's lateral price resistance in this zone, but they stuck above it today, reaching 29.81 before closing up 1.31 at 29.43. Still, strong volume on the breakout should lead to higher levels. I'm looking for a move up to the low 30s, then the mid-30s.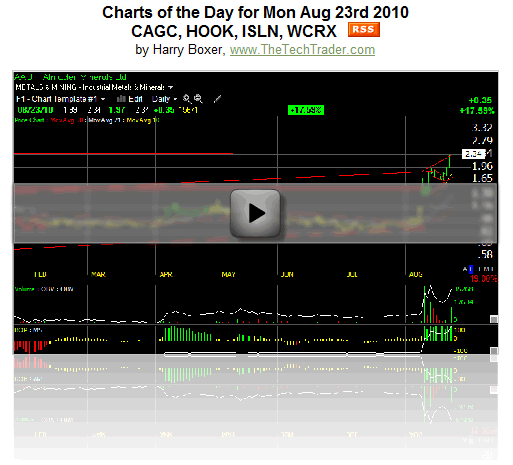 Reviewing our Watchboard:
The stock market indices started the week out on a negative note, but the session began very differently. They gapped up at the opening, ran sharply, reached resistance, and then came down very hard off those resistance levels to test support.
They bounced mid-morning, and then went into a consolidation pattern that appeared to be a bear-flag type consolidation. When resistance at 1820-22 on the Nasdaq 100 and 1075-76 on the S&P 500 failed to be penetrated, they rolled over in the afternoon and closed right at the session lows going away.
Net on the day, the Dow was down 39.21 at 10,174.41, about 130 points off its high. The S&P 500 fell 4.33 to 1067.36, closing 14 points off its high. The Nasdaq 100 was up 17.44 at 1808.31, some 34 points off its high.
Advance/declines were better than 3 to 2 negative on the New York Stock Exchange and 3 to 1 negative on Nasdaq. Up/down volume was more than 2 to 1 negative on New York on total volume of a light 789 million shares traded. Lowest day of the year. Nasdaq had a 3 to 1 negative ratio on total volume of just under 1 3/4 billion.
TheTechTrader.com board, as a result, was mostly lower today, but there were some outstanding gainers. Leading the way today was Isilon Systems, Inc. (ISLN) up 2.13 at 19.96, and CommVault Systems, Inc. (CVLT) up 2.86 at 23.65. Google Inc. (GOOG) jumped 2.05 to 464.07, and Tesla Motors, Inc. (TSLA) 1.03 to 20.13.
The Direxion Daily Small Cap Bear 3X Shares (TZA) was up 1.48 to 38.70, and Direxion Daily Emrg Mkts Bear 3X Shares (EDZ) up 97 cents to 36.94.
On the downside, point-plus losers included Jazz Pharmaceuticals, Inc. (JAZZ), which got hammered on a negative FDA ruling, down 2.27 to 7.96. Amazon.com Inc. (AMZN) lost 1.16 to 126.60, and Apple Inc. (AAPL) was down 3.84 to 245.80 today, putting pressure on all the indices.
Stepping back and reviewing the hourly chart patterns, the indices were up early, down sharply after that in the morning, stabilized during midday, and then rolled over in the last hour or two to close at the session lows going away.
It was quite the negative start, closing near key support on the indices. The indices will likely undergo a key test of support tomorrow and could crack to lower levels.
Good Trading!
Harry
For more of Harry Boxer, sign up for a FREE 15-Day Trial to his Real-Time Technical Trading Diary. Or sign up for a Free 30-Day Trial to his Top Charts of the Week service.
(c) 2010 AdviceTrade, Inc. All rights reserved. Distributed only by written permission of AdviceTrade and The Technical Trader at info@advicetrade.com . In using any portion of Harry Boxer's content, you agree to the terms and conditions governing the use of the service as described in our disclaimer at http://www.thetechtrader.com
Mr. Boxer's commentaries and index analysis represent his own opinions and should not be relied upon for purposes of effecting securities transactions or other investing strategies, nor should they be construed as an offer or solicitation of an offer to sell or buy any security. You should not interpret Mr. Boxer's opinions as constituting investment advice. Trades mentioned on the site are hypothetical, not actual, positions.
© 2005-2019 http://www.MarketOracle.co.uk - The Market Oracle is a FREE Daily Financial Markets Analysis & Forecasting online publication.

Only logged in users are allowed to post comments.
Register/ Log in