Stock Market and Commodities Traders Front Run the Federal Reserve
Stock-Markets
/
Stock Markets 2010
Oct 05, 2010 - 06:56 AM GMT


Last month marked one of the best Septembers in years as the DOW rallied 7.7%, which made for the best September for the DOW since 1939. Bulls are excited about the rally and market while bears are wondering what is behind it. There are no signs of a big economic boom around the corner to justify the stock market going higher. In fact economic data continues to be weak and all of the talk is that the government needs to do more stimulus to boost the economy and the Fed may engage in more money printing.
In fact I do not think we'll see a real recovery in the economy until real estate prices put in a final bottom. Historically economic troughs come when real estate bottoms and this should be more true now than ever before, because it is the real estate bust that destroyed bank balance sheets and has caused them to be cautious about lending out money.
Real estate futures contracts on the Case-Shiller real estate index are not projecting a bottom in real estate prices until later next year and a recovery in them in 2012.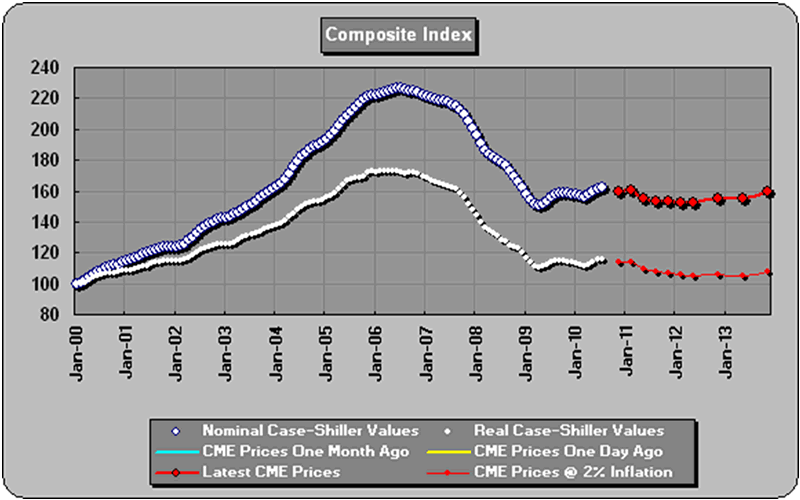 A few months ago the real estate futures market was forecasting a bottom for real estate in the second quarter of 2010 so now they are downgrading their forecast for real estate.

To me that means that the overall economic picture for the next 6-12 months is actually worsening instead of getting better.

But the stock market has been going up the past few weeks.

Why?

A lot of people think its because of the upcoming Congressional elections. If you listen to FOX News that is all you'll hear about. But I think there is something more important that traders are looking at.

You can sum it up in two words - quantitative easing.

Quantitative easing is when a central bank prints money out of thin air and uses that money to buy government bonds, mortgages, and junk bonds from banks and other financial institutions, in the process they expand their balance sheet and give banks excess reserves which they hope they will lend out and stimulate the economy as a result.

The problem is that QE is a very difficult policy to implement. The risk is that a central bank engaging in QE buys too many securities and then creates inflation - even hyperinflation is a danger. The other risk is that nothing happens and instead of lending money out the banks just sit on it. When that happens investors and businesses lose even more confidence in the economy and lose any hope that the government can force it to grow. In my view the latter is a much greater danger than the former in the current situation.

We already saw the Fed engage in QE in 2008 and it had no impact on the economy. It helped banks, but no one else. Japan's central bank used QE in the early 2000's to no effect.

I first talked about QE in the August issue of this newsletter and said that it would begin to be an important story to focus on. In the long-run I didn't - and still don't - think it will have much of an impact on the economy, but it has captured the minds of traders more than I ever thought it would. It has helped the market more than I had originally expected.

Bradley Willet of Fallstreet.com points out that the current rally in the market began once Federal Reserve Ben Bernanke gave a speech in which he suggested that he would use quantitative easing if the economy continues to weaken.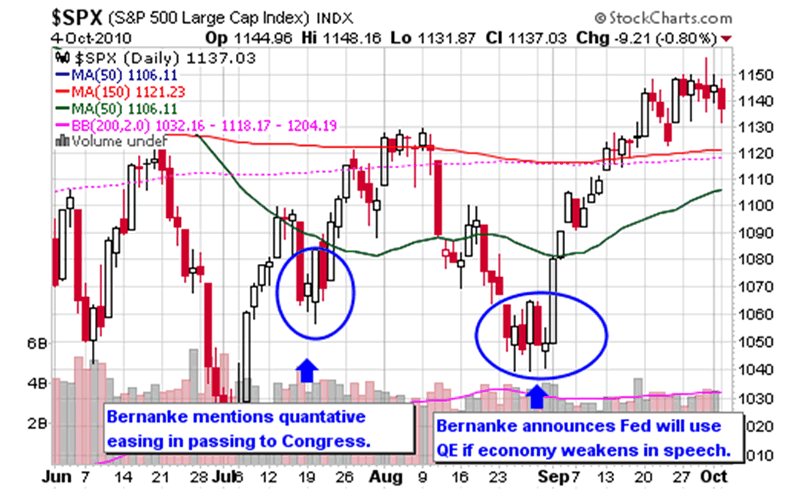 In my view traders and hedge funds have been buying up junk bonds, treasuries, stocks, and gold ahead of expectations that the Fed will announce QE at their next Fed meeting in November.

This is why treasury bonds appear to be trading at crazy levels that make no sense. Why buy a long-term bond with almost zero yield? The hedge funds buying these bonds are doing so in anticipation that the Fed is going to buy treasury bonds.

Bulls are arguing that it doesn't matter what happens with the economy. If economic data is weak the Fed will print money. If the stock market drops the Fed will print money. Bernanke has in effect created a "Bernanke put" on the stock market similar to the ""Greenspan put" that led to the moral hazard that created the housing bulls and the implosion of Wall Street banks.

James Vale of Beacon Equity writes, "official statements from the Fed serve to lower the ultimate cost of its upcoming massive buying spree by allowing the PIMCO-led herd to feed at the trough first, other less-connected fund managers to feed second, and the public to pick up the remaining feed last in order to reduce the appetite needed from the Fed to reach its objectives regarding interest rates."

"Whether QE II becomes official at the FOMC meeting on November 3, December 14, or as far out as January 25, PIMCO's Bill Gross and his rivals have already scaled into assets expected to benefit from the coming tsunami of printed cash by the Fed—and in amounts equivalent to QE I, at least."

A month ago rumors were that the Fed would do one big one trillion plus QE buying program, but now the Fed has been leaking stories to the Wall Street Journal that they are thinking of buying smaller amounts of bonds multiple times spread out over several meetings. One goal is to bring long-term bond rates down to below 2% in order to help the mortgage refinancing market in 2011.

Bank of America projects that the Fed will push 10-year treasury rates down to 1.75% in the first quarter of 2011.

Traders are positioning themselves in front of QE. The big question is what happens when QE comes?

The market still has heavy resistance at its April highs and is unlikely to be able to create a sustainable rally through those levels without first reaching them, having a big pullback off of them, and then going through them again. That is a process that would take the rest of the year to play out and part of it would be a move to those highs that would simply trap a lot of people who buy into them.

It is just as possible that the market rallies near those highs as we reach the November Congressional elections and a Fed QE announcement and then it peaks on the news and falls all of the way back down to the 1040 level on the S&P 500.

What will be important to watch are investor sentiment readings. If sentiment gets as frothy as it did last January and April in a few months then we'll have be on guard for another nasty sell-off like we saw in May - in fact it would probably be worse. But until sentiment gets all bulled up like that for now the momentum for the this month should be sideways to up with a likely dip to start the month due to the market's current overbought condition on a daily chart.

To receive my stock picks and actionable trading ideas sign up to my free weekly newsletter at http://www.wallstreetwindow.com/subscribe.htm
By Michael Swanson

WallStreetWindow.com
Mike Swanson is the founder and chief editor of WallStreetWindow. He began investing and trading in 1997 and achieved a return in excess of 800% from 1997 to 2001. In 2002 he won second place in the 2002 Robbins Trading Contest and ran a hedge fund from 2003 to 2006 that generated a return of over 78% for its investors during that time frame. In 2005 out of 3,621 hedge funds tracked by HedgeFund.Net only 35 other funds had a better return that year. Mike holds a Masters Degree in history from the University of Virginia and has a knowledge of the history and political economy of the United States and the world financial markets. Besides writing about financial matters he is also working on a history of the state of Virginia. To subscribe to his free stock market newsletter click here .
Copyright © 2010 Michael Swanson - All Rights Reserved.
Disclaimer - WallStreetWindow.com is owned by Timingwallstreet, Inc of which Michael Swanson is President and sole shareholder. Both Swanson and employees and associates of Timingwallstreet, Inc. may have a position in securities which are mentioned on any of the websites or commentaries published by TimingWallStreet or any of its services and may sell or close such positions at any moment and without warning. Under no circumstances should the information received from TimingWallStreet represent a recommendation to buy, sell, or hold any security. TimingWallStreet contains the opinions of Swanson and and other financial writers and commentators. Neither Swanson, nor TimingWallstreet, Inc. provide individual investment advice and will not advise you personally concerning the nature, potential, value, or of any particular stock or investment strategy. To the extent that any of the information contained on any TimingWallStreet publications may be deemed investment advice, such information is impersonal and not tailored to the investment needs of any specific person. Past results of TimingWallStreet, Michael Swanson or other financial authors are not necessarily indicative of future performance.
TimingWallStreet does not represent the accuracy nor does it warranty the accuracy, completeness or timeliness of the statements published on its web sites, its email alerts, podcats, or other media. The information provided should therefore be used as a basis for continued, independent research into a security referenced on TimingWallStreet so that the reader forms his or her own opinion regarding any investment in a security published on any TimingWallStreet of media outlets or services. The reader therefore agrees that he or she alone bears complete responsibility for their own investment research and decisions. We are not and do not represent ourselves to be a registered investment adviser or advisory firm or company. You should consult a qualified financial advisor or stock broker before making any investment decision and to help you evaluate any information you may receive from TimingWallstreet.
Consequently, the reader understands and agrees that by using any of TimingWallStreet services, either directly or indirectly, TimingWallStreet, Inc. shall not be liable to anyone for any loss, injury or damage resulting from the use of or information attained from TimingWallStreet.
© 2005-2019 http://www.MarketOracle.co.uk - The Market Oracle is a FREE Daily Financial Markets Analysis & Forecasting online publication.

Only logged in users are allowed to post comments.
Register/ Log in