US Dollar Bear Market Could Run for Many More Years
Currencies
/
US Dollar
Oct 14, 2007 - 02:27 AM GMT


Jack Crooks writes: A rip current can suck even experienced ocean-goers out to sea. So it's no surprise that a weaker swimmer doesn't stand a chance amid such a powerful force.
Right now, the U.S. dollar is in a similar situation. The greenback has been caught up in a sea of fierce selling pressure. All it can do is flail out in the open waters, growing tired and weak. And even news that would normally be positive for the buck doesn't seem able to save it.
In fact, based on the price action I've seen lately, we seem very close to a serious self-feeding downtrend in the buck, sparked by growing conviction among dollar bears …
The Dollar Is Drowning and There's No Lifeguard in Sight!
The last few days have been typical: Every time the dollar has tried to come up for air, it has gotten smacked right back down.
The reason: The powerful and relentless fundamental forces that we've been warning you about:
Hundreds of mortgage lenders are hanging by a thread, battered daily by skyrocketing loan defaults and soaring inventories of repossessed homes they can't sell.
Home sales have fallen a staggering 22% in six months, to the lowest reading since record keeping began.
The manufacturing sector, still the core of our economy, is already in a recession.
Retailers are already warning that this could be the worst holiday season in recent memory.
Meanwhile, the Federal Reserve has shown it's going to do everything in its power to pump up the economy. It won't hesitate to cut interest rates again, flood the world with more unbacked paper dollars, and drive the U.S. dollar even lower.
The simple fact is that every new dollar the Fed creates — whether through interest rate cuts or by directly increasing the money supply — inevitably decreases the value and buying power of every other dollar in circulation!
You know this … I know this … and you can bet most everyone else is now starting to realize this, too. Sadly, no one seems ready to jump in and rescue the buck at this point.
How Long Can the Dollar Remain Under Water?
Market players will tell you it's nearly impossible to predict the lifespan of a trend. But that doesn't mean you can't build a general framework for estimating approximately how much longer these trends can continue.
If you go back and pin down all the various U.S. dollar bull and bear markets since the inception of the free-floating currency market back in 1971, you'll find the long-term trends ranged from about five to nine years in duration.
Take a look at this chart of the dollar index and you'll see what I mean …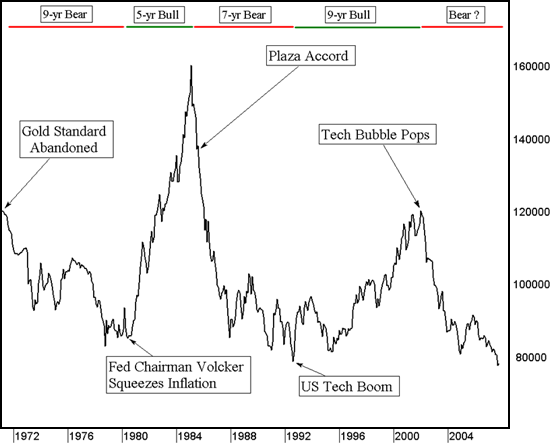 So where does that leave us today?
By my analysis, the dollar's bear market began at the end of the tech boom in 2002, after a flood of money poured into U.S. assets.
That means the dollar is only drifting into its sixth year of this current bear market — possibly leaving as much as three more years of bearishness left to go!
Now, to get an even better picture of how much longer this bear market in the dollar can go, let's break down the trend piece by piece …
Trends move in stages. These stages are based largely on human emotion and are supported to different extents by underlying economic fundamentals.
For example, if demand for gasoline is rising, and the supply of gasoline is falling, investors will buy gasoline futures. The amount they invest will correlate directly with their confidence in the trend of rising gasoline prices.
The Seven Stages of a Trend

Stage 1:

Unrecognized trend

Stage 2:

Self-reinforcing process

Stage 3:

Successful test

Stage 4:

Growing conviction

Stage 5:

Flaw in perceptions

Stage 6:

Climax

Stage 7:

Self-reinforcing process (opposite direction)
Out of the seven stages listed above, I believe the U.S. dollar is now in Stage 4 of its multi-year bear market. In this stage, we see a growing divergence between reality and expectations.
In other words, investors are becoming more confident that the fundamentals bode ill for the dollar, and they are positioning for the greenback's demise. However, they may be starting to commit themselves to a point that exceeds the fundamental weakness.
Let me be clear: There are still very good reasons why it makes sense to be bearish on the dollar, and it would be foolish to fight the powerful current of the dollar bears.
Moreover, we still haven't seen the outlines of stage five — the emergence of real reasons for strength in the dollar.
This is usually a prelude to the self-feeding price decline seen in stage six. That's the point at which even the most ardent bulls finally give in to the trend and we see massive climax selling.
Bottom line: Based on my analysis of the dollar's previous cycles, and the general pattern of market trends, there is still money to be made off of the dollar's decline.
The time to start looking in the other direction will arrive, and when it does, I'll let you know. Until then, the greenback's long-term trend remains solidly down.
Best wishes,
Jack Crooks
This investment news is brought to you by Money and Markets . Money and Markets is a free daily investment newsletter from Martin D. Weiss and Weiss Research analysts offering the latest investing news and financial insights for the stock market, including tips and advice on investing in gold, energy and oil. Dr. Weiss is a leader in the fields of investing, interest rates, financial safety and economic forecasting. To view archives or subscribe, visit http://www.moneyandmarkets.com .
© 2005-2019 http://www.MarketOracle.co.uk - The Market Oracle is a FREE Daily Financial Markets Analysis & Forecasting online publication.
Comments
Mike
24 Oct 07, 18:21
Can 2008 be like 2004?


You are saying that bearish dollar could continues for about more 3 Years, but we must see within these 3 Years some correction of about 10000 points.

If we analyze for example EURUSD Monthly Chart, We can see very clearly that EURO it is Overvalued.

So, can we see for example a big correction of about 2000 pips, to 1.25 or 1.24 in the next year, to see then Euro start to raise to 1.60 or even more in 2009/2010.

If we continue to see the Stock Markets with this kind of volatility and the Bear start to grunt, can we see USD as a refugee.

sorry about my English.

Many thanks for your article.

Best wishes from Portugal

Mike




Only logged in users are allowed to post comments.
Register/ Log in