OTCQX Helping Canadian Junior Gold Miners Reach U.S. Investors
Companies
/
Gold & Silver Stocks
Nov 25, 2010 - 04:23 AM GMT


Representatives from a few of the Canadian junior resource companies that are eager to bring more international investors into their folds took time from their busy schedules to share some of their views about the OTCQX via this exclusive Gold Report roundtable. Participants discussing some of the features of this "upstart" exchange include Crocodile Gold President and CEO Mike Hoffman, Rio Alto Mining President and CEO Feisal Somji and Avalon Rare Metals Investor Relations Manager Ron Malashewski.
The Gold Report:
In 2007, a new marketplace called OTCQX was created to give international exchange-listed companies an easier entry into the U.S. capital markets. Known as QX for short, the Q stands for quality and the X for excellence. In just a few short years, this venue has grown to more than 150 companies with a combined market capitalization approaching $1 trillion. It is owned and operated by Pink OTC Markets Inc., the third largest-equity trading venue in the U.S.
Many world-class companies have listed on OTCQX, such as the Paris-based AXA Group, Roche, Adidas, Air France and BASF. This venue has given Canadian companies LIKE
Avalon Rare Metals Inc. (TSX:AVL; OTCQX:AVARF)
,
First Majestic Silver Corp. (TSX:FR; OTCQX:FRMSF)
and
San Gold Corporation (TSX.V:SGR)
a convenient and inexpensive way to tap into the vast U.S. retail market while creating more liquidity on the TSX—which attracts institutional investors in Canada, as well as the U.S. What factors contributed to your decision to list on the QX?
Mike Hoffman:
We wanted to attract U.S. retail investors to our stock.
Ron Malashewski:
Avalon had already attracted a significant number of U.S. shareholders who were asking us to list in the U.S. to make it easier for them to trade the shares. The QX was a consideration as it recognizes established, foreign companies that are already listed on major exchanges outside of the U.S.
Feisal Somji:
Rio Alto Mining Limited (TSX.V:RIO; BVL:RIO; OTCQX:RIOAF)
, too, decided to list on the QX as a way to open up the U.S. market to the company. Although many U.S. investors will trade on the TSX, many others won't or can't. The QX has increased the number of investors exposed to our company. The major trigger, however, comes from the new listing requirements and reporting obligations that the QX provides. A foreign company can now list in the U.S. by maintaining a listing in their home jurisdiction. This reduces the exposure, cost and resources required for a traditional U.S. listing.
MH:
We also appreciated the fact that QX has no
Sarbanes-Oxley Act
(SOX) requirement.
TGR:
When did you list
Crocodile Gold Corp. (TSX:CRK; OTCQX:CROCF)
on the QX, Mike?
MH:
February 2010.
TGR:
And you, Feisal?
FS:
Rio Alto listed in May 2010.
RM:
Avalon Rare Metals listed on the QX on August 5, 2009.
TGR:
Feisal, it's only been about six months since you listed Rio Alto. What's your experience been like so far?
FS:
We've found the people at the OTCQX to be very helpful and very professional. The listing process was quick and efficient and the cost was reasonable. The QX staff is quite open to new companies listing on their exchange.
TGR:
What has Avalon's experience been with your listing, Ron?
RM:
The listing has increased our exposure and recognition by U.S. investors, particularly with the active participation by the Principal American Liaison (PALs), which is a party that the listing company selects to serve as a securities professional knowledgeable in disclosure requirements of U.S. securities laws and the most effective investor communications practices. Each prospective PAL must submit an application to Pink OTC Markets to show evidence that the firm is qualified to be an OTCQX advisor. PAL eligibility is limited to a Financial Industry Regulatory Authority (FINRA) member investment banking firm or American Depository Receipt (ADR) Bank. The chief role of FINRA—the largest independent regulator for all securities firms doing business in the U.S.—is to protect investors by maintaining the fairness of the U.S. capital markets.)
TGR:
When you announced your listing, Mike, you said you were looking to increase your international liquidity as well as expand your investor base and raise awareness of your company and your progress around the globe. Have you found your exposure increased as well?
MH:
In the last few months, we have started to trade significant volumes on the QX, but overall I'd describe Crocodile Gold's experience with the QX as mixed.
TGR:
The downside?
MH:
One negative is lack of
Blue Sky
access; and, as I suggested, it took a while for volume to pick up. Slowly it has gotten higher but QX trading is still generally less than 10% of overall trading.
TGR:
How would you characterize Avalon's trading volume since this listing?
RM:
Trading volume on the QX market has increased significantly when compared to the basic Pink-Sheet-only listing. (Note: The marketplace consists of both the issuer-listed OTCQX and broker-quoted Pink Sheets.)
TGR:
And what is your sense of how Rio Alto's trading volume has changed?
FS:
We believe that the trading we're seeing on the QX is new trading. By this, I mean that it has not reduced the trading volume from our other listings. Although the trading volume on the QX is less than the other exchanges; it's still volume that we wouldn't have been exposed to before. Of course, the lower trading volume is also a function of marketing in the U.S., which must be done in conjunction with the listing.
TGR:
What can you tell us about how your listing on the QX has affected access to (and by) U.S. investors?
FS:
Although many U.S. investors can and do trade on other exchanges, we have in the past come across many investors who cannot trade outside of the U.S. due either to internal policies or just lack of experience and knowledge on how to trade on the Canadian markets. We are confident that the QX listing has increased our access to U.S. investors.
RM:
Many investors and some brokerage firms in the U.S. will not buy, or are reluctant to buy, foreign companies on foreign exchanges for a number of reasons. A QX listing provides them with access to these foreign companies through a local market. The listing criteria do recognize more transparency and access to information, because the company already is listed on a major exchange elsewhere.
TGR:
If you run through the roster of companies in the QX, you'll find some world-renowned companies—major players, such as Air France, Adidas, Allianz, AXA, BNP Paribas, BASF, Experian and Roche. And you'll find them from the four corners of the world—Australia, Brazil, France, Germany, the Russian Federation, the UK and the U.S. among them. But of 151 total listings, more than one-third are based in Canada with average market capitalization in the neighborhood of $150 million and all but a few in the resources sector. In fact, it's said that Canada that has become QX's biggest and most important market. From a single listing in 2007 to nine in 2009, the number of Canadian companies reached 40 in mid-September, with about a dozen more signing on since then. The majority of these are small and mid-sized companies. Bottom line, what do you suppose it is about the QX that is particularly attractive to small- and mid-cap companies/junior resource companies?
MH:
Three things: The access to U.S. retail investors, the ease of listing and the relatively low cost.
RM:
Absolutely. It is a low-cost way to gain access to the large U.S. markets, particularly those investment firms, retail and institutional investors that prefer to trade on a local or regional market.
FS:
The main benefit is the piggybacking on your main listing jurisdiction. As long as we remain in good standing on the TSX and file all our documents on the QX website, we can maintain our listing on the QX. This greatly reduces our exposure and our costs—and these are key factors for small- and mid-cap companies.
TGR:
As we understand it, companies pay a minimum $5,000 application fee to establish a listing, and then an annual listing fee of $15,000 plus sponsorship fees. That's chump change by comparison to the cost of cross listing on the NYSE or NASDAQ, which can top $1 million, particularly given the costs of fulfilling regulatory requirements.
As you've suggested, cross listing on the QX an appealing option in part because it avoids the complex and costly disclosure and compliance requirements typical of a U.S. stock exchange. Companies leverage their investment in listing on a qualified exchange, such as the TSX, by providing the same disclosure documents. Beyond that, QX requires no SEC Registration, Sarbanes Oxley compliance and U.S. GAAP reporting.
Thank you for your time and your insights, gentlemen. We look forward to a follow-up at some point and, in the meantime, happy holidays.
Gold Report Sponsors on the OTCQX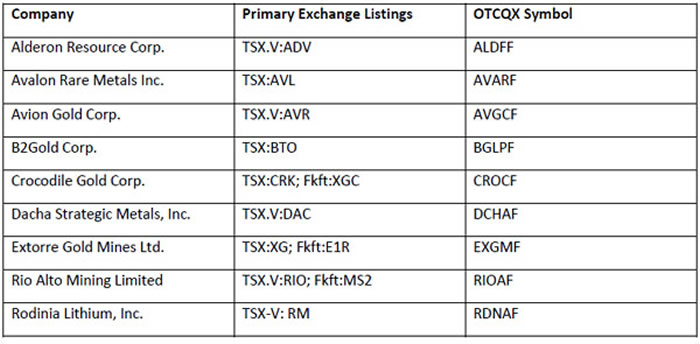 Ron Malashewski, P.Eng., whose professional career spans three decades, has devoted most of that time to the mining and minerals sector, racking up experience in a host of arenas including engineering, project management, strategic planning, technical and corporate management, investment management and investor relations. He joined the Avalon Rare Metals team as investor relations manager in mid-2010, after serving in a similar capacity with

Great Western Minerals Group Ltd. (TSX.V:GWG; OTCQX:GWMGF)

. Ron's professional and industry memberships include the Association of Professional Engineers, Geologists and Geophysicists of Alberta, the Canadian Institute of Mining, Metallurgy and Petroleum (CIM) and the Prospectors and Developers Association of Canada (PDAC). His credentials include bachelor's degrees in physics and engineering, and an Ontario Prospectors License.

Feisal Somji, CEO and president and of Rio Alto Mining Limited (formerly Mexican Silver Mines Ltd.) has spent more than 15 years in mineral exploration and development and has been involved in early stage, late stage and mine development projects around the world. He also provides expertise in areas of corporate finance and governance. In addition to his work at Rio Alto, Faisal is chairman of Prize Mining Corp, as well as a director, member of the board's Audit Committee and interim chief financial officer. In addition, he serves Philippine Metals Ltd. as CEO and director. He has acted as an officer and director of several other public companies in diamond, gold and platinum group element assets in Canada, Mexico, Brazil and Africa. He has also run his own businesses, providing mineral exploration services to others. Secretary of New Meridian Mining Corp., he also has been president of Premier Diamond Corp. and Adamas Management Ltd. and chief financial officer of Diamond Hawk Mining Corp., as well as a director of Savannah Diamonds Ltd., New Meridian Mining Corp., Kitikmeot Geosciences Ltd., Slave Lake Diamond Corp. and Sola Resource Corp. He earned a Bachelor of Science degree at University of British Columbia and an MBA at Queens University. He also holds a diploma in aviation from University College of Fraser Valley, BC and a commercial pilot's license.

Michael L. Hoffman, P.Eng., joined Crocodile Gold Corp. in November 2009 as president and CEO after serving Crowflight Minerals Inc. Mike is also president and CEO of Kria Resources Inc. and serves on the boards of Kria Resources, as well as Castillian Resources Inc., Forbes and Manhattan Coal Corp.,

Aberdeen International Inc. (TSX:AAB)

, Yamana Gold Inc., Auriga Gold Corp.,

Dacha Capital Inc. (TSX.V:DAC; OTCQX:DCHAF)

,

Sulliden Gold Corp. (TSX:SUE; OTCQX:SDDDF)

and

Largo Resources Ltd. (TSX.V:LGO)

. A professional mining engineer with more than 30 years of experience in mine operations, projects, engineering and corporate development, Mike also has filled senior executive positions at Yamana Gold,

Goldcorp Inc. (NYSE:GG; TSX:G)

, Desert Sun Mining Corp., Inc. and Rio Algom. He has worked in North America, Central America, South America and Africa. He is an honors graduate of Queens University (B.S. in Mining Engineering).
Want to read more exclusive Gold Report interviews like this? Sign up for our free e-newsletter, and you'll learn when new articles have been published. To see a list of recent interviews with industry analysts and commentators, visit our Expert Insights page.

DISCLOSURE:
1) Brian Sylvester of The Gold Report conducted this interview. He personally and/or his family own the following companies mentioned in this interview: None.
2) The following companies mentioned in the interview are sponsors of The Gold Report: Timmins.
3) Ian Gordon: I personally and/or my family own shares of the following companies mentioned in this interview:Timmins Gold, Golden Goliath, Millrock and Lincoln. My company, Long Wave Analytics is receiving payment from the following companies mentioned in this interview, for receiving mention on my website, Golden Goliath, Millrock and Lincoln Gold.
The GOLD Report is Copyright © 2010 by Streetwise Inc. All rights are reserved. Streetwise Inc. hereby grants an unrestricted license to use or disseminate this copyrighted material only in whole (and always including this disclaimer), but never in part. The GOLD Report does not render investment advice and does not endorse or recommend the business, products, services or securities of any company mentioned in this report. From time to time, Streetwise Inc. directors, officers, employees or members of their families, as well as persons interviewed for articles on the site, may have a long or short position in securities mentioned and may make purchases and/or sales of those securities in the open market or otherwise.
© 2005-2019 http://www.MarketOracle.co.uk - The Market Oracle is a FREE Daily Financial Markets Analysis & Forecasting online publication.

Only logged in users are allowed to post comments.
Register/ Log in