December Employment Report – Slow Pace of Hiring Supports Fed's Accommodative Stance
Economics
/
Employment
Jan 08, 2011 - 05:21 AM GMT


Civilian Unemployment Rate: 9.4% in December vs. 9.8% in November. The unemployment rate was 5.0% in December 2007 when the recession commenced. Cycle high for recession is 10.1% in October 2009 and the cycle low (for the expansion that ended in December 2007) is 4.4% in March 2007.
Payroll Employment: 103,000 in December vs. +71,000 in November. Private sector jobs increased 113,000 after a gain of 79,000 in November. Revisions for October and November resulted in a net gain of 70,000 jobs in the economy and 62,000 jobs in the private sector.
Private Sector Hourly Earnings: $22.78 in December vs. $22.75 in November; 1.8% yoy increase in December vs. 1.6% yoy gain in November.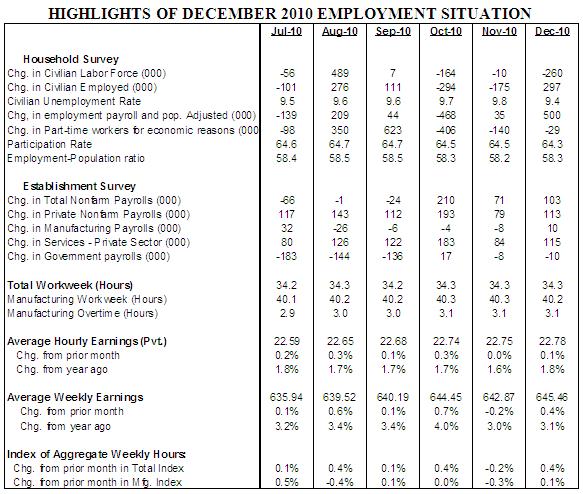 Household Survey - The jobless rate fell to 9.4% in December from 9.8% in the prior month. This is the largest monthly decline since April 1998. The improvement in the jobless rate was partly due to an increase in employment (+297,000) and partly due to a drop in the labor force (-260,000). The labor force has not advanced in September - December 2010 period (see table above), which suggests that a higher unemployment rate is possible in the near term if hiring falls short of a jump in the labor force. Therefore, it is premature to conclude that the upward trend of the jobless rate has been reversed. The broad measure of unemployment (including those working part-time because they cannot find full-time jobs and those not looking for work but want and are available in addition to those included in the tally of unemployed in the headline jobless rate) edged down to 16.7% in December from 17% in October-November period.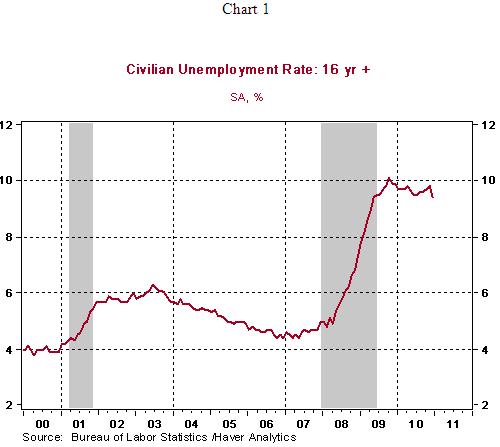 Establishment Survey - Nonfarm payrolls increased 103,000 in December, following an increase of 71,000 jobs in the prior month. Upward revisions of October and November payroll estimates resulted in a net addition of 70,000 jobs.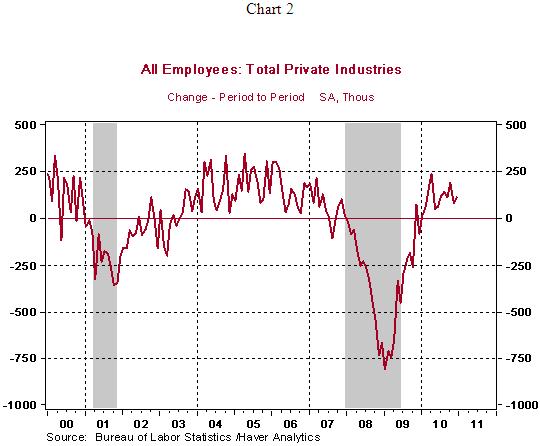 Hiring has risen in 2010 after significant job losses in 2008 and 2009 (see table below), with the private sector adding, on average, 112,000 to payrolls each month. A legitimate question now is the relative strength of job creation in the current economic recovery compared with other post-war business cycles. It appears that after six quarters of economic growth, payroll employment shows a marginally larger increase in the current cycle compared with the recoveries after the 1990-91 and 2001 recessions (see Chart 3). However, the performance pales in comparison with other long expansions.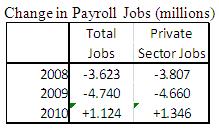 Chart 3 is an index chart constructed to assess the relative performance of payrolls in each business cycle by setting the level of payroll employment at the trough=100 (Only the first eight quarters of the recovery are shown in the chart to keep it reader friendly. A reading of 103 implies that employment is 3.0% higher compared with the level at the trough.)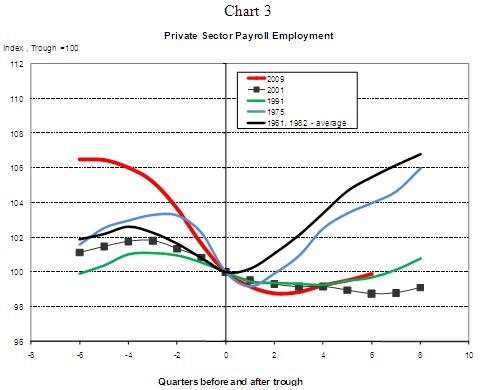 Highlights of changes in payrolls during December 2010:
Construction: -16,000 vs. -2,000 in November
Manufacturing: +10,000 vs. -8,000 in November
Private sector service employment: +115,000 vs. +84,000 in November
Retail employment: +12,000 vs. -19,000 in November
Professional and business services:+7,000 vs. +49,000 in November
Temporary help: +15,900 vs. 34,700 in November
Financial activities: +4,000 vs. -4,000 in November
Health care employment: +35,700 vs. +17,800 in November
The manufacturing man-hours logged in December (+0.1%) points to a tepid gain in factory production during December. The payrolls and earnings data point to a moderate increase in personal income during December. Hourly earnings rose 1.8% from a year ago in December and continue to suggest the absence of an inflationary threat (see Chart 4).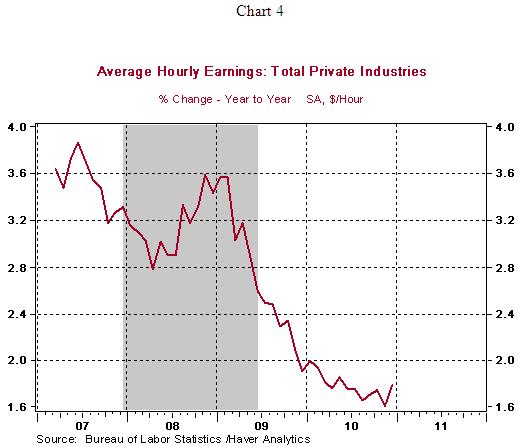 Conclusion - The slow pace of payroll employment reinforces the view that the Fed will carry out its entire plan of $600 billion of purchases of longer term Treasury securities through June 2011, referred to as the second round of quantitative easing (QE2). Chairman Bernanke's depiction of the labor market in this morning's testimony at the Senate Budget Committee makes a case for the Fed's accommodative stance of monetary policy.
"Although recent indicators of spending and production have generally been encouraging, conditions in the labor market have improved only modestly at best. After the loss of nearly 8-1/2 million jobs in 2008 and 2009, private payrolls expanded at an average of only about 100,000 per month in 2010--a pace barely enough to accommodate the normal increase in the labor force and, therefore, insufficient to materially reduce the unemployment rate. On a more positive note, a number of indicators of job openings and hiring plans have looked stronger in recent months, and initial claims for unemployment insurance declined through November and December. Notwithstanding these hopeful signs, with output growth likely to be moderate in the next few quarters and employers reportedly still reluctant to add to payrolls, considerable time likely will be required before the unemployment rate has returned to a more normal level."

Asha Bangalore — Senior Vice President and Economist
http://www.northerntrust.com
Asha Bangalore is Vice President and Economist at The Northern Trust Company, Chicago. Prior to joining the bank in 1994, she was Consultant to savings and loan institutions and commercial banks at Financial & Economic Strategies Corporation, Chicago.
Copyright © 2011 Asha Bangalore
The opinions expressed herein are those of the author and do not necessarily represent the views of The Northern Trust Company. The Northern Trust Company does not warrant the accuracy or completeness of information contained herein, such information is subject to change and is not intended to influence your investment decisions.
© 2005-2019 http://www.MarketOracle.co.uk - The Market Oracle is a FREE Daily Financial Markets Analysis & Forecasting online publication.

Only logged in users are allowed to post comments.
Register/ Log in