Global stock markets and gold going crazy
Stock-Markets
/
Global Stock Markets
Jan 25, 2007 - 08:07 AM GMT

Next month I plan on heading to Asia for meetings and some rest & relaxation. So this week I started preparing for my trip. And I checked to see how Vietnam, one of the last countries I visited in Asia, is doing. I practically fell off my chair! When I last talked about Vietnam in Money & Markets , I called it "the next miracle economy." I said the economy and political system were opening up ... that the country's GDP was roaring ahead at 8% a year ... that 83 million citizens wanted new lifestyles ... and that China's growth was helping Vietnam move into the 21st century.
I also pointed out that Vietnam has rich natural resources, including 600 million barrels of proven oil reserves, 6.8 trillion cubic feet of proven natural gas reserves, and 20 billion tons of coal.
When I wrote all that, the Vietnam Stock Index, which includes all of the companies listed on the Ho Chi Minh stock exchange, was at about 555. Today, it's at 1,027! That's an 85% gain in nine months!
That's like the Dow moving from its April 2006 level of 11,100 to 20,535. Take a look at my chart and you can see just how big the move has been! But Vietnam is not the only economy opening up and going gangbusters to the upside. In 2006, Jakarta's market was up 52% ... Spain gained 44% ... and the Philippines rose 41%.
| | |
| --- | --- |
| Stock Market | % Gain in 2006 |
| Venezuela Stock Market Index | 159.06 |
| Ho Chi Minh Index | 146.26 |
| Jakarta Composite Index | 52.40 |
| Indice Bolsa General | 44.54 |
| BSE SENSEX 30 Index | 44.53 |
| Mexico Bolsa Index | 42.96 |
| PSEi - Philippine SE IDX | 41.37 |
| WSE WIG Index | 36.94 |
| FTSE/JSE Africa All Shr. | 35.74 |
| Chile Stock Market General | 34.42 |
| Hang Seng Index | 33.59 |
| PSI General Index | 32.43 |
| Luxembourg LuxX Index | 31.96 |
| IBEX 35 Index | 30.77 |
| Straits Times Index | 26.02 |
| FTSE 250 Index | 25.69 |
| Kuala Lumpur Comp. Index | 22.78 |
| NZX 50 FF Gross Index | 20.18 |
| S&P/ASX 300 Index | 19.03 |
| Taiwan TAIEX Index | 18.69 |
| OMX Stockholm 30 Index | 18.57 |
| ASE General Index | 18.41 |
| IGBC General Index | 17.82 |
| Budapest Stock Exch. Index | 16.67 |
| OMX Helsinki Index | 16.11 |
| Milan MIB30 Index | 16.03 |
| NYSE Composite Index | 15.50 |
| Amex Composite Index | 14.56 |
| S&P/TSX Composite Index | 12.82 |
| OMX Copenhagen 20 Index | 10.72 |
In fact, of the 30 stock markets that you'll see in my table, the average gain last year was 35.22% ... outperforming the Dow Jones Industrials by better than two to one!
What's Driving World Stock Markets Higher?
At the very base of exploding world stock markets and economies is the technology revolution of the 1990s. No, I'm not referring to gadgets or software programs ... I'm referring to a communications revolution.
Because of the rapid advancement of communications via the Internet and e-mail, lifestyles around the world are changing at lightning-like speed. That's been causing an intense new industrial revolution in many parts of the world, and fueling demand for natural resources. Billions of people around the world have been unleashed. They all want modern conveniences — housing, clean water, modern transportation, luxury items, and more. Plus, central banks around the world are greasing this growth with easy money and credit.
If I were a central banker, I'd do the same thing. There's virtually no other choice. If they raise interest rates and reduce the amount of money available, they'll be threatening economic growth all over the world. Central bankers around the world are pumping up the supply of money like crazy. Annually, China is up 16.9% ... India is up 11.9% ... and the U.S. is up as much as 11%. That's huge growth, the likes of which have not been seen since the late 1970s, the last big inflationary period. No wonder ...
Investors in the U.S. Dollar Are Getting Pretty Fed Up!
According to the latest data from November of 2006, international investors purchased a mere $1.8 billion of U.S. stocks, down from $23.2 billion in October. That's a 92% decrease!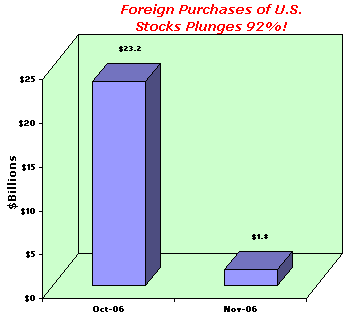 Meanwhile, U.S. investors bought a net $21.2 billion of international stocks in November vs. $12 billion in October, an increase of 76.7%, the biggest jump since 1977.In simple terms, foreign investors are abandoning the U.S. and U.S. investors are embracing foreign shares. If that doesn't tell you what investors think of the dollar, I don't know what will. It also tells you that a lot of money is going home in search of growth, to emerging countries and democracies where there are huge gains to be made.
Moreover, it's not just investors who are shunning the dollar. The same can be said about central banks around the world, especially China.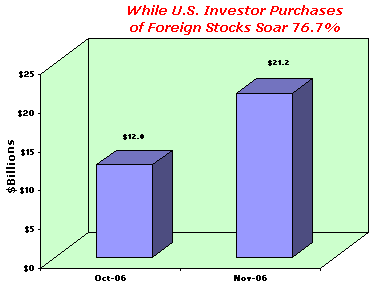 In fact, when he addressed a financial conference this past weekend, China's Premier Wen Jiabao said the country would "actively explore and expand the channels and methods for using foreign-exchange reserves."
To date, that's the highest-level acknowledgement that China is seriously reconsidering how it's going to invest its almost $1.1 trillion in reserves. That spells more bad news for the dollar but great news for a range of alternative investments, such as foreign stock markets, oil, and especially ...
Gold: Its Next Blast-Off Phase Is Now Beginning
I've been telling you gold is in a bull market. And I've been telling you to buy virtually every dip in the gold market that you see.
To illustrate why, I'd like to show you a chart of the yellow metal. Imagine the profits you'd be racking up if you bought those tiny pullbacks!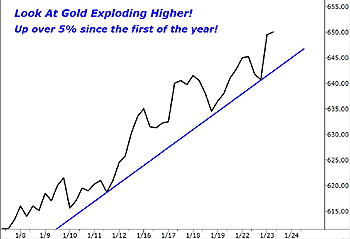 BullionVault.com is currently giving a FREE gram of Swiss vaulted gold bullion to everyone who registers (worth $24)- to try the service and learn how to trade. Sign-up is easy, fast and credits you immediately
Important: As I am writing this issue of Money & Markets , I am getting a critical buy signal in gold, indicating that the next phase of its bull market is beginning now! This is where I expect gold to blast to new record highs, and slice through the $732 level ... on its way to at least $850 an ounce this year!
I cannot emphasize how important I think it is to have a stake in gold. That's why I named it "the best investment to own in 2007."
Consider making the following moves:
First, hold your gold and natural resource stocks. If you don't have a stake in gold, I think you're making a big mistake. Gold could soon head to new record highs, boosting the cream-of-the-crop gold shares and mutual funds.
Second, think about moving more of your money out of dollar-based U.S. stocks. I'm not being unpatriotic, just realistic. As I've shown you, other markets are generally performing much better than those in the U.S.
Third, look to invest the proceeds in similar blue chips, tech stocks, and other sector-specific investments in other countries.
One way to do that is by purchasing stocks in foreign companies traded here on U.S. exchanges, via American Depository Receipts (ADRs).
You can also purchase country-based, international exchange-traded funds (ETFs). They are becoming more and more popular, liquidity is rising, and they are a low-cost way to get nice diversification internationally, without ever having to open a brokerage account in another country.
Best wishes for your health and wealth,
Larry Edelson
P.S. And don't forget about international-focused mutual funds, such as those recommended in my Real Wealth Report. Grab a subscription to my Real Wealth Report and you'll be able to get all my recommendations and alerts. Right now, I'm offering a two-year subscription for just $189 — a full 50% off. Act quickly because everything I've been telling you about is happening now and there's lots of money to be made!
This investment news is brought to you by Money and Markets. Money and Markets is a free daily investment newsletter from Martin D. Weiss and Weiss Research analysts offering the latest investing news and financial insights for the stock market, including tips and advice on investing in gold, energy and oil. Dr. Weiss is a leader in the fields of investing, interest rates, financial safety and economic forecasting. To view archives or subscribe, visit http://www.MoneyandMarkets.com
© 2005-2019 http://www.MarketOracle.co.uk - The Market Oracle is a FREE Daily Financial Markets Analysis & Forecasting online publication.

Only logged in users are allowed to post comments.
Register/ Log in