Sovereign Wealth Funds Are A Booster Shot for the Yen
Currencies
/
Japanese Yen
Oct 26, 2007 - 10:10 AM GMT


Jack Crooks writes: It's often been said that when the U.S. sneezes, economies around the world catch a cold.
But even as health warnings of a 'superbug' staph infection spread across the U.S., our weakened economy appears much less contagious to the outside world than it has in years past.
I attribute this to two reasons:
First, economic power continues to shift from the West to the East.
Second, foreign powers are now more willing to inoculate themselves from weakness in the U.S. They're doing this by establishing Sovereign Wealth Funds (SWFs), or government-sponsored investment companies.
Together, these two forces are going to reshape the investing landscape. Specifically, they're going to push the dollar lower and currencies like the yen higher.
I'll get to the specific details on SWFs and their impact on currencies in a moment. Let's start by talking about why …
Overseas Growth Is a Shot in The Arm for the Global Economy
Globalization is the medicine the world's been searching for. It's what keeps a U.S. economic virus from infecting everybody else. And after many years as just a distant dream, this cure is finally becoming a reality.
We've seen strong, healthy economies spring up around the globe, and as expected, they're acting as the antidote to the slowdown happening in the U.S.
At the forefront is China, an economic powerhouse that should continue growing for years to come. The country notched an 11.5% rate of growth for the three months ending in September — the third quarter in a row of 11%+ expansion.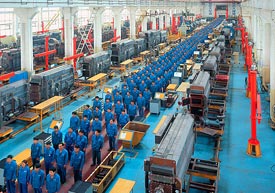 China's factories are booming, and its economy is on a tear!
Meanwhile, China has brought a lot of other economies along for the ride. We've seen the emergence of role-playing economies like Singapore, Thailand, and Malaysia, and these less-talked-about players are also injecting the world with newfound growth.
All of these countries are exporting more goods, and receiving substantial cash in return.
Plus, they are creating tremendous demand for all sorts of commodities. Prices are rising across the board, and countries rich with natural resources are raking in big money.
End result: New trade relationships are being forged, and economies around the world are gaining immunity from weakness in the U.S.
Investors are sitting up and taking notice, which is why …
Money Is Flowing into Foreign Economies from All Sides!
According to the International Monetary Fund, financial flows into emerging markets in the first half of 2007 surpassed the total financial flows for all of last year!
In fact, emerging market economies have DOUBLED their reserves just since 2004 to an estimated $4.1 trillion!
This is just the beginning, in my opinion. After all, it's one thing when handfuls of individual investors are using focused investments to target emerging market economies. It's radically different when enormous waves of capital are about to flow into emerging market currencies.
Remember, these new economic juggernauts are sitting on mounds of cash. They have money coming in from all sides … from the goods they're exporting … from the commodities they're selling … and from investors who are pouring more and more funds into both their companies and their bonds.
In the past, they might have just kept all this money in U.S. Treasuries, and other dollar-denominated investments. But no longer!
Cash-Rich Emerging Economies Are Establishing Sovereign Wealth Funds And Moving Away from the Dollar
Booming countries — including major oil producers in the Gulf States as well as Russia — are going to make major changes to the way they invest. And Sovereign Wealth Funds are the vehicles they'll use.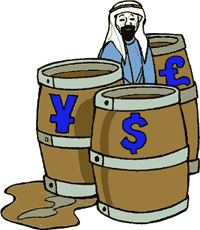 Wealthy foreign countries — especially oil-rich nations — are looking to get away from greenbacks.
These government-owned investment corporations are used by nations to invest surplus reserves. They're rapidly becoming a popular way for central banks to get rid of their U.S. dollar investments, which are plunging in value on an almost daily basis.
It's estimated that SWFs currently have more than $2 TRILLION in assets under management. That's quite a chunk of change! However, they are expected to exceed $13 trillion dollars in assets just ten years from now.
Already, we've seen these investment funds move money into other more stable currencies such as euros and British pounds. But I think they'll get even more aggressive, which means currencies of other nations will get bid up in the process.
I believe the Japanese yen is one currency that will benefit greatly from this trend!
See, SWFs are going to allocate a much greater share of their investments to Asia. For some countries, it will amount to investing in their home region. For others, it will simply be going where the growth is. But all of them are likely to gravitate toward Japan, which is the second-largest economy in the world.
End result: We will see more dollars being converted into the yen and other Asian currencies.
Now, it will require time before the full effects of these SWFs are noticed. But those who are ready and waiting will be well rewarded.
If you're already on board with investments that are designed to profit from a surging yen, great! If not, now's a good time to position yourself for what will certainly be massive moves in the currency markets.
Best wishes,
Jack
This investment news is brought to you by Money and Markets . Money and Markets is a free daily investment newsletter from Martin D. Weiss and Weiss Research analysts offering the latest investing news and financial insights for the stock market, including tips and advice on investing in gold, energy and oil. Dr. Weiss is a leader in the fields of investing, interest rates, financial safety and economic forecasting. To view archives or subscribe, visit http://www.moneyandmarkets.com .
© 2005-2019 http://www.MarketOracle.co.uk - The Market Oracle is a FREE Daily Financial Markets Analysis & Forecasting online publication.

Only logged in users are allowed to post comments.
Register/ Log in