Asset Backed Commercial Paper Still Shrinking As Fallout From Mortgage Crisis Spreads
Stock-Markets
/
Financial Markets
Oct 27, 2007 - 06:06 PM GMT


"The ABCP market , which had helped finance the housing boom, fell $4.6 billion to $883.7 billion following last week's $11.0 billion decline, according to Federal Reserve data released on Thursday.
On the other hand, the overall U.S. commercial paper sector grew for a fourth straight week to $1.872 trillion in the week ended Oct. 23, up $6.2 billion from a week earlier, the Fed data showed.
Commercial paper is a vital source of short-term funding for daily operations at many companies, but its issuance largely ground to a halt as the crisis that began in risky mortgages led to a broader credit crunch."
Although banks appear to be "out of the woods" as the commercial paper market recovers, asset backed commercial paper, which is the source of funding for mortgages, is still shrinking. Score: banks-1, homeowners-0.
The fallout from the mortgage crisis is spreading. The price tag to investors and financial institutions on this debacle is estimated at $400 billion, far larger than the last real estate crisis in the early 90's. Homeowners, will suffer the greatest, however, with a $2 to $4 trillion dollar price tag put on the loss of home values. So far, this is less than the $7 trillion loss to stock investors earlier this decade, but don't treat this problem as if it were over and done. An equal or greater number of adjustable rate mortgage resets are due in 2008.
This morning Countrywide Financial reported a loss of $1.2 billion. The majority of this loss ($718.6 million) came from the sale of loans and securities. Its stock soared 26% on the announcement that better times are ahead. Is this really happening?
Japan 's Nikkei decline is underway…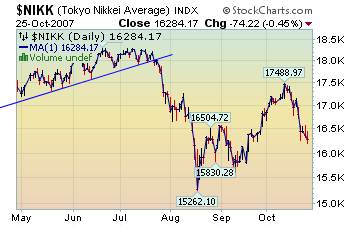 …even though the market rose last night. The rally was attributed to short-covering, where those who bet on a lower market take their profits. This would not be unexpected, since there are five waves in the decline, suggesting a reprieve from the weakness is due. This chart is instructive, since the Japanese banks are one of the main source of funding for our own market. A decline in Japanese stocks impairs their ability to lend more to us.
Shanghai market stumbles.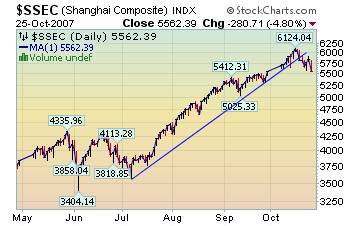 The Shanghai market stumbled 4.8% yesterday, making the total decline 9% from its peak earlier this month. The drop was attributed to a new Initial Public Offering of stock by Petro China , the next new thing. Many advisors and analysts admit that there are no more bargains in this market, but believe that the market run has further to go even though share prices are still up 90% from the beginning of the year.
The market has weakened.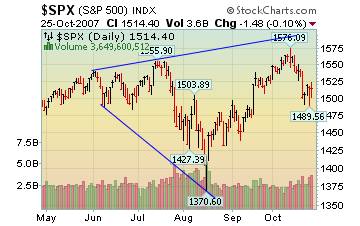 The decline which started two weeks ago has bounced from lows not seen since Bernanke's rate cut. You will notice that no mention was made in the linked article to the 6% decline. Earnings are looking much weaker than before. " S&P 500 members have reported a 0.8 percent drop in third quarter earnings on average, according to analysts' estimates compiled by Bloomberg. Analysts on average expect profits to decline 1.6 percent for the quarter, the first drop since 2002." Hardly news to fuel a sustained rally.
Treasury bonds tread water.
Long-term Treasury prices reversed course several times Friday, moving lower as the stock market powered ahead, then rising at points when the equities rally seemed to falter. Low-risk Treasuries often are in demand when stocks seem too risky to investors. But on Friday stocks were more in favor, although trade was choppy in both markets
For sale: Two Million Empty Homes.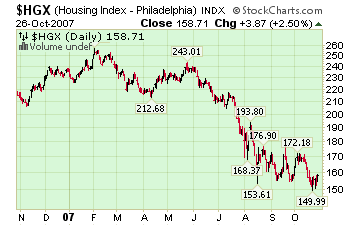 The number of vacant homes for sale rose in the third quarter, according to the latest government reading that casts new harsh light on the weakness of the housing market.
The Census Bureau report puts the number of vacant homes for sale at 2.07 million in the period, up about 2 percent from the second quarter, and 7 percent above year ago levels. In the meantime, existing home sales tumbled another 8% in September.
How far will the dollar decline go?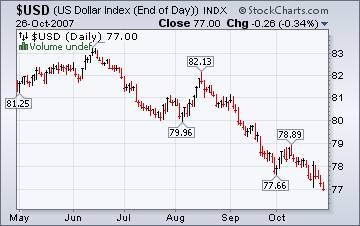 There are winners and losers in the declining dollar. Big losers are U.S. travelers overseas who are finding skyrocketing costs for food, travel and lodging. Other big losers are companies wishing to expand overseas. Not only has the dollar lost its buying power in foreign markets, but the expanding economies in other lands are seeing inflation of their own variety as expanding money supplies drive up the cost of doing business. Winners are companies who already have a presence in profitable overseas markets.
Next stop for gold $800?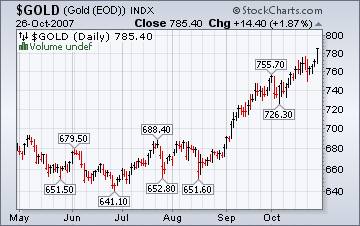 Everyone who is knowledgeable about gold agrees that it is overdue for a correction. But no one is ready to say when. "Just not yet." Seems to be the answer. Few are brave enough even to mention a pullback. Yet these trends don't go forever. Those familiar with market patterns suggest the time is ripe for a pullback. But in a "melt-up," markets can extend. This extension may be pushing the limits.
Gasoline prices catching up with crude oil.
One thing technicians look for is whether similar commodities are acting the same. For example, oil is hitting new all-time highs, while gasoline languishes. This suggests that one or the other may break down. In this case, we don't want to see the price of gasoline going much higher, since it means that the trend for both commodities may continue.
The Energy Information's " This Week In Petroleum " has some interesting observations.
Natural gas users can exhale now.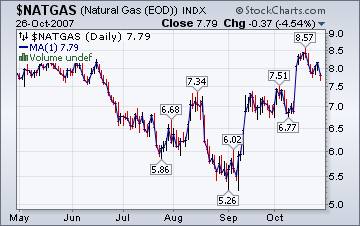 Although the hurricane season is still open and storms are active in the Caribbean , traders are breathing a collective sigh of relief, says the EIA Natural Gas Weekly Update . Natural gas used for home heating may fall off in price until the winter season kicks in. During this lull, there will likely be a buildup of natural gas in storage. My models suggest that prices will fall at least to the October low of 6.77.
Californians coming home.
I have several family members living in Southern California . I just learned that one brother-in-law returned home yesterday in Poway and found his home untouched by the fire. I am praying that the rest of my family living there have the same experience. 350,000 families were driven out of their homes while the fires raged. Now they are coming back . Let us do what we can to lend support to those in need of rebuilding or relocation. Losses are estimated in the hundreds of millions for businesses and homeowners.
We're on the air every Friday.
Tim Wood of www.cyclesman.com , John Grant and I have had a running commentary on the markets again this week. You may listen to our comments by clicking here .
Please make an appointment to discuss our investment strategies by calling Claire or Tony at (517) 699-1554, ext 10 or 11. Or e-mail us at tpi@thepracticalinvestor.com .
Regards,
Anthony M. Cherniawski,
President and CIO
http://www.thepracticalinvestor.com
As a State Registered Investment Advisor, The Practical Investor (TPI) manages private client investment portfolios using a proprietary investment strategy created by Chief Investment Officer Tony Cherniawski. Throughout 2000-01, when many investors felt the pain of double digit market losses, TPI successfully navigated the choppy investment waters, creating a profit for our private investment clients. With a focus on preserving assets and capitalizing on opportunities, TPI clients benefited greatly from the TPI strategies, allowing them to stay on track with their life goals
Disclaimer: It is not possible to invest directly into any index. The use of web-linked articles is meant to be informational in nature. It is not intended as an endorsement of their content and does not necessarily reflect the opinion of Anthony M. Cherniawski or The Practical Investor, LLC.
© 2005-2019 http://www.MarketOracle.co.uk - The Market Oracle is a FREE Daily Financial Markets Analysis & Forecasting online publication.

Only logged in users are allowed to post comments.
Register/ Log in