Silver Roller Coaster Wealth Swings Between Rich and Poor
Commodities
/
Gold and Silver 2011
Feb 07, 2011 - 03:10 AM GMT


Silver is a roller coaster that only adults should ride. Violent swings in price will change your wealth between rich or poor in a few short months. How can one tame such unruly price action? The only way we know how is to examine the unruly patient by employing diagnostic charting methods by William Gann, Richard Wyckoff and Jim Hurst.
The chart below at first will scare you off, therefore please review with it three different chartologist hats. The chart is the silver ETF by weekly periods. The charts horizontal and vertical scale is set to Gann's time to price of 1 x 1, or 1 unit of time for 1 unit of price.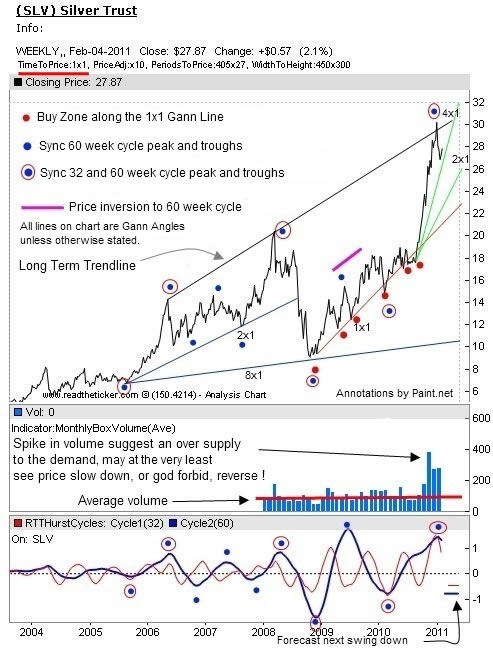 SLV is the ETF for Silver.
Technical explanations of the three types of logic can be found under '
General Information
' tab from the readtheticker.com website.
Hurst Logic
1) The lowest box shows two significant weekly cycles, the 32 (red) and 60 (blue) cycle periods.
2) The blue dots show the match up of the 60 week cycle peaks and troughs with price. Since 2006 we have had a 90% success rate of cycle to price action. I say 90%, as we had a very bullish price inversion during 2009. You say, "but the 90% cycle success is in the past and not in the future, so what's it worth in real time?" True, I agree. But this statistic requires your respect within the immediate future movement of SLV. Patterns do repeat and I suggest that within the next 60 weeks we have a very high probability of a price low matching a significant cycle low.
3) The blue dots with a red circle around them highlights the powerful match up of the 32 and 60 week cycle peaks and or troughs. These points on the price chart have proven to be very significant highs and lows.
Currently, we see the SLV high as a perfect match up with the 32 and 60 weekly cycles. Which suggests a significant high may develop here. Two things can happen, we get our high, or price continues to trend higher creating a bullish price inversion. Let's bank on history repeating, therefore our bias is for a high between $28 and $32 dollars in first half of 2011.
Wyckoff Logic
1) The volume you see is for the SLV Etf. I have checked the volume of the current silver futures contract and it mirrors the SLV very closely. You can check the silver futures contract volume and COT data here at
TimingCharts.com
.
2) The current volume spike is at extreme levels, and most of it occurring in the latter part of the rise to 2011 $30 high. This late volume surge suggest that the well informed are selling to the less informed.
3) The over supply of sellers to buyers may halt the current price or even yield to falling prices. If volume increases or is maintain at these extreme levels then one may expect higher prices, but if volume drops off and no new highs are made, then demand has dwindled, and low prices can be expected. If we get new highs with much lower volume, we would not trust these new highs, and expect a correction.
Currently, we expect $32 to hold, subject to changes in volume patterns.
Gann Logic
1) The blue, red and green lines on the chart are Gann angle lines. Gann angle lines are not trendlines. Trendlines require two pivots to draw, a Gann angle line require only one, this is an advantage.
2) The red dots are buy zones along the 2009-2011 1x1 Gann angle line (or 1 unit of time to 1 unit in price).
Currently, price has exploded along the green Gann angle 4x1 line (or 4 units of price for 1 unit in time). This price acceleration is not sustainable, a minor sell off at $30 occurred when price breached the long term trendline from 2006. There is a high probability that price could either fall or at the very least travel sideways to reach the Gann angle 2x1 line (or 2 units of price to 1 unit in time).
Conclude
Letting profits ride, and ride and ride is the path to wealth. Determining when profits are about to be 'given back' to Mr Market can and should be only when the change in price appreciation deteriorates. This can be achieved by monitoring price action falling from Gann angle 4x1 to 2x1 (as in our case). More simply when price falls from the appreciate of 4 units in price to 1 unit in time, to 2 units in price to 1 unit in time, it is time to lock on profits.
At the moment SLV is under the influence of two powerful weekly cycles (32 and 60) that are currently peaking. We also know that SLV is suffering from massive bullish sentiment and any price top will mostly be skewed to the cycle top by several weeks. Be aware prices can still travel north on momentum, and on new news (USD falls hard, QE4,5,6). If you have profits stay with the trend for as long as price tracks above the 4x1 Gann angle line. Its great to bank 4 units of price for 1 unit of time, so keep on enjoying the ride.
Readtheticker
My website: www.readtheticker.com
My blog: http://www.readtheticker.com/Pages/Blog1.aspx
We are financial market enthusiast using methods expressed by the Gann, Hurst and Wyckoff with a few of our own proprietary tools. Readtheticker.com provides online stock and index charts with commentary. We are not brokers, bankers, financial planners, hedge fund traders or investment advisors, we are private investors
© 2011 Copyright readtheticker - All Rights Reserved
Disclaimer: The material is presented for educational purposes only and may contain errors or omissions and are subject to change without notice. Readtheticker.com (or 'RTT') members and or associates are NOT responsible for any actions you may take on any comments, advice,annotations or advertisement presented in this content. This material is not presented to be a recommendation to buy or sell any financial instrument (including but not limited to stocks, forex, options, bonds or futures, on any exchange in the world) or as 'investment advice'. Readtheticker.com members may have a position in any company or security mentioned herein.
© 2005-2019 http://www.MarketOracle.co.uk - The Market Oracle is a FREE Daily Financial Markets Analysis & Forecasting online publication.

Only logged in users are allowed to post comments.
Register/ Log in