Mubarak Resigns, Bonds Rally
Stock-Markets
/
Financial Markets 2011
Feb 12, 2011 - 09:43 AM GMT


Consumer Sentiment in U.S. Increases to Eight-Month High
(Bloomberg) Confidence among U.S. consumers increased in February to the highest level in eight months, a sign falling unemployment and rising stock prices may be comforting households.

The Thomson Reuters/University of Michigan preliminary index of consumer sentiment for the month climbed to 75.1 from 74.2 in January. Economists projected the gauge would rise to 75, according to the median forecast in a Bloomberg News survey.
As the largest part of the economy grows more optimistic, consumer spending could help drive the expansion, supporting Federal Reserve Chairman Ben S. Bernanke's testimony this week that "the growth rate of economic activity appears likely to pick up this year."
Trade Gap in U.S. Widens for Second Month as Oil Imports Jump
(Bloomberg) The U.S. trade deficit widened in December for a second month as the cost of imported oil climbed to the highest level in two years.
The gap grew 5.9 percent to $40.6 billion, in line with the $40.5 billion median forecast in a Bloomberg survey of economists, Commerce Department data showed today in Washington. Excluding petroleum, the shortfall shrank to $15.3 billion, the smallest since March.
After massive withdrawals in 2010, mutual fund investors are coming back.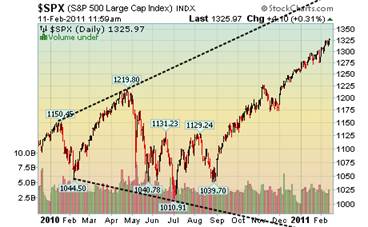 -- The Investment Company Institute has reported $3.248 billion of inflows to domestic equity funds last week. This brings the total inflows of money to domestic stock funds to $6.521 billion year-to-date. Investors are buying the seemingly never-ending flow of liquidity into the stock market via the Permanent Open Market Operations by the Federal Reserve.

Mubarak Resigns, Bonds rally.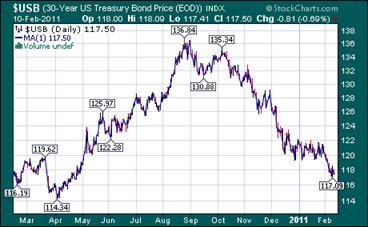 --Treasuries rose, with 10-year notes erasing a weekly loss, as political change amid continued mass protests in Egypt fueled demand for refuge in U.S. government assets. Treasuries extended gains as Egyptian President Hosni Mubarak resigned, reversing plans outlined in a speech last night that drew calls for continued and larger protests in Cairo. Treasuries were also supported by the end yesterday of note and bond sales this week totaling $72 billion and continued debt buy-backs by the Federal Reserve.

Gold is wavering at a minor high.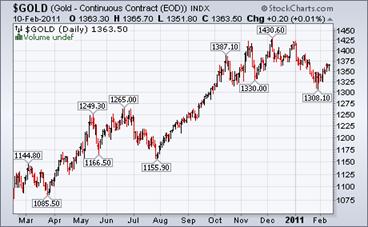 --Gold futures came off their session highs, meandering between small gains and losses Friday after reports that Egypt's President Hosni Mubarak has resigned and delegated affairs to the military. Gold for April delivery (GCJ11 1,358, -4.60, -0.34%) declined 20 cents to trade at $1,362.40 an ounce on the Comex division of the New York Mercantile Exchange.

Gold turned lower after the news from Egypt spread, but moments later regained its footing, only to fall again.
Japan Nikkei and Topix Have a Good Week.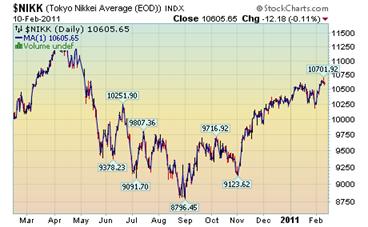 --Japan's Topix index rose for five consecutive days, as shipping lines gained along with higher cargo tariffs and after some companies reported higher profits. The Topix index rose 0.3 percent to 946.63 with about three stocks advancing for every two that fell at the 3 p.m. close in Tokyo. The Nikkei 225 Stock Average slid 0.1 percent to 10,606.65. For the week, the Nikkei has increased 0.6 percent, while the Topix is up 1.2 percent. Japan's market will be closed tomorrow (Friday) for a holiday.

China Stockpiling Copper, Aluminum and Zinc.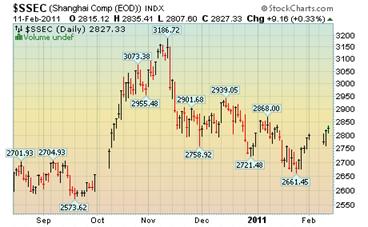 -- Copper stockpiles monitored by the Shanghai Futures Exchange gained for the second week to the highest level since June, according to data from the bourse.

Inventories of copper rose 9,899 metric tons, or 7.4 percent, to 144,197 tons, based on a survey of eight warehouses in Shanghai, the exchange said today. That's the highest level since the week to June 3, according to exchange data.

The Dollar May be Starting a Comeback.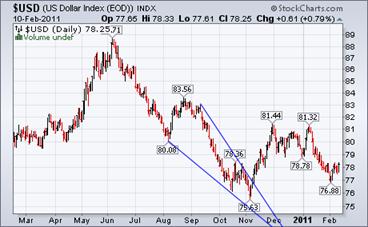 -- The dollar rose against most of its major counterparts as Egyptian President Hosni Mubarak stepped down and handed power to the military, stoking demand for the safety of U.S. assets. The greenback headed for a third weekly gain versus the euro as Mubarak bowed to the demands of protesters, who are likely to call for immediate elections. The euro remained lower against the dollar as the head of Germany's central bank resigned. U.S. consumer confidence rose this month, data showed.
Foreclosure Filings Fell,,,Is It a Fake-out?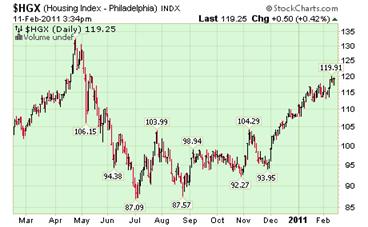 -- Foreclosure filings plunged in January, but don't shake those pom-poms yet. It's strictly a fake out.

The number of homes receiving foreclosure filings -- default notices, auctions and repossessions -- fell 17% in January compared to a year earlier, RealtyTrac reported on Thursday. But that's still 261,333 properties and a 1% increase compared to December.

Gasoline Prices soon to Decline at the Pump.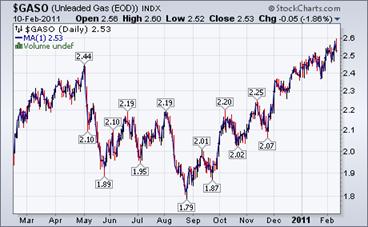 --The Energy Information Agency weekly report states, "Following the first decline in nine weeks, gasoline prices rose again this week with the U.S. average retail price advancing three cents versus last week to $3.13 per gallon, $0.48 per gallon higher than last year at this time. Residential heating oil prices continued to rise during the period ending February 7, 2011. The average residential heating oil price increased to $3.58 per gallon, over $0.05 per gallon above last week and $0.73 per gallon more than last year at this time."

Natural Gas Stocks are being Drawn Down.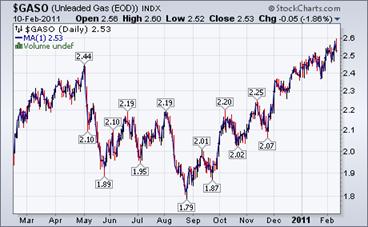 -- The U.S. Energy Information Administration reports, "The week's draw marks the third week in a row that stocks have declined more rapidly than last year. While the previous two weeks' increased draws can be explained largely due to colder weather year-over-year, this week actually witnessed slightly warmer weather than the corresponding week last year. However, increased demand for natural gas from the power sector and cold weather in gas producing regions leading to freeze-offs and shut-in production during the week necessitated a larger draw than might have been expected."

Ship of Knaves
(NYTimes) One view of executives at our largest banks in the run-up to the crisis of 2008 is that they were hapless fools. Unaware of how financial innovation had created toxic products and made the system fundamentally unstable, they blithely piled on more debt and inadvertently took on greater risks.

The alternative view is that these people were more knaves than fools. They understood to a large degree what they and their companies were doing, and they kept at it up until the last minute – and in some cases beyond – because of the incentives they might receive.

New evidence in favor of the second interpretation has just become available, thanks to the efforts of Sanjai Bhagat and Brian Bolton, who went carefully through the compensation structure of executives at the top 14 financial institutions in the United States from 2000 to 2008.

New Questions Raised in Mortgage Financing
(NYTimes) Banks have been fighting with disgruntled bond investors and insurers for months, arguing that they do not need to buy back soured mortgages they placed inside securities before the financial crisis.

Now, it turns out, some of those banks may have secretly collected partial payments on those same mortgages several years ago and pocketed that money.

At least that is a theory being pursued by plaintiffs' lawyers in some of the largest mortgage bond lawsuits, in which banks are accused of filling mortgage bonds with loans that did not belong there.

The theory surfaced in a recently unsealed lawsuit against a mortgage unit at Bear Stearns, the failed investment bank that is now part of JPMorgan Chase.
Just How Ugly Is The Truth Of America's Unemployment: David Rosenberg Explains
(ZeroHedge) Over the past 3 days America has been battered by one after another apologist explaining just how good the employment data is if one strips out all the "bad", and how all the "bad" can and should be stripped out by all patriots, and attributed solely to bad weather. For those who are beyond sick and tired of listening to this tripe, here is David Rosenberg once again telling it how it is. In summary: "The data from the Household survey are truly insane. The labour force has plunged an epic 764k in the past two months. The level of unemployment has collapsed 1.2 million, which has never happened before. People not counted in the labour force soared 753k in the past two months. These numbers are simply off the charts and likely reflect the throngs of unemployed people starting to lose their extended benefits and no longer continuing their job search (for the two-thirds of them not finding a new job). These folks either go on welfare or they rely on their spouse or other family members or friends for support."
Wimpy Republican Leadership Yields to Tea Party; Term Limits and Balanced Budget Amendment Needed to Eliminate "Culture of Spending"

(Mish) Hats off to new legislative representatives who steadfastly held to the position that more budget cuts are needed. Republican leaders reluctantly went along with those Tea Party demands (which of course shows just how wimpy Republican leadership is when it comes to really doing anything about the budget crisis).
Democrats are screaming of course, clueless about why they lost the election, and what changes are needed.
MIT "Billion Price Project" Confirms US Prices Surging (In Case There Was Any Confusion)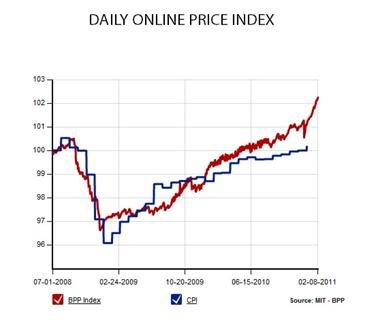 (ZeroHedge) Just in case there was still any lingering doubt that prices in the US are surging far above whatever the CPI may indicate, we present the MIT Billion Price Project. Unlike the CPI which is a gross misrepresentation of what is really happening on the ground in price terms, MIT actually compiles real time price data about a universe of products. From the methodology section: "our data are collected every day from online retailers using a software that scans the underlying code in public webpages and stores the relevant price information in a database. The resulting dataset contains daily prices on the full array of products sold by these retailers. Our data include information on product descriptions, package sizes, brands, special characteristics (e.g. "organic"), and whether the item is on sale or price control." The attached chart confirms what anyone (but not Ben Bernanke) who actually buys goods and services in the US knows all too well.


Traders alert: The Practical Investor is currently offering the daily Inner Circle Newsletter to new subscribers. Contact us at tpi@thepracticalinvestor.com for a free sample newsletter and subscription information.
Our Investment Advisor Registration is on the Web
We are in the process of updating our website at www.thepracticalinvestor.com to have more information on our services. Log on and click on Advisor Registration to get more details.
If you are a client or wish to become one, please make an appointment to discuss our investment strategies by calling Connie or Tony at (517) 699-1554, ext 10 or 11. Or e-mail us at tpi@thepracticalinvestor.com .
Anthony M. Cherniawski, President and CIO http://www.thepracticalinvestor.com
As a State Registered Investment Advisor, The Practical Investor (TPI) manages private client investment portfolios using a proprietary investment strategy created by Chief Investment Officer Tony Cherniawski. Throughout 2000-01, when many investors felt the pain of double digit market losses, TPI successfully navigated the choppy investment waters, creating a profit for our private investment clients. With a focus on preserving assets and capitalizing on opportunities, TPI clients benefited greatly from the TPI strategies, allowing them to stay on track with their life goals
Disclaimer: The content in this article is written for educational and informational purposes only. There is no offer or recommendation to buy or sell any security and no information contained here should be interpreted or construed as investment advice. Do you own due diligence as the information in this article is the opinion of Anthony M. Cherniawski and subject to change without notice.
© 2005-2019 http://www.MarketOracle.co.uk - The Market Oracle is a FREE Daily Financial Markets Analysis & Forecasting online publication.

Only logged in users are allowed to post comments.
Register/ Log in