SPX Stock Market Classic Reversal Pattern
Stock-Markets
/
Stock Markets 2011
Mar 05, 2011 - 02:53 PM GMT


NFP +192,000, Below Expectations Of 196,000; Unemployment Rate 8.9%, Unchanged Average Hourly Earnings
Nonfarm payroll employment increased by 192,000 in February, and the unemployment rate was little changed at 8.9 percent, the U.S. Bureau of Labor Statistics reported today. Job gains occurred in manufacturing, construction, professional and business services, health care, and transportation and warehousing.
U-6 Total unemployed, plus all persons marginally attached to the labor force, plus total employed part time for economic reasons, as a percent of the civilian labor force plus all persons marginally attached to the labor force, not seasonally adjusted, was 17.9%.
The CES Birth/Death Model added 112,000 "hypothetical jobs" in February, which "padded" the numbers released by the Bureau of Labor Statistics.
Unemployment, as measured by Gallup without seasonal adjustment, hit 10.3% in February -- up from 9.8% at the end of January. The U.S. unemployment rate is now essentially the same as the 10.4% at the end of February 2010.
Labor Force Participation Rate Remains At 25 Year Low 64.2%
(ZeroHedge) Wonder why the unemployment rate is at an artificially low 8.9%? Three simple words: Labor Force Participation. At 64.2%, it was unchanged from last month, and continues to be at a 25 year low. Should the LFP return to its 25 trendline average of 66.1%, the unemployment rate would be 11.6%. (see chart next page)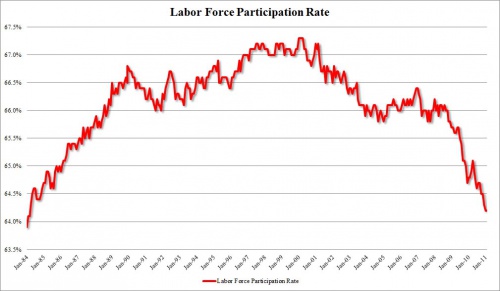 SPX has a classic reversal pattern.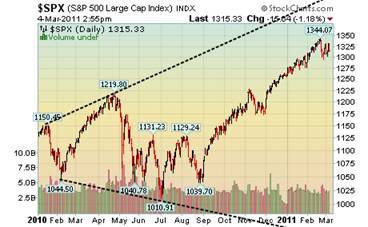 -- The Investment Company Institute has reported $1.499 billion of inflows to domestic equity funds last week. This brings the total inflows of money to domestic stock funds to a record $19 billion year-to-date, just in time for the reversal. The retail investor may now be part of the exit strategy for the bank bailout. The banks use the bailout money to speculate. Now they are taking profits. Who will be the bagholders?

Treasuries may now be considered a safe haven.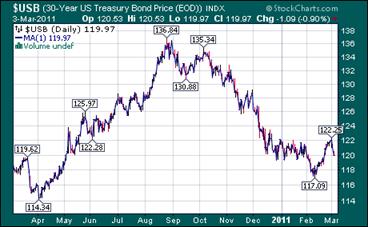 -- U.S. Treasury bonds are now considered a safe haven for those investors who are exiting stocks. If you juxtapose the chart of the stock market above against the chart of US treasuries to the left you will see that the opportunity may lie with US treasuries and not with stocks. Most investors however, do the opposite looking at past performance and expecting it to continue.
Gold may be a hedge against political risk.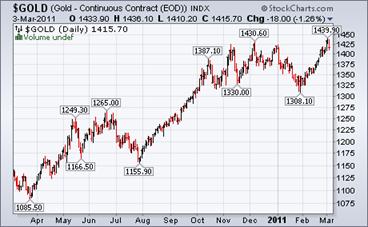 -- Political unrest, especially in the Middle East, has been the fuel that has driven gold higher. Traders are watching for signs that the turmoil in Libya may be dying down. If so, this may be the time to take profits.
Most investors think of gold as an inflation hedge. However, it's clear from the chart that gold is acting more like a hedge against political risk, especially in the Middle East.
Concerns about Middle East, Oil brings Caution to Nikkei.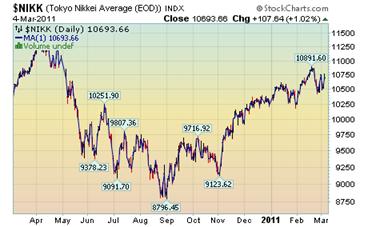 -- Japanese stocks rose for the first time in four days as oil retreated and economic reports tempered concern about turmoil in the Middle East.
Investors stressed that concerns about turmoil in the Middle East have receded only temporarily, with U.S. crude oil futures prices edging lower on Thursday, and warned that potential inflationary risk could hike input costs, putting earnings of Japanese firms under pressure.
China tries some social engineering to right-size their economy.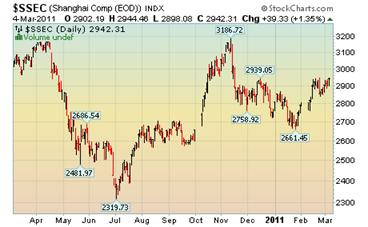 -- China's stocks rose, driving the benchmark index higher for the week, on speculation an annual government congress will introduce policies to boost low-income housing and spur domestic spending.
"The government has lots of policies on hand to improve the livelihood of people and boost consumption," said Dai Ming, a fund manager at Shanghai Kingsun Investment Management & Consulting Co. "That should be enough to offset the tightening measures that have already been put in place."
The Dollar may be finishing a bullish wedge.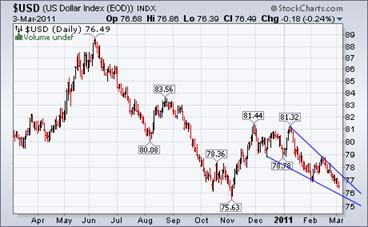 -- The dollar fell to its weakest level in four months against the euro as stock markets rose before a report that may show U.S. employers added the most jobs since May, curbing demand for the currency as a haven.
But nothing lasts forever. Patterns in the market often lead the way in telling us where the next big move may lie. What we are looking at is a bullish wedge. A final touch of the bottom trendline may launch a very strong rally. Are you ready?

Buffett's Subprime Housing Solution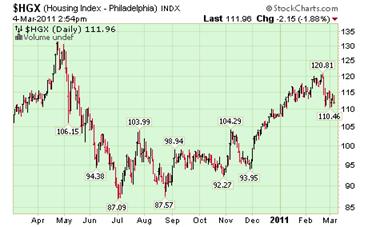 -- Last weekend after Berkshire Hathaway released Warren Buffett's annual letter, there were a flurry of articles and blog posts hanging off Warren's every word.
One part of his long letter that didn't get a huge amount of ink was the section on Clayton homes, a big manufactured home company that Berkshire owns. (Read article here.)
Gasoline Prices go parabolic.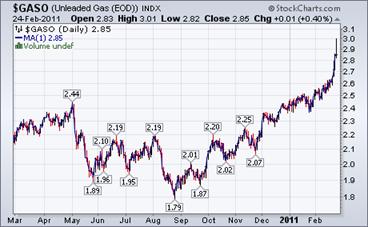 --The Energy Information Agency weekly report states, "The U.S. average retail price of regular gasoline gained 19 cents versus last week, marking the second largest weekly increase since the EIA began tracking weekly retail price data in 1990. The only week posting a larger increase was in September 2005 when retail prices rose sharply due to Hurricane Katrina. At $3.38 per gallon, gasoline is now $0.68 per gallon higher than last year at this time."

Natural Gas consumption starts to rise. Will prices rise as well?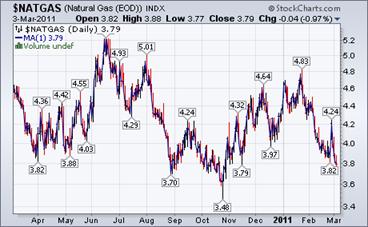 -- The U.S. Energy Information Administration reports, "Natural gas consumption increased, according to estimates from BENTEK Energy Services, LLC. Total consumption, according to BENTEK estimates, increased 5 percent from the previous week. Residential and commercial consumption made up the bulk of the increase, rising 6 percent from the previous week. Consumption of natural gas for electric power generation rose 13 percent, while industrial consumption fell slightly from last week."
David Rosenberg's Explanation Why The Real Unemployment Rate (U-3) Is 12%
(ZeroHedge) "A couple of behind-the-scene facts: from October to February, an epic 700k people have left the work force. If you actually adjust for the fact that the labour force participation rate has plunged this cycle to a 27-year low the unemployment would be sitting at 12% today. Moreover the employment-to-population ratio — the so-called "employment rate" — stagnated in February at 58.4% and is actually lower now than it was last fall when "double dip" was the flavour du jour."
Gates Rants - Ponzi Science?
(ZeroHedge) Bill Gates spoke yesterday on the status of our educational system. This was more of a rant than a speech. I've not seen Bill so worked up before. He might even have been a bit over the top with this comment on our educational system:
"The guys at Enron never would have done this! I mean this is so blatant, so extreme that, is anybody paying attention to what these guys do?"

I suppose it is a good thing when a guy like Gates gets involved in matters of public policy. He's spending his own money. He has no axe to grind. But nothing is as clear as it appears. It's not at all certain to me that Big Bucks Bill is on the right track.
When Even John Taylor Says Bernanke's Interpretation Of The Taylor Rule Is Wrong
(ZeroHedge) Something funny transpired over the the past two years in the Fed's interpretation of the critical Taylor rule, which Bernanke refers to in every testimony before Congress or the Senate: John Taylor, the creator of the rule, and Zero Hedge's nomination for Fed chairman (inasmuch as we need a Federal Reserve) said Bernanke is wrong in his interpretation of the rule, and if he had a proper interpretation the Fed Chairman should already be hiking rate. Yet leave it to Bernanke to believe he knows better what the rule is supposed to mean....than even its creator. From the WSJ: "Stanford University professor John Taylor, an outspoken critic of the Federal Reserve in recent years, has a new complaint: He says Fed Chairman Ben Bernanke is misrepresenting Mr. Taylor's eponymous rule on interest rates."
Four time bombs that will blow up Wall Street

(MarketWatch) — Put Goldman Sachs CEO Lloyd Blankfein in jail for six months, and all this will stop, all over Wall Street and America, a former congressional aide tells Matt Taibbi in his latest Rolling Stone attack, "Why Isn't Wall Street in Jail? Financial crooks brought down the world's economy — but the feds are doing more to protect them than to prosecute them."
Taibbi's right, everyone knows Wall Street's run by a bunch of dictators who are doing more damage to democracy and capitalism than North Africa's dictators. But jail the CEOs of Goldman, Citi, B. of A. or my old firm Morgan Stanley? Too late.
Roubini sees $100 billion in muni defaults.
(Mish) A consulting firm founded by economist Nouriel Roubini said there could be close to $100 billion of municipal-bond defaults over the next five years as state and local government-debt problems damp the U.S. economic recovery.
That figure would by most estimates represent a significant increase over defaults in recent history, but it doesn't appear to be as dire as a prediction last year by analyst Meredith Whitney.
Traders alert: The Practical Investor is currently offering the daily Inner Circle Newsletter to new subscribers. Contact us at tpi@thepracticalinvestor.com for a free sample newsletter and subscription information.
Our Investment Advisor Registration is on the Web
We are in the process of updating our website at www.thepracticalinvestor.com to have more information on our services. Log on and click on Advisor Registration to get more details.
If you are a client or wish to become one, please make an appointment to discuss our investment strategies by calling Connie or Tony at (517) 699-1554, ext 10 or 11. Or e-mail us at tpi@thepracticalinvestor.com .
Anthony M. Cherniawski, President and CIO http://www.thepracticalinvestor.com
As a State Registered Investment Advisor, The Practical Investor (TPI) manages private client investment portfolios using a proprietary investment strategy created by Chief Investment Officer Tony Cherniawski. Throughout 2000-01, when many investors felt the pain of double digit market losses, TPI successfully navigated the choppy investment waters, creating a profit for our private investment clients. With a focus on preserving assets and capitalizing on opportunities, TPI clients benefited greatly from the TPI strategies, allowing them to stay on track with their life goals
Disclaimer: The content in this article is written for educational and informational purposes only. There is no offer or recommendation to buy or sell any security and no information contained here should be interpreted or construed as investment advice. Do you own due diligence as the information in this article is the opinion of Anthony M. Cherniawski and subject to change without notice.
© 2005-2019 http://www.MarketOracle.co.uk - The Market Oracle is a FREE Daily Financial Markets Analysis & Forecasting online publication.

Only logged in users are allowed to post comments.
Register/ Log in