Silver: Buy, Hold Or Sell?
Commodities
/
Gold and Silver 2011
Mar 18, 2011 - 11:35 AM GMT


1980 to 2011: From bear to bull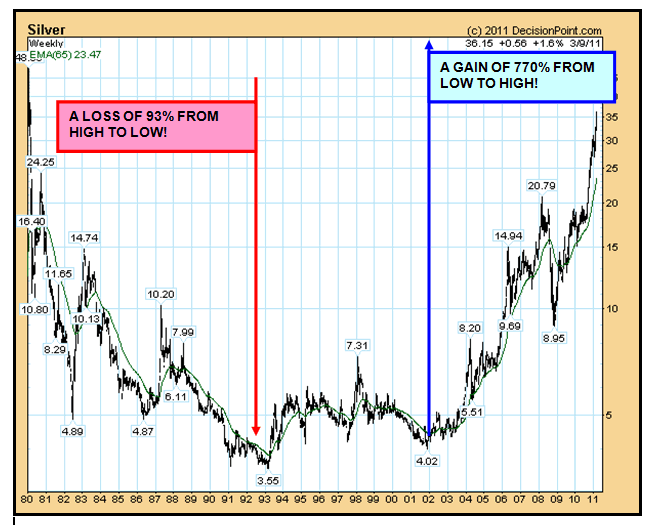 In 1980, the price of one ounce of silver reached $ 50. Today, the purchasing power of the US dollar is substantially less than in 1980. The price of one ounce of silver would have to rise to $ 135 to reflect the value of the US dollar thirty years ago.
The long-term picture of the silver price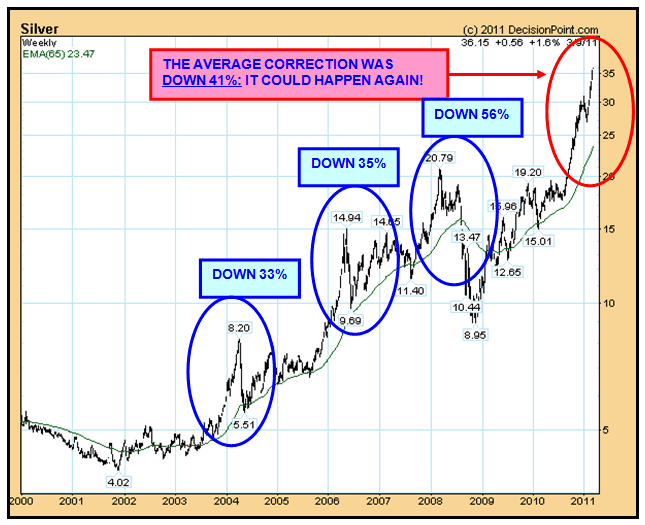 The bull market of the silver price started towards the end of 2002. On the way from $ 4.02 to the recent high of $ 36.15 (an increase of 800%), several significant corrections took place, the most severe one in 2008 when the silver price sank by 56% only to jump 300% to a new high since the bull market started. The bull market is not over. However, at present, a correction seems to be overdue.

Extremes never last but no extreme is an absolute extreme and there is no guarantee that the extreme of 2006 will actually be repeated. To demonstrate our point, we need to go back to 1980 when the indicator shown below went far above present levels.

In the past, excluding 1980, it would have paid off to play the extremes, always assuming that one can buy back at the right moment which is far from easy. A long-term investor may feel better simply remaining invested as he believes that prices will eventually go much higher.
The medium-term picture of the silver price
Critics of technical analysis include well known fundamental analysts. For example, Peter Lynch once commented, "Charts are great for predicting the past." Warren Buffett has said, "I realized technical analysis didn't work when I turned the charts upside down and didn't get a different answer" and "If past history was all there was to the game, the richest people would be librarians."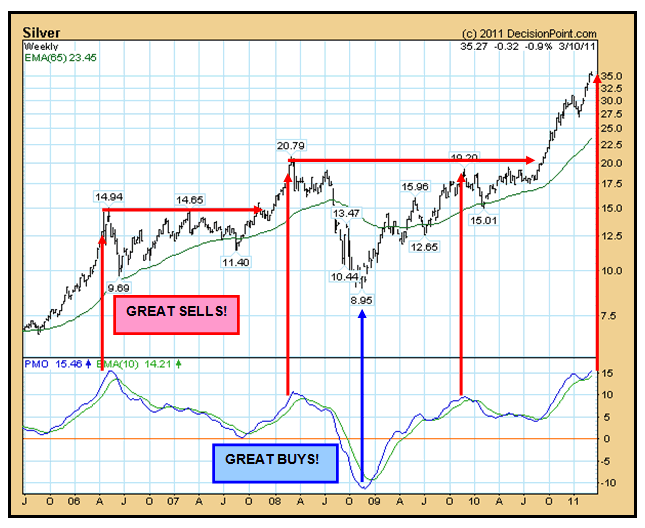 Fundamental Considerations: THE RISING SILVER DEMAND
Silver is unique. Its natural beauty is legendary. Its range of applications is exceptionally broad. As a precious metal, it has been a source of human adornment since the beginning of time. As a principal component of fine tableware, appropriately called silverware, it has served as an important utensil for fine dining for centuries. As a light-sensitive element, it has revolutionized preservation of memories in the form of photographic images. More recently, its unique properties comprising of anti-bacterial qualities, corrosion resistance, malleability, ductility, reflectivity and conductivity have opened new possibilities for a myriad of other industrial applications.
The demand that pushes the silver price higher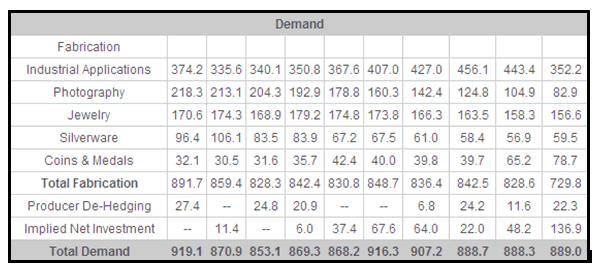 Implied Net Investment demand and demand for coins cause the silver price to increase. Without it, the silver price would never have performed as it did.
The Gold / Silver-Ratio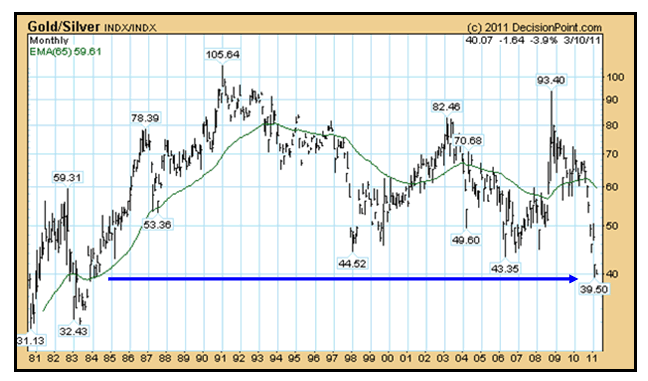 In times of economic slow-down, the gold/silver-ratio reverses dramatically as can be seen in 2008. As the next economic crises will hit again – sooner or later, the present level of the ratio does not favour an investment in silver. Remember: the easiest way to lose money is to buy something expensive in the hope it will become more expensive.
We prefer gold at this moment!
By Peter Zihlmann
www.pzim.com
invest@pzim
phone +41 44 268 51 10
mobile +41 79 379 51 57
THE TIMELESS PRECIOUS METAL FUND is a shareholder in the company and will benefit from any increase in the company's share price.
How to invest: http://www.timeless-funds.com/en/timeless-precious-metal-how-invest
Disclosure: The author has not been paid to write this article, nor has he received any other inducement to do so.
Disclaimer: The author's objective in writing this article is to invoke an interest on the part of potential investors in this stock to the point where they are encouraged to conduct their own further diligent research. Neither the information nor the opinions expressed should be construed as a solicitation to buy or sell this stock.
Investors are recommended to obtain the advice of a qualified investment advisor before entering into any transactions in the stock - or to use their own brains.
In our opinion, the best approach is to buy a diversified portfolio of stocks as represented in THE TIMELESS PRECIOUS METAL FUND or THE SIERRA MADRE GOLD & SILVER VENTURE CAPITAL FUND instead of shares of only a small number of companies.
© 2005-2019 http://www.MarketOracle.co.uk - The Market Oracle is a FREE Daily Financial Markets Analysis & Forecasting online publication.

Only logged in users are allowed to post comments.
Register/ Log in